Embark on a captivating journey across East Bali's breathtaking vistas with our detailed Klungkung guide. Renowned for its historical significance, tranquil ambience, and welcoming locals, East Bali presents an unforgettable experience. Certainly, This guide will lighten every aspect of Klungkung, from essential practical information to must-see attractions.
For those fluent in Bahasa Indonesia, we recommend our comprehensive guide: Tempat Wisata di Klungkung: 15 Destinasi Menawan di Timur Pulau Dewata.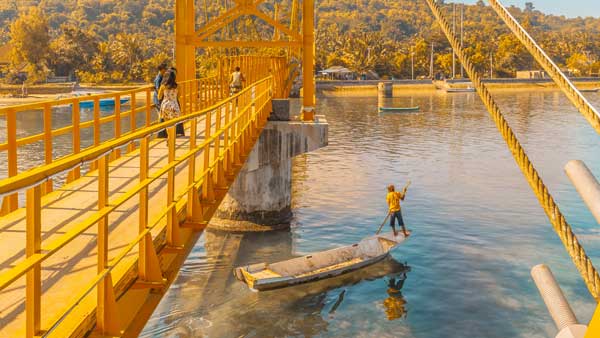 Discovering Klungkung: Delving into the Charm of the Regency
As discussed in an anonymous review on TripAdvisor, "Exploring Klungkung was like discovering a hidden treasure in Bali's paradise. Subsequently, its dynamic culture, friendly inhabitants, and deep-rooted history were enchanting."
Although Klungkung is one of Bali's smallest regencies, it overflows with vibrant energy. The capital, Semarapura, offers a serene escape with locals always ready to lend a hand or provide advice. This regency also includes the popular islands of Nusa Penida and Nusa Lembongan, which are geographically separate but fall under Klungkung's jurisdiction.
Finding Your Way in Klungkung: A Comprehensive Guide
Meanwhile, journeying from prominent areas like Denpasar or Ubud to this regency is straightforward. For instance, you can Grab online transportation, hire a private driver, rent a scooter, or join an organised tour.
Essential Tips: What You Need to Know Before You Visit Klungkung
Here are some crucial tips for your visit to Klungkung:
Best time to visit: Dry season, running from April to October.
Language: Bahasa Indonesia is the main language, but English is widely understood.
Currency: Indonesian Rupiah (IDR). "Currency converter: IDR to your currency".
Pack essentials such as sunscreen, a hat, and comfortable walking shoes
Always show respect for the local culture and environment.
In emergencies, contact the Klungkung Hospital or the Police Station.
Top Things to See in Klungkung: Unmissable Attractions and Activities
Moreover, Klungkung boasts many awe-inspiring historical sites and captivating natural landscapes. Here are the standout attractions you should not miss, complete with opening hours and Google Maps links for your convenience:
1. Kertha Gosa Pavilion: One of the Top Historical Sites to See in Klungkung
To clarify, this magnet for tourists in Semarapura flaunts 17th-century Balinese architecture in all its glory. Also, the pavilion includes three main buildings: Bale Kertha Gosa, Taman Gili Bale Kambang, and Medal Agung. Meanwhile, crossing the brick bridge into Bale Kambang is an unparalleled experience. Please see below for more detailed information about the Kertha Gosa Pavilion tourist attraction!
Entrance Fee, IDR 50,000/Adult, IDR 25,000/child (5-10 years).
Opening Hours: 08:00 – 17:00.
Dress code: Sarong & Shawl at the waist.
The best time to visit is in the morning, from 08:00 – 09:00.
See Kerta Gosa's Location on Google Maps.
2. Semarajaya Museum: Unmissable Experiences in Klungkung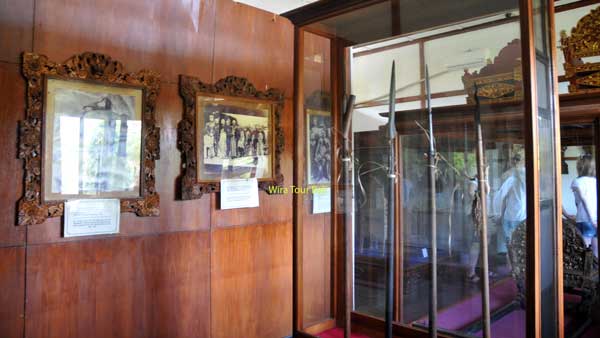 Located next to Kertha Gosa, this museum invites visitors to step back in time and explore Klungkung's historical journey. Admire prehistoric artefacts, Puputan Klungkung war weapons, and photographs of the former Klungkung monarch.
Entrance Ticket: covered in the Kertha Gosa entrance ticket.
Opening Hours: 08:00 – 17:00.
Dress code: Sarong & Shawl in the west.
See the Location of the Semarajaya Museum on the Google Maps.
3. Puputan Klungkung Monument: Explore Klungkung's Courageous History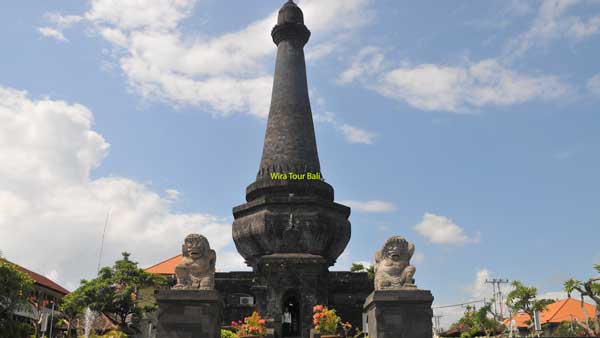 Situated right across from Kertha Gosa, this towering monument is impossible to overlook. It is 28 meters tall and pays tribute to the courageous Puputan Klungkung warriors who battled the Dutch.
Admission: Free.
Opening Hours: 08:00 – 17:00.
Dress code: Sarong & Shawl on the west.
The best time to visit is in the morning, around 08:30.
See the location of the Puputan Monument on Google Maps.
4. Puri Agung Semarapura (Royal Palace): Top Things To See In Klungkung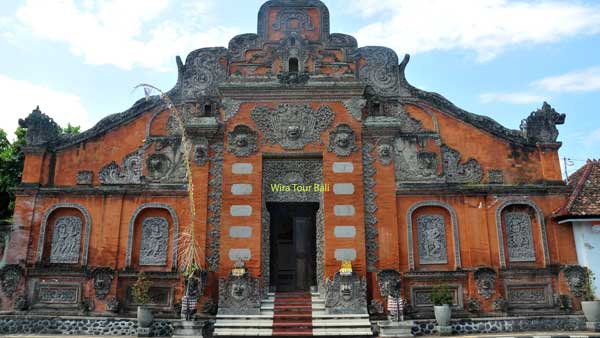 This palace offers a glimpse into the majestic past of this regency. While the first palace was destroyed during the Dutch colonial era, the current palace is the residence of the present Klungkung king.
Visitors can only see the palace gates from the roadside because it is forbidden to enter the inner area without permission from the Kings.
Dress Code: Sarong & Shawl.
See Location of Puri Agung Semarapura on Google Maps.
5. Puputan Park
The adventure continues to Puputan Field, before the royal castle gate. Consequently, the Puputan Klungkung field is now neatly arranged and turned into a tourist attraction park visited by many locals in the afternoon.
Entrance Ticket: Free.
Opening Hours: 24 Hours.
Dress code: Free.
See Puputan Field Location on Google Maps.
6. Semarapura Art Market: Discover Traditional Balinese Textiles in Klungkung
Above all, this market is a treasure trove of Endek and traditional Balinese Songket textiles. Therefore, this is the place to visit if you search for authentic Balinese textiles.
Admission: Free.
Opening Hours: 08:00 – 17:00.
Dress code: Casual.
See Semarapura Art Market Location on Google Maps.
7. Goa Lawah Temple: Best Attractions in Klungkung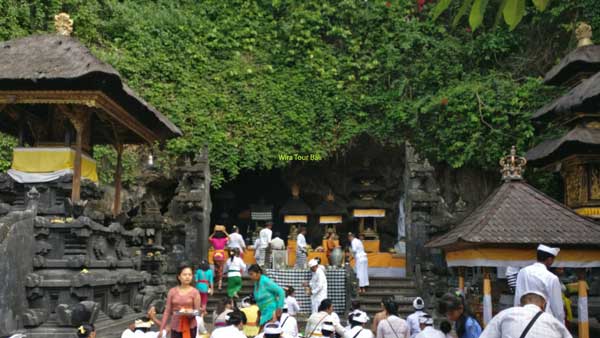 Furthermore, Goa Lawah Temple in Klungkung is an important temple for Balinese Hindus, as crucial as the Uluwatu temple.
The name Goa Lawah consists of the words Goa and Lawah. Goa means cave, and the word Lawah means bat. Also, inside the Goa Lawah Temple is a vast cave surrounded by thousands of bats; some are hanging, and some are flying.
Entrance Ticket: IDR 30,000 / adult, IDR 15,000 / child (5 – 10 years).
Opening Hours for Visitors: 08:00 – 17:00.
Dress Code: Using Sarong & Shawl.
See the location of Goa Lawah Temple on Google Maps.
8. Kamasan Village: Premier Points of Interest in Klungkung
Meanwhile, a trip to this charming village is necessary if you are passionate about art. Also, it's renowned for its exquisite Balinese Wayang paintings that will leave you in awe.
Entrance Ticket: Free.
Opening hours, 08:30 – 17:00.
Dress Code: Free, but still neat.
See the Location of Kamasan Village on Google Maps.
9. Nyoman Gunarsa Painting Museum
Certainly, most of the painting museums in Bali island are in Ubud. However, the Klungkung district also has a painting museum from a famous painting artist born in Banda village. The name of the painter is Mr I Nyoman Gunarsa.
In the Gunarsa Museum, there are so many paintings, approximately 250 paintings. Apart from painting collections, Gunarsa Museum also has Wayang and Keris collections.
Opening Hours: 09:00 – 16:00.
Dress code: Neat-free.
Location: Google Maps.
10. Tukad Unda Waterfall: Top Things To See In Klungkung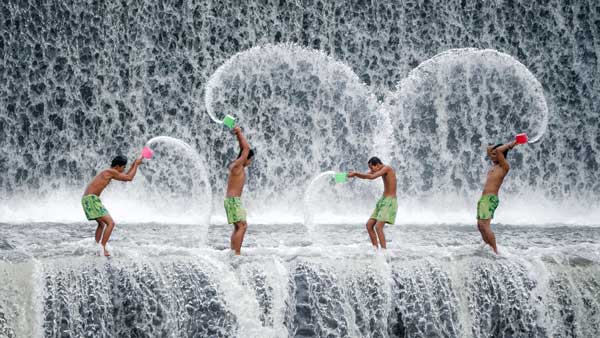 On the other hand, The Unda River Dam became a tourist attraction known as the Tukad Unda waterfall. Also, the popularity of Tukad Unda originated from pre-wedding photos. Many couples wanted to do a pre-wedding photo session with the background of the Tukad Unda waterfall.
Moreover, the waterfall in Tukad Unda comes from the Unda River, passing through a river dam. So it's not a natural waterfall like the Gitgit or Sekumpul waterfall.
Opening hours: 07:30 – 18:00.
The best time to visit is 08:00 – 10:00 / 16:00 – 17:00. The goal is to avoid the hot sun.
Dress code: none.
Visiting Entrance Ticket: Free.
See the location of the Tukad Unda Waterfall Curtain on Google Maps.
11. Melangit River Bakas Klungkung: Best Things To Do In Klungkung
If you ask where the rafting spots are in Bali, one is the Melangit River Klungkung. There is only one rafting operator on the Melangit River: Bakas Levi Rafting.
Besides this regency, rafting locations on Bali's island are also available in the Ubud area. The name of the river in Ubud is the Ayung River Ubud. The Karangasem district also has a river for Bali river rafting. The name of the river is the Telaga Waja River.
Bakas Rafting opening hours: 09:00 – 16:00.
See Bakas Levi Rafting Location on Google Maps.
12. Kusamba Beach: Klungkung's Top Black Sand Beach to Visit
Renowned for its black sand and natural beauty and activities of salt farmers. Also, this beach is an essential gateway for fast boat services to Nusa Penida and Nusa Lembongan islands from Bali. You can read this guide if you want to know, Best Way To Get To Nusa Lembongan From Bali.
Entrance Ticket: Free.
The best time to visit is 17:00.
Dress code: Free.
See Kusamba Beach Location on Google Maps.
13. Atuh Beach Nusa Penida: Top Things To See In Klungkung
Tucked between two towering cliffs on Nusa Penida island's southeast coast, this breathtaking beach features crystal-clear waters and pristine white sands. Read More, "Guide On Visiting The Atuh Beach Nusa Penida".
14. Kelingking Beach Nusa Penida: Klungkung's Top Tourist Destinations
When you enter the Kelingking Beach cliff area, you will see a cliff area with an Indian Ocean view. On the cliff's top site, you will find several food stalls that offer snacks and drinks. From the clifftop, you see a T-Rex cliff alongside crystal-clear blue seawater. Also, most Kelingking Beach visitors only reach these cliff spots without reaching the beach shoreline.
15. Broken Beach Nusa Penida: The Essential Sights to Behold
A towering cliff surrounds the broken Beach Nusa Penida's location with a height of around 100 – 150 meters. A large hole or tunnel on the ridge on one of the towering cliffs allows seawater to enter the cliff area's inner side. Furthermore, the seawater inside the cliff area is precise with calm sea waves.
Tasting the Local Flavours: Culinary Delights in this Regency
Also, a taste of the local cuisine is a cornerstone of any travel experience. In Klungkung, try popular dishes like Sate Lilit, Lawar, and Babi Guling. Consequently, you can find these mouth-watering delicacies in local warungs (quaint restaurants) and markets across the regency.
Finding Your Home Away From Home: Where to Stay in East Bali
Whether looking for a luxurious resort or an economical guesthouse, Klungkung offers accommodations to suit every traveller. From serene beachfront resorts on Nusa Penida to cosy homestays in Semarapura, you're sure to find a place that feels like home.
The Islands Affiliated with Klungkung: Top Things To See
Meanwhile, the islands of Nusa Penida and Nusa Lembongan are worth exploring. With their pristine beaches, crystal-clear waters, and rich marine life, these islands are ideal for a day trip from Klungkung.
Wrapping Up: Top Things To See In Klungkung
Your adventure in Klungkung is just a short journey away! Immerse yourself in the region's culture, history, and natural beauty and create lasting memories on your East Bali journey. Remember to share all your exciting adventures with us on social media by tagging us! We're eager to see your memorable experiences.