Above all, are you planning a holiday in East Bali? Keen to explore historical structures adorned with exquisite Balinese architectural motifs? Your Balinese escapade isn't complete without a visit to the Kertha Gosa Pavilion Park in Klungkung, a key historical and cultural landmark in the Klungkung Regency. To clarify, this guide delves into all you need to know about Kertha Gosa Park Klungkung – from its intriguing history and unique features to the admission charges and practical tips for your visit; we have it all covered.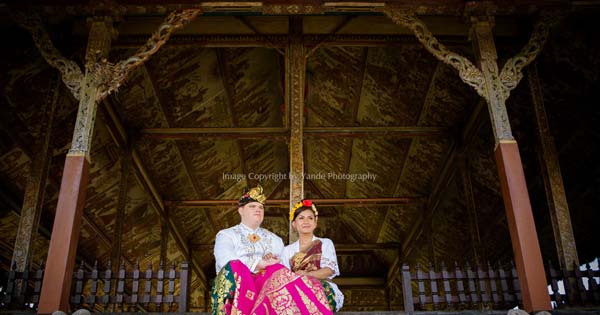 Unravelling the Captivating History of Kertha Gosa, Klungkung
You might have come across the names Kerta Gosa or Kertha Gosa. This site is an integral part of the Klungkung Kingdom complex. As the Indonesian Ministry of Education, Culture, Research, and Technology documented, the magnificent royal tower was first erected in 1686 by its founding ruler, Ida I Dewa Agung Jambe.
Though the pavilion's construction didn't coincide with the founding of the Klungkung Kingdom in 1686, instead, it appeared in the northeastern corner of the Klungkung royal area towards the end of the 18th century. Historically, the Kertha Gosa Pavilion was a prime meeting place for Bali's kings. It was a key hub for conversations about Bali's security, justice, and prosperity, doubling as a courtroom.
However, the pavilion's role dramatically shifted after the Klungkung Puputan War 1908, a fiery resistance against Dutch rule. The Dutch invasion led to the destructive downfall of the Klungkung Kingdom, and after the palace's fall, the Kertha Gosa Pavilion started a new chapter as a Traditional Court Hall. It played a pivotal role in resolving legal disputes about local customs and religious matters throughout Dutch rule.
Remarkably, despite the vast destruction, several historical structures still stand proudly. Three buildings from the Klungkung Kingdom complex survived the storm:
Medal Agung, the kingdom's grand gate.
Bale Kambang is an exquisite structure nestled within Taman Gili Pond.
Kertha Gosa Pavilion, which we'll explore further below.
The Architectural Marvels of Kertha Gosa Pavilion Park Klungkung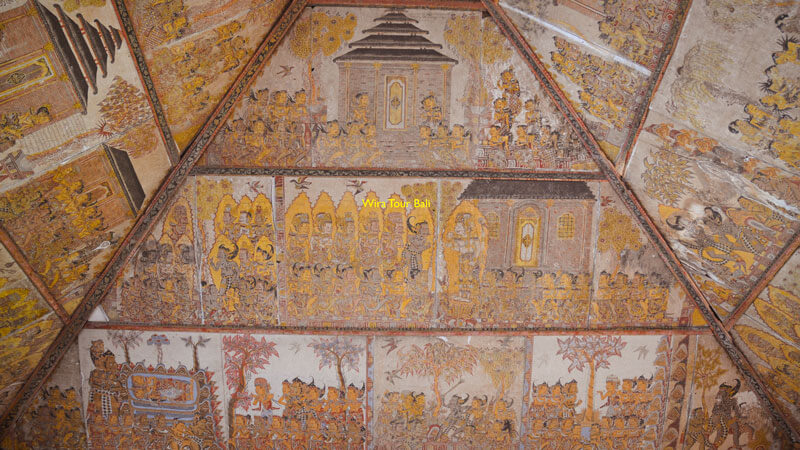 Kertha Gosa exhibits a unique blend of architectural beauty and Balinese uniqueness, reflecting 17th-century aesthetics and charm. For instance, Bale Kambang, surrounded by the enchanting Taman Gili pond, is accessible via a sturdy stone bridge.
But the charm of Bale Kambang and Bale Kertha Gosa isn't only skin deep. The ceilings of both structures feature colourful wayang (shadow puppet) paintings illustrating trial scenarios and punishments for different crimes. These wayang artworks mirror the ancient law of Karma Phala, outlining the repercussions of human actions, encapsulating the cycle of birth, death, and rebirth for atoning for one's wrongdoings.
These unique wayang paintings in Bale Klungkung Pavilion and Bale Kambang reflect the famous Wayang paintings from Kamasan Village in Klungkung. And the sightseeing doesn't stop there. A museum in the western part of the Kertha Gosa complex showcases historical artefacts from the Klungkung Kingdom and traditional Balinese courtroom equipment.
Visiting Kertha Gosa Pavilion Park Klungkung: Admission Details and More
Moreover, the Klungkung Pavilion is open daily from 08:00 – 17:00. Planning a visit to Kertha Gosa? Here are the current admission charges as of July 13 2023:
Domestic Travellers Admission Charges
Adults: IDR 25,000 per person.
Children (5 – 10 years): IDR 15,000 per person.
International Travellers Entrance Fee
Adults: IDR 50,000 per person.
Children (5 – 10 years): IDR 25,000 per person.
For Prewedding Photoshoots
Domestic: IDR 300,000.
International: IDR 500,000.
For Film/Video Clip Production
Education: IDR 250,000.
Social: IDR 1,000,000.
Commercial: IDR 2,000,000.
Please note that the fees may change according to the management's policy. Therefore, we recommend you inspect the official website for the most current and valid data.
Getting to Kertha Gosa Pavilion Park Klungkung and Other Amenities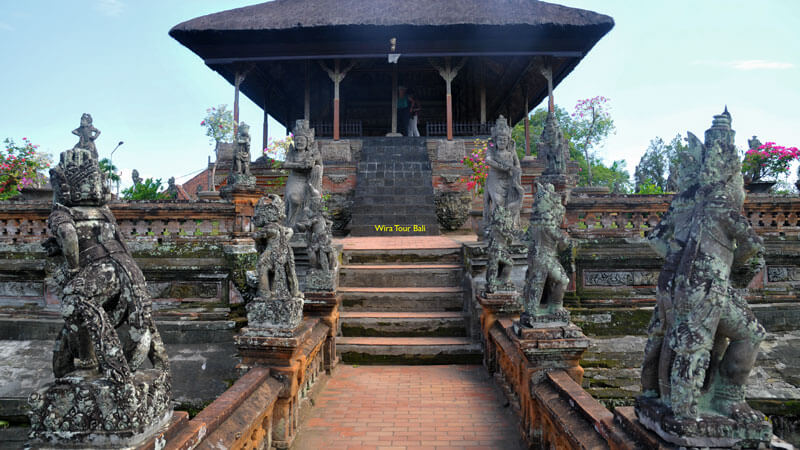 Furthermore, Klungkung Pavilion is conveniently located opposite the Regent's office in the heart of Klungkung Regency. You can reach this spot, about 40 km east of Denpasar, via the Prof. Dr Ida Bagus Mantra bypass. You can follow this link to the Location of Kertha Gosa on Google Maps for a detailed guide.
Also, at Klungkung Pavilion, you'll find ample parking facilities to the east of the tourist area. Nearby, the bustling Klungkung art market offers a multitude of vendors selling Balinese handicrafts. You'll come across various woven fabrics, gold and silver jewellery, wayang paintings, and unique plaited crafts.
Tips for Travelling in East Bali
Planning your travel is crucial if you're based in southern Bali and looking to explore East Bali. The most convenient way to navigate between the tourist spots in southern and eastern Bali is by private vehicle, either a motorbike or a car.
We provide a comprehensive guide on Bali holiday transportation, including motorbike and car rentals, to assist you in your travel plans. While planning your vacation, don't miss our Vacation Guide to East Bali.
Bali Vehicle Rental
You can choose between a motorbike or car rental depending on your requirements and comfort level. Imagine you're on a family holiday and require a spotless and appropriately maintained vehicle. In that case, we suggest opting for an affordable Bali car rental, which comes with a private driver and includes fuel. You can read our guide on car rental with a private driver in Bali.
Attractions Around Kertha Gosa Pavilion Park Klungkung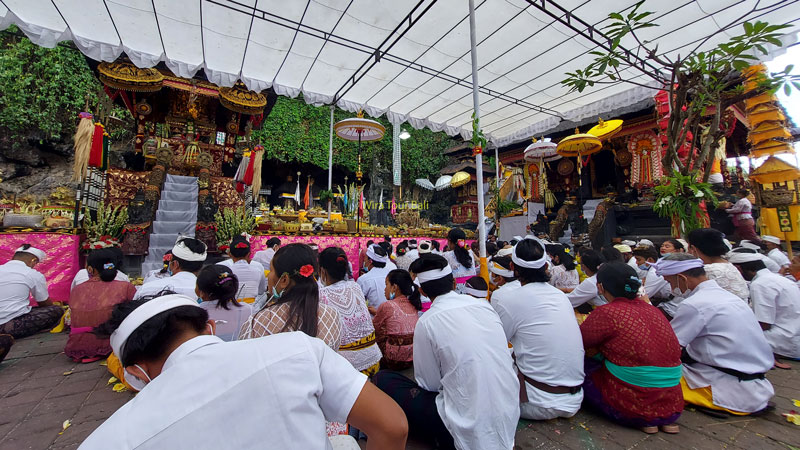 While visiting Kertha Gosa, consider exploring other nearby tourist attractions in Klungkung. Meanwhile, Kamasan Village, famous for its silver coins and wayang paintings, is worth a visit. Additionally, the Goa Lawah Temple, known for its large bat-inhabited cave, is a fascinating destination.
Also, don't miss the chance to visit Penglipuran Village, a traditional countryside community renowned for its pristine surroundings, well-preserved culture, and warm hospitality. You should not miss this unique experience while exploring the Klungkung Regency.
Activities in Klungkung Regency
Klungkung Regency offers more than cultural tourism. You can also enjoy exhilarating activities like rafting on the Melangit River. For more information, follow this link to Bakas rafting on the Melangit River, Klungkung.
Tips and Recommendations for Visiting Kertha Gosa
Here are some tips for visiting Kertha Gosa Klungkung:
The site tends to be busiest during the day. For a more serene experience, consider visiting in the morning or late afternoon.
Don't forget to bring sun protection like an umbrella or hat and a camera to capture memorable moments.
Visitors should respect site rules, maintain cleanliness, and treat the location as a valuable cultural and historical site.
Nearby Eateries and Accommodation
Furthermore, you'll find several eateries and accommodations near Kertha Gosa Klungkung. 'Warung Ayam Bakar Pademangan Klungkung' and 'Ibu Dewa Delicious Authentic Balinese Suckling Pig' is highly recommended for its delicious local cuisine.
Consequently, if you're searching for a place to stay, 'Puri Ajengan – Tower Hotel' offers comfortable rooms at wallet-friendly prices.
Contact Information for Kertha Gosa Pavilion Park Klungkung
For further details about Klungkung Pavilion, visit the official website or call +62 366 21054.
Fun Trivia About Kertha Gosa
Did you know that Kertha Gosa Klungkung is one of the few places in Bali that showcases a collection of Wayang Kamasan paintings? Also, this traditional Balinese painting style, illustrating Hindu mythology, holds high cultural significance and is one of Kertha Gosa's main attractions.
In Closing: Kertha Gosa Pavilion Klungkung
Above all, if you found your visit to Klungkung Pavilion enjoyable, you will love your tour of Taman Ayun Temple. Please explore our complete guide for more information.
Also, we value your help sharing this informative article on your social media and leaving a comment. Your help in spreading this valuable information is highly valued. Also, check out our website for more travel guides and fascinating details about Bali.
Finally, we wish you a memorable time planning your visit to Kertha Gosa Klungkung, and may your experience be truly unforgettable. Happy travelling! For an Indonesian version of this article, click here.