Denpasar isn't just the administrative hub of Bali; it's a city that conceals some world-renowned coffee gems. Beyond the iconic beaches and temples, Denpasar boasts a pulsating coffee culture eager for every traveller to unearth. These cafes blend traditional Balinese flavours with contemporary brewing techniques for all coffee lovers. Dive into this guide about top cafes in Denpasar, and join us on a coffee-fueled journey through the essential coffee hotspots – an absolute must for your Bali itinerary!
Untuk artikel lengkap dalam Bahasa Indonesia, silakan klik di sini.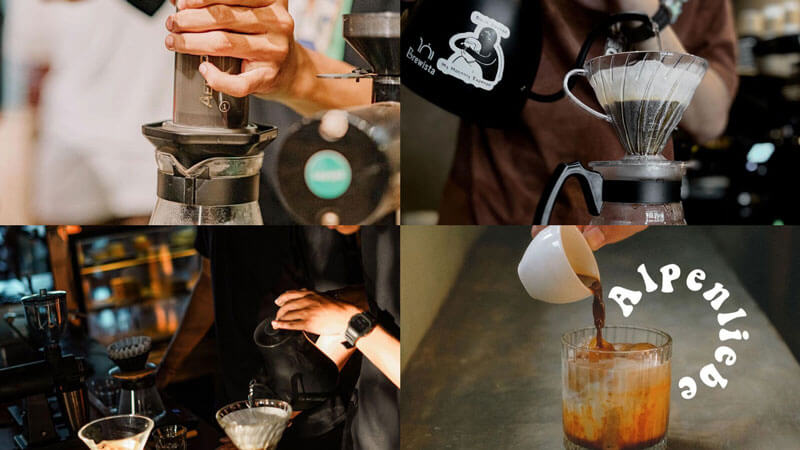 1. Ritual Kopi Denpasar: Premier Coffee Experience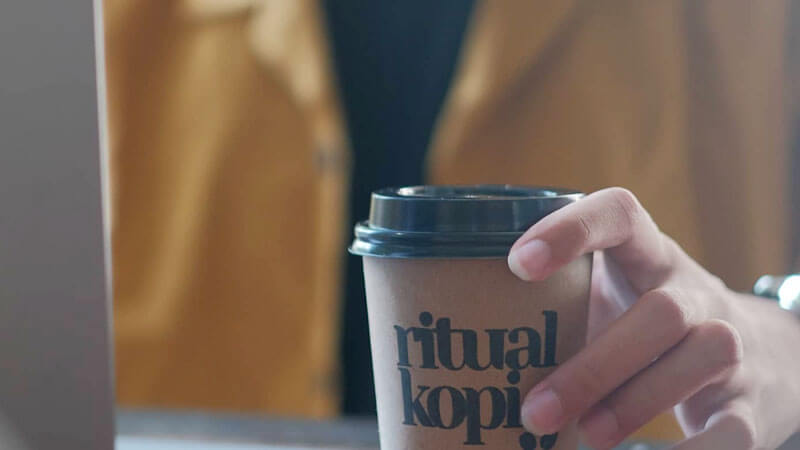 Among the top cafes in Denpasar Bali, what sets Ritual Kopi Denpasar apart as a must-visit coffee haven?
With its rich offerings of robusta and speciality coffees, Ritual Kopi isn't just a place for a caffeine fix. Instead, it is a venue with an atmosphere perfect for relaxed hangouts or seamless remote work in Bali.
Key Features of Ritual Kopi Denpasar:
Swift Wi-Fi: Stay globally connected seamlessly.
Inviting Ambiance: Experience the warmth akin to being in your living room.
Diverse Coffee Selection: Catering to discerning palates and the adventurous tasters.
2. Karakter Kopi Bali: Relish the Richness of Robusta
What makes Karakter Kopi stand out as one of the Top Cafes in Denpasar?
Furthermore, its distinction is based on three primary factors:
Their robust and aromatic local robusta brew.
At Karakter Kopi, you're not merely grabbing a coffee but immersing yourself in a symphony of taste, ambience, and impeccable service.
Key Highlights:
Diverse Menu: They serve a delicious array of dishes beyond just coffee.
Ambience and Facilities: A cosy seating area, ample parking space, and commendable service set the stage.
Pro Tip: Venture out and sample the variety of coffee blends available. It promises to be a delightful experience.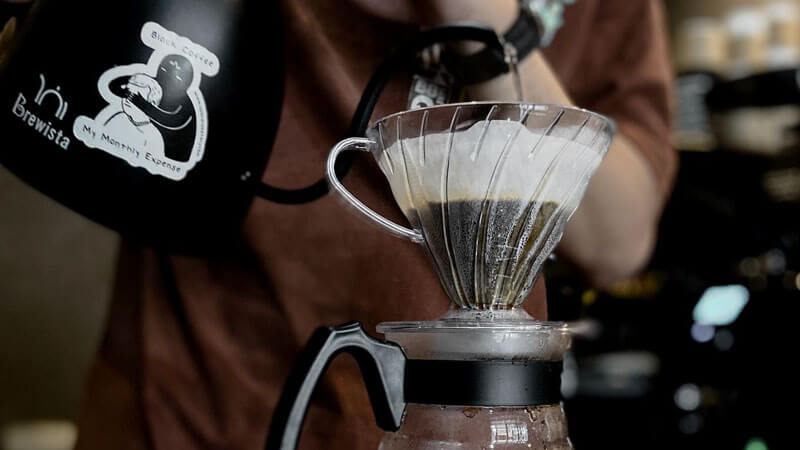 Meanwhile, have you ever wondered why Patmos Coffee is one of my top cafes in Denpasar Bali list and holds a special place in my heart?
From the moment you step in, the aroma is enchanting. Moreover, the baristas here mean serious business, churning out an oat milk latte that bursts with flavour. If your travels bring you to Denpasar, make it a point to swing by – especially since it's a stone's throw from numerous captivating tourist sites.
Additional Delights as One Of The Top Cafes in Denpasar:
Also, their waffles and matcha are worth trying if coffee isn't your only craving. Additionally, their caramel macchiato not only tantalises the taste buds but also comes at an incredibly reasonable price.
Quick Service Review:
The staff are ever alert and ready to assist.
As for the ambience, it radiates comfort, although it might not be the best spot if you're looking to get some work done.
Insider Tips:
Consider giving their waffles or matcha a shot; believe me, it's a decision you'll cherish.
Getting there early and sidestep any parking hassles is always a good idea.
4. 9/11 Cafe & Concept Store: Denpasar's Dual Delight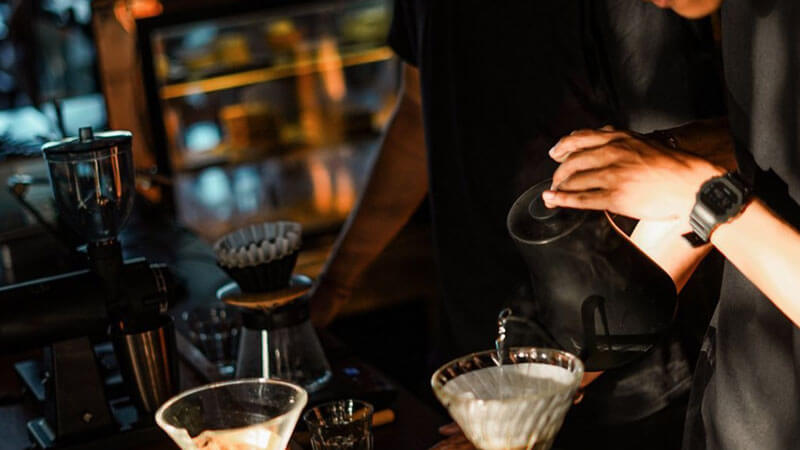 Not Just Your Average Cafe!
When you enter the 9/11 Cafe & Concept Store, you're met with a delightful ambience perfect for capturing. So, don't hesitate to whip out your phone for a quick snap!
Savour the Flavours
Also, their eclectic menu promises a culinary delight. Whether you're in the mood for the classic Fish and Chips or fancy trying the sweet and tangy Ricebowl Honey Shrimp, satisfaction is guaranteed.
Digital Nomads, Take Note!
The cafe boasts speedy Wi-Fi and plentiful power outlets, all set in a relaxed setting. It's little wonder it's a favourite spot for freelancers and digital wanderers.
Impeccable Service Awaits
The courteous staff ensure that not only will your first visit be memorable, but it certainly won't be your last.
Insider Tips
Seeking the perfect lighting? The golden hues between 5–7 p.m. provide an enchanting backdrop.
Opt for the Spaghetti Carbonara or the succulent BBQ Korean Ribs for a dish tantalising the taste buds.
Plus, There's a Bonus!
Not just a cafe, but there is also a store concept! Moreover, you can get unique merchandise as souvenirs or gifts.
5. Sekala Kopi Denpasar: Where Balinese Tradition Meets Modernity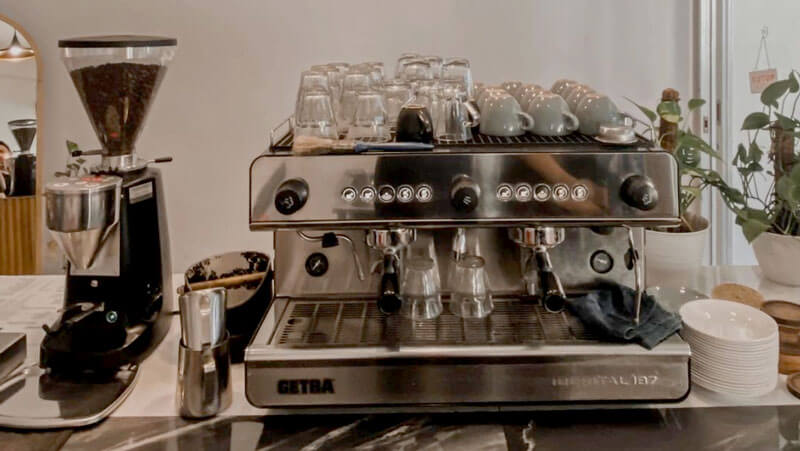 Why Choose Sekala Kopi for Your Next Stop?
From the moment I walked into Sekala Kopi, I was enveloped in its welcoming charm. The cafe has a casual yet charming atmosphere, allowing you to relax immediately. Also, its prime location near the renowned Aston Hotel and the delightful Soto Cak in Ubung makes it the perfect spot for a post-work or post-meal breather.
A Treat for Both Coffee and Snack Lovers
As you step inside, the tantalising aroma of freshly brewed coffee will surely capture your senses. However, let's not overlook their delectable green tea — it's a taste sensation!
More Than Just a Cafe
Furthermore, Sekala Kopi offers a laid-back environment without compromising on sophistication. With complimentary Wi-Fi and a staff that radiates friendliness, you're in for a treat.
What Do Patrons Say?
Insider Tips
Their green tea has garnered quite the fanbase — it's a must-try.
For those with an appetite, their fried rice is not to be missed.
6. Sekopi.Renon: Savor Denpasar's Coffee Essence
The Allure of Sekopi.Renon
On a sunny afternoon at Sekopi.Renon, I enjoyed an intense black coffee. The cafe offers an open-air setting, allowing visitors to feast their eyes on the surroundings as they indulge in their brews.
An Instagram-worthy Retreat
Open-Air Concept: Sekopi.Renon is adorned with various plants, infusing the environment with a refreshing, relaxed ambience.
A Pleasing Palate
Coffee & Greentea Latte: Unquestionably, a beverage you shouldn't miss! For the hungry souls, the menu extends to delectable carbonara pasta and pocket-friendly fried rice that's as satisfying as it is economical.
What Patrons Say
Despite its buzzing atmosphere, there remains a tranquil air about Sekopi.Renon.
Visitors also laud the hassle-free parking.
Top Tips for Visitors
Fancy a coffee date with your pet? You're in luck – Sekopi.Renon welcomes furry friends with open arms.
Uncertain about what to order? Engage with the well-informed staff who'll gladly guide you through their coffee offerings.
If you're looking for other notable coffee places in Bali, don't miss out on the Starbucks Reserve Dewata Bali Largest in Southeast Asia.
7. HANAKA COFFEE: The Coffee Sanctuary in Denpasar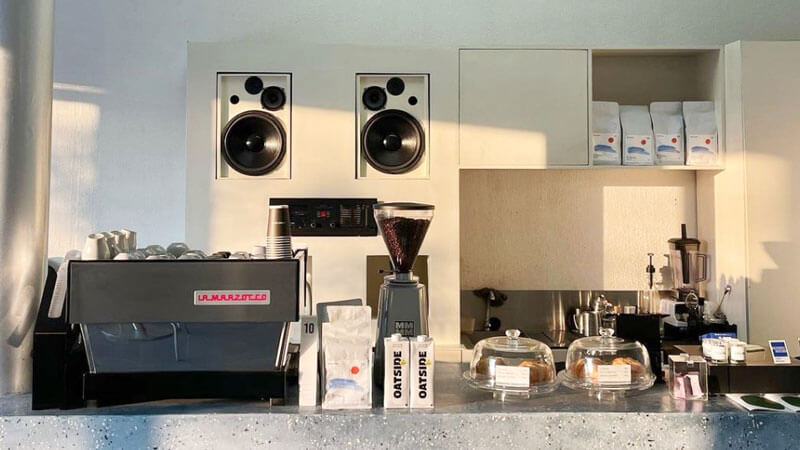 What Makes HANAKA COFFEE Stand Out & Listed On Top Cafes in Denpasar?
Positioned a stone's throw away from Prof. Ngoerah Hospital, HANAKA isn't merely a pit stop for that craving for caffeine. Its industrial ambience offers a cosy, welcoming feel, immediately setting the mood.
A Personal Recommendation
The first time I sampled a cake here, it was love at first bite. Their offerings extend beyond coffee; their cakes are a delightful experience, too!
Catering to Every Palate
Whether you prefer vegan or non-vegan options, HANAKA offers a range.
Plus, with prices that won't have you second-guessing, it's a treat for every wallet.
A Little Insider Tip
While parking might be tricky, rest assured complimentary spaces are available for both cars and motorbikes.
8. Kopi Rumahan Bali: A Cosy Coffee Nook in Denpasar
Why Visit Kopi Rumahan Bali?
Envision a laid-back ambience complemented by rich coffee aromas. Nestled in the heart of Denpasar, Kopi Rumah Bali offers more than just a standard coffee experience.
What Makes It Special That Worth On The List Of Top Cafes in Denpasar?
Have you ever yearned for a sanctuary amidst the urban rush? This is your spot. Enjoy your coffee outdoors and let the homely vibes wash over you.
Quick Glimpse
Popular Among: Though intimate in size, it often buzzes with patrons.
Must-Try: The brownies are an absolute delight!
Pro Tip:
If Bali's heat gets to you, seek refuge indoors. But more often than not, a gentle breeze outdoors does the trick.
9. Mood Coffee Bali: Denpasar's Elevated Coffee Experience
Why Make A Stop At Mood Coffee Bali?
Insider Insights
Coffee Delight: As a fan of matcha lattes, Mood Coffee never fails to lure me back.
Ambience? Top-notch: The ambience is suitable whether you're unwinding or hustling to meet a deadline.
Parking Note: Given the limited spaces, you might consider hopping on a Gojek or Grab.
10. Mitos Kopi Renon: The Coffee Gem of Denpasar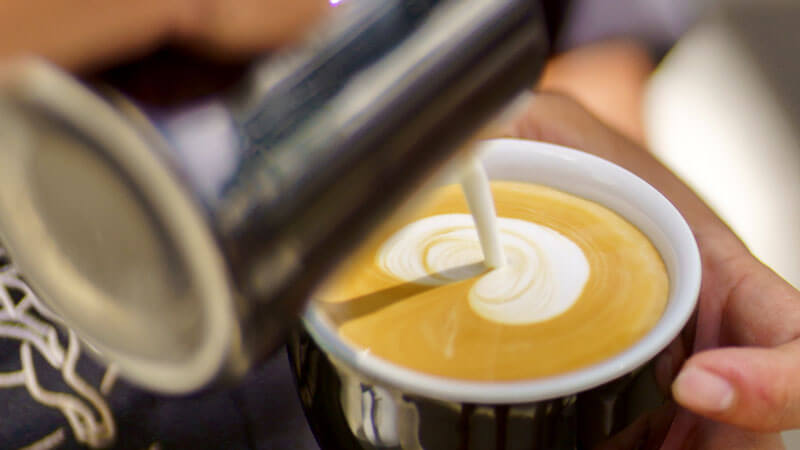 Why Make Mitos Kopi Renon Your Coffee Stop?
Exquisite Coffee Experience: The cappuccino here isn't merely delightful; it's so captivating that it might make the world around you fade for a moment.
Prime Location: Conveniently situated close to the immigration office. It's the perfect spot for a breather if you're handling passport matters.
Ambience & Amenities
Stylish Interiors: Whether you fancy an indoor setting or an outdoor vibe, Mitos offers both.
Wheelchair Accessibility: Possible, though assistance might be required.
Must-Try Items
Croissants & Mayo: Ideal for breakfast or a quick nibble, and oh, so delicious.
Pain au Chocolat: Be quick on your feet! These delightful pastries are in high demand and tend to vanish fast.
The List of Top Cafes in Denpasar: A Personal Insight
The contents of this guide stem from both personal ventures and thorough research. It's vital to note that I maintain no commercial ties or affiliations with any of the cafes spotlighted here. The sentiments expressed are solely reflective of my perspective as the author.

Before embarking on your Denpasar coffee journey, I'd advise verifying your chosen establishments' latest operating times and protocols.
Summary of Top Cafes in Denpasar Bali
Beyond being the administrative nucleus of Bali, Denpasar is a veritable haven for brew fans. Above all, the city boasts an eclectic tapestry of coffee spots, each emanating a distinct ambience.
Also, Denpasar promises a fulfilling coffee vacation, whether seeking a cosy nook for contemplation, a conducive space for work, or simply wishing to immerse in the local milieu. Furthermore, these cafes should punctuate your holiday itinerary as you traverse Bali's landscape.
What's holding you back? Embark on a coffee expedition in Denpasar that will linger in your memories.
Have any of the mentioned cafes graced your past travels? Do regale us with your experiences in the ensuing comment segment or partake in our poll titled, "Which cafe beckons a return visit?"
Also, we'd be thrilled if you could chronicle your adventures on social media, tagging us and employing the hashtags #DenpasarCoffeeAdventure and #WiraTourBali.