Welcome to the ultimate Gili Trawangan Travel Guide, your gateway to a fascinating adventure and gastronomic journey in Indonesia. Located just off the shore of Bali and Lombok, Gili Trawangan is more than just a tropical paradise; it's an escape into a world of adrenaline-pumping activities and culinary delights.
Mencari panduan dalam bahasa Indonesia? Lihat Panduan Berlibur di Gili Trawangan: Tips Terbaik untuk Petualangan yang Tak Terlupakan!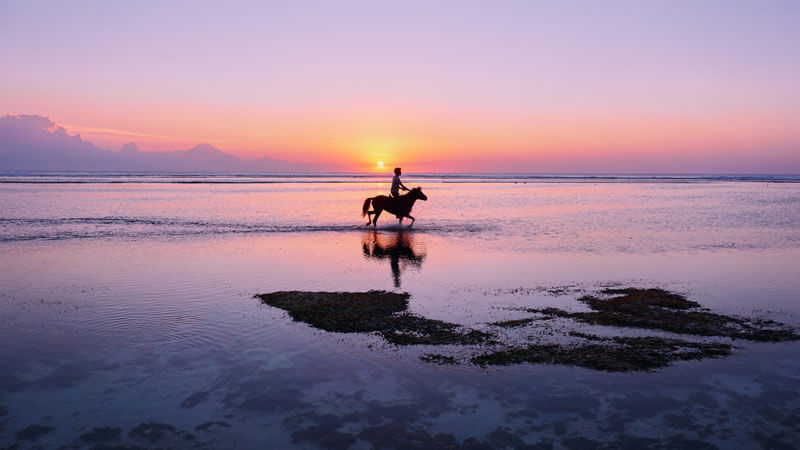 Gili Trawangan: Indonesia's Ultimate Island Experience & Guide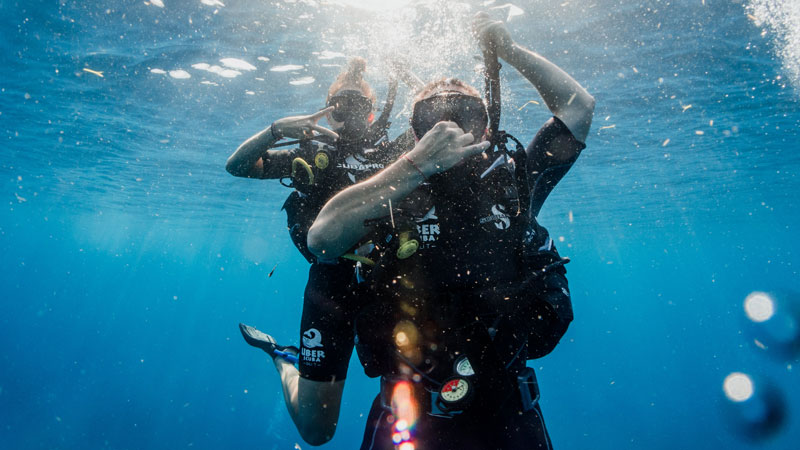 Gili Trawangan, an Indonesian island gem, promises an unforgettable experience for every traveller.
Here's what makes it an essential inclusion on your Indonesian travel itinerary:
1. Exquisite Beaches: Indonesia's Best-Kept Secrets
Crystal-Clear Waters: Ideal for snorkelling or a serene float.
White Sands: Bask under the sun in this stunning paradise.
Peaceful Ambience: Savour the beach minus the bustling crowds.
2. Thrilling Adventures: Unleash Your Inner Explorer
Snorkelling: Dive into Gili Trawangan's vibrant coral reefs and befriend sea turtles.
Paddleboarding: Experience the serene beauty of the island's pristine waters.
Horseback Riding: A distinctive way to witness the island's breathtaking landscapes.
If you're currently in Bali, you might be interested in exploring the exciting outdoor activities and marine sports the island has to offer.
3. Vibrant Nightlife: Gili Trawangan Shines After Sunset
Beachside Bonfires: Create cherished memories under a starry canopy.
Energetic Dance Clubs: Unleash your festive party spirit.
Relaxed Lounges: Ideal spots for a laid-back evening of sips and tranquillity.
4. Dive into Rich Culture: Gili Trawangan's Cultural Melting Pot
Sasak-Influenced Acts: Immerse yourself in the island's unique cultural tales.
Authentic Local Cuisine: Embark on a culinary voyage that transcends usual tourist dishes.
Artisanal Markets: Discover handcrafted treasures to ensure your trip remains unforgettable.
For those eager to expand their Gili experience, don't skip our comprehensive guide to Gili Meno Island – an excellent addition to your Gili Trawangan adventure.
Navigating Your Way to Gili Trawangan: The Effortless Travel Guide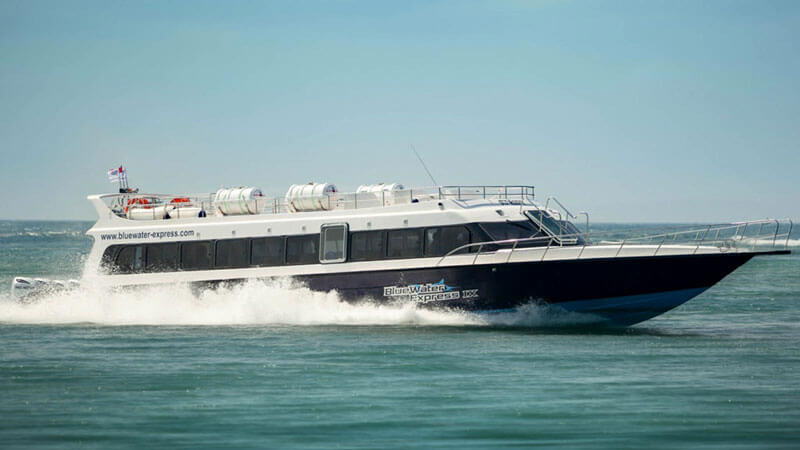 Getting to The Island of Smiles is easy whether you're from Bali or Lombok. Here's your quick guide on how to get there without the fuss.
What Are My Options for Traveling to Gili Trawangan from Bali?
Furthermore, you've got two good options if you're coming from Bali: fast boats or public ferries. Both leave from Padang Bai Port.
1. Fast Boats: Get There Quick
Here's everything you need to know to make your fast boat trip even more exciting.
Good to Know:
They're fast but a bit pricey.
Don't bring too much luggage; space is limited.
Pro Tip: High season? Book early.
Also, for more details on the best way to travel from Bali, check out our comprehensive guide from Bali to Gili Trawangan.
2. Public Ferries: Cheap but Slow
Information
Details
Who Runs Them
ASDP Ferry
Time
4-5 hours
Cost
Adults: IDR 57,000
Kids: IDR 5,800
Motorbikes: IDR 146,000
Cars: IDR 1,023,000
Good to Know:
Conventional ferries are cheaper but take more time.
These ferries have a large luggage capacity.
The vehicle ticket price already includes the passenger fare.
So You're in Lombok: Here's How Close You Are to A Jewel in the Gili Islands
Meanwhile, if you're starting your journey from Lombok, you're almost there.
From Lombok by Car and Boat
The following is information about the trip from Lembar Ferry Harbor to Bangsal Harbor and Gili Trawangan Island.
| Detail | Information |
| --- | --- |
| Time | It takes about 1.5 hours by car from Lembar harbour to Bangsal harbour, then a quick boat ride to Gili T. |
| Distance | From Lembar to Bangsal harbour, around 49 kilometres. |
| Taxi from Lembar to Bangsal | IDR 500,000 – IDR 600,000 (price subject to changes). |
| Public Boat from Bangsal to Gili Trawangan | IDR 23,000 per person. |
Insider's Tip:
Want to Fly From Bali?
| Aspect | Details |
| --- | --- |
| Time | A quick 30-minute flight to Lombok Airport from Ngurah Rai Bali. |
| Cost | Varies, but it's generally pricier. |
| Trip from Airport to Bangsal | Continue your journey to Bangsal by car/taxi after arriving at Lombok Airport. Price: see above. |
| Boat from Bangsal to Gili Trawangan | Follow the instructions above to take a boat from Bangsal to Gili Trawangan |
Prices and travel duration may vary. It's a good idea to double-check before you book.
Note:
Best Time To Visit Gili Trawangan: Month-by-Month Travel Guide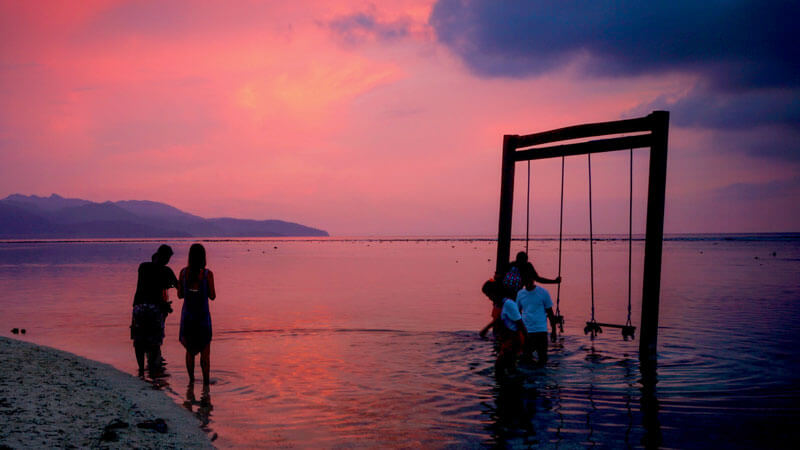 The largest Gili Island is a fantastic destination all year round, but choosing a suitable month can make your trip extra special. Here's your quick rundown:
Vacationing During Low Season January to April: Benefits and Tips
May to August Peak Season on Gili Trawangan: Busy and Exciting Holidays
| Category | Description |
| --- | --- |
| Weather | Warm temperatures with bright sunshine are ideal conditions for outdoor activities. |
| Crowds | More tourists, especially from June to August |
| Best For | The ideal time for underwater activities, such as diving and snorkelling, and various other activities on the beach. |
| Additional Info: | May to August is the most favourable period for fans of water sports activities. For divers, water visibility at this time is excellent. Read more about the Best Diving Spots on Gili Trawangan. |
Good to Know:
If you're into diving, water visibility is at its best.
Quick Tip:
Visit during the Transition Period, September to December: Enjoy the Charm of Two Seasons
| Category | Description |
| --- | --- |
| Weather | Starting to change from summer to rainy season with comfortable temperatures and occasional rain. |
| Crowds | Down from its peak but still busy, especially in December leading up to the holidays. |
| Best For | This is a good time for those who want to avoid the peak season crowds but still want to enjoy the excellent weather and lots of activities. You can also find special offers or discounts from several accommodation and tourism service providers during this time. |
| Pro Tip | Read about How to Pack for Gili Trawangan. |
Where to Lodge in Gili Trawangan: From Budget-Friendly to Luxury Stays
Confused about where to stay in Bali's Nearby Paradise? No worries! We've picked out some top places to help you decide. Whatever your budget, there's something for you here.
1. On a Budget? We Got You!
If you want to save, consider Santorini Beach Resort or Mad Monkey Gili Trawangan.
Read our Ultimate Guide to Budget Travel in Bali for more ways to save while travelling.
2. Mid-Range: Get More for Your Money
If you want to splurge a bit but not break the bank, check out Aston Sunset Beach Resort or Kardia Resort Gili A Pramana Experience. Expect beach views and swimming pools to make your stay more enjoyable.
3. Ready to Splurge? Go Big!
If only the best will do, you'll want to look at Pearl of Trawangan or Pondok Santi Estate Luxury Beachside Resort. These luxe resorts offer everything from comfy beds to great dining.
Top Attractions in Gili Trawangan: Time-Saving Travel Guide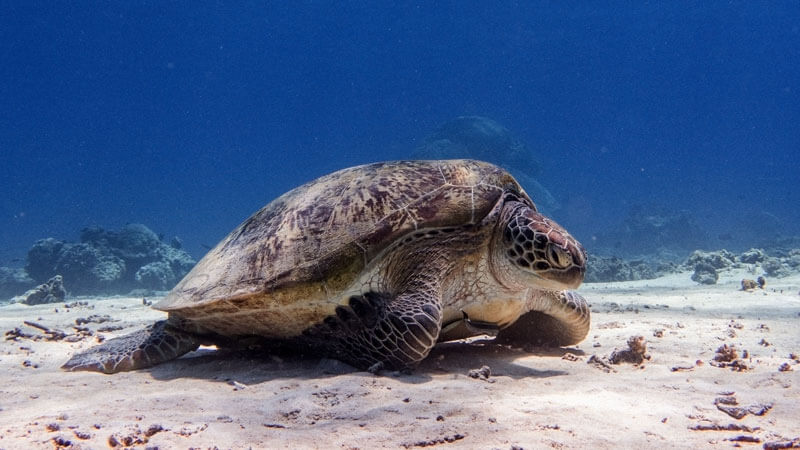 Discover the hidden gems and headline acts of Gili Trawangan, from its vibrant marine life to its paradisiacal beaches. Here's your condensed yet thorough guide for an unforgettable island adventure.
Snorkeling in Gili Trawangan: Dive Into Another World
Avg. Time: 2-3 hours
Snorkelling is essential in a jewel in the Gili Islands, where lush corals and sea turtles await.
Before you go, make sure to read these snorkelling safety tips.
Hotspots & Tips:
North Halik Reef: A sanctuary underwater, but watch for strong currents. Keep an eye out for turtles! (2-3 hrs)
Turtle Point: Ideal for turtle enthusiasts. No need for a boat; walk right in from the shore! (2 hrs)
Biorocks: Known for artificial reefs and, yes, more turtles. Caution: Speedboats frequent this area. (3 hrs)
Beaches in Gili Trawangan: Pick Your Paradise
Avg. Time: Half to a full day
Whether water sports or lazing under a tree, Gili Trawangan's beaches have something for everyone.
Don't miss this guide about the Hidden Beaches of Gili Trawangan.
Top Picks & Tips:
Surf Point: White sands, waves for surfing, and shade. No need for a paid lounge. (Half-day)
Beyond Surf Point: A secret beach with clear waters and fewer tourists. It's your private escape! (Half-day)
The Sunset Side: Less pristine but perfect for watching the sun dip below the horizon. (1-2 hrs for sunset)
Where to Catch the Sunset: Not Just a Sky Show
Avg. Time: 1-2 hours
The island's sunset spots are an explosion of colour and the ultimate way to end your day.
Prime Spots & How-To:
Pink Coco Gili T: Bean bags, drinks, and a view of Mount Agung. It is about a 25-minute walk or quick bike ride from the port. (1-2 hrs)
Hilltop Hiking View Point: Less commercial, equally stunning. Roughly 10 minutes by walk. Bring a sarong and some beers for a more laid-back experience. (1-2 hrs)
For an unforgettable experience on your next vacation, be sure to check out our Best Things To Do In Gili Trawangan: Your Essential Traveler's Guide.
Adventures & Activities in Gili T: Your Thrill-Seeker's Guide
Gili Trawangan is a playground for adventure-seekers. Whether you're a water baby or a landlubber, there's something here to pump your adrenaline.
Adventure Awaits: Unleash Your Wild Side
From the aqua-blue waters to the scenic trails, Indonesia's Miniature Island Haven offers a variety of pulse-quickening activities.
1. On Water
| Activity | Avg. Time | Description |
| --- | --- | --- |
| Scuba Diving | Half-day to Full-day | Dive into an underwater paradise featuring over 20 sites. Always dive with a certified instructor for safety. Check out our Best Diving Schools in Gili Trawangan for a list of certified diving schools. |
| Kayaking | 2-3 hours | Paddle your way around, staying close to the shore or exploring deeper waters. |
2. On Land
| Activity | Avg. Time | Description |
| --- | --- | --- |
| Cycling Tours | 3-4 hours | Bicycles are the island's eco-friendly transport. Cycle through beaches, local markets, and scenic viewpoints. |
| Nature Trails | 2-3 hours | Walk amidst coconut groves and local habitats. It is a great way to connect with nature and the local culture. |
The Ultimate Gili Trawangan Foodie Travel Guide: Satisfying Your Culinary Cravings in Indonesia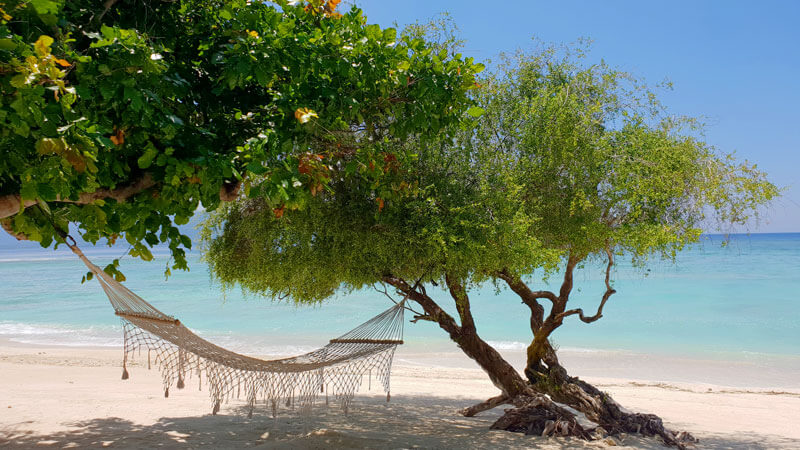 Regarding island eats, the party Island of Indonesia serves up a medley of mouthwatering options that will leave you craving more.
1. Ocean's Bounty: Seafood in Gili Trawangan
Feast on the freshest seafood while enjoying ocean views. Here are some top picks:
2. Taste of Tradition: Gili T's Local Flavours
Indulge in the rich culinary heritage with local Indonesian dishes. Here's where to find them:
3. On-the-Go Delights: Gili T's Street Food
Gili T's street food has you covered for those quick bites or late-night munchies. Learn more about Indonesian street food for other delicious options.
Essential Gili Trawangan Travel Guide: Money, Manners, and Safety Tips for Tourists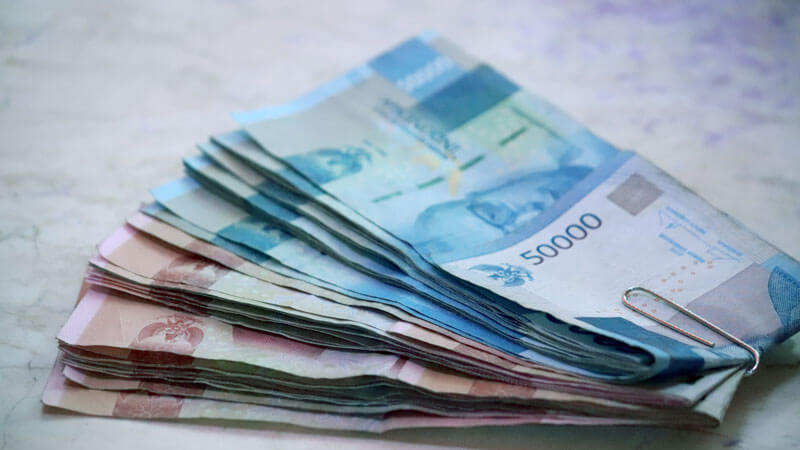 Are you heading to the beautiful Gili Trawangan for a vacation? Discover essential travel tips to navigate the island like a seasoned traveller, guaranteeing safety and fun.
Handling Money: Know Your Currency
Main Currency: Indonesian Rupiah is the go-to currency here. Check current exchange rates.
Dollars: Some places might accept U.S. dollars, but it's not recommended to rely on this.
ATMs are few and can run out of cash, especially on weekends.
Credit Cards: Using a credit card? Expect an extra 2-3% fee at fancy restaurants and hotels.
Local Customs: When in Gili T, Do as the Locals Do
Dress Code: Off the beach, aim for modest clothing out of respect for the local Muslim culture.
Alcohol: Enjoy it responsibly and keep it away from religious sites.
Drugs: Big no-no. Extreme sentences, including fines or even jail time.
Staying Safe: Your Well-being is a Priority
Crowded Areas: Keep an eye on your belongings.
Stranger Danger: Be cautious if someone you don't know approaches you.
Water Sports: Double-check your gear; your safety depends on it.
Check out this comprehensive guide on travelling safely in Indonesia for more safety tips.
Comprehensive Gili Trawangan FAQ and Quick Tips: The Ultimate Cheat Sheet for Your Gili T Holiday
Considering a Gili Trawangan holiday? Get all your questions answered and top travel hacks to elevate your Gili T experience right here.
Quick Answers to Your Gili Trawangan Travel Guide FAQs
Is Gili T Safe?
Yes, but be smart about alcohol and night outings. Keep an eye on your stuff.
Getting Around?
No cars or scooters here. Walk, cycle, or hop on a 'Cidomo' (local horse cart).
Nightlife Scene?
From chill beach bars to lively clubs, Gili T has your nightlife covered.
Are ATMs Available?
Yes, mainly near the harbour and market. Credit cards are widely accepted.
Is it Family-Friendly?
Absolutely. Safe beaches, kid menus, and fun activities like snorkelling.
How do I get Local SIM Cards?
Buy one near the harbour for $5-$10, depending on the package.
To Tip or Not to Tip?
It's not mandatory but appreciated. A 10% tip or rounding up the bill works.
Quick Tips for a Smooth Gili T Experience
Budget: Expect to spend $50-$100/day. Luxury seekers will need more.
Activities: Gili T is not just for party-goers. Families can enjoy beaches, snorkelling, and more.
Cash or Card: Carry local cash for small buys; not everywhere takes cards for little things.
Health: Consider Hep A and Typhoid shots. Stick to bottled Water.
Local Customs: Dress modestly in villages and respect religious events.
Safety: Keep a close eye on your belongings in crowded places.
Summary Of Gili Trawangan Travel Guide
Gili Trawangan is not just another tropical island; it's a destination for unforgettable adventures! From snorkelling with turtles to cycling the scenic paths, ensure you have the right snorkelling gear to make your experience safe and enjoyable.
Heads Up: We've done our best to provide up-to-date information, but prices and opening hours can change. Always confirm details before you head out. Safe travels!
Your Gili T Travel Stories: Share Your Experiences and Tips
Do you have travel tips or experiences you want to share about Gili T? Your insights make this guide better. So go ahead and drop your comments below. We're listening!
Don't Forget! Your Gili Trawangan Travel Guide Pre-Trip Checklist
Before you set sail for Gili T, make sure you've got these essentials sorted:
Maps: Whether paper or digital, knowing where you're going is critical.
Emergency Contacts: Save these significant numbers just in case.
And there you have it—your comprehensive travel guide to Gili Trawangan, complete with safety tips and travel hacks. Got more to add? Your insights can make this Gili T guide even more valuable. Don't hesitate to share your thoughts and tips; we're eager to hear from you!