Uncover the top experiences in Gili Trawangan with our detailed guide. Without a doubt, this island in the Bali Sea offers a tranquil getaway with its gentle waves and fine sandy beaches. Whether you want to relax or seek adventure, Gili T has something for everyone. Therefore, enjoy the island's serene beauty and exciting activities for a memorable vacation.
For Indonesian readers who prefer to delve into the details in Bahasa, the Indonesian version of '24 Best Holiday Activities in Gili Trawangan' is just a click away. Discover your next adventure on this link: Indonesian Version Available Here.
Discover the Serene Paradise of Gili Trawangan
Experience the unique blend of tranquillity and adventure in Gili Trawangan. Moreover, this island paradise beckons you to its peaceful environment and vibrant activities. Relax on its pristine beaches, listen to the soothing waves, and explore the rich marine life. Gili T caters to both relaxation seekers and adventure enthusiasts, promising an unforgettable journey.
Before diving into the specifics, explore our complete guide for an unforgettable holiday in Gili Trawangan.
Critical Phrases for Communication in Gili T
Learn essential Bahasa Indonesia phrases to enhance your stay on the largest Gili Island. Engaging with locals deepens your experience:
'Selamat pagi' for 'Good morning',
'Terima kasih' to say 'Thank you',
'Berapa harganya?' to ask, 'How much is this?'
These phrases help foster meaningful interactions with the local community.
Gili Trawangan Essentials: Tips for a Hassle-Free Visit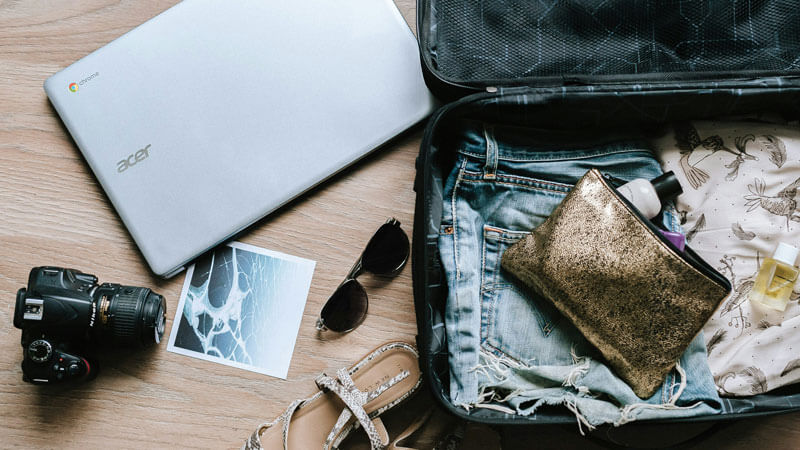 Prepare for your trip to the largest Gili Island with these essential travel tips. To clarify, our guide is designed to help you navigate the island's unique features, from its tropical climate to local customs, ensuring a smooth and enjoyable experience.
Preparing for Your Journey
Respecting Local Culture
Understanding and respecting local customs in Trawangan Island is crucial for a harmonious visit. For instance, simple gestures like smiling can bridge cultural gaps. Always ask for permission before photographing people or private areas to show respect for local traditions and privacy.
Health and Safety Tips
Hydration: Staying hydrated is vital, especially after engaging in water activities or during the hotter parts of the day.
Emergency Contacts: Keep a list of essential contacts, including the nearest medical facility, such as the Trawangan Medical Service (TMS), for emergencies.
Accessibility in Gili Trawangan
As Trawangan Island works towards better accessibility, travellers with functional needs should communicate with their accommodations beforehand. As a result, this ensures any necessary arrangements for a comfortable stay, making Gili T accessible and enjoyable for all visitors.
Snorkelling Adventures: A Top Activity in Gili Trawangan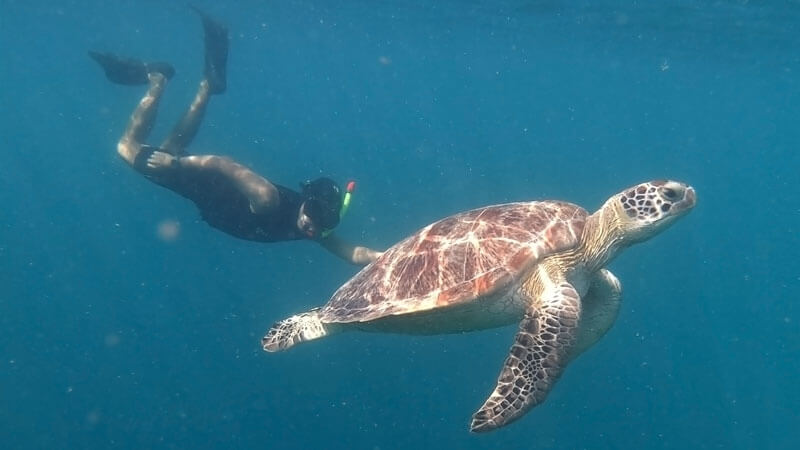 Furthermore, snorkelling in the largest Gili Island offers a unique experience, ranking as one of the top activities for visitors. Also, the isle's transparent waters and prosperous marine life make it a snorkelling haven.
Embracing Eco-Friendly Snorkelling
Choosing eco-conscious activities like snorkelling tours aligns with Gili Trawangan's dedication to marine conservation. Importantly, these tours provide an unforgettable snorkelling experience and educate visitors on preserving the island's natural beauty.
Active Participation in Conservation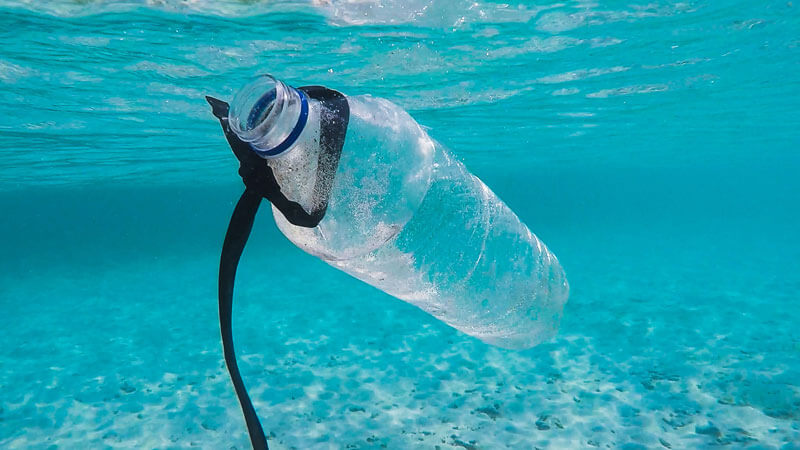 Visitors are encouraged to participate in local conservation efforts, such as beach clean-ups. Also, these activities are regularly organised, and information can be found near the harbour or in the marketplace.
Additionally, the island's health and wellness stores offer a range of eco-friendly products, supporting the initiative to maintain Gili T as a sustainable tourism destination.
Culinary Delights: Best Dining Experiences in Gili Trawangan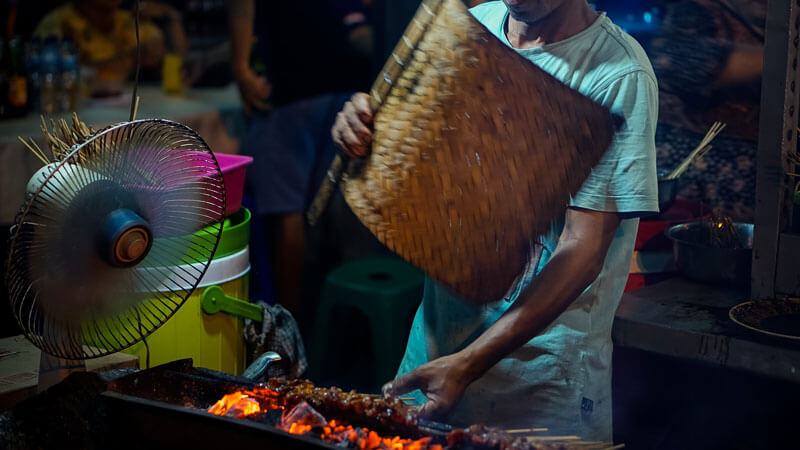 In addition, Gili Trawangan's culinary scene is a vibrant tapestry of Indonesian and Sasak cuisine, offering a delightful array of dining experiences that cater to all palates.
Warung Jaman Now:
A favourite among spice lovers, this café serves the iconic 'Ayam Taliwang', a spicy grilled chicken dish that's a staple in Sasak cuisine. Located conveniently on the island's main strip, Warung Jaman Now enthusiastic atmosphere makes it a must-visit for an authentic taste of local flavours.
Sumi Sate / Babalung:
Known for its heartwarming 'Bebalung' stew, Sumi Sate / Babalung eatery offers a comforting meal made with beef and infused with local herbs and spices. Its homely setting provides an intimate dining experience, allowing visitors to enjoy traditional dishes in a relaxed environment.
Pasar Malam (Night Market): Delicious and Affordable Dining
After the sun sets, the Gili Trawangan Night Market is the place to be. Experience the culinary richness of Gili T at the Pasar Malam (Night Market). Without a doubt, this bustling spot is perfect for enjoying local delicacies without breaking the bank.
Savour 'mixed rice' with various side dishes for just 25,000 IDR, or indulge in grilled satay with complimentary sides for 50,000 IDR.
Moreover, the market's array of seafood and traditional Indonesian dishes promises a fulfilling meal for around 100,000 IDR for two. With young coconuts available for 20,000 IDR and on-site clean facilities, the night market is a feast for the palate and a vibrant cultural experience on Trawangan Island.
I still remember the evening I spent at the night market, where I tasted the most delightful grilled satay, recommended by a friendly local vendor who promised it would be the best I'd ever had.
Unforgettable Sunsets: A Must-See in Gili Trawangan
One of the most awe-inspiring sights on Trawangan Island is its sunsets, particularly at the renowned Sunset Point on the western shore. Indeed, this spot offers a panoramic view of the sun dipping behind the horizon, with Mount Agung silhouetted in the background.
The blend of vibrant colours in the sky creates a mesmerising spectacle, making Sunset Point a top attraction for every visitor to the island. For more details on visiting Sunset Point and its timings, check out The Best Sunset Points On Gili T.
Sharing the Enchantment of Gili Trawangan's Evenings
Beyond its culinary delights, the night market is a lively social scene where visitors can engage with locals and other tourists, adding to the island's enchanting atmosphere. It's integral to the Gili Trawangan experience, combining great food with a friendly, communal vibe.
Your experiences of Gili Trawangan's stunning sunsets and vibrant night market are invaluable. Share them using #GiliTrawanganUnveiled to help fellow travellers make the most of their visit to this tropical paradise.
Voices of Gili T: Traveller Reviews
Hear direct experiences from visitors:
Neil Penn (Family): "My wife and I enjoyed the relaxed atmosphere of Gili T. We cycled around the island easily due to its flat terrain despite some soft sand. The food was excellent, especially beach dining. We travelled by fast ferry from Bali, which was a bit bumpy but fine. Gili T isn't just for the young party crowd; it offers relaxation and adventure for all ages."
Paul from Paris, France (Couple): "We reached the island via a 1.5-hour speedboat from Padang Bai Port. The clear water and car-free environment, with only bikes and horses for transport, impressed us. The beaches and stunning sunsets were highlights, along with great restaurants. It's a fantastic and memorable destination, definitely worth revisiting." Learn more about eco-friendly transportation in Gili T.
These reviews undoubtedly showcase Gili Trawangan's appeal as a serene yet adventurous destination, offering enjoyable experiences for families and couples alike.
Active Adventures in Gili Trawangan: Stay Fit and Explore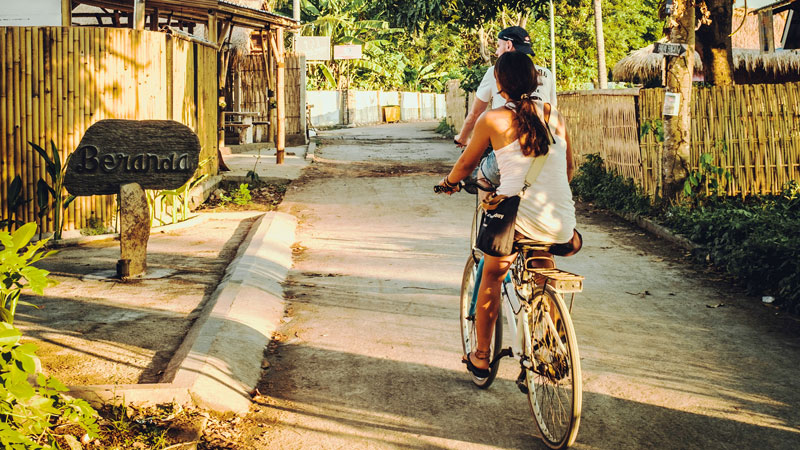 Gili Trawangan isn't just a haven for relaxation; it's also a perfect destination for those who love to stay active and immerse themselves in nature's beauty. The island offers a variety of activities to keep you energised and engaged during your holiday.
Beachfront Workouts: Stay Fit with a View
Moreover, the island offers a unique experience for fitness enthusiasts with its beachfront gym near the Blue Marine Dive Shop. Equipped with the essentials for a full-body workout, this gym allows you to exercise in the fresh, open air while enjoying stunning sea views. Whether it's early morning weightlifting or yoga at sunset, staying fit on your holiday is convenient and inspiring.
Explore on Two Wheels: Cycling Around Gili Trawangan
Experience the scenic beauty of the largest Gili Island up close by cycling around the island. Also, Bicycles are readily available for rent at various shops along the main strip, with prices starting at around IDR 50,000 per day. Indeed, this is a fantastic way to explore at your own pace, discover hidden gems, and get an authentic feel of the island's vibe.
Many accommodations also offer bicycle rentals, sometimes free or at a reduced cost, adding convenience to your adventure. Meanwhile, visit the link for a comprehensive guide on cycling routes and rental tips in Gili T!
These active pursuits keep you fit and offer a deeper connection with the island's natural beauty and local culture. Embrace the vibrant energy of the largest Gili Island and add a healthy, adventurous twist to your holiday experience.
Scuba Diving in Gili Trawangan: A Premier Tourist Activity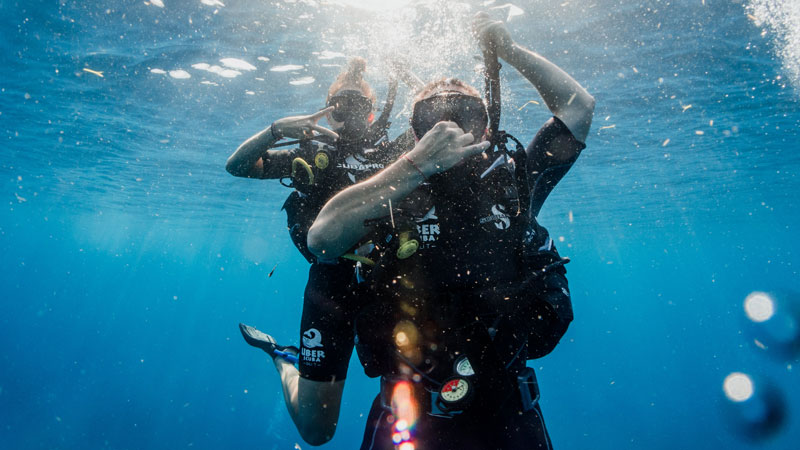 In addition, Gili Trawangan stands out as a top destination for scuba diving enthusiasts. The island's crystal-clear waters are home to a diverse marine ecosystem, making it an ideal spot for underwater exploration.
Discover Iconic Dive Sites
The island boasts several renowned dive sites, each offering a unique experience:
Shark Point: An exhilarating dive site where you might spot reef sharks and many tropical fish.
Bounty Wreck: A captivating site for experienced divers featuring an intriguing sunken ship teeming with aquatic life.
Planning to dive in Bali? First, check out these six essential tips before diving in Bali.
Choosing the Right Dive Shop
Meanwhile, Trawangan Island has numerous reputable dive shops for those looking to dive. Notable ones include:
Manta Dive: Known for its comprehensive PADI-certified courses and commitment to eco-friendly diving.
Blue Marline Diving: Offers a variety of diving experiences catering to different skill levels, with a focus on marine conservation.
Also, these dive shops provide the necessary equipment and training, emphasising respecting and preserving the underwater world. Whether you're a beginner or an experienced diver, Gili Trawangan's underwater spectacles offer unforgettable experiences, making scuba diving a must-do activity on the island.
For a detailed guide on all scuba diving opportunities in the largest Gili Island, including beginner tips and conservation efforts, visit this comprehensive Gili T scuba diving guide.
Cultural Excursions: Essential Experiences on The Largest Gili Island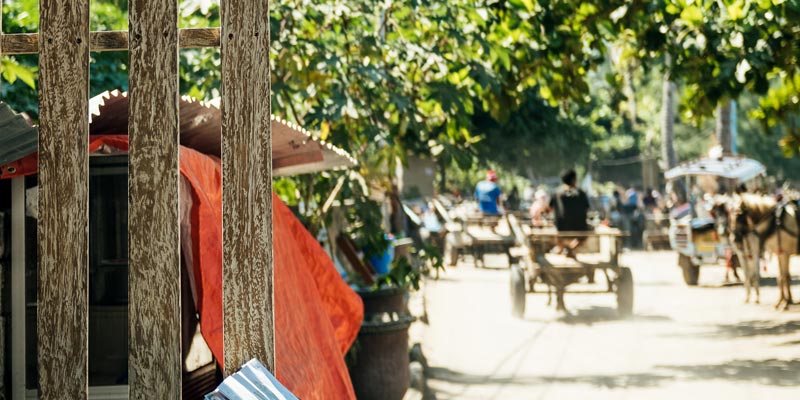 Engage yourself in the prosperous cultural tapestry of Gili Trawangan, a facet that's as compelling as its natural beauty. Delve into the island's heart, where a vibrant local culture awaits.
Delving into Local Traditions
Authentic Interactions: Venture along the island's serene paths, where every encounter with the locals offers a window into their traditional lifestyle.
Cidomo Rides: Take a journey in a Cidomo, Gili Trawangan's iconic horse-drawn carriage. Opt for services known for their ethical treatment of horses, ensuring a responsible and enjoyable experience.
Engaging in Cultural Activities
Cooking Classes: Participate in cooking classes to learn the art of local cuisine, a hands-on way to understand and appreciate the island's culinary heritage.
Craft Workshops: Engage in workshops that showcase traditional crafts, offering a unique opportunity to learn and create under the guidance of local artisans.
Respect and Participation
Mindful Exploration: As you explore, remember the importance of respectful interaction with the community and the environment. Your presence should contribute positively to preserving the island's cultural essence.
Engaging with Gili Trawangan's cultural aspects is not just an activity; it's an essential experience that enriches your visit. These interactions and activities deeply connect the island, making your stay in Gili Trawangan genuinely memorable.
Discover Gili T from Above: The Hilltop Experience
Experience Gili Trawangan's scenic beauty from its highest point. A 10-minute hike takes you to a breathtaking viewpoint accessible to most fitness levels. Find more details and tips for your hilltop hike in Gili T here.
Reach the Top: Gili Trawangan's Viewpoint
Reaching the summit rewards you with a stunning 360-degree panoramic view of the island and the surrounding sea. It's an outstanding site for photography fans and those who appreciate natural beauty.
Sunset at the Summit
For a truly memorable experience, time your hike to coincide with the sunset. The changing colours of the sky provide a spectacular backdrop, perfect for a peaceful end to your day.
This hilltop journey is a must-do in Gili Trawangan, offering visitors a chance to see the island from a unique vantage point and enjoy a serene moment away from the bustling beaches.
Island Hopping: Essential Gili Trawangan Experiences
Embark on a tropical adventure from the largest Gili Island by exploring the nearby Gili Islands, each offering unique experiences and a glimpse into the region's diverse beauty.
Seamless Transfers to Nearby Islands
Effortless Connections and Boat Fares: Traveling between Trawangan Island, Meno, and Gili Air is convenient and scenic, thanks to frequent boat services available at the harbour. These boat trips offer more than just transportation; they provide a picturesque view of the region's tropical beauty.
The cost of boat travel varies depending on your destination: a trip from Trawangan Island to Gili Meno or Gili Air is typically priced between IDR 20,000 and IDR 30,000, while the fare from Gili Meno to Gili Air is around IDR 12,000.
Discovering Gili Meno's Serenity
Tranquil Retreat: Gili Meno, the epitome of tranquillity, invites those who seek a peaceful escape. Its unspoiled beaches and crystal-clear waters are perfect for reflective snorkelling experiences and leisurely beach days. Discover more about Gili Meno's serene attractions here.
Experiencing the Vibrancy of Gili Air
Lively Ambiance: Gili Air offers a dynamic contrast with its energetic atmosphere. It's an ideal destination for social dining, engaging in water sports, or simply soaking in the vibrant island life, all while maintaining a laid-back charm. Learn about the Gili Air Visitors Guide here.
Personalising Your Island Adventure
Customised Island Hopping: Arrange your island-hopping itinerary directly at Gili Trawangan's harbour. Choose from group tours for a social experience or private charters for a more intimate exploration. Travel agencies along the main street provide varied options to suit your preferences, ensuring an enriching journey through the distinct personalities of Gili Meno and Gili Air.
After exploring Gili Trawangan, you might want to visit Bali. Here's a list of the best places to visit in Bali.
Conclusion: Cherish Your Gili Trawangan Memories
Reflect on your Gili Trawangan adventure, from snorkelling and exploring local markets to enjoying sunsets and active pursuits. Remember to respect the island's natural beauty and traditions, contributing to sustainable tourism.
Share your journey using #GiliTrawanganUnveiled and #WiraTourBali to inspire and connect with fellow travellers. Also, extend your Indonesian adventure with these top things to do in Bali.