Planning a trip to Gili Air Island in Lombok? Whether you're seeking the romance of sunset cruises, the adventure of underwater snorkelling, or just a slice of tropical paradise, our comprehensive guide has got you covered. We've designed this ultimate Gili Air Island travel guide with you, the reader, in mind. We aim to make your trip as seamless as possible, from getting there to choosing the perfect accommodation so you can focus on making the most of your vacation.
Bagi pembaca kami yang berbahasa Indonesia, silakan klik di sini untuk panduan eksklusif tentang keindahan Pulau Gili Air untuk liburan impian Anda.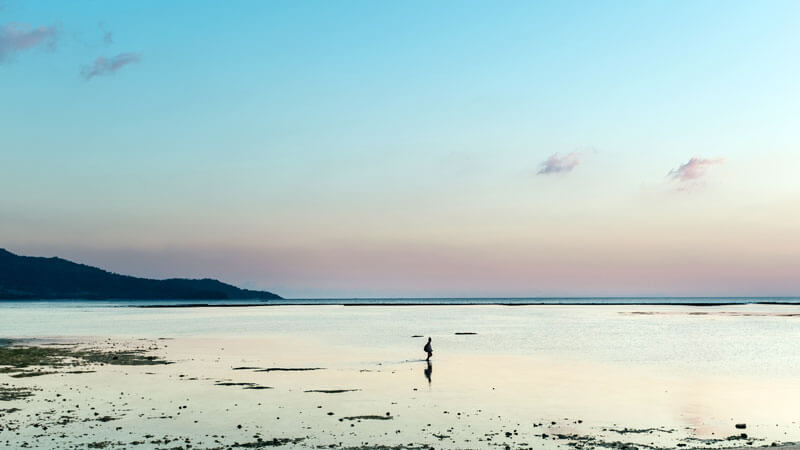 Feel free to click on the sections that pique your interest, whether dining options or activities tailored just for you. Also, the linked detailed guides will offer even deeper insights, from cost factors to cultural etiquette, ensuring you're well-prepared for your tropical escape.
How to Get to Gili Air Island from Bali: A Quick Guide to Make Your Journey Effortless
If you're starting your journey from Bali, a fast boat is a popular option, especially for Gili Trawangan. If you are considering a trip there as well, here are our Tips for the Ultimate Getaway in Gili Trawangan.
Here's what you need to know:
By Fast Boat
Where to Book: Online or various harbours in Bali (e.g., Padang Bai)
Duration: 1.5 – 2 hrs
Cost: IDR 350,000 – 450,000
Tip: Check for safety features
Are you planning to head to Gili Trawangan instead? Find out The Best Way from Bali to Gili Trawangan.
By Flight From Bali and Boat
Are you starting your tropical adventure from Bali? Don't miss our list of Top 38 Things To Do In Bali for 2023 before hopping onto the Gilis. And for more insights, here's a list of the Top 20 Most Popular Places to Visit in Bali.
Step 1: Fly from Bali to Lombok Airport.

Duration: ~30 mins
Cost: ~IDR 700,000

Step 2: Taxi to Bangsal Harbor

Duration: ~2 hrs
Cost: IDR 250,000 – 400,000

Step 3: Local boat to Gili Air

Duration: 30-45 mins
Cost: IDR 25,000
Important Notes
Double-check schedules in the high season
Be aware of weather conditions
Above all, for a detailed guide, read more: How to Get to Gili Air Island from Bali.
Once You've Arrived: Your Quick Accommodation Guide to Gili Air Island, Lombok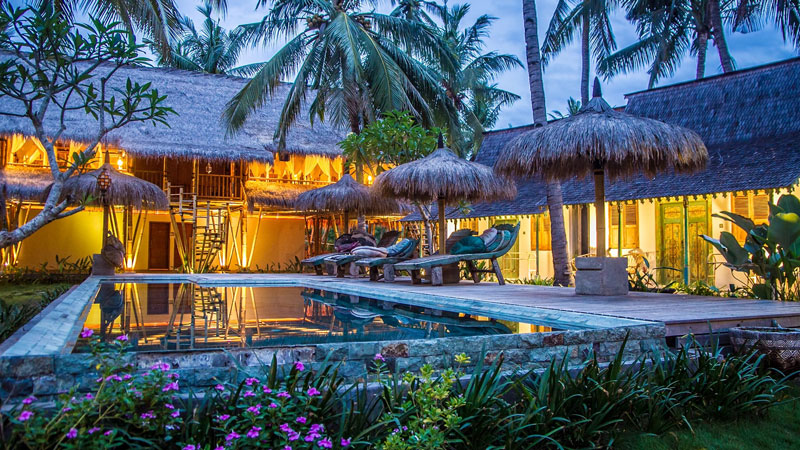 Okay, you've made it to the Island. Now what? Now, let's discuss where you can drop your bags and start your tropical escape.
Mid-Range Accommodations: Featured
Types: Boutique hotels, B&Bs.
Location: Varied, some near dive shops or eateries.
Price Range: IDR 300,000–500,000/night.
Features: A/C, in-room Wi-Fi, pools.
Budget Accommodations: At a Glance
Luxury Accommodations: At a Glance
Types: Resorts, Villas.
Price Range: From IDR 1.000,000/night.
Top Pick: Samata Resorts.
Important Notes
Prices can vary in peak season.
Always check the latest reviews.
Consider proximity to activities.
Some places do welcome pets. Therefore, always check with accommodations and restaurants beforehand.
Above all, for a detailed tourist guide, read more on where to stay in Gili Air.
Ready for Adventure? Must-Do Activities Tailored Just for You
You're settled in, and now it's time to explore. Whether you're here with family or seeking an adrenaline rush, Gili Air has something for you.
For Families
Low-Tide Beaches: Perfect for small children to splash around safely.
Top Pick: South-East beaches near the harbour.
Couples
Sunset Cruises: A romantic way to end the day with your loved one.
Booking: Available at multiple kiosks and tour agencies around the Island.
For Adventure Seekers
Additional Activities
Biking: Rentals are available for cycling around the Island.
Yoga and Wellness: Many retreats and sessions around the Island.
Water Sports: Paddleboarding, Subwing, and more.
Ready for an island escape? Dive into our ultimate guide on the best things to do in Gili Trawangan and find the perfect activities for your holiday.
Children and Older People: Making the Trip Comfortable for Everyone
Furthermore, if you travel with young kids or older people family members, consider staying close to medical facilities and opt for easily accessible accommodations.
Read more family-friendly tips for Gili Air with kids.
Important Tips
Activity prices can vary; always check current rates.
For water activities, consider the safety guidelines and equipment provided.
Booking in advance for popular activities like sunset cruises is advised.
Read more, 10 Things To Do in Gili Air, for an in-depth tourist guide on all the activities you can enjoy.
Gili Air Island, Lombok: Your Ultimate Guide to Satisfying Your Palate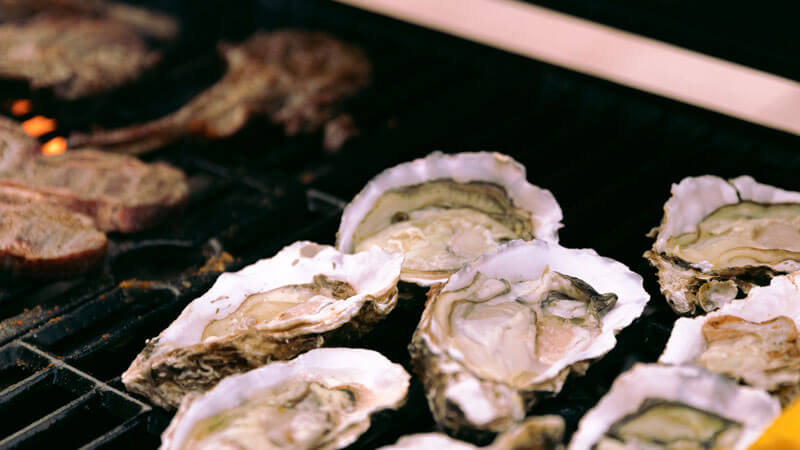 Local Flavors
Seafood Delights
Upscale Dining
Recommendation: Legend Bar for international cuisine.
Vegan/Vegetarian
Quick Tips
Consider reservations for upscale dining.
Street food is generally safe if freshly cooked.
Read more about a comprehensive visitor guide on local cuisine and dining experiences in Gili Air.
Gili Air Island, Lombok: The Ideal Time to Visit and Weather Essentials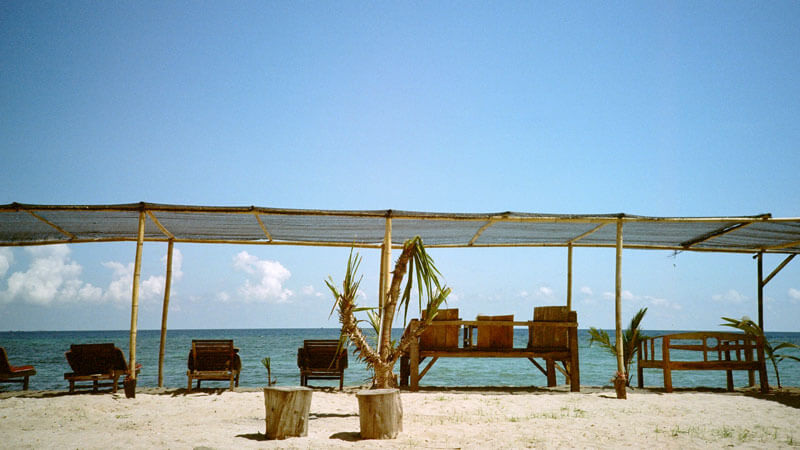 When should you book your trip?
The Ideal Time for Your Gili Adventure
Dry Season: May to September
Pros: Sunny weather, calm seas, and ideal for outdoor activities.
Cons: It can get crowded, especially from June to August.
The Rainy Season
When: October to April
Pros: Fewer crowds, greener landscapes.
Cons: Sudden rain showers, some places might be closed.
Monthly Breakdown
Peak Months: July and August. Highest number of tourists.
Hidden Gem: May and September. Good weather and relatively fewer crowds.
Weather Considerations
Average Temperatures: Range from 26-31°C (79-88°F).
Water Temperature: Ideal for snorkelling and diving year-round, averaging around 28°C (82°F).
Packing Tips
Dry season: Light clothing, sunblock, and hats.
Rainy season: Add a light waterproof jacket and umbrellas.
Read more for a comprehensive visitor guide on the best time to visit Gili Air Island, including a month-by-month breakdown.
Gili Air Island, Lombok: Your Go-To Transportation Guide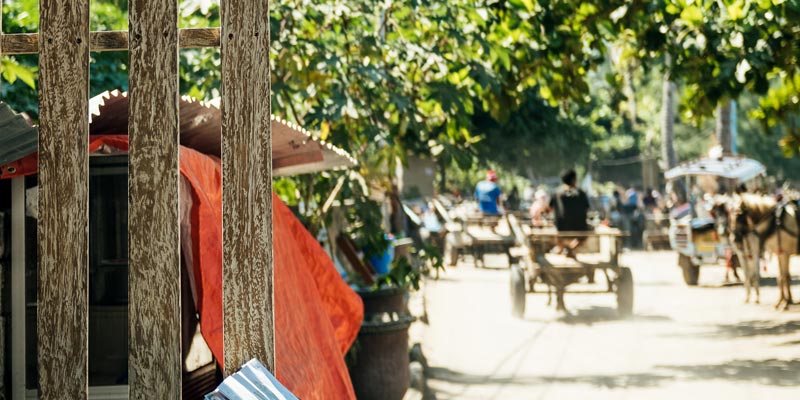 Getting Around
Wondering how to navigate this tropical paradise? Don't sweat it! On Gili Air, you can forget the hassle of taxis or car rentals. Above all, here, it's all about slowing down and syncing with island time.
Foot
Pros: Best for short distances, allows you to explore hidden corners.
Cons: It might not be ideal for longer distances or carrying heavy luggage.
Bicycle
Rentals: Available throughout the Island for around IDR 50,000/day.
Pros: Ideal for mid-range distances and gives you flexibility.
Cons: Be cautious about the terrain; some paths are sandy or rocky.
Cidomos (Horse Carts)
Average Cost: Varies depending on distance, starting at 100,000 IDR.
Pros: Traditional way to travel, suitable for longer distances.
Cons: More costly than walking or cycling, and not for everyone due to ethical considerations.
Accessibility
Beach to Accommodation: Most accommodations are a short walk or bike ride from the beach.
Important Tips
Agree on a fare before using a cidomo.
Cycle lanes are primarily clear, but beware of sand traps.
Travel Smart: Tips for Eco-Friendly and Ethical Visits
Eco-Friendly Note: Gili Air says a big no to motorised vehicles, keeping the air clean and the vibe peaceful.
Animal Welfare: If opting for a cidomo, assess the horse's condition. Also, support vendors who maintain good animal welfare standards.
Interested in learning more? Check out the detailed travel guide on Gili Air Island Lombok Transportation.
Gili Air Island Lombok: Quick Safety Tips Making the Most of Your Getaway
Are you heading to Gili Air? Stay safe and respectful with these quick tips:
Top Safety Tips
Local Customs: Respect traditions.
Swimming: Use designated areas.
Night Safety: Carry a torch or charged phone.
Environment: No littering.
Stay Updated: Check local advisories.
For more in-depth information, check out the detailed travel guide on Gili Island Lombok Safety Tips.
Gili Air Island Lombok: Quick Budget Guide
Make Your Budget Work for You. Whether you're a backpacker or a luxury traveller, we've got the numbers for your trip.
Quick Budget Overview
Budget Travel: Around IDR 600,000/day for basics.
Mid-Range: IDR 800,000–1,000,000/day for added comforts.
Luxury: At least IDR 1,500,000/day for premium experiences.
Extras: Tips, souvenirs, and local rides can add up.
Gili Air Island Lombok Culture and Etiquette: Quick Guide
Key Points:
Dress modestly when you're off the beach.
Ask for approval before taking pictures of locals or their property.
Learn basic phrases in the local language, like "Terima Kasih" (thank you).
Keep a respectful distance during religious ceremonies unless invited.
Dispose of waste responsibly to maintain the Island's natural beauty.
Tipping Etiquette, Show Your Appreciation: Tipping is generally not expected but is appreciated. A general guideline is to tip 5-10% in restaurants if a service charge isn't included.
For more in-depth info, check out the detailed travel guide on Gili Air Island Lombok Culture and Etiquette.
Gili Air Island Lombok: Quick Health & Wellness Guide
Medical Facilities: Limited but adequate for basic first-aid and essential medicines. For severe conditions, travel to mainland Lombok is advised.
Spas: Available for relaxation and wellness treatments, perfect for unwinding after a day of activities.
Safety Tip: Always carry a basic first-aid kit and know the quickest route to mainland Lombok for emergencies.
Craving more details? Explore the detailed travel guide on Gili Air Island Lombok Spas and Wellness.
Gili Air Island Lombok: Quick Connectivity Guide
Wi-Fi: Available at most accommodations but can be unreliable.
SIM Cards: For more consistent connectivity, consider purchasing a local SIM card, preferably from providers like Telkomsel.
Quick Tip: Always check the Wi-Fi speed and reliability if you need to work or stream during your stay.
For more in-depth info, explore the detailed Guide on Gili Air Island Lombok Connectivity.
Handy Apps: Navigate Like a Pro
From language translation to finding the best local eats, these apps can be lifesavers.
Gili Air Island Lombok: FAQs Answered
Your Burning Questions, Resolved
Can I use credit cards?
While some businesses accept credit cards, carrying cash is advisable for small expenses and places that don't accept cards.
Are ATMs available?
Yes, but with limited functionality and higher fees. It's best to bring enough cash with you.
What's the local language?
Indonesian and Sasak are the local languages, but English is widely understood.
Is it safe to drink tap water?
No, it's not recommended. Stick to bottled or filtered water.
In Summary: Gili Air Island Travel Guide
In conclusion, Gili Air Island offers an array of experiences, from romantic getaways to adventure-packed holidays. Most importantly, this guide provides a quick yet thorough look into what the Island has to offer, ensuring that if you're a foodie, a beach bum, or an adventure seeker, you're well-prepared for your trip.
Also, we've focused on providing essential information that hits the sweet spot between informative and reader-friendly. And for those looking to delve deeper into each topic, the detailed guides are just a click away.
If you want to explore more of the Gili Islands, check out our Comprehensive Holiday Guide to Gili Meno Island, Lombok.