Legian seaside, near Kuta in Badung Regency, offers a mix of sunsets, surfing, and culture in Bali. Differing from Kuta's buzz, Legian provides a peaceful retreat. Above all, it is ideal for solo travellers, couples, or surfers, and this guide covers essential budget and travel tips for Legian Beach, Bali.
For the Indonesian version of this article, click here.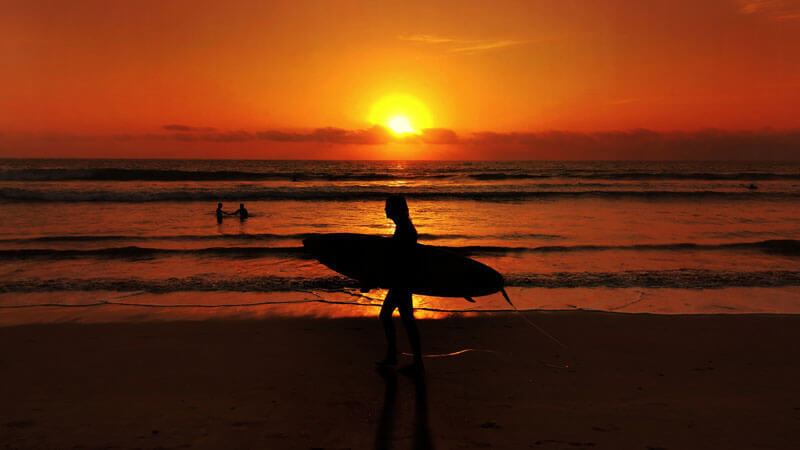 Legian: The Tranquil Neighbor to Kuta's Liveliness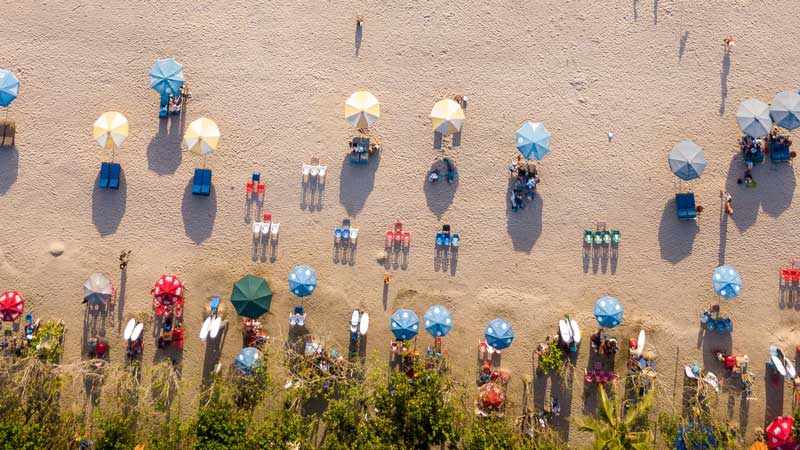 Furthermore, adjacent to the bustling Kuta Beach lies Legian, a haven for those seeking tranquillity. Nestled in Bali's Badung Regency, its lengthy beachfront provides moments of solace amid Bali's dynamic spirit.
Meanwhile, for those setting foot in Bali for the first time, our "Beginner's Guide to Kuta" might be interesting.
MaroochyExplorer aptly describes: "As you move north in Legian, the shift to calmness is unmistakable. Kuta has its allure, but Legian is where serenity shines."
Legian Vs. Kuta: What Sets Them Apart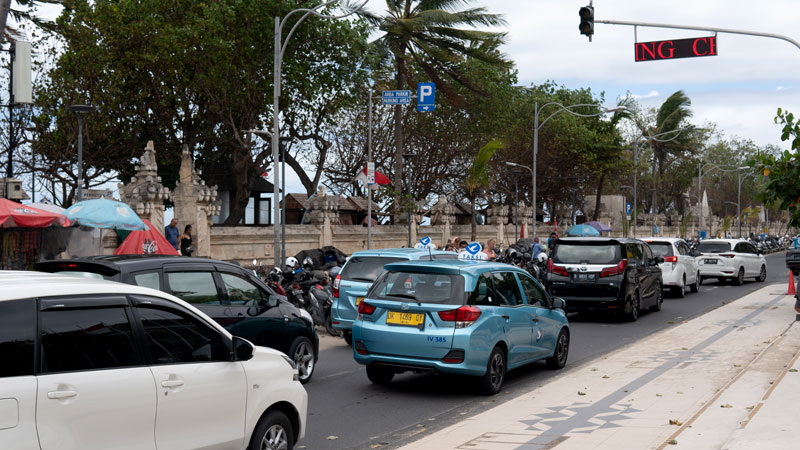 Though they share the same coastline, Legian and Kuta offer contrasting experiences:
Ambience: While Kuta buzzes with activity, Legian is a sanctuary of calm. A short stroll reveals this striking difference.
Accommodations: Legian boasts boutique hotels offering a personal touch, unlike the more prominent establishments in Kuta. So, if you're considering where to stay, this Legian Bali Accommodation Guide can help.
Activities: Both areas boast vibrant nightlife, but Legian offers unique experiences, like beach yoga sessions and cosy evenings accompanied by local tunes.
Near Legian Beach Bali Top Accommodations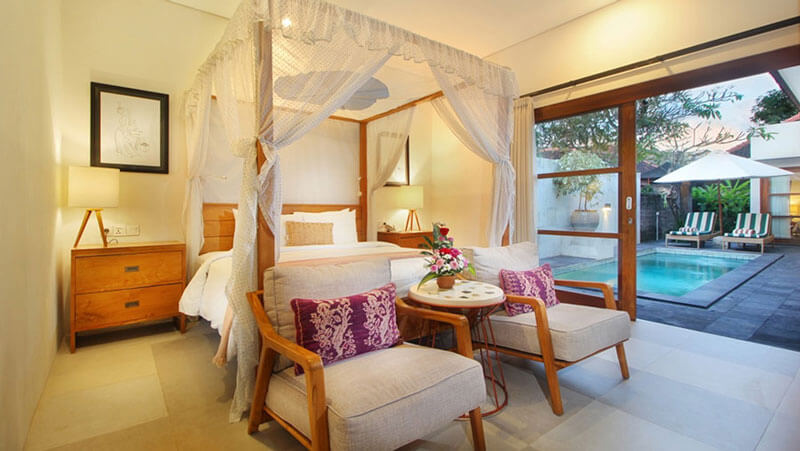 Discover boutique hotels and villas in Legian for an unmatched stay experience.
Boutique Hotels
AlamKulKul Boutique Resort: Opposite Legian Beach. Balinese rooms, modern facilities, bar, spa and pools. Google Maps.
Legian Beach Hotel: Beachfront with Balinese architecture, tropical gardens, and a vast pool. Google Maps.
Villas
Holl Villa: Private pool villas in a modern Balinese design, 6-minute ride from Legian Beach. Google Maps.
Abia Villas: Luxurious villas with a private pool, kitchenette, and spa. Google Maps.
Book ahead, especially during peak seasons, to secure your choice.
Your Bali Budget Breakdown: Legian, Kuta, and Seminyak
Legian might just be your wallet's best friend. More budget-friendly than Seminyak but slightly above Kuta, it's a balance of affordability and quality. So, let's dive into a detailed breakdown of where your money goes in our dedicated section here.
Accommodation: Staying in Legian is typically slightly pricier than in Kuta but cheaper than in Seminyak. Average nightly rates range from IDR 500,000 to IDR 2,000,000.
Food: Dining in Legian costs about the same as in Kuta but is less expensive than in Seminyak.
Activities: Costs for activities, such as surfing, are also more budget-friendly in Legian compared to Seminyak.
Note: Prices in our guide are subject to change based on seasonal variations and provider discretion. Therefore, we always recommend checking with individual providers or establishments for the latest rates and offerings to ensure an up-to-date travel experience.
How to Get to Legian Beach Bali: A Traveler's Guide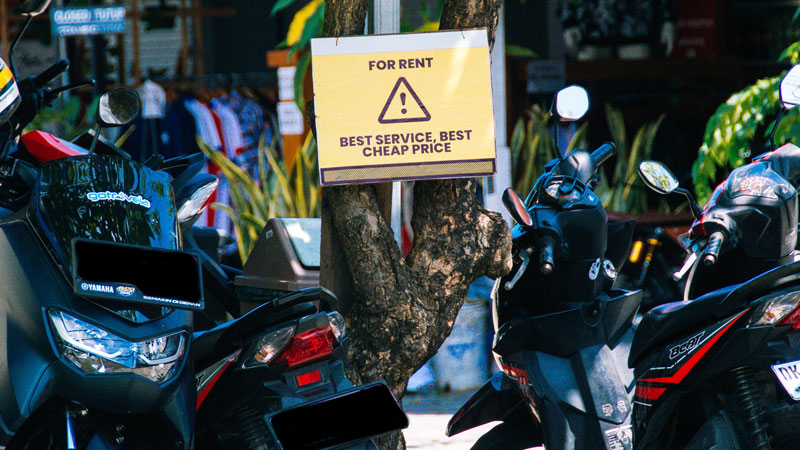 Whether you're setting off from Ngurah Rai International Airport or Sanur, reaching Legian is a breeze. Explore our transport recommendations, from cabs to adventurous bike rentals.
Public Transport: Metered taxis and online motorcycle taxis are readily available and serve as a comfortable means to reach Legian. Read more on how to use Gojek or Grab in Bali.
Motorbike: If you're keen on freely exploring the vicinity, renting a motorbike might be the best option. Several vendors line the main road, offering competitive rates and equipment recommendations.
Above all, to ensure you choose the best route and location, you can use Google Maps or other navigation apps.
Private Driver in Legian: Why & How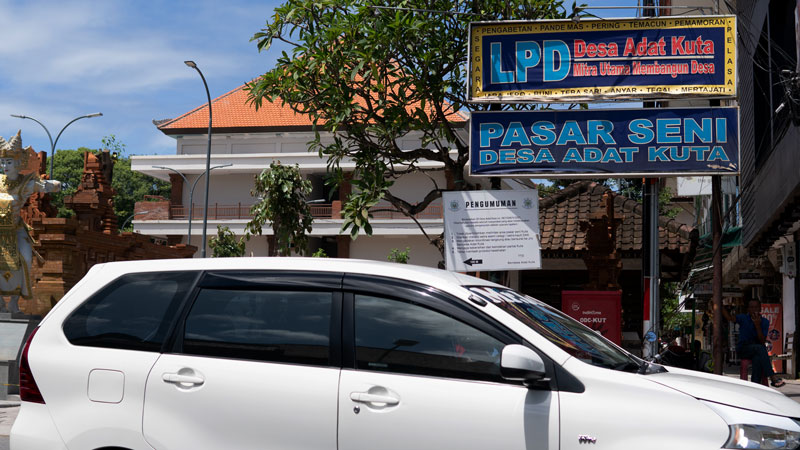 Furthermore, if you seek convenience, comfort, and a personalised travel experience, hiring a private driver is the solution.
Benefits of Hiring a Private Driver in Bali
Flexibility: Stop anywhere you fancy for sights or food. Also, delight your taste buds with a tour of Bali's Local Cuisine.
Safety: Local drivers ensure safe travel on Bali roads.
Local Insights: Get tips on hidden spots beyond standard guides.
Comfort: Air-conditioned rides, set prices, no parking stress.
Hiring Process
Ask Around: Your family, friends, fellow travellers, and authorised travel agencies like us can recommend trusted drivers.
Cost: Daily rates vary between IDR 700,000 – IDR 800,000. Clarify inclusions like fuel.
Plan Ahead: Discuss routes, stops, and needs with the driver in advance.
Tip: While optional, a tip rewards good service.
Making Your Trip Unique
Furthermore, engage with your driver to explore scenic routes and local hidden gems for a memorable Legian visit. The journey matters as much as the destination! Also, read our article to navigate effortlessly, Bali Transportation Guide.
Unique Attractions and Activities at Legian Beach Bali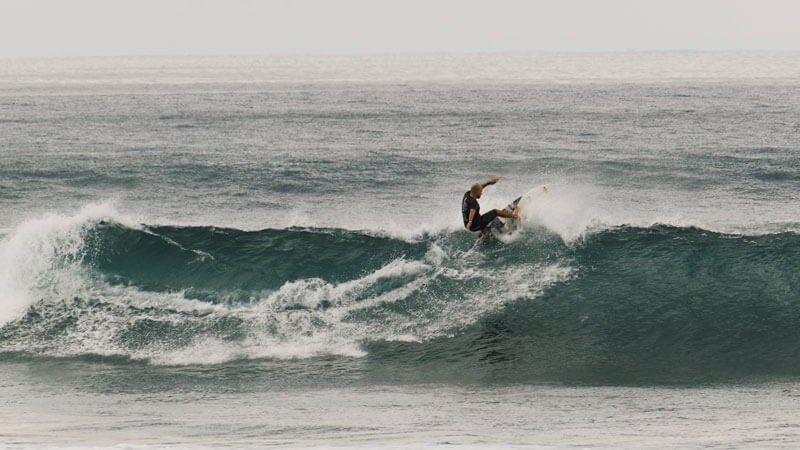 Legian coastal area isn't just any beach in Bali. Beyond its stunning landscapes, sunbathing, or casual strolls, this Beach offers activities catering to diverse travellers' preferences.
Traveller Review: Key Takeaways
Beach: Spacious and serene.
Entrance: Iconic gates popular on Instagram; watch out for uneven sidewalks.
Sunset Spot: Relax on bean bags; near Pullman Hotel is recommended. Enjoy Bintangs while watching surfers.
Overall Impression: Delightful visit; BmoreStyle Baltimore plans to return.
Surf the Waves of Legian Beach Bali
Up for a challenge in the waves? Legian is the spot!
Above all, if you're after waves that are challenging yet not overly daunting, the Bali beachfront in Legian is the place. To clarify, the unique waves here make it an ideal spot for beginners and seasoned surfers. Subsequently, as you paddle out into Legian's surf, feel the rhythm of its waves and the welcoming warmth of its waters.
Beach Yoga at Sunset
Moreover, there aren't many beaches in Bali that offer such a perfect setting for sunset yoga. Also, the ambience of Legian Beach Bali is highly conducive to relaxation and meditation.
Highlights for Tourists
Here, visitors can bask in the beauty of white sandy beaches, tantalise their taste buds with diverse food options, and dive into the vibrant nightlife.
Most importantly, the area has shopping centres, eateries, bars, cafes, and late-night entertainment spots, some offering live music performances.
5GX Bali Reverse Bungy: Located on Jalan Legian No 99, this thrilling attraction is a must-try for adrenaline junkies. Google Maps.
Ground Zero Legian Monument: A significant landmark that history enthusiasts should add to their itinerary. Google Maps.
Legian Art Market: Situated at Jalan Melasti No. 29 B, art lovers will find this market a haven for local art and crafts. Google Maps.
Whether you're a solo traveller, on a romantic getaway, a history enthusiast exploring Balinese temples, or a surfing enthusiast, the Legian coastal area has something unique to offer.
Want to dive deeper into fun activities around the Beach? Therefore, read our comprehensive guide on family activities in Legian.
Legian Art Market: A Must-Visit for Art Lovers
Discover Unique Finds
Handcrafted Items: From detailed woodwork to exquisite handwoven textiles.
Authentic Balinese Gifts: Vibrant sarongs, ornamental masks, and artisanal jewellery.
Local Artistry: Paintings that reflect Bali's scenic beauty and rich heritage.
Smart Shopping Tips
Bargain Respectfully: Negotiate but value the craftsmanship.
Morning Visits: Fewer crowds, better deals.
Bring Cash: Preferably small bills for easy transactions.
Legian Beach Bali Public Facilities
Compared to other renowned beaches in Bali, the Legian shoreline has many facilities.
Hours, Fees and Essential Facilities for Legian Beach Bali:
| Facility/Information | Details |
| --- | --- |
| Toilets & Changing Rooms | Available for a donation of 5,000 rupiah. |
| Operating Hours | Open all day, every day (except during Nyepi). |
| Entrance Fee | None. It's free to enter. |
| Parking Charges (Motorbike) | Rp2,000 |
| Parking Charges (Car) | Rp5,000 |
Surfboard Rentals
Rent a surfboard and catch Legian's exciting waves. To clarify, numerous shacks and local vendors line the Beach, providing boards for all skill levels. Also, prices typically range from IDR 150,000 to IDR 200,000 per day. Bargaining might get you a better deal, especially if you rent longer. Most importantly, if surfing is your passion, consider carrying your board.
Lifeguard Services
Safety is a priority at Legian Beach. Therefore, lifeguards are stationed at intervals along the shoreline, ensuring swimmers and surfers are well-observed. If you're unfamiliar with the sea conditions, it's always a good idea to check with them before diving in.
Lounge Amenities
Chill by the shore with our chair and umbrella rentals. At just 100,000 rupiah, you get two chairs for the entire day. Price is subject to changes.
Note: Free Wi-Fi isn't available at the moment, but the beach management continuously strives to improve the cleanliness and overall experience for visitors.
Tips and Tricks When Visiting Legian Beach Bali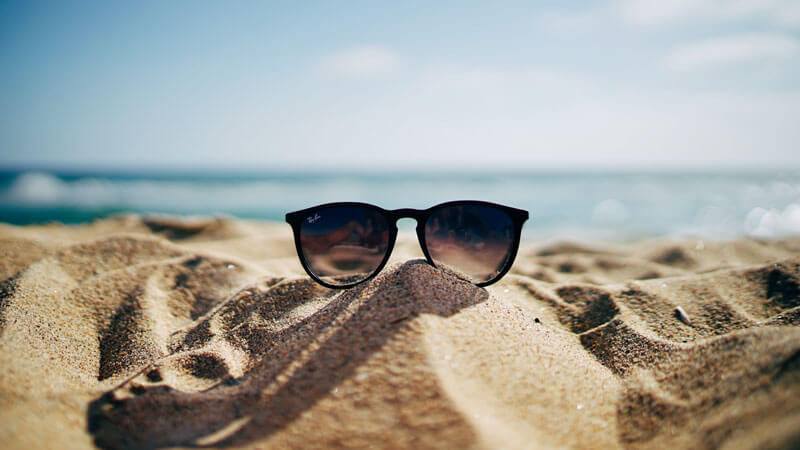 Get ready to elevate your Legian seaside experience! Dive into our list of handy tips and tricks tailored to help you maximise your holiday.
Best Time to Visit
Early mornings on the Beach are ideal for fitness enthusiasts, while the evening is reserved for those iconic sunsets.
Although we've previously touched on the beauty of Legian's sunset, Bali has numerous other spots offering spectacular sunset views. Dive deeper into our Top 10 Beach Sunset Spots in Bali.
Scour for Discounts and Offers
Also, watch the information boards or chat with locals to catch the latest promotions in nearby restaurants, surfboard rentals or souvenir shops.
Dive into Local Activities
Legian Beach is a hub of vibrant local events. Before heading down, scan the Beach's event schedule.
Fancy riding the waves? Plenty of surf schools await eager learners. Plus, interactions with local artisans showcasing their masterpieces on the Beach can be a gateway into the heart of Balinese culture.
Preserving the Beauty of Legian Beach
Moreover, every visitor plays a part in its preservation. Not only is a clean beach aesthetically pleasing, but it also safeguards a treasured natural paradise.
Above all, minimise plastic usage and consider joining local beach clean-up initiatives. On the other hand, if untouched beaches captivate you, don't miss out on Bali's hidden gems: "Balian Beach" and "Virgin Beach Karangasem".
Essential Safety Tips for Legian Beach Bali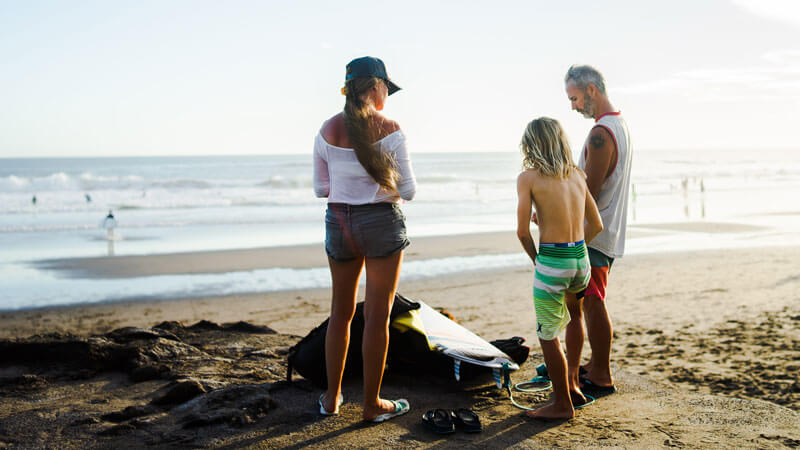 Swimming Safety
Stick to designated zones to avoid surfers.
Watch out for solid riptides; swim parallel to the shore if caught.
Stay where lifeguards are present.
Sun Protection
Hydrate regularly.
Use sunscreen and reapply.
Wear protective clothing like hats and shades.
Nightlife Precautions
Stick with groups.
Monitor alcohol intake.
Transport Care
Always wear a helmet on motorbikes.
Use reputable taxis; set fare upfront or ensure the meter is on.
Be cautious of varying road conditions.
Guard Personal Items
Secure valuables in hotel safety lockers.
Be vigilant in crowded spots.
Essential Bali Etiquette for Travellers
Furthermore, visiting Bali, including the Legian shoreline, means respecting its deep-rooted traditions:
Dress Code: In temples or ceremonies, wear a sarong sash and cover your shoulders and knees.
Temple Boundaries: Some temple parts are for sacred rituals only. Observe signs or ask locals.
Street Offerings: Don't disturb 'canang sari'—daily palm-leaf tributes filled with flowers and rice.
Hand Usage: Use the right hand for transactions. Both hands, if available. Avoid the left.
Avoid Head Touching: The Head is sacred. Don't touch.
Road Closures: Ceremonies might close roads. Wait patiently and enjoy the view.
Greetings: Nod or bow slightly. Handshakes are not required.
Certainly, respecting these will make your Bali visit harmonious and enriching. Immerse and enjoy!
Currency and Money Tips in Legian, Bali
Exchanging Currency
Credit and Debit Cards
Cards are widely accepted but carry cash for more minor expenses.
ATMs are abundant; prefer bank-affiliated ones.
Watch out for a 2-3% card surcharge.
Inform your bank about your Bali trip.
Mobile Payments
Tipping in Legian
It's not customary, but appreciated.
Restaurants may include a 10% service charge.
Tip taxis by rounding up and IDR 20,000-50,000 at hotels & spas.
Stay informed to ensure a hassle-free Legian experience. Seek advice from locals or seasoned travellers when unsure.
FAQs: All Your Legian Beach Bali Queries Addressed
From general queries to detailed information, we've covered everything here for you.
Can I Bring My Pet?
Absolutely.
Are Legian Beach and Kuta Beach in the exact location?
Legian and Kuta Beach locations are on a connected coastline, and only the site names differ. If you walk from Kuta to the northwest side, you will find Legian Beach.
How far is the vehicle parking location from the shoreline location?
The vehicle parking location is close to Legian Beach and takes less than 2 minutes on foot.
Is Legian Beach safe for swimming?
Legian Beach is very safe for swimming areas, and of course, you must be able to swim.
Wrapping Up: Legian Beach Bali Awaits!
In conclusion, Legian is a hidden gem, poised to offer you a unique holiday experience in Bali. With a more serene atmosphere, a range of activities, and accommodation quality on par with Kuta, Legian promises a holiday you won't easily forget.
Experience the tranquillity, indulge in activities, and enjoy quality accommodations in Legian, a must-visit Bali paradise. Ready to dive into the Legian experience?
Plan Your Trip Now!
Share Your Legian Beach Bali Experience!
Have you been to Legian Beach? We'd love to hear from you. Therefore, share your Bali adventures and tips in the comment section below. Every insight or suggestion will significantly benefit other travellers planning a trip to Legian.
Stay Connected for More Holiday Tips and Tricks in Bali!
Planning your next Bali adventure?
For further information and other holiday tips in Bali for family and first-timers, don't forget to follow us on Instagram and Facebook. From destination reviews to detailed tourist activities, we have everything to make your holiday exceptional.