Are you on vacation in Bali and want to try a holiday in Lombok? If so, you should visit the three small islands on the west side of Lombok, known as the Gili Islands. Each Gili island has beautiful white sand beaches, clear seawater, and fantastic coral reefs, and the air is pollution-free. The three Gili islands are Gili Air, Gili Meno island, and Gili Trawangan.
Bahasa Indonesia, "Pulau Gili Meno Lombok – Panduan Wisata, Aktivitas Populer, Transportasi" >>>
But specifically, on this page, I will provide a vacation guide to Gili Meno Island, Lombok. Travel guide to the island of Gili Meno that you will find on this page such:
General Information on the Three Gili Islands of Lombok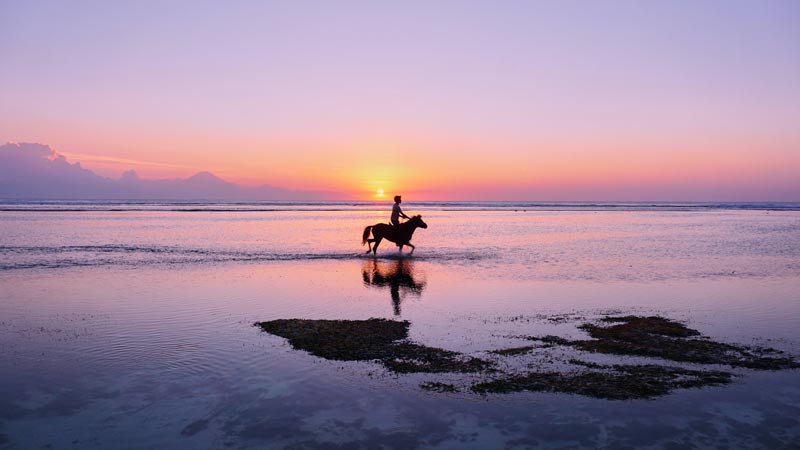 Each Gili island has its charm and is desirable to tourists who want a tranquil spot as their holiday destination. Also, there are no cars in all the Gili islands, so the air is pollution-free. Transportation in the islands of Gili Lombok is by bicycle, Cidomo, or on foot.
Of the three Gili islands, the most famous and get many visits by tourists is the Gili Trawangan. Also, most international tourists in Bali would prefer a vacation to the Gili Trawangan island rather than to the Gili Air and Gili Meno islands.
The Gili Trawangan has comprehensive tourism facilities. Such as accommodation and restaurants, compared to Gili Meno and Gili Air. However, exploring the Gili Meno and Gili Air would be great if you have longer vacation time.
1. Gili Trawangan Island, Lombok
Most tourists who vacation in Gili Trawangan Lombok like white sand beaches and marine tourism activities such as scuba diving and love nightlife and party.
Almost every day on the Gili Trawangan island, you will see a party on the beach. So if you vacation in Bali and love Kuta beach Bali, Gili Trawangan is perfect for visiting.
Read More, "8 Surprising Things To See On Gili Trawangan Island" >>>
2. Gili Air Islands Lombok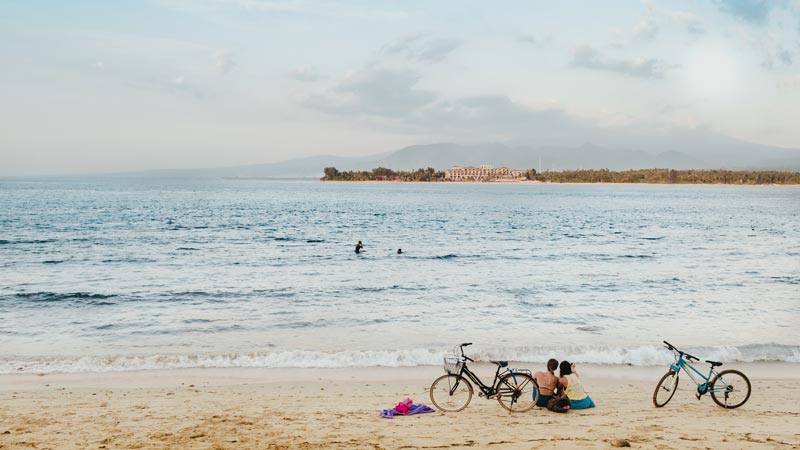 Gili Air Island is preferred by tourists who want a calm holiday atmosphere and like snorkeling. The island of Gili Air has yet to offer party and late-night entertainment like on Gili Trawangan. But the Gili Air island still provides more relaxed evening entertainment.
3. Gili Meno Islands
Of the three Gili islands, Gili Meno is the smallest island. Travelers who are interested in visiting the Gili Meno are mostly honeymooners. Like the Gili Air, Gili Meno island offers a calm atmosphere with natural scenery. Also, you will find a party at Gili Meno island late at night, as you see on Gili Trawangan.
Transportation to Gili Meno from Bali
How to get Gili Meno from Bali? The main transportation to Gili Meno from the island of Bali is only by sea. Therefore, you must board a speed boat, better known in Bali as a fast boat.
Most vacationists who depart from Bali to Gili Meno island will head to Gili Trawangan by fast boat, then from Gili Trawangan board a small speed boat to the Gili Meno island. Can we get a direct fast boat from Bali to Gili Meno? At this moment, direct fast boats from Bali to Gili Meno are not available.
How To Get to Gili Trawangan Island From Bali
On Bali island, there are three seaports for crossings to the island of Gili Trawangan; the three ports include;
Serangan Port Denpasar.
Sanur Beach Port. Sanur port is famous for the fast boat from Bali to Nusa Lembongan or Nusa Penida islands instead of to Gili Trawangan.
Of the three fast boat harbor from Bali island to Gili Trawangan, the most popular is Padang Bai port and Serangan Harbor.
Visitors prefer to get on board a fast boat at Padang Bai port because finding cheap fast boat tickets to Bali from Gili Trawangan is easier in Padang Bai port. In contrast, the Serangan port is preferable by tourists who want comfort when boarding a fast boat from Bali to Gili Trawangan.
See Here, "The Best Way to Gili Trawangan Island from Bali" >>>
Selection Port Location for Fast Boat to Gili Trawangan
In addition to the price, you can also consider the port location adjacent to your hotel.
If you depart from the southern Bali area, the port of Serangan is closer to your hotel location. Bali's southern tourism areas include Kuta, Legian, Seminyak, Jimbaran, Nusa Dua, Canggu, Ungasan, Uluwatu, Sanur, and Denpasar.
If you depart from the central and eastern Bali regions, such as Ubud, Candidasa, Amed, and Tulamben, the Padang Bai port is closer to your location.
Fast Boat Recommendation from Bali to Gili Trawangan
To get fast boat service providers from Bali to Gili Trawangan, you can use a search engine like Google.com. The following recommendation is for a fast boat to Gili Trawangan from Bali.
You can also head to the island of Gili Meno, departing from Lombok through the Bangsal port on the Senggigi beach in Lombok, spending about an hour by boat, but you have to wait until the ship is full of passengers.
Costs & Time of Boat from Gili Trawangan to Gili Meno
Fast boat departures from Gili Trawangan to Gili Meno are available every day at 09:30 and 16:00. For the price of a boat ticket from Gili Trawangan to Gili Meno, IDR 23,000 / person.
Costs & Time of Boat from Gili Meno to Gili Trawangan
As for departing boats from Gili Meno to Gili Trawangan, it is also available daily. From 8:30 a.m. and 3:00 p.m. The ticket price for the boat from Gili Meno to Gili Trawangan is IDR 25,000 / per person.
Gili Meno Island Tourism Attraction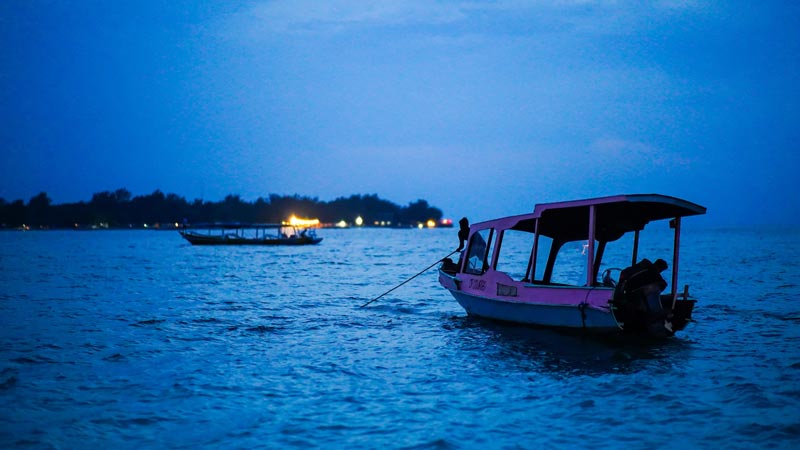 Gili Meno's location is in the middle of the Gili islands. Also, it is the smallest land area compared to the other two Gili islands. Therefore, tourists can get around the Gili Meno island within 2 hours of riding a bicycle.
You can walk around the coastline of Gili Meno by watching the waves and breathing the fresh coastal air. Getting around the coast of Gili Meno by foot only takes 90 minutes.
There is no fresh water source on the island of Gili Meno, so hotels and restaurants transport clean water from Gili Trawangan island. As for electricity, the island relies on electric generator engines. The population of Gili Meno is around 400 people. So Gili Meno intended if you want to enjoy a vacation on the beach with a calm and quiet atmosphere.
Gili Meno Beach
For those who prefer beach tourism with a more tranquil atmosphere, the Gili Meno beach is the best choice of the three Gilis. Gili Meno Beach offers the same beauty as Gili Trawangan and Gili Air beaches. But Gili Meno beach offers fewer visitors.
Gili Meno is often referred to as a beach paradise on Lombok island. If you are on vacation to Gili Meno island, it's like going on a private island far from the hectic urban atmosphere.
Transportation On The Island
Like on Gili Trawangan, motor vehicles are not allowed, making the air quality on the Gili Meno island fresh. A resident uses bicycles and horse-drawn carriages (Cidomo) as transportation around the island.
Infrastructure
Tourists rarely visit the island of Gili Meno because the facilities on Gili Meno still need improvement. So if you are planning a vacation to the island of Gili Meno, you should prepare personal needs and sufficient cash.
You can find a shop or ATM on this island, like the Gili Trawangan island. However, it's better to prepare it. Lodging and food stalls it is available on Gili Meno—a place to eat on the Gili Meno island in the form of cafes. The menu is mainly grilled fish, western menus, and Indonesian dishes.
Popular Things To Do In Gili Meno Island
The lack of facilities in Gili Meno does not become an obstacle for beach lovers to visit Gili Meno. Besides a beautiful white sand beach, you can also see the salt lake on the west side of Gili Meno. Most of the tourist facilities, where the boat docked on Gili Meno, are in the eastern part of the island. Popular things to do on Gili Meno are snorkeling and scuba diving.
1. Gili Meno Island Snorkeling
The number one thing to do in Gili Meno is snorkeling. If you are on vacation to Gili Meno beach, besides enjoying the beach's beauty on foot, you can do plenty of other activities. Among them are swimming at the beach and snorkeling. The sea waters are apparent, so you can easily see fish between coral reefs. If you are lucky, you can see several turtles while snorkeling. One of the popular spots for snorkeling in Gili Meno is on the northeast side.
For snorkeling equipment, you can rent it with the locals. You also can book snorkeling activities with locals. You get a boat and snorkeling equipment if you book a snorkeling activity. The snorkeling guide will take you to the snorkeling location so you can see turtles and fish.
2. Scuba Diving Gili Meno Island
Besides snorkeling best thing to do in Gili Meno is scuba diving. The best way to see the beauty of the Gili Meno seabed is by scuba diving. The waters are turquoise and transparent, making them suitable for scuba diving. The favorite dive spot on the Gili Meno is on the western side of the beach. At a depth of 18 meters, you can already see colorful coral reefs.
3. Gili Meno Sea Turtle Sanctuary
Traveling to Gili Meno, you can see the beauty of its beaches and the green turtle breeding on Gili Meno.
Sea Turtle Sanctuary in Gili Meno is not a tourist attraction, as the turtle breed on Tanjung Benoa beach. If you like seeing baby turtles, visit this place while on vacation in Gili Meno.
Gili Meno Sea Turtle Sanctuary is a small place located on the beach. In this place, you will be able to see turtle eggs, as well as baby turtles. All turtles that have hatched and are six months old will get released into the sea.
Look here, "Gili Meno Sea Turtle Sanctuary Location On Google Maps" >>>
4. Take a Walk Around Gili Meno Island
Gili Meno island is a small island surrounded by white sand beaches. From north to south, Gili Meno Island has about 2 kilometers stretch.
Meanwhile, the extent of Gili Meno Island from west to east is about 1 kilometer. The distance is indicated by measuring using Google Maps.
The Gili Meno island is manageable, allowing visitors to go around the island's coastline in 1.5 hours to two hours. By following the shoreline around Gili Meno, you will see the charm and the beauty of Gili Meno beach in more detail. Therefore, if you are looking for things to do in Gili Meno, walking around the island is one of the options.
The best time to walk around Gili Meno island is in the morning or the afternoon. In the morning after sunrise or the afternoon around 16:00, continue with seeing the sunset view. During the day, the island of Gili Meno is quite hot, making you tired while walking around the island. Therefore, avoid getting around the island during the day.
If you aspire to examine the sunset view far from where you are staying on Gili Meno, please always remember to bring a flashlight. The road you are going through is quite dark with a trailing shape.
5. Visiting Saltwater Lake & Gili Meno Mangrove Forest
There is a natural lake on the Gili Meno island's central west side, but the water is salty. If you depart from the northeast coast of Gili Meno Island, the boat port's location to the saltwater lake will cover a distance of 1.5 kilometers with a travel time of 15 minutes on foot. The area around the Gili Meno saltwater lake, surrounded by many mangrove trees, stretches to the west coast of Gili Meno Island.
When you arrive at the saltwater lake area, you can choose a shady place to enjoy the view of the lake and mangrove forest. Besides the lake and mangrove forests, you will also be able to see several birds flying around the mangrove forest area.
See here, "Location of Gili Meno Saltwater Lake on Google Maps" >>>
6. Sit on the beach of Gili Meno & swim
Of all the things to do on Gili Meno island, the most popular is sitting, sunbathing, and swimming on the Gili Meno beach. The beach on Gili Meno Island is spotless, with less sloping coastal areas. The beach sand is a yellowish-white color with a very soft texture. Apart from the beautiful view of the white sand beach, the seashore waters are also very calm, and the water is apparent. So when you swim, you can see the seabed and swim comfortably because the sea waters are very shallow.
Holiday Summary for Gili Meno
If you want a different atmosphere while on vacation, then Gili Meno is one of the places that I recommend for you to visit. Although there are no police in this place, Gili Meno is always known by tourists as a safe place for a vacation.
On Gili Meno, you will be able to see the beauty of nature in the form of clean white sand beaches and clear seawater. You will also feel a different atmosphere. Like, no cars and motorbikes.
If you are adept at swimming, snorkeling is one of the activities you must try on Gili Meno. If you are currently in Bali, you can enjoy Bali's marine tourism activities, such as Gili Meno, Jet skiing, diving, and snorkeling activities on the beach of Tanjung Benoa in Bali, known as Tanjung Benoa watersports.