Are you currently preparing a holiday to Bali? I'm sure you answered yes! Because you found this page which is about the favorite 10 things to do in Seminyak Bali especially for Indian, Hongkong, Singaporean travelers. The travel articles about what can you do in Seminyak Bali, we wrote, because we often get questions from our customers who order Bali activities such as Bali white water rafting tour and marine watersports in Bali.
Bahasa Indonesia, "Aktivitas Liburan Di Seminyak Bali Kesukaan Wisatawan" >>>
Our average our Bali activities customers ask about the following!
Can you swim in Seminyak beaches?
What type of exciting activities to do while on holiday in Seminyak?
What can you do in Seminyak for free?
Are there things to do in Bali Seminyak at night?
What is the main street in Seminyak?
The best way to get around Seminyak without having to walk?
To answer the above questions, we write about a guide to have a vacation in Seminyak, Bali, specific for favorite 10 things to do in Seminyak Bali. With the guide of holiday activities in Seminyak Bali, we can provide information quickly to our customers who reserve Bali rafting activities. Alternatively, our customers who order packages for Tanjung Benoa watersports Bali.
Location Of Seminyak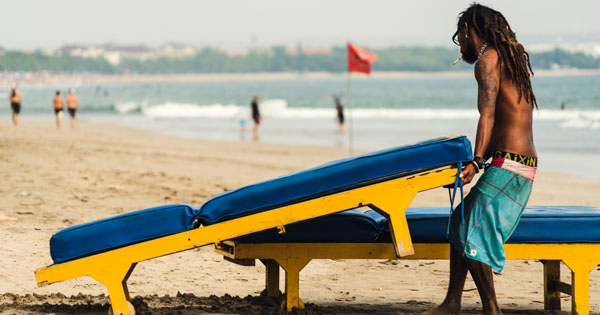 Seminyak is a sub-district that is under the Kuta district administration, Badung regency, Bali province. The location of Seminyak is very strategic because it flanked by two famous tourist attractions in southern Bali, namely, Canggu tourist attractions and Kuta Bali tourist attractions.
Besides being close to popular tourist attractions in Bali, the location also close to Ngurah Rai International Airport. From Ngurah Rai International Airport, it is only about 10 kilometers with an estimated travel time of approximately 30 minutes.
If you never had experience having a vacation to the tourist attractions of Seminyak Bali, you will most likely ask! The distance from the Bali airport to Seminyak area only 10 kilometers why need travel time for 30 minutes? From Ngurah Rai airport to the tourist area of Seminyak, you must pass three popular tourist attractions in Bali. Namely Jimbaran tourist attractions, Kuta tourist attractions, and Legian tourist attractions. Because it passes through popular tourist areas in Bali, the road from the airport to Seminyak always crowded with traffic flow, especially in the afternoon.
Read Here, "Travel Tips To Kuta Bali For The First Time" >>>
The Attraction In Seminyak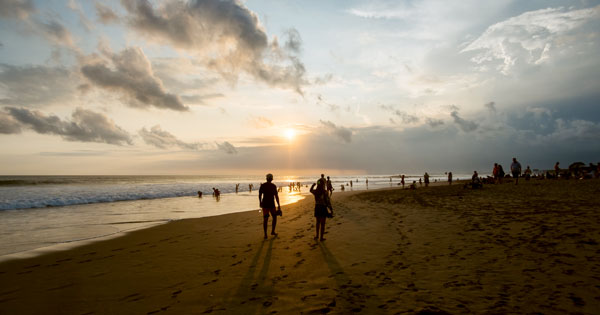 Tourist attractions of Seminyak are famous as beach tourism destinations in Bali because it has plenty of white sand beach. Such as Double Six beach, Seminyak beach, Kayu Aya beach (KuDeTa beach), and Petitenget beach. Due to the area has many white sand beach attractions, therefore many tourists who for the first time vacation to Seminyak Bali will immediately interested in visiting one of the beach attractions. Most tourists on holiday in one of the beaches will take a walk, sit on the beach, swim or surf.
Swimming In Seminyak Beach
Can you swim in Seminyak beaches? For those of you who are not good at swimming, the Seminyak beach is not suitable for you. Because the waves on the beach are quite large and robust, and the beaches more ideal for surfing. Therefore, if you want to visit Bali beaches ideal for your children to swim, you should visit Sanur Beach, Jimbaran Beach and Geger beach Nusa Dua.
In addition to beach attractions, things that make tourists interested in a holiday to Seminyak Bali because the area has a comprehensive tourism facility. Such as there are many hotels, villas, resorts, SPA, restaurants, cafes, bars and shopping places.
Why Do Travelers Love To Have A Holidays In Seminyak Bali?
Seminyak is location is close to Kuta, Legian, Jimbaran, and Canggu. The question is, why do travelers who have a vacation in Bali love to visit Seminyak?
Tourists love to have holidays to Seminyak because it offers a different atmosphere compare to Kuta, Legian, Jimbaran or Canggu. Not mean, visitors who vacationed in Bali only visit Seminyak. Most tourists besides visiting Seminyak for holidays will also have a vacation in Kuta, Legian, Canggu, Jimbaran and Ubud's tourist area.
One of the main reasons that make tourists visiting Seminyak Bali because of vacationists while on holiday not only able enjoying the white sand beach scenery. However, tourists also able enjoying culinary tours and shopping activity.
Culinary Tourism In Seminyak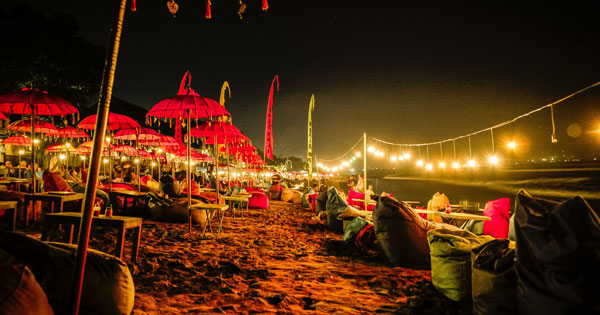 Along the Seminyak coastline, you will quickly find bars, cafes or restaurants with a variety of culinary choices. However, most of them serve western culinary. You also will find cafes, restaurants, coffee shop and bars on the main street in the Seminyak Bali. Most culinary attractions in Seminyak are fancy restaurants with famous international chefs. However, there are also several places to eat in that offer lower prices for food and drinks.
See here, "Food & Drink In Bali – Guide Of Go Hungry Anywhere In Paradise" >>>
Seminyak Shopping Activity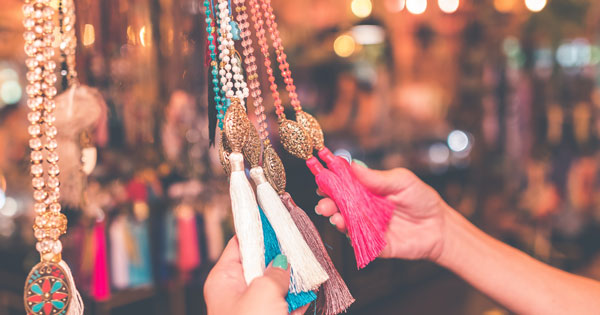 Besides the beauty of the beach and luxury culinary tourism, the Seminyak Bali also is known to vacationists as a place to shop luxury goods. You can easily find luxury items in Seminyak Bali with famous brands. All you need to do for buying things is walking along the road. Along the main road, you will find a lot of boutiques & galleries that offer luxury goods with brands that I do not recognize.
Search Here, "List of 10 Favorite Shopping Places in Bali Loves By Traveler" >>>
Things To Do In Seminyak Bali At Night
Tourists love to have holidays to Seminyak at night because the area offers a more relaxed and elegant nightlife entertainment. Night entertainment activities in Seminyak are more focused on beach clubs, with DJ music while accompanied by cocktails.
See here, "Woobar Seminyak – a Luxury Hangout Place for Nightlife in Seminyak" >>>
Water Sports In Seminyak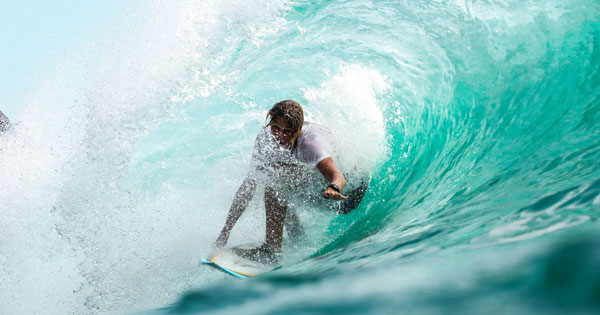 Things you can do for Bali water sports in Seminyak is swimming and surfing. There are many surfboards and boogie board rental around the coastline.
If you want to enjoy Bali water sports activities for beginner and family, then you should visit Tanjung Benoa beach, Nusa Dua beach or Sanur beach. For your information, Tanjung Benoa Bali is the center spot for water sports activities in Bali for beginners. You can find plenty of watersports game choices in Tanjung Benoa beach. Such as parasailing, jet ski, seawalker, banana boat ride, turtle island tour, and many others. Also, some of the watersports activities in Tanjung Benoa are suitable for children.
Search Here, "Water Sports Prices in Tanjung Benoa Bali" >>>
The Best Way Getting Around Without Having To Walk
Most of our customers who did not stay in Seminyak and want to get around will use Bali car rental services with a driver. By using the Bali rent car including a driver, our customers can stop where they want in Seminyak without plenty of walks and without having to think about parking their vehicle. Due to the driver went to find for a vehicle parking area. After finishing visiting one of the places, our customers will contact the driver and ask the driver to pick up at the location our customers specify.
Then what about motorbikes? Currently, in the Seminyak Bali, it is not allowed to park bikes on the roadside. So you have to find a motorcycle parking lot then walk from the motorbike parking lot to the place you want to visit.
Read Here, "How to Travel Around Bali In Term Of Transportation" >>>
Best 10 Things To Do In Seminyak Bali
What type of exciting activities to do while on Holiday in Seminyak? The following are activities that vacationists love while on vacation in Seminyak, Bali. Information about events that tourists love while on holiday in Seminyak Bali, we get from our experience in providing Bali tour packages, Bali car rental services with drivers, white water rafting adventure and marine watersports in Bali. Therefore, information on Bali activities that sightseers love on this page is not an assumption or copypaste of other sites.
Let's examine the best 10 things to do in Seminyak Bali while you are vacationing. Apart from that, I do not affiliate with all restaurants, coffee shops or shopping places listed on the page of 10 things to do in Seminyak Bali.
1. Walk Along The Beach Shoreline Is The Popular Among 10 Things To Do In Seminyak Bali
Are you wondering about what can you do in Seminyak for free? One of the holiday activities in Seminyak that is free of charge is a walk along the beach shoreline. By stepping your feet on the beach, you will feel the soft sands while watching the roar of the waves. In addition to natural scenery, you will also be able to see cafes or bars along the beach coastline.
Most visitors who want to take a walk on the shores of Seminyak beach, usually do it in the afternoon, before sunset. You can park your vehicle in the Petitenget beach parking area. Then walk south from Petitenget beach heading to the beach in front of Ku De Ta Bali restaurant. The distance is approximately 500 meters, and if you go back and forth, you will walk around 1 kilometer.
Search Here, "Petitenget Beach Bali – Everything You Need to Know Before Visiting" >>>
2. Sitting on the Beach Side Waiting for Sunset Accompanied by Cold Drinks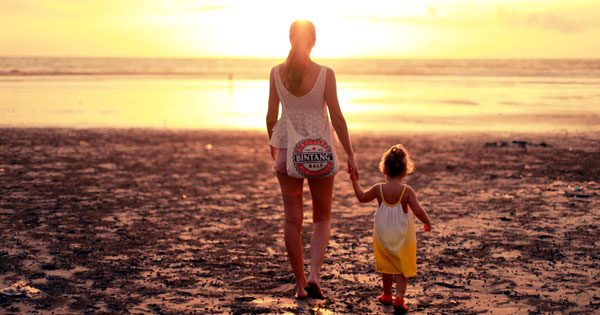 The beach area in Seminyak is one of the best spots in Bali to see the sunset. Every evening before sunset, I see many local Balinese people vacationing with their families sitting and relaxing on the beach shoreline. When I am visiting one of the beaches, I will bring a mat and a small size cooler box, to keep cold drinks. So if you are looking for free Bali activities, you can try my way above.
Then where is the best spot for sunset scenery in Seminyak? Almost along the coastline in Seminyak Bali is the best spot to see the sunset. So any part of the beaches is a great place to see the dusk.
See Here, "10 Best Spots to See Sunset in Bali For Sure You Gone Like It" >>>
3. Hang Out at The Beach Club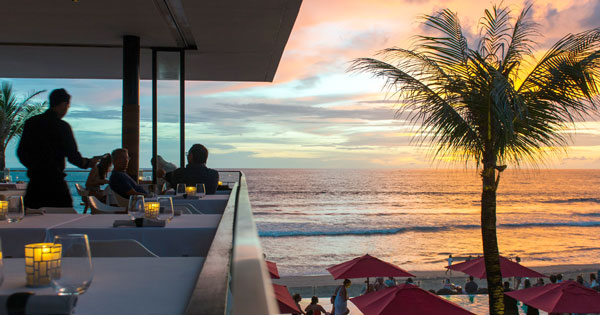 Some of our customers are asking! What is there to do in Bali Seminyak at night? If you have more budget and look for a night hangout in Seminyak Bali, you can hang out at one of the beach clubs. Beach club in Seminyak, some in the form of cafes, restaurants or bars which location is on the beach shoreline. Therefore, while you are enjoying food and drinks, you can see the beach night scenery.
There are many beach clubs on the beach shoreline. However, most of our customers like to hang out at beach clubs such as Potato Head or Ku De Ta. By choosing a hangout at Potato Head beach club, you can swim in the beachside pool, enjoy the views of the sunset, culinary tours, and experience cocktails while accompanied by beat music.
Find Here, "OMNIA Dayclub Bali – Hangout Above the Uluwatu Cliffs" >>>
4. Stroll along Jalan Kayu Aya Seminyak
What is the main street in Seminyak? Jalan Kayu Aya is the name of the primary road in Seminyak Bali. The name of this street used to be Jalan Laksmana. Most travelers who have visited Seminyak before, know Jalan Kayu Aya as a center for luxury culinary and shopping for luxury goods. Because along the Jalan Kayu Aya you will find many restaurants, bar, cafe, coffee shop, gallery, and boutiques.
So whatever your culinary tastes and budget, there is no doubt that you will find something you cherish in the Seminyak Bali. Honestly, I do not have the shopping experience at luxury boutiques or dining in one of the restaurants. I usually do window shopping, due to the price of goods is above my budget.
Find Here, "10 Tips For Shopping in Kuta Bali You Need To Know – Guide How To Buy Things In Bali" >>>
5. Visit the Shopping Mall In Seminyak
It is undeniable that travelers while on holiday in Bali like to visit shopping malls, including me. One of the shopping malls currently trending is Seminyak Village Shopping Mall. The Shopping Mall location is on Jalan Kayu Jati No.8, Seminyak. I like visiting The Village Shopping Mall because it is not too crowded and there is my favorite ice cream outlet, which is XOXO ice cream.
Search Here, "10 Shopping Places in Kuta Bali Ideal For Vacationists" >>>
6. Culinary Tour Favorite Things To Do In Seminyak Bali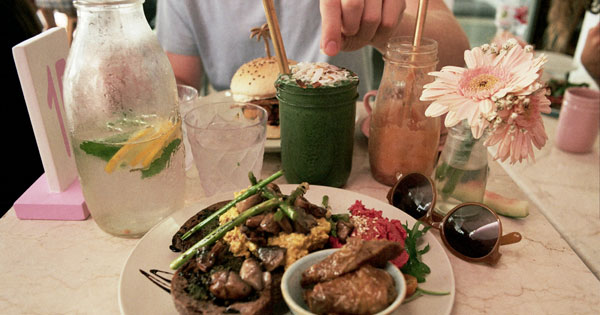 One of my preferred activities while on holiday to Seminyak Bali is to try culinary tours and hang out at the coffee shop. After completing a walk around the beach and the sun has set; usually, my family and I will look for dinner around the area.
There are two areas in Bali, which is known as culinary tourism paradise, namely Seminyak and Ubud tourist attractions. The Seminyak area provides many types of culinary, from fine cuisine to street food. Menu choices are available from western, Indonesian, Balinese, and Asian cuisines. Because my budget is not sufficient to eat at one of the fancy restaurants, so I often look for cheap places to eat. Like the Warung Murah Double Six, Baku Dapa and Warung Bunana.
Find Here, "Top 5 Restaurants In Bali Good For Kids & Family" >>>
7. Hang out at The Coffee Shop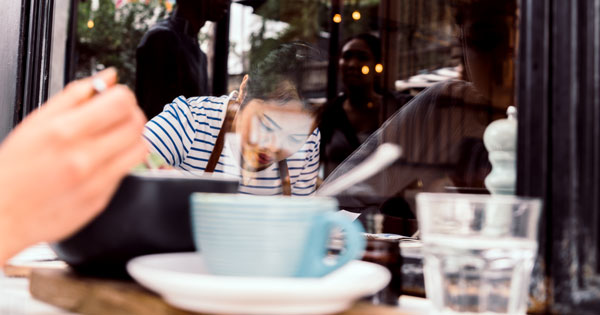 Besides hanging out at a beachside club, vacationists who vacation in Seminyak Bali also like hanging out at one of the coffee shops. There large coffee shops in the area. On average our customers who order Bali rent car services with drivers like to hang out at The Koop Roaster & Cafe.
The location of The Koop Roaster & Cafe is on Jalan Drupadi No.66, Seminyak. Finding a car park on Jalan Drupadi is quite tricky. However, because our customers use a car rental service with a driver while on vacation in Bali, so they don't need to think about a car park, because the driver will look for a car park.
Because many of our customers hang out at The Koop Roaster & Cafe, so I give it a try. At that time, I order a cappuccino, and I can taste the coffee was fresh, and the mixture was right for me. Besides cappuccino, I also ordered a carrot cake. For one portion of cappuccino and carrot cake, at that time I paid IDR 55,000. So I recommend the Koop Roaster & Cafe if you are looking for good coffee in Seminyak at affordable prices.
See here, "6 Hangout Spot In Seminyak Bali For Coffee" >>>
8. Visiting Petitenget Temple
Balinese Hindu temple attractions are one of the favorite tourist destinations in Bali. There are plenty of Balinese Hindu temples. Such as Tanah Lot temple attractions, Uluwatu Temple and Ulun Danu Beratan temple in Bedugul. In the area of Seminyak, there is also a Balinese Hindu temple that worth to have a visit. The temple called Pura Petitenget and the temple location adjacent to Petitenget Beach. So when you are on holiday to Petitenget beach, it is a good idea also to visit Petitenget Temple, Bali.
Search Here, "List of 10 Must-See Temples in Bali During Your Holidays" >>>
9. Try SPA
Not only Ubud, but Seminyak is also famous for Spa destinations. One of the most visited Spa in Seminyak by our customers who are on their honeymoon in Bali is Zanti The Retreat SPA. The location of Zanti, The Retreat SPA, is on Jalan Camplung Tanduk No. 103 SP, located in the Courtyard area by Marriott Bali Resort.
I do not know how it feels to have a SPA at Zanti The Retreat. However, most of our customers who try SPA at Zanti The Retreat, recommend Zanti The Retreat Spa. Furthermore, you can see SPA prices at Zanti The Retreat Sby clicking the link below!
See here, "Spa Price List at Zanti The Retreat Seminyak" >>>
10. Things To Do In Seminyak For Families And Children
The last on the list of 10 things to do in Seminyak Bali are activities for kids and family. Some of you may travel to Bali with families and children. Therefore before visiting Seminyak Bali, you will wonder about things to do in Seminyak Bali for kids and families. At the moment, there are two indoor activities suitable for families and children in Seminyak. There area, Totem Room Escape Challenge, and Escape Room Bali.
Totem Room Escape is a room escape challenge with mixing difficulties, special tech gizmos, bound in colored themed rooms. Escape Room is also indoor activities in Seminyak, delivering a balance between physical and intelligent in each game.
Summary On 10 Things To Do In Seminyak Bali
That's all for the best of 10 things to do in Seminyak Bali. Hopefully, the above article which is about 10 things to do in Seminyak Bali is useful for you. For sure not all of the 10 things to do In Seminyak Bali listed on this page, will be things that you like. However, we try to give you the information base on the general visitors do when they have a holiday in Seminyak Bali. If you have inquiries and opinion, please leave it on the comment form below.