Many travellers holiday in Bali with their families and children. It's well known that vacationers usually look for four main things when planning a family vacation to Bali: aeroplane tickets, accommodation, holiday activities, and kid-friendly attractions. However, one crucial aspect that travellers sometimes overlook is determining suitable dining spots for their families. Therefore, I list the top 5 affordable Bali kids' restaurants perfect for culinary tours with your family and will surely delight your children.
Bahasa Indonesia, "5 Tempat Makan Anak Di Bali, Ramah Anak Cocok Untuk Keluarga & Istagramable" >>>
Family Dining Guide in Bali
My initiative to write about a family dining guide in Bali was sparked by frequent questions from our customers, particularly those who partake in the Tanjung Benoa water sports package or book Bali river rafting trips.
The most typical queries pertain to children's holiday activities in Bali and kid-friendly restaurants. So, to provide information more effectively and speedily about family-friendly eateries in Bali, I've compiled a list of the five best family-friendly restaurants. These are places loved by children and offer affordable prices.
Top 5 Budget-Friendly Kid-Friendly Restaurants in Bali
The list of the top 5 kid-friendly restaurants in Bali, suggested here, is based on my children's opinions. Likely, this list may not align with your children's choices. Most sites in this list deliver a comfortable atmosphere, colourful interiors, and affordable food and beverages. So, if you're pursuing a luxury dining occasion with your children in Bali, then this list of budget-friendly kid-friendly restaurants might not be for you. However, if you're searching for the best child-friendly and inexpensive eateries in Bali, please continue reading!
Furthermore, I have no partnership with any restaurants detailed on this page. This allows me to provide unbiased recommendations for family-friendly dining spots in Bali that cater to children and offer reasonably priced food and drinks.
Search Here, "10 Most Recommended Vacation Activities with Children in Bali" >>>
1. Delicious Donuts at Tarabelle Donuts Uluwatu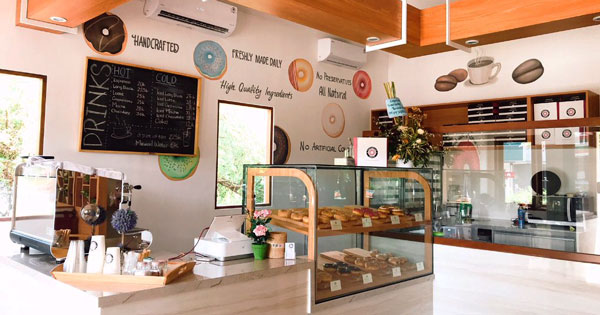 Children certainly have a soft spot for sweet treats, especially doughnuts. Tarabelle Donuts in Uluwatu, Bali, is an eatery that serves some of the tastiest doughnuts I've had. Its charming ambience is perfect for families and serves as an Instagram-worthy hangout spot in Uluwatu. While you may have different opinions, I find their doughnuts exceptional, although their price is slightly higher than elsewhere in Bali.
I often recommend Tarabelle Donuts Uluwatu to our Bali water sports customers who plan to visit the Garuda Wisnu Kencana Cultural Park or vacation at Balangan Beach Bali. The doughnut shop's proximity to the cultural park and location along the Balangan Beach route make it a convenient stop.
Balancing Sweetness and Health: A Parent's Guide to Tarabelle Donuts Uluwatu, Bali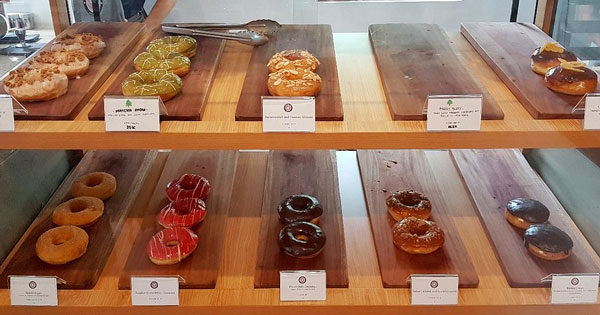 As a parent, I'm constantly concerned about providing my children with excessively sugary foods, which tend to drive sore throats. However, when I tried the Chai Walnut Donut at Tarabelle Donuts Uluwatu, I didn't experience any discomfort in my throat. The doughnut was just sweet enough and tasted incredibly fresh. As someone who places high importance on the freshness of food and moderate sweetness, I had no qualms about giving these doughnuts to my kids.
There are ten types of doughnuts, each with distinct flavours, displayed on a two-tier glass shelf. Each doughnut has a different price. In addition to doughnuts, Tarabelle Donuts Uluwatu also offers a selection of other foods and beverages, such as waffles, smoothies, and coffee. If you fancy sipping coffee while savouring a doughnut, then Tarabelle Donuts Uluwatu is a must-visit eatery in Uluwatu, Bali.
Search Here, "Favorite Hangout Places for Coffee Lovers in Denpasar, Great For Instagram Photo & Delicious" >>>
Tarabelle Donuts Uluwatu: Operation Hours, Best Time to Visit, and Location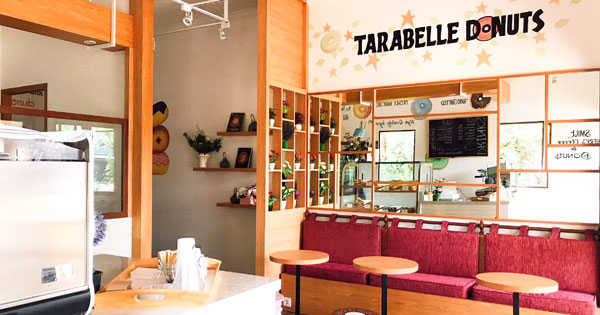 Tarabelle Donuts Uluwatu is open daily from 07:30 – 22:00. The best time to visit Tarabelle Donuts Uluwatu is 15 minutes after opening hours, as the variety of doughnuts remains intact. If you miss out on your favourite doughnut variety, you can request the staff to prepare it. You can see Tarabelle Donuts Uluwatu's previous customers' reviews on TripAdvisor.
Tarabelle Donuts Uluwatu is at Jalan Raya Uluwatu No.77, Ungasan – Bali. Given the considerable length of Jalan Raya Uluwatu, it's advisable to use a navigation application like Google Maps to facilitate your search for the restaurant. A vehicle parking space is conveniently obtainable in front of the dining area, so you don't require to concern about finding a spot if you're driving.
2. Heenalu Cafe & Resto: Bali Kids Restaurants
The Uluwatu Bali area is renowned worldwide as a tourism destination for its beautiful white sand beaches, engaging surfing activities, and magnificent Uluwatu Temple. I used to find it challenging to locate family-friendly places to eat in the Uluwatu Bali area. Usually, after a day at one of the beaches in Uluwatu, I would head straight to Jimbaran for family dining.
However, the rapid development of tourism in Uluwatu has made it significantly easier to find child-friendly restaurants. One of the restaurants in Uluwatu that my children enjoy is He'enalu Cafe & Resto.
Upon entering He'enalu Café & Resto, you are welcomed by an interior design with a tropical Hawaiian atmosphere. This ambience and various wall decorations make my children feel at home. Heenalu Café & Resto serves breakfast, lunch, and dinner.
Read More, "10 Designs Make Jimbaran Bali The Best Site For A Family Hideaway" >>>
Family Dining Experience at He'enalu Café & Resto in Bali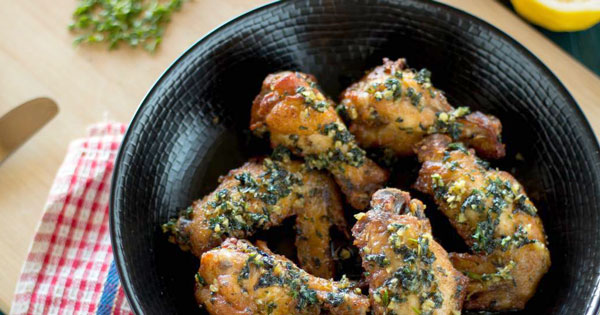 After we visited Suluban Beach Bali, one of my children suggested finding a place to eat. My wife then proposed visiting He'enalu Café & Resto. Upon our arrival, we discovered a convenient car park in front of the restaurant.
We ordered a Spicy Cheesy Pulled Pork Sandwich, Chicken Wings, and Spaghetti Carbonara. Then, we chose three servings of watermelon juice and three servings of vanilla ice cream for drinks. Also, we didn't order much food as usual because my children tend to eat only a little, leaving my wife and I to finish the rest.
He'enalu Café & Resto operates with an open kitchen concept, allowing you to watch the chef prepare your food. My children love the Spaghetti Carbonara and Chicken Avocado Sandwich served by He'enalu Café & Resto. You can see He'enalu Café & Resto's previous customers' reviews on TripAdvisor.
Opening Hours & Location of The Heenalu Café & Resto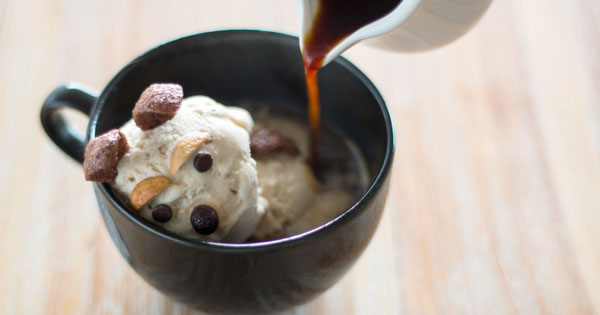 He'enalu Café & Resto is open daily from 09:00 to 21:00. It is located at Jalan Uluwatu Pecatu No.70X, Pecatu-Bali. Its strategic location is perfect for a meal after visiting attractions like Labuan Sait Beach, Suluban Beach Uluwatu, or Uluwatu Temple Bali, especially if you're staying in Kuta, Jimbaran, Legian, Nusa Dua, or Seminyak. To find the He'enalu Café & Resto easily, it's advisable to use Google Maps or Waze.
3. XOXO Ice Cream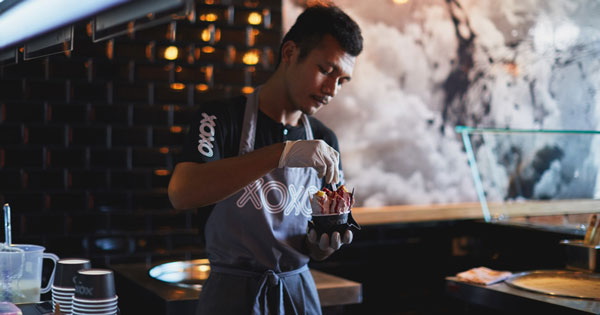 Getting my children to eat can sometimes be straightforward, but often, it's a challenging task. Whenever we visit restaurants, they immediately start looking for the dessert menu. How about your children? Are they doing the same?
One of their favourite desserts is ice cream. In Bali, finding a special place that only sells ice cream is relatively easy, especially in areas like Kuta, Seminyak, Jimbaran, and Legian. If you treat your kids to ice cream without worrying about them catching a sore throat, I recommend trying it at XOXO Ice Cream.
My visit to XOXO Ice Cream Kuta was quite spontaneous. My family and I happened to be holidaying on Kuta Beach and decided to visit the Kuta Beachwalk Mall. We stumbled upon the XOXO Ice Cream stand and tried it there.
Search Here, "10 Things That Make Kuta Bali Suitable For Family Holidays" >>>
Menu Options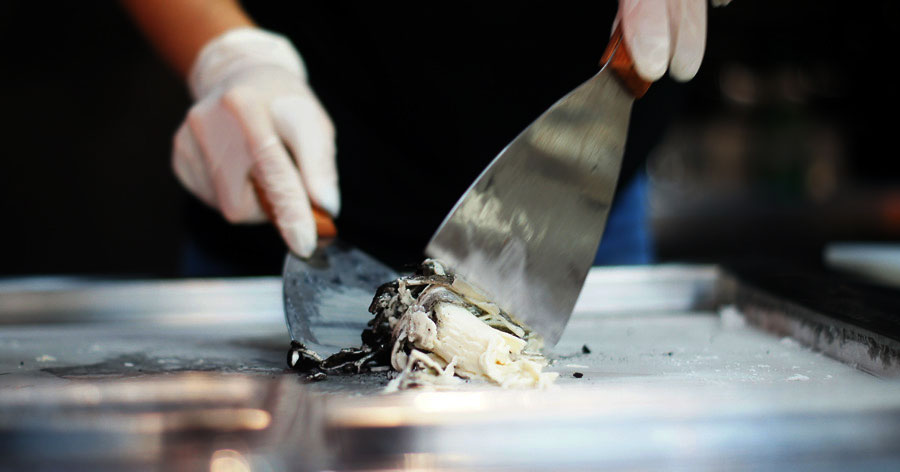 The menu offered a choice of 15 ice cream dishes, all of which were served as ice cream rolls in a small bowl. I ordered three different flavours.
The taste of XOXO Ice Cream is delightful, with The Golden Ticket (baked Nutella brownie) being my favourite. I also enjoyed watching the staff prepare the ice cream. The process was unique and intriguing, and they made it very quickly.
XOXO Ice Cream Outlet Locations
Because I enjoyed the taste of XOXO Ice Cream, I decided to learn more about them. As it turns out, they have more than one outlet on the island of Bali. Here are the locations of XOXO Ice Cream outlets in Beach Walk Shopping Center Bali Google Maps.
4. Frozen Yogi – Kid-Friendly Restaurants Ubud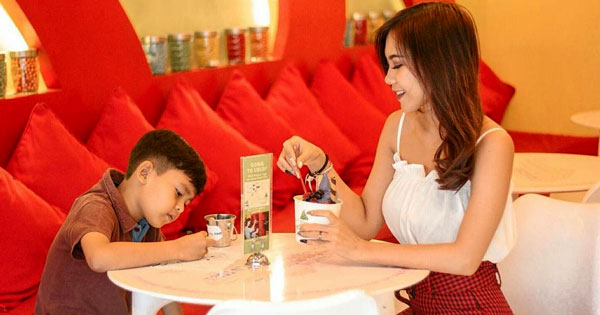 Ice cream and doughnuts have listed on this page; what about Yogurt? Most of you know the benefits of yoghurt for human digestion. However, making my children want to eat yoghurt is very difficult. The taste is a little sour and not too sweet. If you also experience what I experienced, it's a good idea to invite your children to visit Frozen Yogi, located in the tourist area of Ubud.
Frozen Yogi Ubud offers a different concept from other places that sell Yogurt in Bali. In Frozen Yogi Ubud, you take the yoghurt cup, choose the flavour of yoghurt you want, or mix the yoghurt taste as you like. Then fill the topping as you wish. Also, you can take lots of yoghurt or have less yoghurt.
Menu Options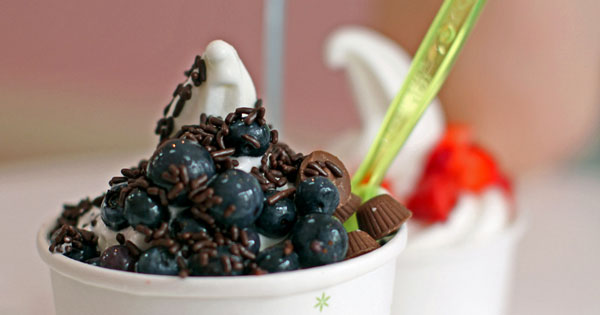 There are many choices of yoghurt flavours available in Frozen Yogi Ubud. Like, Tart, Strawberry, Vanilla, Chocolate, Green Tea, Raspberry, N' Cream, Coffee Hazelnut, Red Velvet, Coconut, Cappuccino, Mango Blueberry Durian, and Caramel Latte.
For toppings, such as; Blackberries, Raspberries, Blueberries, Sliced Almonds, Cashews, Mulberries, Mango, and Strawberries. Also, Avocado, Dark Chocolate, Chocolate Chips, White Chocolate, M & Ms, Brownies, Chocolate Oreos, Gummi Bears, Kiwi, Caramel Sauce, Caramel Sauce Rum, Honey, and Nutella.
Then what is the price? After choosing the yoghurt taste, weigh your yoghurt on the scale. You pay the yoghurt price based on weight.
See here, "Ten Things Make Ubud Prominent Family Destination In Bali" >>>
Location of Frozen Yogi Outlet
The Frozen Yogi Outlet in Bali is currently in two locations. One is in the Ubud tourist attractions, and the other one is in the tourist area of Seminyak. For the Frozen Yogi Ubud outlet Google Maps, the site is on Jalan Dewi Sita, Ubud. The Frozen Yogi outlet in Seminyak Google Maps is on Jalan Kayu Aya, Seminyak. Both outlets are open from 09:30 – 23:30 every day.
For outlets in Ubud, finding a car park adjacent to Frozen Yogi Ubud is very difficult. So if you drive a car, you should come with a driver by using Bali rental car services with drivers. You can park at Seminyak Village Mall for a Frozen Yogi outlet in Seminyak. Then walk for 2 minutes to the Frozen Yogi Seminyak outlet.
5. Gusto Gelato & Caffe Kerobokan
Well, the last of the list of 5 favourite places to eat for children is Bali Gusto Gelato & Caffe Kerobokan. Every time I vacation to Seminyak Bali, like Petitenget Beach Seminyak with family and children. I always relish the time to stop by and try Gelato at Gusto Gelato. Gusto Gelato location is in the same direction as my home. The car park is widely available at Gusto Gelato, and there are many choices for Gelato.
When you enter the area in Gusto Gelato, the ambient room is filled with orange and grey; furthermore, if you are coming for the first time visiting Gusto Gelato, you must be surprised. You will see a long queue, but you don't have to wait long. In approximately 10 minutes, you will have your turn to order Gelato.
Menu Options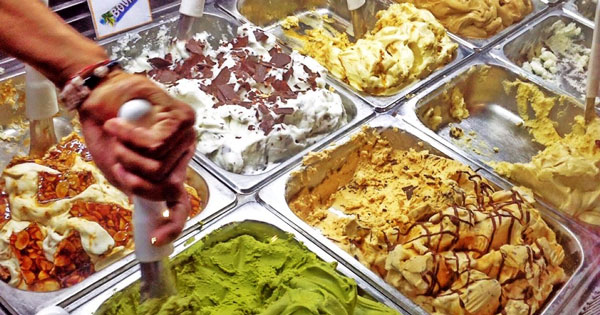 Because the Gelato menu choices are extensive, you should see the Gelato selection screen when lining up. Therefore, when you order, you already know the Gelato flavour you want to order.
Gusto Gelato & Caffe Kerobokan have almost all kinds of ice cream and Gelato flavours you can imagine, from natural Gelato flavours such as; dark chocolate, vanilla, and strawberry to Gelato flavours that you might never have imagined, like chocolate chilli (chilli chocolate flavour).
For the price of Gelato by size, there are five formats, from small to large.
Small with two flavours, Rp. 35,000.
Medium with three flavours, IDR 60,000.
Large with four flavours, IDR 100,000.
Xtra Large, with a choice of five flavours, IDR 175,000.
Cone with a choice of two flavours, Rp. 35,000.
Location & Opening Hours
Gusto Gelato & Caffe Kerobokan's opening hours are 10:00 – 22:00, and open daily. The Gusto Gelato & Caffe Kerobokan location at Jalan Mertanadi No. 46B, Kerobokan Kelod, Kuta – Bali. Please use Google Maps to make it easier for you to find the Gusto Gelato & Caffe Kerobokan!
Summary Top 5 Affordable Bali Kids Restaurants
From the top 5 affordable Bali kid's restaurants list, which one do you like to try? Undoubtedly your answer will vary. All the choices of places to eat for children in Bali above are my opinion. You will most likely have a different view of where to eat with your child during the Bali holiday.
Apart from that, I am not affiliated with or endorsed by all restaurants listed above in the top 5 affordable Bali kid's restaurants. Therefore, I can give a proper assessment that my family and I like. Also, each outlet's food and beverage price may change at any time. Please comment below if you have questions or suggestions about the top 5 affordable Bali kid's restaurants.
See Here, "10 Things That Make Nusa Dua Bali Attractions Suitable For Children's Holidays" >>>