Bali tourist destinations are not only Bali Hindu temples or white sand beach attractions. In addition to tourist attractions, the island of Bali also offers many choices of exciting holiday activities. Such as Bali Rafting activities at Telaga Waja river, Bali marine water sports, camel riding tours, and many others. One of the outdoor activities currently popular among tourists is the Bali Parasailing activity. If you are interested in participating in Bali parasailing activities, then on this page, there is a guide to 5 things you need to know about parasailing in Bali. This information is crucial for you when you decide to join the Bali parasailing.
Bahasa Indonesia, "5 Hal Yang Perlu Diketahui Tentang Bali Parasailing" >>>
Traveling to Bali, there are many best things to do to make your holiday enjoyable and memorable. Travelers will visit Bali tourist attractions and white sand beaches like Kuta Beach and join outdoor adventure activities.
Bali adventure activities every year get a significant increase in demand from tourists who have their holiday in Bali. The type of outdoor adventure activities in Bali most tourists love to do are:
ATV Ride Bali.
Bali Camel Ride.
Bali Marine Water Sports Activities In Nusa Dua
Of the above five activities, Bali marine water sports activities in Nusa Dua still get the most demand than Ayung river rafting in Bali. Of course, there are reasons why Bali marine recreation in Nusa Dua is still the number one for outdoor adventure activities in Bali. The reasons are:
Nusa Dua water sports prices are lower on single events than Bali white water river rafting prices. Of course, you can only get cheap Nusa Dua watersports if you book online. If you book directly on the spot, published fees will apply.
The second reason is that Bali marine recreation locations at Nusa Dua are close to major hotels in Bali. So customers are very comfortable, and it only takes a few minutes to get to Nusa Dua marine recreation locations.
There are many choices of water sports activities on Tanjung Benoa beach. Such as riding a jet ski, a banana boat, rolling donuts, snorkeling, seawalker, and Bali parasailing activities.
The most well-known and favorite Nusa Dua marine recreation is parasailing, mainly done by teenagers. If you want to try Bali parasailing in Nusa Dua, please read on 5 things you need to know about parasailing Bali.
Two Type Of Bali Parasailing Activities
Before I write down 5 things, you need to know about parasailing in Bali. I will inform you of the general information about Bali parasailing.
Bali parasailing will take place at Nusa Dua Bali at Tanjung Benoa beach. Besides parasailing at Tanjung Benoa beach, there are other marine activities. If you want to know more, please click on this link! Tanjung Benoa Water Sports.
The Bali parasailing activity has a simple concept: one or two participants wore waistcoat vests with hooks connected to the parachute. There are two types of parasailing in Tanjung Benoa Bali, and they are:
Single parasailing Bali, one person flies on a parachute. The flight begins from the beach sand and lands on the beach sand. The parachute is attached with rope on a speedboat then the speedboat will pull the chute together with the members. Downwind makes the parachute fly into the air and fly with the participant.
Furthermore, the parasailing adventure in Bali is also well known as tandem parasailing. Also, parasailing adventure is an activity that can accommodate two people to fly together. However, the participants started flying from the speedboat and landed on a speedboat.
Please be aware of the following:
Single-person parasailing and tandem parasailing adventure in Tanjung Benoa Nusa Dua – Bali is two different kinds of activities, with varying prices for each activity.
Each water sports operator in Tanjung Benoa offers a different price for single-person parasailing or tandem parasailing adventure in Bali.
Bali Parasailing Prices List At Tanjung Benoa
Read More, "Dissimilarities Between Single Parasailing VS Bali Parasailing Adventure" >>>.
List Of 5 Things You Need To Know About Parasailing Bali
Parasailing activities on Tanjung Benoa beach require courage from the participants. If you are from the beginning not dared to do parasailing activities at Tanjung Benoa beach, you should not do this activity! For the one who braves enough and wants to try the exercise of Tanjung Benoa parasailing, before you decide, you need to read below a list of 5 things you need to know about parasailing in Bali.
1. Understand How To Control The Parachute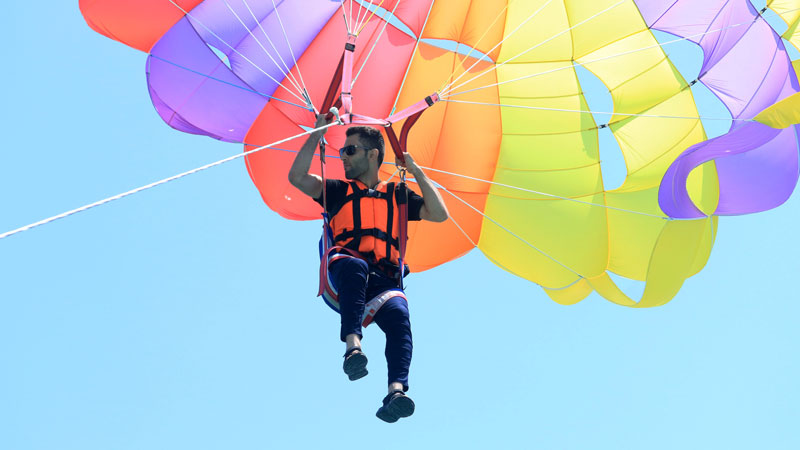 Before your body is linked to the parachute, the parasailing instructor will tell you how to control the parachute in the air. On the rope of the parachute, the left and right sides are marked with color. Usually, the left rope is blue, and the suitable rope with red paint.
Once you fly one round and then come back and approach the coast, parasailing instructors from below, using loudspeakers, will instruct you on which rope had to be towed to steer the parachute, the goal to make you land right on the beach sand.
So what if you fall in the water? Before you link to a parachute's strap, you must use a life jacket. If you land in the water, a life jacket will help you float with your head above water, even though you cannot swim.
Find Here "Often Requested Inquiries Concerning Parasailing Bali" >>>.
2. Pay Attention To Weather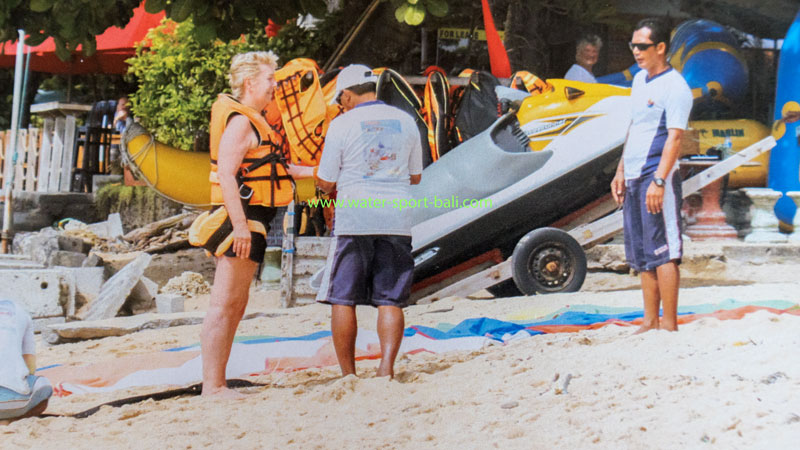 Tanjung Benoa beach parasailing activity is high-risk Bali marine water sports activity because you are of the earth's gravity. Although parasailing operators in Tanjung Benoa Bali are experienced and trained, to ensure the safety of participants when to do parasailing, you must remain careful and vigilant of the risk of parasailing activity in Tanjung Benoa Bali. Weather and wind direction are the most important thing of all 5 things you need to know about parasailing in Bali.
Parasailing activity providers in Tanjung Benoa beach also have excellent attention to the weather. They will cancel parasailing activities if the weather does not favor them, even if the participants have booked in advance.
Bad Weather Cancellation
Type of weather that can cancel parasailing activities such as:
The wind direction changed drastically at any time, even on a sunny day.
Wind direction towards the sea instead of toward the beach.
Thick clouds and lightning.
Too mighty wind blow. If the wind blow is too decisive, it can create difficulties steering the parachute.
The wind blows too weak. If the wind blows too low, the parachute cannot fly; this creates a high possibility for participants to land in the sea.
Receding tides. Pulling the parachute requires a high-power speedboat. On low tides, most operators cannot run the high-power motorboat.
So what if you have booked the parasailing activity but can't be done because of the weather?
Each parasailing operator in Tanjung Benoa Beach Bali has terms and conditions for replacing parasailing with other water sports activities.
So before you book parasailing activities in Tanjung Benoa beach, ask about it, either to the Bali water sports agency if you buy a Bali parasailing voucher through a Bali water sports agent or parasailing operator if you buy parasailing activity at the location.
3. Participant's Age limits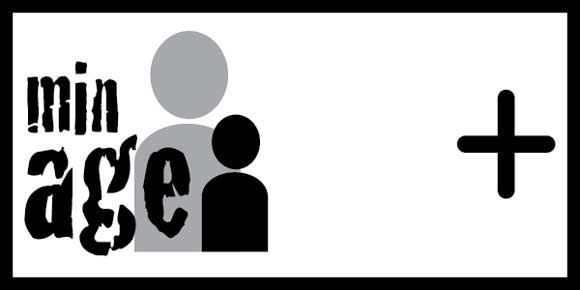 Participants minimum age limit for parasailing activity at Tanjung Benoa beach does not exist. Only for insurance purposes, the minimum age limit is ten years old and a maximum of 65 years old. The participant's maximum weight is 80 kilograms.
So what if your child is over the age of ten and wants to join parasailing activities in Tanjung Benoa Beach, Bali? Children are allowed to adhere to parasailing, but they need to accompany by an instructor while flying.
Read More, "8 Most Pleasing Water Sports Games In Bali For Fun & Memorable Family Vacation" >>>
4. Avoid Alcohol
One day before the parasailing activity, please avoid drinking alcohol. If you are under alcohol, you should not do parasailing. Because the person who gone steers the parachute during landing is you, by following orders from the parasailing instructor.
5. Don't Do Parasailing On a Full Stomach
Before the parasailing activity, try to eat 2 hours before the exercise. When you are in the air, there are changes you gone 2 G gravitational force. If your stomach is full, there most likely, you went vomit in the air.
Other Popular Bali Marine Recreation
Besides parasailing activities, other popular Bali marine recreation at Tanjung Benoa Beach Nusa Dua, such as:
To find out the price of each Bali marine recreation above, please click on the link!
In addition to Tanjung Benoa beach, parasailing activities are available in the Sanur beach area. Please click the link below if you want to know how much parasailing costs in Sanur Bali.
See "Sanur Bali Parasailing Prices" >>>.
How to Get Cheap Bali Water Sport Prices
The easiest way to get the least expensive but trustworthy providers for water sports in Nusa Dua Bali is to use the search engine Google.co.id. If you have found a water sports Nusa Dua Bali provider that you are looking for, look for deals on Bali water sports packages. Book, the Bali water activities package requires minimum 2 two people booking.
The benefit of purchasing the Bali watersports package online is a much lower unit price. Also, get a free pick-up and return transfer to your hotel. Of course, a free shuttle is only applicable in certain areas in Bali, such as Kuta, Legian, Nusa Dua, Tanjung Benoa, Sawangan, Kedonganan, Mumbul, Jimbaran, Kutuh, and Ungasan.
Hopefully, information about 5 things you need to know about parasailing in Bali will benefit you before trying Bali parasailing. If you have suggestions or tips to add more information on 5 things you need to know about parasailing Bali, please write in the comments field below!