There is an abundance of a great place to see and impressive things to do in Bali, which you can visit while on holiday. One of them is Sanur Bali, which located in the eastern part of Denpasar city (the capital city of Bali). Therefore, if you are interested in visiting the Sanur tourism area, during your vacation in Bali. Please continue reading this page! Because on this page, you will find information such as;
Questions often asked by tourists before planning a vacation to Sanur, Bali.
The Sanur Bali tourism attraction.
Location of Sanur tourist attractions.
The best way for a family vacation to top Sanur attractions.
Top things to do in Sanur Bali suitable for a family vacation.
Bahasa Indonesia, 'Tempat Wisata Sanur Bali" >>>
FAQ by Tourists Before Planning A Vacation To Sanur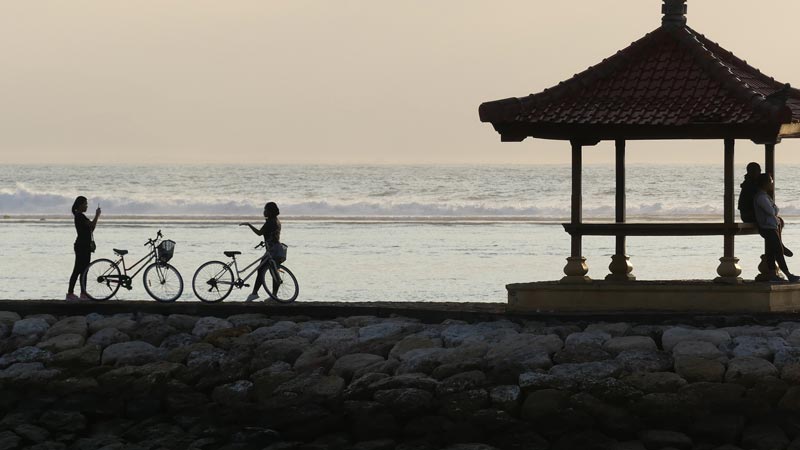 During our customers want to book Bali white water rafting tours, and Tanjung Benoa watersport packages Bali. We often get questions about top Sanur attraction. Here are issues that are frequently asked by vacationists, when planning a vacation to top Sanur attraction, Bali.
Is Sanur good for families holiday?
Sanur Bali main attraction for a family holiday is the long stretch of white sand beach coastline. Also, the Sanur beach Bali coastline has shallow water, while the deep waters are 100 meters from the shoreline. Therefore, Sanur tourist destinations can meet all the passions during a family vacation.
What is there to do in Sanur for kids?
Canoeing on Semawang beach Sanur, biking on Sanur promenade, visiting Big Garden Corner, and swimming.
Is Sanur Beach good for the family holiday?
Many people do not recognize that the Sanur area has a lot of beaches with different names but generally called Sanur beach. All beaches in Sanur offer white-sand beaches. Each beach area in Sanur has a different designation. Some are suitable for children's swimming, there beach use as fast boats crossing to Nusa Lembongan and Nusa Penida, and some white sand beach great for water sports activities.
Is Sanur expensive?
Sanur is the first resort area in Bali, and this makes the Sanur area has a complete range of tourism facilities. In the Sanur tourism area, there are many accommodation and restaurant selections. The main attraction of Sanur, in addition to the beach, is a calm environment. When observed from the price, the Kuta Bali area is cheaper than Sanur. However, Sanur is more affordable when compared to Seminyak.
The Sanur Bali Tourism Attraction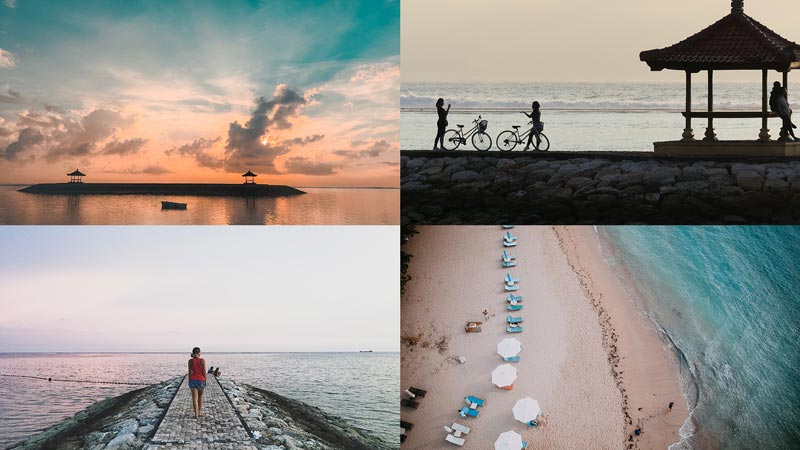 Sanur, as one of the attractive tourist attractions in Bali, has been famous for a long time. For me, Sanur is even more remarkable than the Kuta Bali tourist attractions. Sanur tourist attraction becomes widely known since the construction of the first five-star hotel in Bali called Bali Beach Hotel. At this time, the Bali Beach hotel changed its name to Inna Grand Bali Beach Hotel.
Read More, "Kuta Bali Vacation Guide For First Timer" >>>
Tranquil Tourist Spot
As a tourist area, Sanur is known by tourists as a more tranquil tourist spot and a child-friendly beach for swimming. Of course, if you compare it to the tourist areas of Legian, Kuta, and Seminyak.
Because of the tranquility of the Sanur area, and Sanur beach Bali is safe for children to swim, making Sanur tourist attractions suitable for family and elderly vacation destination.
Find Here, Are Bali beaches safe to swim in?
There are no big waves on the Sanur beach coastline. Therefore, if you are looking for a white sand beach resort with big waves, you should not vacation to Sanur beach Bali. Instead, you should visit the Pecatu area, such as Green Bowl Beach Ungasan Bali. However, if you want a beach holiday in Bali that offers a relaxed atmosphere and is suitable for families, then Sanur, a must-visit tourist spot in Bali.
Read Here, Nusa Dua VS Sanur, Which Area Do You Choose For Your Accommodation?
Sanur Bali Map Location
Sanur tourist area located in the east of Denpasar city. Most of the Sanur Bali region is in the form of a stretch of white sand on the southeast side of Bali.
If you depart from Ngurah Rai Airport, heading to the Sanur tourism area. It will cover a distance of about 10 kilometers, and it will take about 30 minutes if you drive a car.
If you depart from Seminyak, heading to Sanur beach or from Sanur to Seminyak will take travel distance around 18 kilometers with 45 minutes estimated travel time.
If you depart from Tegalalang Rice Field Ubud, heading to the Sanur beach location. It will cover 33 kilometers distance, with 1 hour 10 minutes travel time.
Then where is the location of the Sanur Bali tourism area? To gain more access for you to find the place of Sanur Bali tourist attractions, you should use a Google Map. Please click this link to see the location of Sanur Bali tourist attractions on Google Map.
The Best Way for a Family Vacation to Sanur
If you stay in the southern Bali area such as Kuta or Nusa Dua, hiring a car with a driver in Bali is the best transportation for a family vacation. On the island of Bali, the one-day duration for car rental with a driver in Bali is 10 hours.
There is a reason why I suggest you hire a car + driver service in Bali. When you vacation in Bali, of course, you will not only visit one tourist spot but also visit several Bali tourist attractions.
If you stay in Kuta, Sanur route inline with Ubud and Kintamani attraction, car rental in Bali with a driver, makes you able to visit three tourist spots in Bali in one day.
Read More, "Top 10 Things To Do In Ubud Bali" >>>
Top Things To Do In Sanur Bali Suitable For a Family Vacation
Sanur tourist area, the main attraction is on the white sand beach attractions. In addition to white-sand beaches, you also will find many dining options, places to shop, hotels, and resorts in the Sanur area.
In the Sanur area, you will not find many choices of attractions like those found in the Ubud tourist area. But the main reason for a vacation to the Sanur is to relax while enjoying the beauty of nature. The following is a list of the best vacation activities in Sanur Bali.
Find Here, How do I get from Sanur Bali to Nusa Penida?
1. Watching the Sunrise
Bali is very famous for having many locations to see the sunset. Such as sunset in Tanah Lot temple, Dreamland beach, Suluban beach Uluwatu, and Pura Luhur Uluwatu temple. How about the sunrise, where is the best location to see the sunrise in Bali?
To be able to see the view of the sunrise in Bali, you have to visit the Bali island southeastern side. Attractions in southeast side Bali such as Sanur tourist areas, Tanjung Benoa Beach, and Mengiat Nusa Dua beach.
Matahari Terbit Beach Sanur
One of the famous beaches in Sanur for watching sunrise call "Pantai Matahari Terbit". If you translate to English, Pantai Matahari Terbit means sunrise beach. Every morning around 05:30 am, if you visit the Pantai Matahari Terbit, you will see many visitors waiting for the beautiful view of the sunrise.
The sunrise time in Bali usually starts from 05:45 am – 06:15 am. To avoid you miss the sunset view, it's good you have arrived at the Pantai Matahari Terbit location around 05:30 am.
Besides tourists, Pantai Matahari Terbit Sanur also often used by professional photographers as the location of a pre-wedding photo with the rising sun as well as colorful traditional boats as the picture background.
See Here, "Location of the Pantai Matahari Terbit Sanur Google Map" >>>
2. Take a Walk Along the Sanur Promenade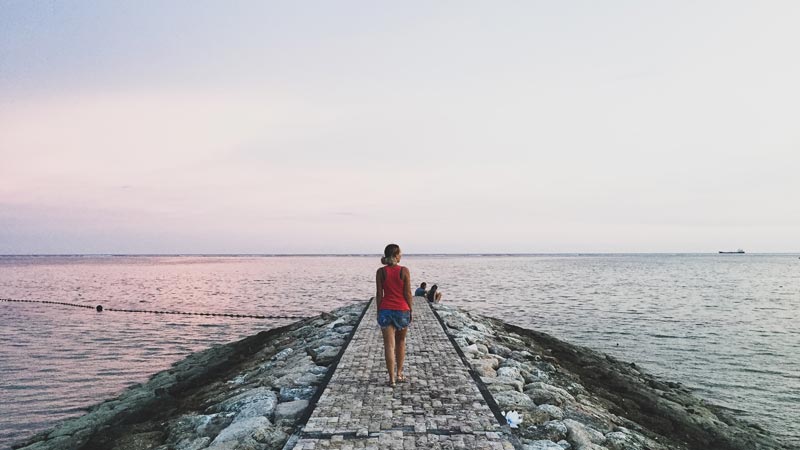 The Sanur Beach Bali has an 8 kilometers coastline, Sanur beach northernmost edge is Padang Galak beach, while the southernmost tip is Bali's mangrove forest.
Along the coastline of Sanur, there are promenade make it an ideal place for walking and ride a bicycle. Also, along the seaside promenade, you will find many stalls, cafes, and restaurants. If you want to rent a bike, the location of the bicycle rental is on the beach and close to the Mak Beng Warung Food Stall. Bicycle rental price of IDR 10,000 / hour.
Look Here, "Location Map Jl. Sanur Beach Street Walk Google Map" >>>
3. Sit Relax At The Edge Of The Karang Beach
Because the Sanur tourist area has many beach locations, we often get questions about the Sanur beach area, which is suitable for casual sitting. For me, if you want to swim, sit and relax on the beach shoreline, then Karang beach is the best choice.
Karang Beach Sanur is one of the cleanest beaches in the Sanur area, with a stretch of soft stretch white sand and Gazebo in the middle of the beach.
Along the coastline of Karang beach, there is a Sanur promenade for walking and cycling. When I visit Karang Sanur beach, I usually ride my bicycle.
Search Here, "Location Map of Karang Beach Sanur Google Map" >>>
4. Canoeing With Children At Semawang Beach
Every time my children ask for a vacation to the beach, surely I will take them for a holiday to the Semawang beach in Sanur or the Pandawa beach Bali. The thing that makes my children love a vacation to Semawang beach in Sanur is because of the following features;
Canoe rentals are available at Semawang beach Sanur. Canoe rental price at Semawang beach Sanur IDR 50,000 / canoe. By paying the canoe rental price, you will get one kayak and one paddle.
The waters of the Semawang beach are very shallow, only to the knees of children and almost no waves.
When waiting for children to play canoe, I usually rent a sundeck for Rp. 50,000 for a pair of sundecks.
Search Here, "Semawang Beach Sanur Location On Google Map" >>>
5. Joining The Sanur Seawalker Activities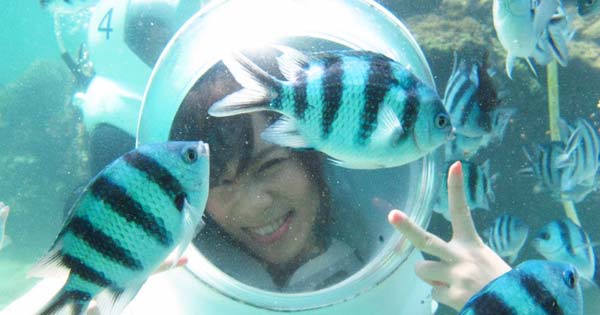 Sanur beach is one of the best snorkeling and scuba dive site in Bali for a beginner. However, not all travelers have a scuba dive and snorkeling experience. Of course, all that does not prevent tourists from seeing the beautiful sea view of Sanur beach Bali. Then how is it done?
If you have ever heard of walking in water or a sea walker, surely you will understand what I mean. If not, you can click on the link below to get a more detailed description of Seawalker Sanur activities.
Read More Details: "Seawalker Activities in Sanur" >>>
Bali Marine Ocean Walk
Seawalker in Bali is also known as marine ocean walk, and one of the most prominent Bali's water sport activities. To be able to take part in Bali marine ocean walk in Sanur, you don't need to have diving experience. If you can't swim, it won't be a problem either.
Marine Ocean Walk activities using a waterproof helmet, and you will dive at a depth of 6 meters. Seawalker activity in Sanur is still in the expensive category because the Sanur seawalker price is IDR 830.000 / person. With a price of IDR 830.000 / person, you will get a shuttle and lunch.
The high price of seawalker in Sanur does not affect the interest of tourists to try, and almost every day, the participants always crowded.
See Here, ''Guide On How You Can Have Fun In Bali" >>>
Seawalker Tanjung Benoa
IF you feel the price of IDR 830.000 / person, is too expensive, but want to try seawalker activities. Of course, the island of Bali has other alternatives that are much cheaper. In addition to Sanur beach, Tanjung Benoa beach also provides Marine Ocean Walk activities and is more popularly known as Tanjung Benoa seawalker.
For sea walkers in Tanjung Benoa, you will pay IDR 350,000 / person. With the price of IDR 350,000 / person, you will not get a shuttle and lunch.
However, there is a populer way to get low-cost marine sports games in Tanjung Benoa Bali that include free shuttle services. But you have to book a minimum of 2 people. Indeed, when you vacation to Bali, not only want to enjoy one type of watersport activity in Tanjung Benoa beach. Therefore, the best way is to buy a Tanjung Benoa watersport package!
See Here, "The Latest Tanjung Benoa Watersport Package Prices" >>>
6. Jet Ski Ride Without Instructor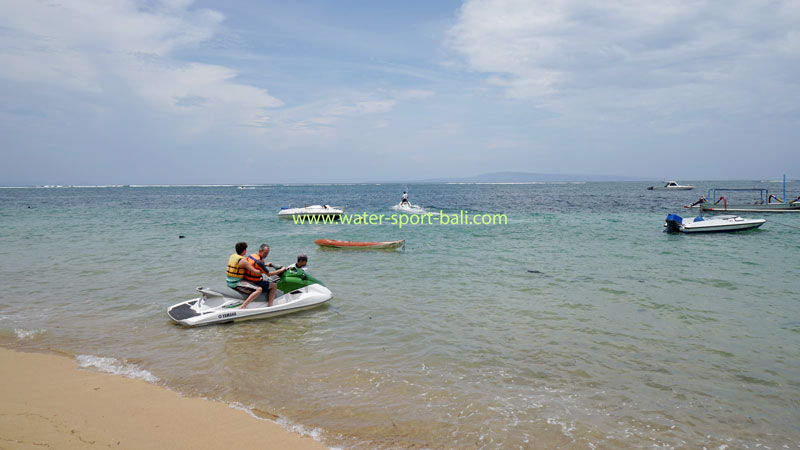 When searching for information on jet ski ride prices in Bali, you will most likely find information about jet skiing in Tanjung Benoa beach. Apart from Tanjung Benoa beach, jet skiing is also available on Sanur beach. Also, the jet ski ride on Sanur beach without being accompanied by an instructor, meaning you are driving the jet ski by your self.
See Here, "Prices for Jet Ski Ride in Sanur Bali Without Instructors" >>>
7. Big Garden Corner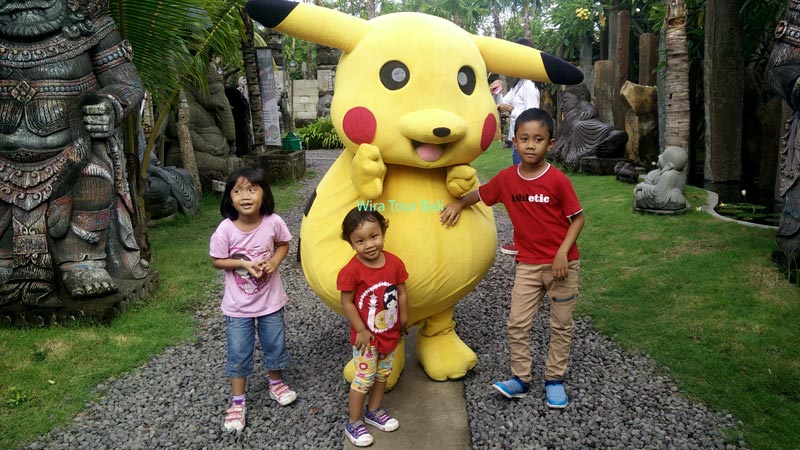 One of the tourist attractions for children and families in Sanur Bali that you must visit is the Big Garden Corner Sanur. In the Big Garden Corner Sanur, you will find a gorgeous garden layout, and there are many places for taking photos.
Besides being able to see the beautiful garden, at Big Garden Corner Sanur, there is also a water park for children and a restaurant. Inside the Big Garden Corner Sanur, there are also seating benches and statues in large quantities. Also, now there is a small pond full of fish, and you can feed the fish by buying fish food for IDR 5,000.
Find Here, "All Things You Need To Know Before Visiting Bird Park Bali" >>>
Big Garden Corner Entrance Fee
Currently, the Big Garden Corner entry fee is IDR 30,000 / person. You can exchange the entry tickets for drinks or ice cream once you enter the Big Garden Corner park area. If you want to order Gelato, you have to order it in a restaurant with an additional cost.
If you want to attract children to swim in the water park, you need to pay an additional fee of IDR 50,000 / 1 child. Also, you must remember to bring bathing suits and towels.
See Here, "Location of the Big Garden Corner Sanur On Google Map" >>>
8. Visiting Bali Orchid Garden Sanur
You like Orchid, so while on vacation to Sanur, make time to visit the Bali Orchid Garden Sanur. The address of the Bali Orchid Sanur located at Jalan Bypass Ngurah Rai Tohpati, Bali. This orchid garden in Sanur is open to the public.
See Here, "Bali Orchid Garden Sanur On Google Map" >>>
List of beaches in Sanur, Bali
Sanur beach offers soft white sand, and seawater tends to be shallow. Also, you will see a lot of traditional fishing boats lining Sanur beach. The fishing boats have attractive and beautiful colors.
Because the waves at Sanur beach Bali are very calm, therefore the Sanur beach is visited more by tourists who want to do swimming, snorkeling, and diving activities. If you're going to surf, Sanur beach Bali is not suitable for you.
Find Here, "Best Approach To Get Nusa Lembongan Island From Bali Island" >>>
8 Names of Beaches in Sanur Bali
With a very long coastline, there is 8 beach with different names in the Sanur area. Although there are eight beaches in Sanur, most tourists are more familiar with the name Sanur beach. So what are the names of the eight beaches in Sanur Bali tourist attraction? Here is a list, 8 Beaches in Sanur Bali.
Merta Sari Beach.
Semawang Beach.
Batu Jimbar Beach.
Karang Beach is the top Sanur Attractions.
Segara Ayu Beach.
Sindhu Beach.
Matahari Beach.
Duyung Beach / or commonly call as Hyatt beach.
Read More, "10 Best Things To Do In Bali Love By Travelers" >>>