Visiting Bali island is not only about visiting the white sand beach, Balinese Hindu temple. Bali also offers traditional culinary that you will not find in other places, such as suckling pig, Lawar, and Balinese friend fish. Suppose you like to try culinary tours while on vacation in Bali; some of you may hear about Warung Mak Beng Sanur Bali. Perhaps some of you have even tried to eat at Warung Mak Beng Sanur. Nevertheless, if you never tried dining at Mak Beng food stalls and are planning to try, please continue reading this page! Because on this page, I will write my experience dining at Warung Mak Beng Sanur with Balinese style menu of fish head soup and fried fish.
Bahasa Indonesia, "Tempat Makan Favorit Sop Kepala Ikan Harga Murah Mak Beng" >>>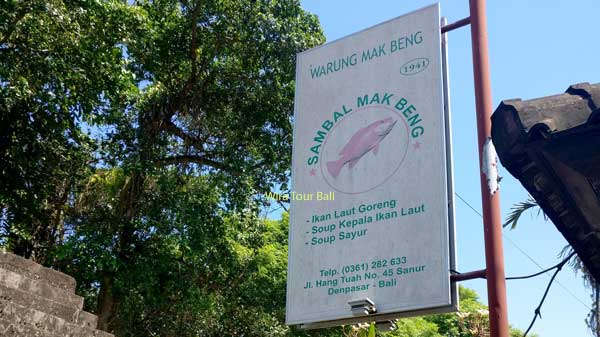 For your knowledge, Warung is an Indonesian word that means traditional food stall. Therefore, when you are in Bali and in front of the store mentioning Warung, it means food stall. Also, I'm not affiliated with the food stall or get pay to endorse the food stall. My goal in writing this content is to give an option for the traveler who wants to try Balinese traditional cuisine.
Read More, "Nusa Penida Beach Travel Guide" >>>
Warung Mak Beng Sanur Location
The food stall location is on Jalan Hang Tuah No. 45 Sanur Kaja – Denpasar, close to the location of the fast boat port to Nusa Penida island from Sanur. Warung Mak Beng was founded in 1941 and offered a strategic location which is close to Sanur beach.
To make it easier for you to find the Warung Mak Beng Sanur position, please utilize the Google map by clicking the link below!
See Here, "Warung Mak Beng Sanur Google Map" >>>
Distance & Travel Time to Warung Mak Beng Sanur
Suppose you depart from Ngurah Rai Airport, heading to the Warung Mak Beng Sanur. In that case, it will take about 30 minutes, with a distance of 18 kilometers via the toll route. Also, if you are not taking the toll road, the estimated journey time is around 45 minutes.
If you depart from Echo Beach Canggu Bali, heading to the Warung Mak Beng Sanur will take 55 minutes of travel time, with a distance of 19 kilometers. However, if you depart from Balangan Beach Bali, it will cover 31 kilometers with a travel time of 1 hour to the Warung location.
Best Way To Get Around Bali
Public transportation on Bali island mainly available in the southern Bali areas, such as Kuta, Legian, Seminyak, Denpasar, Jimbaran, and Sanur. Public transportation options are taxi meters or motorbike taxis. On the other hand, the availability of public transportation in other areas in Bali is minimal.
Of course, most travelers are on vacation to Bali island, not only visiting the southern Bali area. Therefore, vacationists choose private transportation for getting around in Bali. There are two personal transportation choices in Bali, namely motorbikes and cars.
Scooter Rental
Usually, travelers who choose to ride a scooter are sightseers who want to save on transportation costs and vacations with friends or alone. Finding scooter rental in Bali is very easy, especially if you stay in the southern Bali area. All you have to do is search through Google with the keyword nearest Bali scooter rental. The average scooter rental rate on the island of Bali is around IDR 75,000 / 24 hours without fuel.
Find Here, "How To Swim With Manta Rays In Nusa Penida" >>>
Car Hire
Travelers who have a holiday to Bali with their family or more than two people will choose to ride a car. Bali car rental is two categories, namely self-drive car rental and Bali car rental with a driver. Currently, looking for a self-drive car rental in Bali is very challenging. Therefore, the best option is to use Bali car hire with a driver.
The expense of renting a car in Bali with a driver depends on the type of car you want to use. For example, the rental cost for Toyota Innova Reborn with a driver in Bali is IDR 700,000 / 10 hours of use.
If you want a lower car rental price, you can choose the Toyota Avanza. The Bali car rental expense for the Toyota Avanza with a driver and fuel is IDR 600,000/10 hours.
Find Here, "All Thing Need To Know Before Visiting Nusa Penida Island" >>>
Favorite Place to Eat Fish Head Soup & Spicy Fried Fish In Bali
The main menu offered is fish head soup and spicy fried fish. The fish used depends on availability, such as Mackerel tuna or Skipjack tuna caught by local fishermen in Sanur and other areas of Bali. The Mackerel tuna or Skipjack tuna get wash thoroughly coat with lime juice, bay leaves, and salt. Lime juice and salt are added due to their benefits in removing the fishy smell from fish. The fish boiled for about 25 minutes until the meat is delicate and supple. Then the mixture of Balinese spices and spices cooked traditionally makes the taste unmatched.
Fish Head Soup & Fried Fish serves it is perfect for those of you who like spicy food. For the fried fish, use the shrimp paste seasoning. The Mak Beng fish sambal recipe consists of chilies, salt, shrimp paste, Javanese sugar, and cooking oil. Please be aware the sambal is very spicy, so if you are not used to spicy food, don't try it.
Find here, "Bu Andika Spicy Rice Food Stall Kuta" >>>
Opening Hours & Best Time to Visit
Mak Beng Sanur food stalls open from 08:00 – 21:00, so you can try eating during lunchtime or dinner. The most crowded time is from 13:00 – 15:00. Therefore, the best time to visit the Mak Beng Sanur food stall is around 10:00.
Read More, "Affordable Halal Restaurants In Kuta Bali" >>>
Menu Prices for Soup & Fried Fish Warung Mak Beng Sanur
There are only two menus at the Warung Mak Beng Sanur: fish head soup and fried fish accompanied with steam rice and trademark chili sauce. There are no other menus that you will find in this food stall. Therefore, when ordering from the waitress, all you need to say is the number of portions. You don't have to mention the menu. The dishes that have been ordered are served in less than 10 minutes.
For the Mak Beng menu price, one portion of the dish is sold at IDR 55,000, not including drinks. The drinks on offer also vary from mineral water, juices, and soft drinks.
Therefore, the specialty of this food stall is fish head soup and fried fish. For your information, almost every day, Warung Mak Beng Sanur always gets many visitors. Especially during the school holidays, Christmas, New Year, and other holidays in Bali. Visitors are willing to queue up to 30 minutes to 1 hour.
The food stall area is not large, without air conditioning, and only a fan rotates on the ceiling. However, it did not discourage customers from coming to Warung Mak Beng Sanur. According to the waitress, every day, Warung Mak Beng Sanur uses tens of kilos of Mackerel tuna or Skipjack tuna to meet the needs of its customers.
Find Here, "Halal Food Balinese Spiced Chicken Cuisine" >>>
Fun Holiday Activities in Sanur Bali
Besides being famous for its Mak Beng culinary, hotels, and white sand beaches, Sanur attractions are also renowned for Bali water sports activities vacations.
One of the favorite marine tourism activities for tourists while on vacation to Sanur beach is the Bali sea walker activity or sometimes referred to as the Sanur marine walk. If you are interested in trying the Sanur marine walk activity, find out the price by clicking the link below.
See here: "Prices for Marine Walk Sanur" >>>.