Are you staying at one of the hotels in Nusa Dua Bali, or are you on vacation in Nusa Dua and want to try Balinese traditional cuisine, suckling pig? If so, before you access the ITDC Nusa Dua Bali resort area, there is a very famous warung Babi Guling (suckling pig food stall). The name is warung Babi Guling Dobiel.
Bahasa Indonesia, "Warung Babi Guling Dobiel Nusa Dua" >>>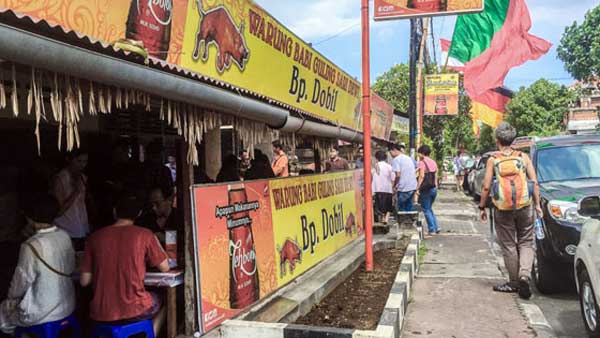 Suppose you stay at one of the hotels in Nusa Dua Bali's. In that case, you don't need to go all the way to Ubud or Denpasar to be able to enjoy Balinese specialties, namely the suckling pig menu. Please note, we are not affiliated with Babi Guling Dobiel's food stall and don't earn any income with the article. We wrote the article to guide a traveler on where to find authentic Balinese suckling pig when visiting Nusa Dua Bali.
Read More, "Guide On Visiting Melasti Beach Ungasan" >>>
Babi Guling Dobiel Nusa Dua Culinary
The Warung Babi Guling Dobiel is a simple food stall, like any other Balinese food stalls. Several tables and chairs are neatly organized in a small space. Almost every day, Warung Babi Guling Dobiel gets many visitors. Most of the visitors to Warung Babi Guling Dobiel are local people. Such as Taxi drivers, hotel employees, students, and the surrounding community. Besides the local community, domestic tourists and international travelers who stay in Nusa Dua sometimes try to taste Dobiel's suckling pig.
According to the visitors, the flavor of Warung Babi Guling Dobiel is still authentic Balinese cuisine. It's different from suckling pig's taste in other places, which tastes have changes to adapt with International visitors. During the high season, Warung Babi Guling Dobiel can allocate 4-5 whole pork per day.
Read More, "The Most Delicious Authentic Balinese Suckling Pig In Klungkung" >>>
Method Of Suckling Pig Cooking
Dobiel's suckling pig also uses Bali traditional species known as base genep. The whole pork is clean inside and outside, and the innards are removed. After that, the pork will be roasted over medium heat for about 2.5 hours until the skin gets golden brown. The pork innards then fried, and the pork intestines made into pork sausages.
Find Here, "Things Need To Know Before Visiting Pandawa Beach" >>>
Opening Hours & Food Price for Babi Guling Dobiel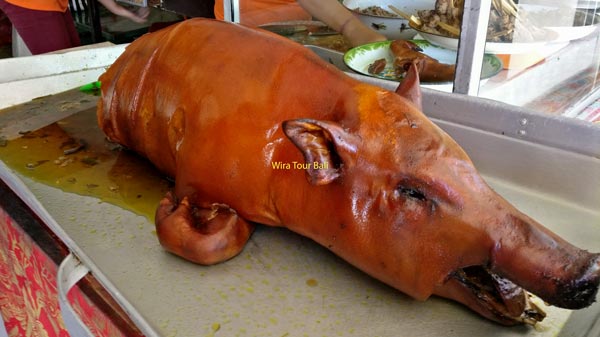 Babi Guling Dobiel food stall is open from 10 am to 4 pm. Unfortunately, at Babi Guling Dobiel's food stall, there is no large parking area available. Therefore customers use the roadside in the front of Babi Guling Dobiel's food stall as vehicle parking.
A portion of Babi Guling Dobiel cost at IDR 45,000. There are stem rice, lawar, suckling pig that cut into small pieces, pork crackers, and pork soup on each portion. However, the price of Babi Guling Dobiel does not include drinks. You can also order one serving of pork skewers for IDR 15,000, and 1 serving contains five skewers. If you like spicy, chili sauce is available on the side.
Babi Guling Dobiel's food stall also serves orders for whole suckling pig. Hotels in the Nusa Dua area often order whole suckling pig from Mr. Dobiel's stall for specific events. During the religious holidays of Hindus in Bali, Mr. Dobiel was overwhelmed with orders.
The price of one whole suckling pig varies, depending on the pork's size—one medium-sized whole suckling pig sold at a price range of 1.2 million to 1.5 million rupiahs. So the price of a whole suckling pig is relatively high.
Find Here, "Guidance On The Best Time To Visit Bali" >>>
Warung Babi Guling Dobiel Location
The address of the warung Babi Guling Dobiel is at Jalan Srikandi No. 9, Nusa Dua – Bali. If you are coming from Kuta beach, you only need to turn right at the traffic light before entering the IDTC Nusa Dua gate. To make it easier to find the location of warung Babi Guling Dobiel, please use the Google Map by clicking the link below!
Click Here, "Food Stall Location Google Map" >>>
How To Get There
If you stay in Kuta, Legian, Jimbaran, or Nusa Dua and only want to visit the food stall and return to your hotel, you can get a taxi. However, the best way to get around in Bali is by private vehicles, such as a scooter or car.
Scooter Hire
To find a scooter hire in Bali is easy, especially if you stay in the southern part of Bali. All you need to do s to use Google and type the keyword. Scooter hire costs in Bali depend on the type of scooter you want to ride. Typically, it cost around IDR 75,000/24 hours usage without fuel. Therefore, before you travel far with a scooter, fill your tank with gas.
Please note, you need to have an international driving license to ride a scooter in Bali. Also, you need to have the experience of riding a scooter before.
Car Rental
Getting a self-drive car rental in Bali is difficult because many Bali car rental only provides car hire with driver. However, you can give a try to search on Google for self-drive car rental in Bali.
Bali car rental with a driver is easier to find; all you need to do is use Google. The cost of a Bali car hire with a driver depends on the type of car you want to use. For example, Toyota Avanza car hires with driver and fuel cost IDR 600,000/10 hours. For your information, getting a rented car with a driver is the safest way to get around Bali.
Activities & Attractions Near Babi Guling Dobiel Food Stall
When you have a vacation to Nusa Dua, you will be looking for exciting activities and attractions in Nusa Dua besides trying Balinese culinary. For exciting tourist attractions in Nusa Dua, you can visit the Nusa Dua water blow or Mengiat Beach Nusa Dua.
Read here: "Top Things To Do In Nusa Dua Bali" >>>
Most tourists, while visiting Nusa Dua Bali, will visit Tanjung Benoa beach. The distance between Nusa Dua and Tanjung Benoa beach is very close. You only require 15 minutes to reach the Tanjung Benoa beach location from Nusa Dua Bali's area.
Tanjung Benoa Beach is famous as a vacation spot because it offers exciting marine tourism activities, namely Bali water sports activities. Water sports activities in Tanjung Benoa are better known as Tanjung Benoa Water Sports.
Also, tourists who want to enjoy Tanjung Benoa water sports are more likely to choose the Tanjung Benoa watersport package. Due to on Tanjung Benoa water sports package, the customer gets a free shuttle, and the single activity price becomes cheaper.
Read More, "The Best Beaches In Bali For Kids & Family Vacation" >>>