While on vacation to Bali, everyone's expectation has always been a pleasant experience, especially with the people we care about, such as family. However, sometimes a vacation to Bali becomes a tedious and unpleasant experience. Many factors that make a holiday in Bali not as expected. Mainly such as rain, crowded attraction, high prices, and traffic jam. Therefore, if you are currently planning a vacation to Bali, you should know Bali's best month for travel or the best time to visit Bali.
Bahasa Indonesia, "Bulan Bagus Liburan Ke Bali" >>>
Bali's best month for travel on this page is the guide to have the best time to have a holiday to Bali, either with family, a friend on during honeymoon. Therefore by knowing the best month travel to Bali, you will know the rainy seasons, and you will avoid a severe road traffic jam. Also, by recognizing the best time to visit Bali, you will get the below benefit;
Overview The Best Month To Have Holidays To Bali
A guide to best month travel to Bali is essential for you to know, especially if you are looking for tips on holiday to Bali for beginners and knowledge of preparation for tours to Bali. The following is a summary of the experience you will find regarding the best month to have Bali holidays. The information that you will get on the best month travel to Bali such as;
Bali weather climate.
Best month travel to Bali.
Low season travel benefit.
Comfort during activities.
Water Sports Prices at Tanjung Benoa Bali.
The reason traveler chooses on vacation to Bali at the peak season.
Must Read, "Travel Advice To Bali With Toddlers, Babies, and Children You Require To Understand" >>>
Bali Weather Climate
The Indonesian archipelago location is in the equatorial area. Therefore, it makes all regions in Indonesia have a tropical climate, including Bali island. The typical tropical climate is high air humidity and warm temperatures throughout the year. Also, there are two seasons in the tropics, namely the rainy season and the dry season. So if you live in Indonesia, the climate in Bali island is the same as the area where you live in Indonesia.
Bali land position, which affects climate divided into two categories. The low ground area location typically near the coastal area and the highlands where the volcano is located. The land position will affect the weather and air temperature. As an example, tourism areas in southern Bali situated in the low altitude. Such as Kuta beach Bali, Pandawa beach, Nusa Dua beach, and Kelan Beach Bali. Because the city is located on level ground, the air temperature will be hot, and rainfall is deficient, especially in the dry season.
Unlike the central Bali tourism area located in the highlands. Such as the Kintamani tourism area and the Bedugul tourism area. Therefore, making the air temperature in the Kintamani tourism area and Bedugul tourist attractions very cold even in the afternoon. However, in highland regions, rainfall will be high even in the dry season.
Search Here, "Top 10 Attractions in Nusa Dua Bali Make It Suitable for Family Holidays" >>>
Best Time To Visit Bali
The best time for a vacation to Bali depends on two things. Namely the dry season and less crowded tourist visits to the island of Bali. The higher number of tourist visits to Bali will affect the holiday expense and your comfort while on vacation in Bali. During the Bali high season, the hotel room price, airplane ticket prices, and prices for holiday transportation will increase. Because a lot of tourist visit, makes the main road in Bali get a happy traffic jam. Also, the tourist attractions in Bali crowded with tourist visits.
So the best season to travel to Bali Indonesia for a holiday is to avoid Bali's high season and rainy season. Then when is the peak season in Bali happening?
The high season in Bali occurs in July and August. It also happens at the end of the year, starting in the third week of December and in early January. School holidays in Indonesia also affect the increased number of tourist visits to the island of Bali. School holidays usually occur from June to July. Eid holidays also have an impact on the high level of tourist visits to Bali.
Find Here, "10 Stuff To Identify While Planning Bali Itinerary To Be Effective & By Desire" >>>
The Best Month To Go To Bali?
So what is the best period to go to Bali? Based on our experience in providing Bali rent car and holiday tour package services to Bali. The best month travel to Bali is in April, May, June, and September. These four months are just before and after the holiday season. October is also the best time to have a vacation to Bali. The rainy season does not occur yet in October. If you want information about Bali's low season and tips for the best time to visit Bali with family & kids, please click the link below!
See Here, "The Best Season To Visit Bali With Family & Kids That You Require To Recognize" >>>
When is the Rainy Season in Bali?
Travelers who decide to have a vacation to Bali will have this question. When is the wet season in Bali occur? It is a rational inquiry to ask about Bali rainy season. Due to bad weather during the holiday it can ruin your holiday.
For your information, not all month during the rainy season in Bali is low season. For example, the third and fourth week of December is peak season, also a rainy season in Bali.
The rainy seasons in Bali start from early November until the end of March. The most challenging rainy season in Bali occurs in December, January, and February.
Read Here, Traveling To Bali Island In December Is It Worthy?
What is the hottest month in Bali?
Most people who travel to Bali are looking for sunlight and sunset. If you also want to visit Bali during the hottest month, you should visit Bali in May, June, and July. During May, June, and July, Bali's average temperature reached 28°C/82°F. During the daytime, the air temperature can reach up to 35°C/95°F. Therefore, you should be ready with sun lotion to reduce excessive sunburn.
See Here, "The Most Remarkable Spots to View Twilights in Bali" >>>
Vacation Advantages During Low Season to Bali
Bali's low season with dry weather takes place in April, May, June, September & October. You can consider February, March, and November is the cheapest time to visit Bali; however, there is a higher chance of rain. Therefore, if you choose a vacation to Bali during the low season, there are many benefits you get such as;
The price of hotel rooms/villas and bungalows will usually decrease around 30% – 50% if you compare the room prices during Bali's high season. Therefore, if you want the cheapest time to visit Bali, you should choose April, May, June, September & October.
Lower flight ticket prices.
Fewer visitors visit Bali's tourist attractions, so you don't have to queue to buy attractions entrance fee in Bali.
Easy to find a vehicle parking lot at the tourist attraction.
The road traffic is less dense. There is road congestion but only occurs at certain hours and in certain areas, such as Kuta, Legian, Seminyak, Kerobokan, Canggu, Denpasar, and Sanur Bali.
Restaurants and vacation activities in Bali are quieter due to fewer visitors. Therefore, it will make you more comfortable while enjoying culinary tours or holiday activities.
See Here, "10 Points To Distinguish Regarding Legian Bali For Families Holiday With Children" >>>
Comport During Holiday Activities
Lots of comforts you can get if you choose the best month's travel to Bali. During Bali's low season, the road traffic heading to tourist attractions in Bali is not too heavy. Therefore, you can reach the tourist area faster, and you use more vacation time at the Bali tourist attractions. Also, outstanding tourist attractions in Bali, such as; Tanah Lot Temple, Ulun Danu Beratan Temple Bedugul, Kuta beach Bali, Bali Safari Marine Park, are fewer visitors.
Vacation activities to the island of Bali are not only visiting tourist attractions. However, there are many choices of fun outdoor activities in Bali that you can try. Choosing the best month's travel to Bali is the best time to try Bali water sports activities. There are various varieties of water sports activities in Bali. Such as marine water sports, white water rafting, Bali submarine tours, cycling tours, and scuba diving.
Because in April, May, June, and September, has less chance of rain, making you freer to follow outdoor activities. If you choose marine tourism activities during the low season holidays in Bali, the seawater is clear. Also, there are not many tourists around the activities area. If you take part in the Bali rafting tour during the dry season, Bali's river water is apparent.
See Here, "Best Things To Do In Bali For Old People – Holidays Guide to Bali for the Elderly" >>>
Water Sports Tour Prices Tanjung Benoa Bali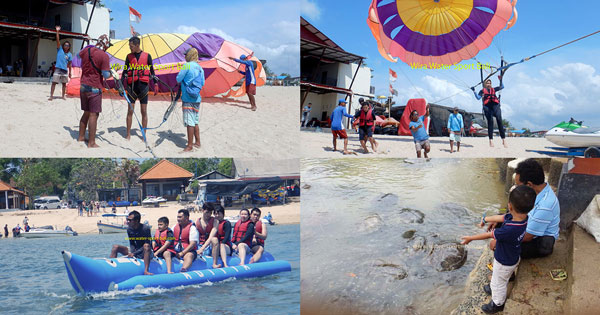 Suppose you ask where to do water sports Bali for beginner and suitable for a family vacation. In that case, the answer is Tanjung Benoa beach Bali and Sanur beach Bali. However, Tanjung Benoa beach is the center of marine tourism activities.
Along the Tanjung Benoa beach coastline, you will find many water sports companies. The watersports companies in Tanjung benoa offer plenty of choice of aquatic activities for the traveler. The water sports activities are available in Tanjung Benoa Bali, such as; parasailing, jet skiing, sea walking, Bali snorkeling, and Bali turtle island tours.
If you want to know about the price of the game at Tanjung Benoa beach and the watersports ride choices, please click the link below!
Search here, "Tanjung Benoa Beach Water Sports Price" >>>
Why Do Tourists Remain On Vacation at Peak Season?
Some of you may ask! Suppose many benefits are obtained during low season holidays in Bali. Why do many tourists still choose to have holidays during peak season?
Everyone, including me, when planning a vacation to a tourist area, desires to have a break during the low season is a priority. However, the enthusiasm to have a holiday during the low season sometimes experiences obstacles. Many obstacles make tourists unable to choose to have a holiday during the low season in Bali. However, there are two main obstacles.
Do not get an extended holiday leave from the workplace.
Not during school holidays.
The two obstacles above make many travelers choose to have holidays at the end of the year, during Eid, or school holidays. If you do not experience the above two hurdles, it is effortless for you to choose a good month to have a vacation to Bali. Of course, you don't have an issue with the holiday budget.
Search Here, "Choice of Holiday Transportation As A Travel Guide To Bali" >>>