We, as one of Bali water sports agencies, often get questions from customers other than water sports activities. One of the issues that we often ask, where can I pick strawberry in Bali? Strawberry in Bali is only able to grow on high altitudes, such as in the Bedugul area. Also, at this moment, the only place in Bedugul Bali provides strawberry picking services on the strawberry farm is in Bali Strawberry Panoramic Terrace or sometimes call as Bali Strawberry Farm & Restaurant.
Bahasa Indonesia, "Kebun Strawberry Bedugul – Bali Strawberry Farm & Restaurant" >>>
Bali Strawberry Panoramic Terrace Bedugul provides strawberry picking services directly from the Strawberry Farm. The results of the strawberry picking are certainly still fresh and can be enjoyed directly by tourists.
Information about strawberry picking tours to the Bali Bedugul strawberry farm that you will find on this page such as;
Bedugul tourist attractions general information.
Location of the Bali Strawberry Panoramic Terrace.
Transportation guide to the location.
Bedugul strawberry farm ticket price.
Bedugul strawberry farm tourist activity.
Please note, we don't have any affiliation with Bali Strawberry Panoramic Terrace Restaurant to wrote their services. Our aim to write the article is to give information about strawberry farm activities in Bali that can be enjoyed by travelers.
Find Here, "List Of Places to Eat in Bedugul Bali Popular Among Visitors" >>>
Bali Natural Attraction
The island of Bali famous as the best vacation destination in Indonesia. Most tourists who vacation in Bali are more interested in visiting beach attractions such as Karma beach Ungasan and Green Bowl Beach.
In addition to beach attractions, the island of Bali also offers natural attractions such as terraced rice fields such as Tegalalang rice terraces in Ubud, as well as natural lake views. Natural lake attractions on the island of Bali are in highland areas such as the Kintamani tourist area and the Bedugul tourism area.
Read More, "All Things You Need To Know About Travelling To Kintamani Bali" >>>
Bedugul Area Point Of Interest
Bedugul is one of the favorite tourist attractions in Bali and often visited by domestic and international tourists. In the Bedugul area, you able to see a beautiful natural lake, call Lake Beratan Bedugul.
When visitors take a vacation to Lake Beratan Bedugul, travelers can also see the Balinese temple attraction located in the middle of the lake Beratan. The name of the temple is Pura Ulun Danu Beratan Bedugul. In the Bedugul area, there is also a protected forest attraction called the Bali Botanic Garden.
Because the Bedugul area location on high altitude, the air temperature in the Bedugul area is cold. It has an average temperature of 23 degrees Celsius during the day.
All of the attractions possessed by Bedugul, make many travelers requests to visit Bedugul during their holiday in Bali. Travelers from Philippine, Singapore, India, European tourists. Due to high demand from the tourist who wants to visit Bedugul Bali during their holiday. Therefore, many travel agents offer Bedugul tour packages in their Bali tour packages services.
See Here, "List of 8 Best Attractions in Bedugul Bali" >>>
Picking Strawberries In The Bali Strawberry Panoramic Terrace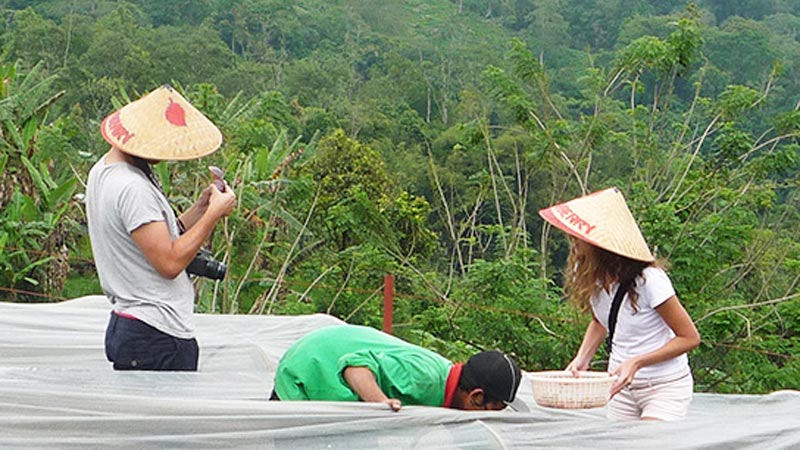 Most tourists who have traveled to Bedugul will feel the cold air, even though during the day. Of course, with the cold air, it will make your appetite increase. So after visiting the Bedugul Botanical Garden or seeing the view of Lake Beratan Bedugul, for sure, you want to get some meal.
At the Bali Strawberry Panoramic Terrace Restaurant, you can pick strawberries directly from the farm. Also, you can enjoy fresh strawberries instantly from the fruits you selected, and fun isn't it! Fresh strawberries, obviously different from the berries that you usually buy at the supermarket.
Find Here, "All You Can Eat Restaurant In Kintamani Bali Serve Halal Food" >>>
Location of Bali Strawberry Panoramic Terrace
Bali Strawberry Farm & Restaurant in Bedugul, the location is on Jalan Raya Baturiti, Br.Taman Tanda Baturiti, Bedugul, Bali. To make it simpler for you to find the location of Bali Strawberry Farm & Restaurant, please click the below link!
See Here, "Bali Strawberry Panoramic Terrace Google Map" >>>
If you depart from the Bedugul Botanical Gardens heading to the Bali Bedugul Strawberry Farm, it will take 4 kilometers travel distance with an estimated 15 minutes travel time.
If you depart from Ulun Danu Bratan temple, heading to the Bedugul Strawberry Farm will take 15 minutes, with 4.5 kilometers travel distance.
Find Here, "Pura Ulun Danu Bratan Temple Bedugul Entrance Fee" >>>
Transportation Guide Towards Bedugul Strawberry Farm Location
For now, the best holiday transportation option in Bali is to use private vehicles. Private vehicles in the form of motorbikes or cars. Is it easy to find private transportation in Bali? It's easy to find motorcycle rental services in Bali, and the easiest way to recover is to use Google. The prices for scooter rentals in Bali averaged IDR 100,000 / 24 hours.
If you are engaged in driving a car, finding a car rental service without a driver is very difficult in Bali. But looking for car rental services with drivers in Bali is very easy to find. For example, the price of Toyota Avanza car hires in Bali with a driver; no fuel is around IDR 350,000 / 12 hours.
Ticket Price for Bali Strawberry Panoramic Terrace
We very often get questions from tourists who are interested in visiting Bali Strawberry Farm & Restaurant in Bedugul about the price of admission. Is there an admission fee for Bali Strawberry Farm? If there is how much the entrance ticket to Bedugul strawberry farm?
Bali Strawberry Farm in Bedugul is a restaurant, so there is no entrance fee into the Bali Strawberry farm area. If you pick strawberries, whether you use them to make a drink at the restaurant or pack it up, you will be charged.
Car parking is available close to the area of Bali Strawberry Farm & Restaurant, and there will be a car park fee of IDR 5,000 / car. Restaurant opening hours are from 08:00 – 18:00.
Find Here, "All Things You Need To Know Before Visiting Bebek Tepi Sawah Restaurant In Ubud" >>>
Tourist Activities at Bedugul Strawberry Farm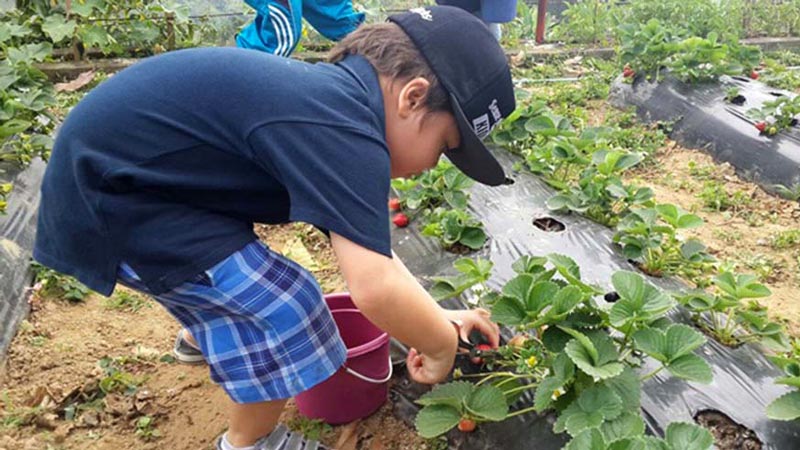 Bali Strawberry Farm & Restaurant offers a view of the valley and rice fields that can be seen by restaurant visitors. Also, in the restaurant area, there is a strawberry far. You can invite your children to pick some strawberries on the farm.
After finishing picking strawberries, you can order food and drinks using the berries you picked; you also able to take away the strawberries.
Read More, "Penglipuran Village Bangli Latest Entrance Fee" >>>
Food & Beverage Menu
Bali Strawberry Farm & Restaurant serves all types of food and drinks that use strawberry. You certainly do not believe, in this restaurant available strawberry fried rice and strawberry pizza! How does it taste the strawberry fried rice and strawberry pizza? To find the answer, you should try it yourself while on holiday in Bedugul Bali.
When my family and I visited Bali Strawberry Farm & Restaurant, we only ordered desserts and drinks from strawberries. Such as strawberry milkshakes, strawberry cake, and strawberry ice cream.
Popular places to eat in Bedugul is not just one. There are many other places to eat in Bedugul that offer its uniqueness. Like the Mentari restaurant Bedugul, which offers buffet-style dishes and you can eat as much as you want.
Read More, "Warung Nyoman Chicken Betutu Restaurant In Bedugul – Authentic Balinese Cuisine" >>>