Are you looking for information regarding the latest cost for the Ulun Danu Bratan Temple entrance fee located at Bedugul Tabanan Regency Bali? Therefore, this page is all you need to read.
Besides information regarding the entry fee price for the Ulun Danu Temple. You also get other information as your travel guide to Lake Beratan Bedugul, such as:
Bahasa Indonesia: "Harga Tiket Masuk Danau Beratan Bedugul Tabanan" >>>
Lake Beratan Bedugul Interesting Things To See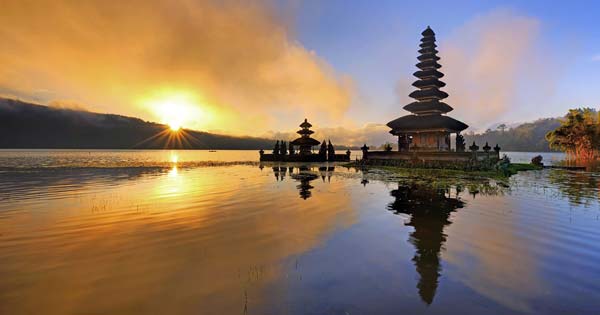 Bali island offers plenty of must-see attractions, one of them being Lake Beratan Bedugul in Tabanan regency. For your information, sometimes people write lake Beratan as Bratan, even though it's pronounced the same and in the same place. In Bali, there are two holiday seasons.
Peak holiday seasons occur in particular months, such as August, December, and January.
Quiet holiday seasons.
In terms of Lake Beratan, even though on quiet vacation season in Bali, the place is always crowded with tourists visiting. Things that create Lake Beratan Bedugul very famous among travelers because of the uniqueness that lake Beratan offers, which is the temple location located in the middle of the lake. The name of the Balinese temple is Pura Ulun Danu Beratan, which travelers call Bali Temple by the lake.
Also, for your information, Pura is a Balinese word which is mean a temple. Also, the location of Ulun Danu Beratan lake is close to one of the well-known tourist attractions, which is the Kebun Raya Bali / Bedugul botanical garden.
While the site of Lake Beratan Bedugul is located in the Highlands, which is about 1.400 meters above sea level, so it makes the Beratan Bedugul Lake area has cold air during the day, and fog will appear after noon.
Opening Hours & Best Time To Visit
Lake Beratan is open 24 hours, and you can access and see it from the main road. However, if you are looking for the opening hours of Pura Ulun Danu Beratan, it will not be 24 hours. Pura Ulun Danu Beratan opening hours from 08:00 am – 18:00 am.
When is the best time to visit Pura Ulun Danu & Lake Beratan Bedugul? The answer is in the morning, around 9:00 am to 11:00 am, even though Pura Ulun Danu Bratan opens from 07:00 am to 07:00 pm.
The goal of visiting Pura Ulun Danu Bratan in the morning is to avoid fog. When the moisture gets down, it will cover the scenic beauty of Pura Ulun Danu Bratan and Lake Beratan Bedugul. Also, besides avoiding condensation regularly during the afternoon, the Bedugul area gets local rain.
I got a lot of these questions. If Pura Ulun Danu's opening hours are from 07:00 am – 19:00 am, how can I get sunrise photography with the temple as the foreground of the photos? The answer is Yes! Sunrise at Ulun Danu temple occurs around 05:45 am – 06:30 am, depending on the sun's position. You can click this link, Sunrise, Sunset, and Moon Times for Bali, to get the accurate timing.
When you want to take sunrise photography at Lake Beratan with Ulun Danu temple in the foreground, you must come at least by 05:00 am. At the entrance gate, there is a security guard, and you can ask permission from the security guard if you want to take sunrise photography.
In addition to questions about the best time to visit the Ulun Danu temple at Lake Beratan Bedugul, I also get questions from people through the comments form. How much is the price of the Pura Ulun Danu entrance fee?
Ulun Danu Bratan Temple Entrance Fee
Each visitor who wants to enter the Pura Ulun Danu Beratan must pay an entry fee. The cost of the Ulun Danu Bratan temple entrance fee, you can see it in the below table.
| Categories | Entrance Fee |
| --- | --- |
| Adult | IDR 75.000 / person |
| Child | IDR 50.000 / person |
| Motor Bike Parking | IDR 3.000 / 1 motorcycle. |
| Car Parking Fee | IDR 5.000 / 1 car. |
| Bus Parking Fee | IDR 10.000 / 1 bus. |
Read More: "Complete List Of Bali Ticket Price" >>>
Information On Ulun Danu Bratan Temple Entrance Fee
Ulun Danu's entry ticket price in the above table was updated on 24 December 2019.
Ticket price changes can occur at any time without prior notice.
We try to update the Ulun Danu Bratan temple entrance fee when we know there are shifts in the cost of admission.
The ticket price is only valid for foreigners and does not apply to Indonesian citizens.
Map Location Of Bali Temple By The Lake
The address of Pura Ulun Danu Beratan is at Jalan Raya Bedugul, Candikuning, Baturiti, Tabanan regency. If you are coming from Kuta or Seminyak, you will need 2 hours 15 minutes drive. Also, with a travel distance of around 60 kilometers. However, if you are coming from Ubud monkey forest, it will take at least a travel distance of approximately 46 kilometers in 1 hour 40 minutes.
To make it easier for you to find the location of Bali temple by the lake / Pura Ulun Danu. Please use Google Maps by clicking the link below.
See Here, Ulun Danu Beratan Temple Google Map.
Now the question is how to get there! Public transportation in Bali is widely available; the most common public transport in Bali is a taximeter. Therefore, the best way to transport to Bali temple by the lake (Pura Ulun Danu Bratan) is by getting a car rental service, with a driver or without a driver. If you know well about the road in Bali and are used to driving in Bali, you can get a self-drive car hire in Bali.
Read More On "Tanah Lot Temple Bali Entrance Fee" >>>