Hello traveler, are you planning to vacation in Penglipuran village in Bali? If yes, then you will have this question. Is there a fee to enter Penglipuran Bangli Village? If so, how much does it cost to enter Penglipuran village Bali? On this page, I will write down the latest information on the Penglipuran Village Entrance Fee, Bangli.
Bahasa Indonesia: "Harga Tiket Masuk Desa Penglipuran Bangli Bali Terbaru" >>>
In addition to the most recent price of Penglipuran village admission, you also get other information regarding Penglipuran village, such as:
Primary Point Of Interest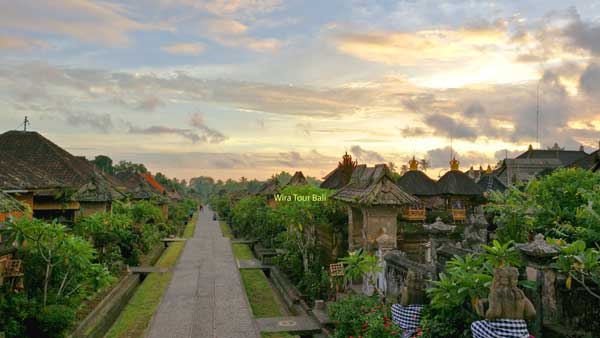 Pengelipuran village Bangli is one of the traditional Balinese villages that still retain the layout of traditional Balinese architecture.
However, compared to other conventional communities in Bali, things that distinguish the uniqueness of the Pengelipuran village is the uniformity of the houses that look almost identical.
Consistency is noticed in the gatehouses with traditional Balinese architecture that looks the same as every home. Also, the rural roads that connected each of the houses also uniquely styled with stones.
Uniforming the house shape with traditional Balinese architecture in one village is difficult. However, the Penglipuran village community can do so. Apart from the village houses that look the same, garden areas inside and outside of the home are also maintained.
Besides being able to see the unique layout of the residence, Penglipuran village also offers cold air because the settlement is located about 750 meters above sea level.
To enter one of the houses, you will pass through the gates made of bricks that already look old. Very friendly homeowners will greet you upon entering the home area. Also, owners are willing to show the space around their homes.
The building wall is mainly made of woven bamboo, a shingled roof, and a traditional Balinese kitchen.
Read More, 10 Unique Places You Only Find In Bali.
The Village Map Location
The Penglipuran village's address is in Jalan Penglipuran, Kubu District, Bangli Regency – Bali. To make it easier for you to find the location of the Pengelipuran village, please use Google Maps by clicking the link below!
See Here, "Penglipuran Village Google Map" >>>
Mileage
How many hours from Kuta to Penglipuran Village?
If you prefer a location to stay in the Kuta area of Bali, you will ask when you want to visit the village of Penglipuran! What is the distance from Kuta to Penglipuran village?
The length from Kuta beach to Penglipuran village is approximately 53 kilometers, with an assessed travel time of roughly 1 hour and 30 minutes. To get a distance of 53 kilometers, you need to take the road to Penglipuran village via Ngurah Rai By Pass road to Ida Bagus Mantra By Pass road.
Find Here, Top 20 Most Popular Bali Attractions.
The Best Way To Get Penglipuran Village Bali Location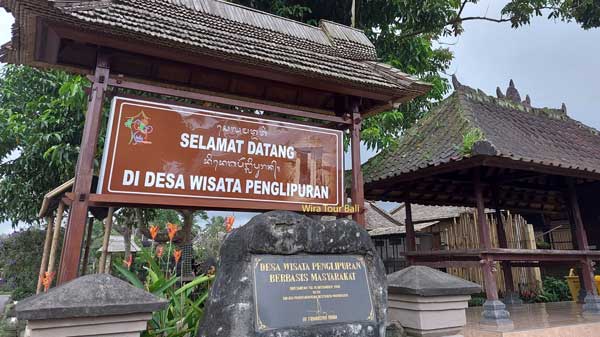 Private vehicles are the best transportation for a holiday to Pengelipuran villages in Bangli. Both motorcycles and cars. Due to the unavailability of public transport to the Pengelipuran villages from southern Bali. South Bali areas such as the Kuta, Seminyak, Canggu, Legian, and Tanjung Benoa areas, unless you use a taximeter.
Finding a private car on the island of Bali is easy! You will quickly find a motorbike rental and car rental service in Bali.
Scooter Rental Bali
If you want to utilize a scooter for getting around in Bali, the best way to find a scooter rental is to use Google. The scooter rental cost in Bali is an average of IDR 100.000/24 hours without fuel. However, the rental rate will be higher if you want to ride a bigger scooter.
Also, remember that road traffic in Bali is congested, and there are many two ways roads. Therefore, you should be careful and get used to riding a scooter in Bali.
Car Hire
The second option for getting around Bali is to get a car. You can easily find many car rental companies in Bali. However, finding a self-drive car rental in Bali is relatively more challenging than finding a car rental with a driver.
If you don't want to clean the car and don't want to drive in road traffic, it's better to get a Bali car rental with a driver. On average, the self-drive car rental in Bali is around IDR 300.000/24 hours without fuel.
Furthermore, the cost will be slightly higher if you want to hire a car with a driver. For example, a Toyota Avanza car rental with a driver in Bali will cost around IDR 600.000/12 hours with fuel.
Vacation Itinerary to Penglipuran Village
Pengelipuran Village Bangli is a stop-by attraction for most tourists who tour East Bali, especially travelers who join the Kintamani tour package. Therefore, the primary destination is a holiday to Kintamani. After visiting Kintamani, they continued to visit the village Pengelipuran Bangli.
After completing a vacation in Penglipuran Village, travelers usually resume their Bali holiday itinerary by visiting the Taman Nusa Gianyar Bali.
The best time to vacation in Penglipuran village Bangli is during the Galungan holiday (Balinese Hindu Holiday). Furthermore, during Galungan Day, the Penglipuran residents will arrange the Penjor in front of their homes. The Penjor decoration in each resident's house makes the Penglipuran village look more attractive.
Read More: "Kintamani Bali Entrance Fee Price" >>>
Penglipuran Village Entrance Fee Price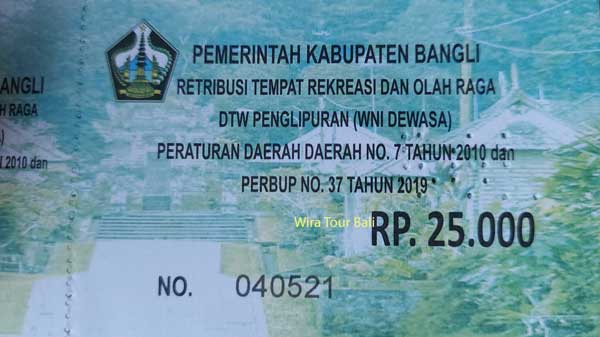 Every visitor is required to pay an admission fee to enter the area of Pengelipuran Village Bangli. Then how much is the price of the Penglipuran village entrance fee?
| Categories | Foreigner | Indonesian |
| --- | --- | --- |
| Adult | IDR 50.000 / Person | IDR 25.000 / Person |
| Child | IDR 30.000 / Person | IDR 15.000 / Person |
So far no changes in the admission cost to Penglipuran Village Bangli as I write this article. If there are changes to the ticket price, I will immediately update this page with the latest price.
Must Read: "Monkey Forest Ubud Entrance Fee Cost" >>>