One of the vacationist attractions in eastern Bali that is very famous for the beauty of the underwater scenery is Tulamben Bali. To clarify, on this page, I will write about Liberty Shipwreck dive, one of the best Bali east coast dive spots. While travelers that visit Tulamben Bali, most travelers who love outdoor adventure activities.
Bahasa Indonesia, "Lokasi, Daya Tarik, Harga Snorkeling & Wreck Diving Di Tulamben Karangasem" >>>
Firstly Tulamben Bali is one of a small village located on the east side of Bali. Also, the livelihoods of the Village residents are mostly fishermen. On the other hand work as farmers, traders, construction workers, civil servants, and work in the tourism sector. The area is also very well-known as one of Bali underwater world paradise for the scuba diver.
Tulamben Bali Location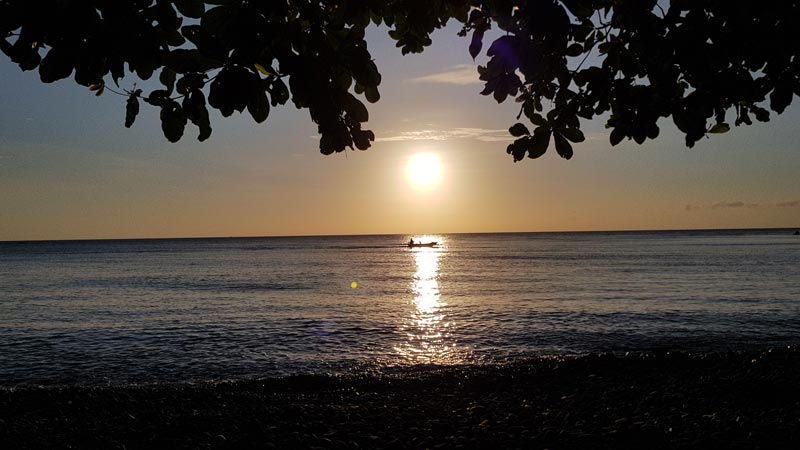 To clarify, Tulamben is a village area in the northeast of Bali island. Also, the village overlooks the Lombok strait, which is very rich in maritime life. Above all, Tulamben Village governs by the Kubu District in the northern part of the Karangasem Regency – Bali. The Tulamben village Karangasem is also close to other dive sites on the island of Bali, namely the Amed beach in Karangasem Bali.
Meanwhile, if you depart from south Bali, let say from Kuta Beach Bali, to reach the Tulamben village Karangasem, it will cover a distance of 102 kilometers, with estimated travel time around 3 hours. To obtain it easier for you to find the location of Tulamben village Karangasem, please use the Google map below!
---
Tulamben Attraction
Most importantly, if you like diving or snorkeling, the name Tulamben Village will be familiar to you. Furthermore, Tulamben Village, as one of the tourism spots in Bali, has its uniqueness for water recreation.
Also, if you dive in Tulamben Bali, you will see a shipwreck of the Liberty – US Army transport ship. Now well known as Tulamben Liberty Shipwreck. Also, the USS Liberty Ship Wreck is the most well-known scuba dive spot in Bali island suitable for a beginner.
This ship hit by torpedoed in 1942, during World War II by a Japanese submarine. The USAT Liberty ship was affected by torpedoed not on Tulamben, but nearby Lombok island. A rescue operation held, and the USAT Liberty ship towed to Tulamben Beach, Bali. So the shipwreck placement was intended on Tulamben beach, not on underneath the ocean.
So in 1963, the biggest active volcano in Bali, which is Mount Agung, were erupted. The eruption causes devastating damage on the East side of Bali. Due to the eruption of Mount Agung, causes the USAT Liberty ship to slide off the beach and goes to the sea. Now the Liberty ship becomes a place for coral life and other sea creature.
As a result, the USAT Liberty wreck now lies about 30 meters deep and beginner divers who have dive licenses can dive into the wreck. The ship location is about 25 meters from the beach, and you can directly swim to get to the area of the shipwreck. However, if you buy scuba diving packages in Tulamben, a boat will escort you to the wreck site. To get the highest part of the Tulamben Liberty Shipwreck is just about 5-meter depth.
Dive Area in Tulamben
Moreover, in the Tulamben area, there are many interesting dive sites. Most of the dive areas in Tulamben are on the southeast side. But on this page, we only inform the dive sites in Tulamben that are in high demand by tourists — namely diving in Tulamben Liberty Shipwreck.
Read More, "6 Things You Should Know Before Diving In Bali" >>>
Dive in the Wreck of the USAT Liberty Tulamben Bali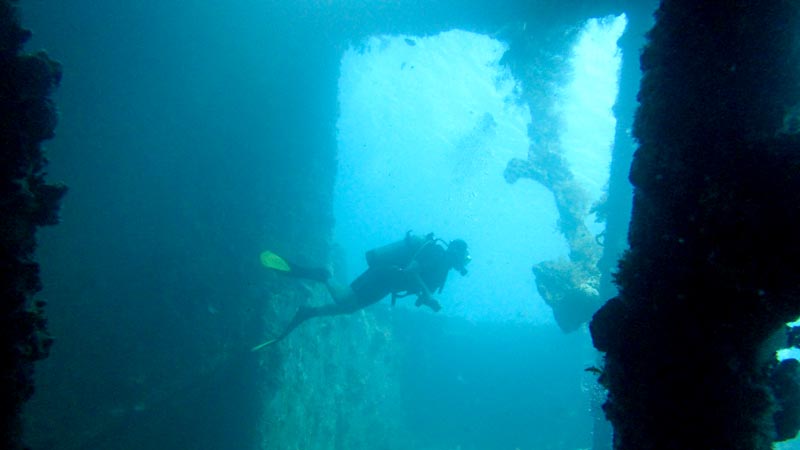 Diving and seeing Liberty wreck in Tulamben is a must if you like diving and are on holiday in Bali. If you are a rookie diver, you can dive at a depth of 20 meters. But if you are a diver who has a lot of experience, then you can fall to a depth of 30-35 meters.
At a depth of 30 meters, you will be able to see the wreck of the USAT Liberty. In addition to shipwrecks, you will also be able to see giant Trevally and Barracudas roaming the sinking of the USAT Liberty Ship.
Best Time To Dive At Tulamben Bali
While the best time to dive at Tulamben, from September to November. Also, the seawater current is relatively calm. When you dive at Tulamben, besides able to see the Liberty shipwreck with coral marine life, also you will see large fish. Most of all, the type fish on this dive site is mola-mola and whale shark.
Most scuba divers, who dive at Tulamben will dive more than one time. Sometimes more than five times. You must be thinking now! Where to stay or is there any accommodation available for rent on close to diving spots! To get accommodation at Tulamben is quite easy. Due to many investors build a hotel, bungalow, and villas.
How to Dive USAT Liberty Shipwreck?
Most tourists who want to do diving activities in Tulamben will buy a Tulamben Bali Wreck Diving package for one day. For your information, most tourists while on holiday in Bali prefer to stay in the southern Bali region. If you buy a Tulamben Bali Wreck Diving dive package, the dive operator will provide a shuttle service from south Bali to Tulamben Karangasem.
Usually, in Tulamben Wreck diving packages, there will be diving sessions around Tulamben waters 2-3 times in 1 day. The dive priority is generally at the USS Liberty Shipwreck location. The wreck of the USS Liberty shipwreck is enormous, to be able to see all sides of the sinking ship, at least you have to dive twice.
Read More: "Things To Do In Tulamben For A Non-Diver & Tips To Get Around" >>>
Transportation
Furthermore, Bali does not have public transportation that you can use to get to Tulamben Beach. So what is the best way to get around Bali? The best way to get there is to rent a motorbike or get a car rental in Bali. Therefore, if you choose to buy a Tulamben scuba dive package, scuba diving operator in Bali, provides free pick up and return transfer.
Scuba Diving Operator in Bali – PADI 5 Star Dive Resort
There are many scuba dive providers in the area of ??the USS Liberty Tulamben shipwreck with variable prices. Several hotels provide scuba diving learning facilities. When you determine the choice of scuba dive operators in Bali, you should choose a scuba dive company in Bali that has a PADI 5 Star Dive Resort certification.
One of the dive operators in Bali that has PADI 5 Star Dive Resort certification is AquaMarine Diving – Bali. AquaMarine Diving – Bali serves many dive sites, and one of them is diving in the USS Liberty Shipwreck area.
Tulamben Liberty Shipwreck Dive Price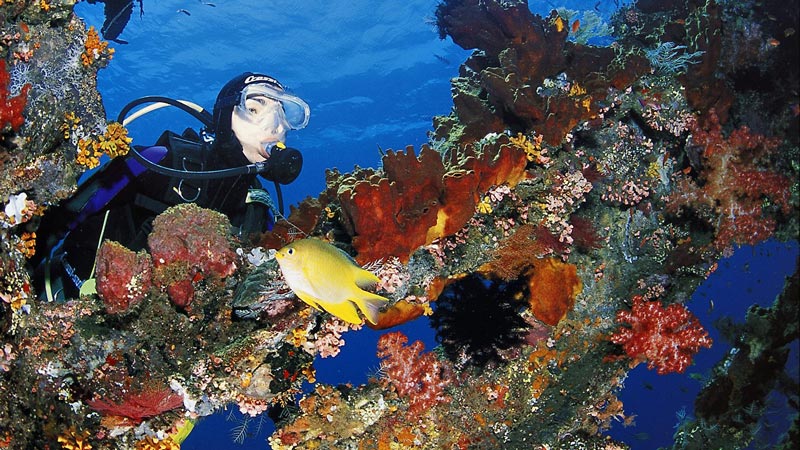 Are you interested in diving at the location of the wreck of the USAT Liberty? If so, you will ask! What is the price of scuba diving with dive sites in the USS Liberty Tulamben Karangasem shipwreck area?
Scuba diving prices on the USS Liberty Shipwreck offered by AquaMarine Diving – Bali, ranging from beginner, intermediate, to professional levels. Here is a list of prices offered by AquaMarine Diving – Bali.
Wreck Diving Prices at Tulamben By AquaMarine Bali
| Price | Dive Site |
| --- | --- |
| USD 125/person | Liberty Wreck Tulamben Kubu |
Price Description AquaMarine Diving 1 Day
The price of scuba diving on the USS Liberty Shipwreck for one person,
The minimum order is two divers.
Booking 1 person is possible with additional fees.
Price includes pickup/transfer to hotels in southern Bali.
PADI certified dive guide (Divemaster or higher), a maximum ratio of 1: 4.
AquaMarine Diving cost includes diving equipment.
Lunch & bottled water provided.
Wreck diving prices Include tax and local transportation.
Free use of towels.
Wreck diving prices include insurance for divers.
For more detailed information on AquaMarine Bali, please click the link!
Snorkeling Prices In Tulamben
If you don't dare to dive in Tulamben but want to enjoy the underwater scenery, you can try other alternatives, namely snorkeling. The price of snorkeling in Tulamben ranges from IDR 500,000 / person, including a guide with a minimum booking of 2 people. You can book snorkeling activities directly on the spot, but for vehicles to Tulamben, you must provide your own.
Most tourists vacation in Bali and stay overnight in the southern part of Bali. When they want to try snorkeling activities in Bali, they will choose the location of snorkeling in Tanjung Benoa beach near Nusa Dua Bali. The reason is that the distance from Seminyak to Tanjung Benoa is around 18 kilometers, with a travel time of 40 minutes.
Read Here: "The Price of Snorkeling at Tanjung Benoa Bali" >>>
Best Place To Dive In Bali
If you have a plan to have vacationed in Bali, and love to have advanced scuba diving, therefore, you have gone to have this question! Where are the best dive spots in Bali? There are three major zones for scuba diving all around Bali island, for advanced scuba dive with a scuba diving license, and there are:
| Region | Area |
| --- | --- |
| The Best Bali East Coast Dive Spots | Tulamben Village, Amed Village, Candidasa, Padang Bai. |
| Best Bali South Coast Dive Zones | Sanur village, Nusa Penida Island, Nusa Lembongan Island. |
| Best North Coast Dive Zones In Bali | Pemuteran Singaraja, Lovina Beach. |
| Best West Coast Dive Zones In Bali | Menjangan Island, Gilimanuk. |
The Best Place To Have Scuba Diving in Bali for Beginners
However, if you never do scuba dive activity and want to know the best place to learn to dive in Bali, you should go to Tanjung Benoa Nusa Dua. Due to Tanjung Benoa Nusa Dua, have low sea current and the best place to have scuba diving in Bali for beginners. Therefore, find out more about Intro scuba dive Tanjung Benoa, by click the link.
Now there is one activity call Bali Seawalker or Bali ocean walker. Seawalker activity loves by travelers who do not have experience in scuba diving but would like to have the experience of scuba dive. Most importantly, Seawalker activities in Bali located at Tanjung Benoa beach. Find out more about Tanjung Benoa Ocean Walker by clicking the link below.
Find Here, "Seawalker Bali Tanjung Benoa Beach Cost" >>>
Bali Adventure Activities
Besides scuba diving, Bali island also offers outdoor adventure activities such as Bali white water rafting trips. Furthermore, there are three rivers use for beginner rafting and there are:
Melangit River Rafting.
To sum up, if you want to know more about Bali adventures white water rafting, and want to know more about the difference in each river rafting. Please click on the link below!
Read Here, "Best River Rafting Bali" >>>