The best place to visit on your holiday in Bali is not only in the southern Bali tourism area. Other areas of Bali also have plenty of exciting things to do and things to see. These include attractions in the Bali northern part and tourist attractions in the eastern part of Bali. However, on this page, I will write one of the tourist attractions in the east part of Bali, Amed Beach Bali.
Bahasa Indonesia, "Panduan Liburan Ke Pantai Amed Karangasem Bali" >>>
Amed Beach Bali information that you will found on this page such as:
An introduction to Amed tourist attractions.
Is Amed worth visiting?
Amed Village.
How do you get to Amed Bali?
How to get around in Amed?
Things to do in Amed Beach.
See Here, "Top 4 White Sand Beach In Nusa Dua Great For Honeymoon" >>>
An Introduction To Amed Beach Tourist Attractions
When you mentioned Amed beach to Balinese people, Balinese people will refer to as a long stretch black sand beach on the east side of Bali island. Because the Amed beach coastline is long, therefore it covers seven villages. The village such as Jemeluk, Amed, Selang, Lipah, Bunutan, Aas, and Banyuning Village.
When visitors arrive at Amed Beach Bali, they will find that the beach has fewer visitors, compare to the Echo Beach Bali and Dreamland Beach Bali.
Is Amed Beach Worth Visiting?
The coastal scenery in Amed is fantastic, especially in the morning during sunrise. Therefore, Amed beach is an excellent place for you to visit, if you are looking for tranquil places for your holiday in Bali.
The main attraction of Amed beach lies in the natural underwater spectacle with fantastic coral reefs and exquisite fish. Therefore, it makes Amed Beach Karangasem a famous place for freediving, snorkeling, and scuba diving in Bali; so, if you love underwater adventure, Amed Karangasem is one area to visit in Bali.
See Here, "A Guide On The Best Time To Visit Bali For Vacation" >>>
Amed Village
Besides a long stretch of black sand beach, there is also a village nearby the beach called Amed. Amed village is a small fishing village on the northeast side of Bali Island, which located close by Tulamben Karangasem.
Residents around the Amed beach area mostly have livelihood professions as fishermen, traders, and salt makers. Some residents also occupied in agriculture, but not much because most of the land in the area near the Amed beach is not fertile.
Now Amed village Karangasem becomes one of the most tourism sites that gets significant development from the Karangasem government.
Due to tourism development around the Amed beach, some of the residents now make they're living in the tourism industry. As a hotel employee as a dive instructor, waiter, as a driver.
Read More, "Best Things To Do In Tulamben For A Non-Diver" >>>
How Do You Get To Amed Bali?
Amed location is on the eastern tip of Bali island, incorporated in the Abang District, Karangasem Regency – Bali.
See Here, "Google Map Amed Karangasem" >>>
How Far Is Amed From Bali Airport?
If you depart to Amed from Ngurah Rai International Airport, heading to Amed beach will take around 3.5 hours to drive with distance around 98 kilometers. From Tulamben to Amed will take an approximately 12-kilometer trip, and from Candidasa to Amed, it will take a 33-kilometer range.
How Far Is Amed From Ubud?
Ubud is a large area; let's say you depart from Ubud Monkey Forest to Amed beach Karangasem. Therefore it will take 2 hours 20 minutes drive with 72-kilometer travel distance.
How Do I Get From Amed To Gili Islands?
This question also often ask by travelers who have a plan to visit Amed Bali. There are three Gilis Island, which is Gili Meno, Gili Air, and Gili Trawangan. However, most of the time, when people say Gili island, they mean Gili Trawangan.
From Amed to Gili Trawangan is quite easy, all you need to do to find a fast boat company from Padang Bai Harbor to Gili Trawangan. You can find Fast Boat to Gili Trawangan from Padang Bai on Google. One of the most popular fast boat company in Padang Bai to Gili Trawangan is Eka Jaya Fast Boat.
When you reserve the Eka Jaya Fast Boat tiket, don't forget to book a pickup transport at your hotel in Amed. Eka Jaya Fast Boat tiket price IDR 350,000/person (one way), and Amed pick up transport price to Padang Bai harbor IDR 350,000/car.
How To Get Amed From Ngurah Rai International Airport?
If you ask about transportation from Ngurah Rai Airport to Amed Karangasem, I assume your hotel is in Amed. For your information, there is no regular public transportation from the airport to the Amed Karangasem area, such as bus or train. Therefore you need to use private transport.
Private transport in Bali is a scooter or a car. Also, the Amed area is far away from Bali Airport in terms of drive duration. Therefore, the cost of transportation will be slightly higher.
If you only carry a backpack, you can use a scooter from Bali airport to Amed. All you require to perform is to find a scooter rental in Bali through Google that offers service of scooter delivery to the airport. You are required to wear a helmet and have an international driving license.
You can ask your hotel in Amed to arrange an airport pick up for you if you carry a large suitcase. For the price of the airport pick up, please ask your hotel.
Also, you can get a taxi at the airport; however, this option is quite expensive.
The best transportation option is to find cheap car rental services in Bali with drivers and fuel. Finding a car hire with a driver in Bali is very easy; you can search through Google with the keyword cheap car hire with driver and fuel in Bali.
Read More, "A Guide On How To Travel Around Bali Effectively" >>>
How Much Is Bali Car Rental With Driver And Fuel Costs?
How much is a car rental with driver and fuel costs in Bali from the airport to Amed? The car rental price depends on the type of car that you reserve. Let's say you get a Toyota Avanza with driver + fuel from airport to Amed, which will cost IDR 650,000 (one way). IDR 650,000 equal as USD 47, INR 3,307, SGD 63, AUD 65.
You are getting a car hire with a driver in Bali to Amed, also suitable if you depart from other parts of Bali such as Kuta beach, Legian, Seminyak, Canggu, Jimbaran beach. The car rental price is almost the same, as long as you are using Toyota Avanza.
Read More, "Top 10 Things To Do In Kuta Bali With Travel Guide" >>>
How To Get Around In Amed?
The best way to get around in the Amed area is to ride a scooter. Finding a scooter rental in Amed is quite easy. You can find it along the road at Amed Village. The scooter rental price is around IDR 100,000/24 hours. Besides riding a scooter, you also can ride a bicycle. The bicycle rental around IDR 50,000/24 hours.
Is there any taxi, Uber, Grab, or public transportation in Amed? You will not find Uber or Grab and meter taxi at Amed. However, if you want to get a car, you can hire a local driver in Amed to take you around.
Amed also very close to Tulamben, the best place for wreck dive and Tirtagangga Bali, one of the water garden palace in Bali with traditional Balinese gardens setting.
Things To Do In Amed Beach – Black Sand Beach Bali
You will not see a white sand beach here; this is a volcanic black sand beach. The main attraction of Amed Beach lies on the marine life, so it is ideal for those who love to do snorkeling and diving activities.
Amed Beach Sunrise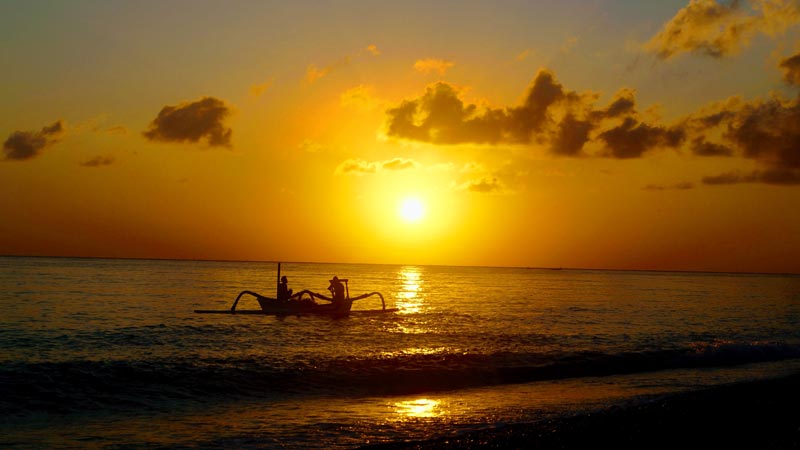 Amed beach is very famous for the sunrise scenery accompanied by a long line of the traditional fishing boat. The simple way to see the sunrise at Amed Beach is to have a sit on the coastline.
If you want a different experience in seeing the sunrise, you can hire a local fishing boat, which is in the Balinese call "Jukung". The traditional fishing boat only able to accommodate two passengers and one driver. If your participants are more than two people, then you need to hire another boat.
The rental price of the traditional fishing boat for the sunrise tour is IDR 350,000/boat. Your sunrise tour will depart around 05:00, and you will be returning around 07:30.
Amed Beach Fishing
If you like to do fishing activities, you can hire one of the traditional boats and ask the fisherman to escort you to the fishing site. The fishing activities usually start in the morning to create a better chance for fishers to get barracuda and mackerel. For the fishing road, you can hire with the boat owner for IDR 50,000.
Besides that, you also can charter the boat for free diving, Bali, scuba diving, exploring, or perhaps snorkeling. You even can have relaxed on the beach, swimming, and enjoy the nature of Amed.
Amed Free Diving
Tulamben Beach and Amed Beach significantly increase popularity as one of Bali best beach sites for free diving. Plenty of visitors each day coming to have a dive on both of the locations. You will see a lot of freediving schools available in Tulamben or Amed.
The most famous bay in Amed for freediving is Jemeluk bay because the sea currents are less intense and have deep coral walls. One of the companies that available for educations about freediving and yoga in Amed is Apneista Freediving.
Apneista free diving is one of the pioneers of freediving training in Amed. Also, it has sufficient training space. The training course is open from beginner to advance, and you can get the type of course that they provide on this link, the Apneista Freediving course. Not only free diving, but you also can have yoga in Amed.
Amed Beach Snorkeling
The northeastern waters of Bali island, one of them is Amen beach, is still preserved. There are few places on the shore in Amed beach suitable for snorkeling activities, due to less polluted seawater and fewer visitors come to Amed, you will be able to see a healthy underwater life.
Coral reefs and colorful fish are not only present in deep-sea waters; the waters adjacent to the beach, also offer some coral reefs and very lovely to see when snorkeling.
For snorkeling equipment, you can easily find it in Amed for rent. But it would be nice to have your snorkeling equipment.
Where can I snorkel in Amed? Below are the best snorkeling spots along the Amed coast.
Kembali Beach Bungalows coastline.
Teluk Jemeluk.
Lipah beach.
Selang beach.
Read More, Does Bali Have Good Snorkeling Spot?
Amed Scuba Diving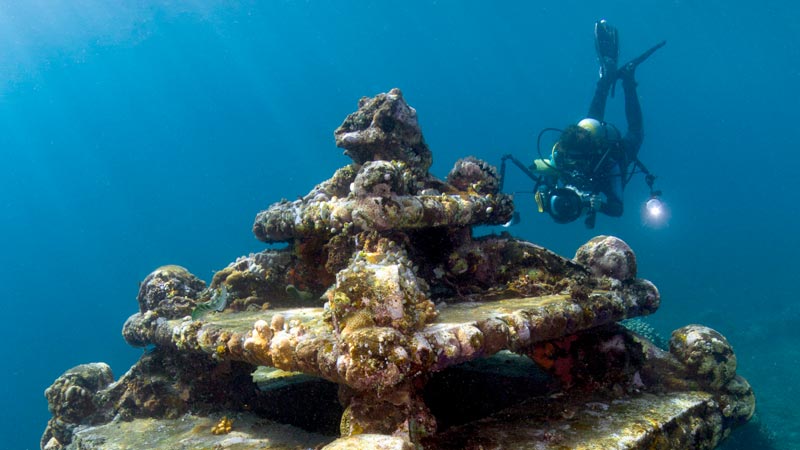 Most travelers who have a vacation in Amed Bali are interested in scuba diving because the waters of Amed offer a natural coral reef's view and shipwreck. Also, you will be able to see many types of colorful fish, octopus, turtles, and stingrays.
The Amed area also used as a scuba diving base for divers who want to dive in Tulamben, Padang Bai, Candidasa, Nusa Penida, and Nusa Lembongan. There are several companies that you can get for diving in Amed, and there are:
AMED DIVE CENTER.
To do scuba diving in Amed, you will be required to have a scuba diving license. You can follow a scuba diving course in Bali if you don't have a scuba diving license.
Find Here, "A Guide On Visiting The Kelingking Beach Nusa Penida Bali" >>>
Diving In Bali For Beginner
Some travelers, when having a holiday in Bali, want to join scuba diving; however, they don't have a scuba diving license. Also, they don't want to visit Amed because they have a limited vacation duration in Bali and only want to get around in the southern part of Bali. In this case, we, as Bali water sports tour agency, will recommend the traveler joining the introductory scuba dive in Tanjung Benoa beach.
Introductory scuba dive in Tanjung Benoa beach very suitable for beginner divers, who never have experience in scuba diving. Also, during Tanjung Benoa beach Introductory scuba dive, participants only dive for 6-meter depth.
Besides scuba diving for beginners, in Tanjung Benoa beach, visitors can also join other fun Bali water sports games, such as single parasailing ride, banana boat ride, rolling donut ride, and parasailing adventure.
If you don't want to do scuba dive but want to see underwater scenery, you can join a submarine tour in Bali, known as a voyage of fantasy Bali submarine tour.
See Here, "6 Things To Know Before joining Bali Scuba Diving For Beginners" >>>