If you frequently vacation in Bali, you will likely be interested in visiting the northern part of Bali island. The reason is that you have often holidayed in the southern Bali tourist area. Such as Seminyak, Canggu, Kuta, Legian, Jimbaran, Uluwatu, and Pecatu tourist attractions. In addition, there are many exciting tourist attractions in the northern part of Bali, such as Sekumpul waterfalls, Munduk waterfalls, and Lovina beach. On this page, there is a vacation guide to Lovina beach Buleleng. You will get the visitor guide to Lovina beach, such as the beauty of the beach, entrance ticket, beach location, distance to the beach from southern Bali, and Lovina beach dolphins watching.
Bahasa Indonesia, "Panduan Liburan Ke Pantai Lovina Bali" >>>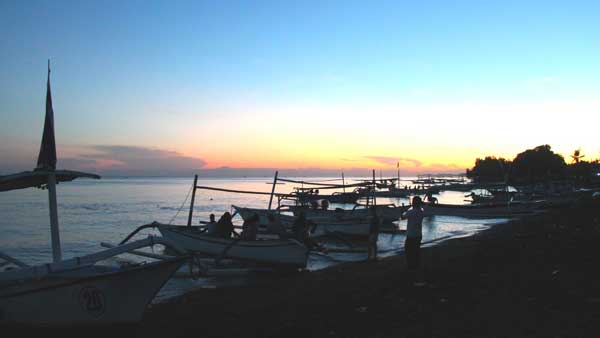 Furthermore, specifically on this page, I will write a vacation guide to Lovina beach Bali. So, if you plan to visit north Bali, please continue reading this page! The Lovina Beach Bali visitor guide that you will find on this page such as;
List of contents
The Attractiveness of Lovina Beach, Buleleng, Bali.
Lovina Beach Dolphins Watching.
The expense of Seeing Dolphins in Lovina.
Location Map of Lovina Beach.
The Best Way to Lovina Beach.
Distance & Travel Time to Lovina Beach.
Lovina Beach Buleleng FAQ.
The Attraction of Lovina Beach Buleleng Bali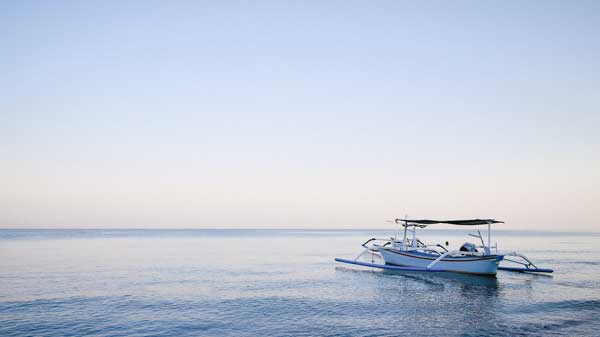 Is Lovina Beach lovely to visit?
Of the many beach attraction in northern Bali, Lovina beach is the most famous tourist destination. Furthermore, you need to know essential things; Lovina beach in the Buleleng regency is a black sand beach, not a white sand beach. The stretch of the Lovina coastline is quite long, about 2 kilometers.
The beach area is still very natural. The atmosphere is very distinct from the beach atmosphere you usually find in southern Bali. Such as Pandawa beach, Sanur Beach and Melasti Beach Ungasan.
The beach area is tranquil and doesn't crowded with visitors, as in the Kuta beach area or Petitenget Beach Seminyak. For the convenience of beach visitors, a reasonably large vehicle parking area is nearby. Several locations near the beach have rows of stalls, cafes, and restaurants.
If you want to see souvenir shops and food stalls at local prices, you walk to the east from the parking area. Then you will find a pathway that leads to food stalls and souvenir shops. Also, in the shoreline area, many traditional fishing boats lined up.
Read More, 10 Reasons Indians Choose Bali As The Primary Holiday Destination.
The Beauty of Sunrise & Sunset
Lovina Bali's coastline faces the north side, so from the coastline, you cannot see the full sunrise and sunset. If you want to see the sunrise and sunset without obstruction, you must use a boat heading out to sea.
The experience of seeing the sunrise from the middle of the sea is the leading beauty of the Lovina beach resort.
See, Where is the best sunset in Bali?
Dolphin On The Lovina Beach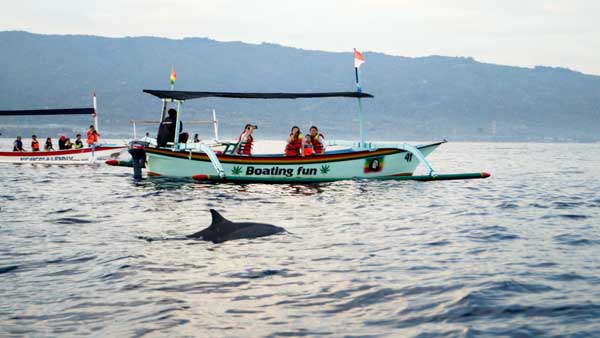 Furthermore, Lovina beach's primary attraction that makes visitors love to visit is not the beach shoreline. Lovina beach's attraction lies in seeing wild dolphins in the middle of the sea.
To see the wild dolphins in nature, you need to ride a boat into the middle of the ocean before sunrise, around 05:30 am. Wild dolphins will appear in the middle of the sea near the coastline between 6 am till 8 am. Furthermore, traditional boats will track the dolphin's location that has jumped up in the middle of the sea. So when you tour to see dolphins, you will notice many other boats also chasing dolphins in the middle of the ocean.
Because the Lovina sea waters are relatively calm, they can be passed comfortably using a fishing boat.
You can discover dozens of wild dolphins about 2 km from the beach. Some dolphins are leaping to the water's surface, and some are just gliding. It's fascinating the activity notice the dolphins in the middle of the sea.
Visitors can rent a traditional fishing boat specially provided for dolphin watching in the middle of the sea. While heading to the middle of the ocean to watch the wild dolphin, you can also see the beautiful scenery of Lovina sea waters.
If you are good at swimming, you can ask the boat driver to bring the boat closer to the dolphin. You can swim and dive while holding the rope tied to the traditional ship to keep up with the swimming speed of the dolphins.
The activity to see wild dolphins in Lovina beach is approximately 2 hours. Fishermen will escort you into the middle of the sea, where wild dolphins usually emerge in a traditional fishing boat.
Besides being able to watch dolphins, there are also diving activities at Lovina Beach. The marine life in Lovina has various types and is equal to other dive sites in Bali.
Read More, "Guide On Visiting Yeh Sanih Spring Pool Buleleng" >>>
Where Can I Rent Traditional Fishing Boat?
Most of the time, a traveler who came for the Lovina Dolphin tour is on the Bali tour package. Therefore, the boat for the dolphin tour is reserved for travelers, and all they need to do is to follow their guide's instructions. However, if you want to arrange the Lovina Dolphin tour, you can do it.
The chance you will see a dolphin in the wild is in the morning, around 06:00 am. Therefore you need to book a hotel nearby Lovina beach to make you able to wake up early.
On the same day as your dolphin tour, you go to the Lovina beach shoreline around 05:30. You will find many people who offer dolphin tours with a traditional fishing boat.
When you deal with the price, anglers will take you to sea in a traditional boat, where dolphins often appear.
Read More, "Tanjung Benoa Beach Marine Water Sports Price List" >>>
Cost of Lovina Beach Dolphin Tour
How much does a wild dolphin trip cost in Lovina Buleleng Bali?
Are you interested in seeing dolphins in the middle of the sea while on vacation to North Bali? If you answered Yes, of course, you want to know about the cost of the Lovina dolphin tour.
Please note the dolphin tour cost that I explain is only for traditional fishing boat rental. It does not include transportation costs to Lovina Buleleng Bali, accommodation, or meals.
You will need a boat and a boat driver to see wild dolphins in the middle of the sea. The price of renting a boat to see dolphins in the middle of the ocean is around IDR 100.000 / person with a minimum of 2 people booking. Please note the rental boat price is a share boat rate; if you want a private boat, the price is IDR 300.000 / boat with a maximum of 5 passengers.
By renting a traditional fishing boat for IDR 100.000 / person to see dolphins on the Lovina beach waters, you will get;
The boat rental duration is approximately 2 hours.
Boat driver.
The boat has a capacity of five people.
Life jacket.
The most suitable time to observe dolphins is from 06:00 – 07:30 am. So you must be at the beach location at least around 05:30 in the morning.
Besides seeing sunrise, swimming, and joining a dolphin tour, Lovina beach is also great for snorkeling and scuba diving.
Find Here "Guide On Visiting Les Waterfall Buleleng" >>>
Lovina Beach Dolphin Watching Tips
Here are some recommendations and things you will notice when participating in the dolphins watching in the middle of the sea at Lovina beach.
You will see the sunrise from the middle of the sea.
The Lovina dolphin tour is trendy, so you will see many boats chasing wild dolphins. Therefore sometimes makes, dolphins not come to the surface of the sea.
It's a good idea to ask the boat driver not to follow other boats chasing dolphins, but you can wait until all the boats have returned to shore. This method allows you to see the dolphins more freely.
You can also take part in snorkeling activities after seeing dolphins. You should negotiate the price with the boat driver in advance if you want extra time for snorkeling.
The underwater scenery of Lovina Beach is suitable for snorkeling activities. You will be able to see some coral reefs and small fish.
Location of Lovina Beach
Where is Lovina Beach located?
Lovina Beach's location is in North Bali, specifically in the Kalibukbuk area, Buleleng Regency. To make it easier for you to find the Lovina beach Buleleng location, please use Google Maps by clicking the link below!
Look, "Location On Google Map" >>>
The Best Way To Get To Lovina Beach Location
This question will arise for those of you who have never had a vacation to the northern Bali area! What is the best way to get to the Lovina beach location from the tourist area of southern Bali?
Transportation from south Bali to North Bali uses private vehicles, either cars or motorbikes.
Rent a Motorbike/Scooter
Riding a scooter is one of the best approaches to getting around Bali and saving on vacation costs. Usually, riding a scooter is preferred by travelers who vacation with friends or single travelers.
To make it easier for you to find scooter rental services on the island of Bali, you should order while you are still in the southern Bali area. All you have to do is search for scooter rental services through Google.
The scooter rental price in Bali depends on the type of motorbike you want to use. Bali's average scooter rental rate is around IDR 80.000 – IDR 100.000 for 24 hours without gasoline.
To ride a scooter in Bali, you must wear a helmet and have an international driving license.
Bali Car Rental
Utilizing a car will always be a priority for tourists who vacation with family in Bali. Because it is more comfortable, and you can rest in the car. On the island of Bali, there are two options for rental cars: self-drive car rental and car hire with drivers.
Finding self-drive car rental in Bali is challenging because few Bali car rental companies provide self-drive car rental. On the other hand, finding Bali car rental with drivers is easier. You only need to use Google to find car rental services with drivers in Bali.
The price of a Bali car hire with a driver depends on the automobile variety you want to utilize. For instance, the Toyota Avanza rental expense with a driver in Bali is roughly IDR 600.000 / 12 hours, including gasoline.
On the other hand, if you are on vacation with a large family of more than seven people, it's a good idea to use a microbus car. Bali's Isuzu Elf microbus rental price is around IDR 800.000 / 12 hours with driver and fuel.
Lovina Tour Package
Some tourists want comfort while traveling to Lovina beach and don't want to manage cars, entrance tickets, boat tickets, and vacation schedules in Bali. Then these vacationists will choose to book a Bali tour package with the Lovina route for one day.
Read More, Bali Travel Tips & Advice For Family, Honeymooner With First Timers Helpful Hints.
Distance & Travel Time
Suppose you want a vacation to Lovina. You should know the distance and travel time from southern Bali to Lovina beach Bali. Understanding the space and travel time allows you to plan a Bali holiday itinerary easily.
The journey from Kuta beach Bali to Lovina beach is around 3 hours; the main road winds up and down. To get to the Lovina location from the tourist attractions of Kuta Bali, you will pass the following Bali attractions:
Bali Strawberry Farm & Restaurant.
Suppose you depart from Garuda Wisnu Kencana culture park to the beach. In that case, it will cover a distance of 99 kilometers with a travel time of 3 hours.
Suppose you leave from the Tanah Lot Temple area to Lovina beach. In that case, it will cover a distance of 78 kilometers and a travel time of 2 hours and 15 minutes.
If you depart from the Bedugul Bali area to north Bali, it will take 1 hour and 32 kilometers. Suppose you leave from the Kintamani tourist area to the beach. You will cover a distance of 62 kilometers in 2 hours.
FAQ
Furthermore, in providing car rental, tour packages, Bali water sports, and Bali river rafting, our customers often get questions about holidays to Lovina beach. The following are frequently asked questions by tourists when there have plans to visit Lovina beach Buleleng Bali.
Is Lovina Beach Worth A Visit?
Lovina Beach is worth a visit if you like boat riding activities while seeing dolphins, love a calm atmosphere, and want cheap accommodation with good facilities.
What are the exciting attractions in North Bali besides Lovina?
Most of the attractions in North Bali are natural attractions. If you like a nature adventure, the northern Bali region will be very worth visiting. Some famous interests in the north of Bali include the Sekumpul waterfall, Gitgit waterfall, Banjar Hot Spring, and Pemuteran waters for snorkeling and scuba diving.
How much is the Lovina beach entrance fee?
There is no entrance fee to Lovina Beach. If you want to catch wild dolphins at Lovina beach, there will be a fishing boat rental fee of IDR 110.000 / per person.
What time is Lovina Beach open?
Lovina beach is open 24 hours for the public, whenever you can visit Lovina Beach. However, if you want to see wild dolphins in the middle of the ocean, you must be at the Lovina Beach site at 05:15 am.
When is the best time to see dolphins in Lovina?
Based on our experience in providing Lovina Tour packages, the best time to see wild dolphins in Lovina marine waters is in the dawn, around 06:00 am. You must have departed from the beach around 05:30 by boat. Apart from seeing wild dolphins, you will also be able to see sunrise views from the middle of the sea in Lovina waters.
Read More, 10 Bali Water Sports Games Favorites By Indian Travelers.