Tanjung Benoa, situated in Bali's heart, is a sought-after destination for beach and water sports lovers. Adjacent to Nusa Dua, Tanjung Benoa is more than just scenic beauty; it's an adventure-packed hotspot. Furthermore, this Tanjung Benoa visitors guide outlines everything you need to know before visiting.
A translated version of this guide is available here for our Indonesian-speaking readers.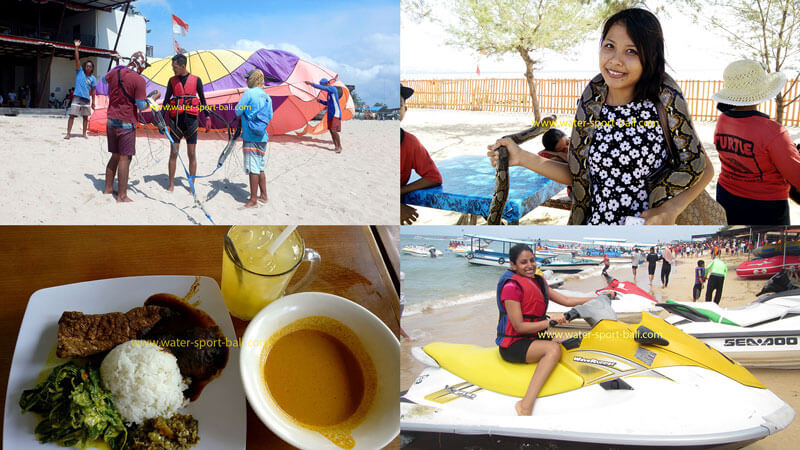 Uncover the Allure: Tanjung Benoa Visitors Guide to Bali's Water Sports Haven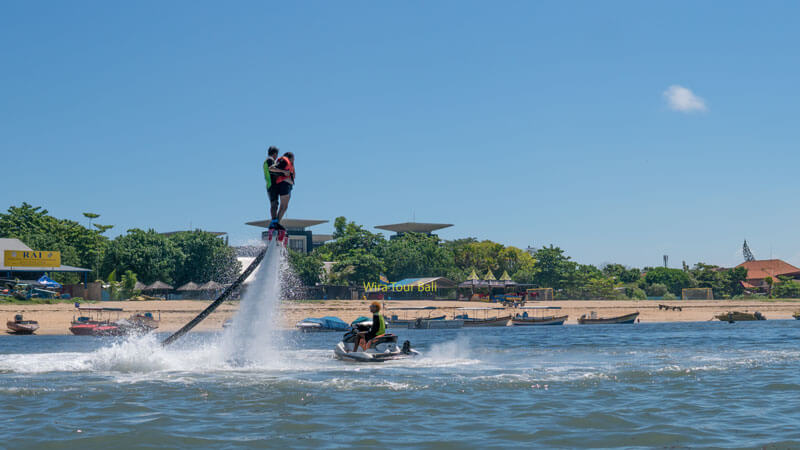 Unveil the myriad reasons that make Tanjung Benoa an unmissable Bali attraction. With its proximity to ITDC Nusa Dua and an array of thrilling water activities, it's every traveller's dream.
Tanjung Benoa Water Adventures: A Visitor's Guide to Adrenaline-Packed Fun
Get ready for a splash of excitement with Bali's top water sports. Whether you're seeking the rush of flying fish or the serene pleasure of parasailing adventures, Tanjung Benoa promises endless fun under expert professionals' guidance.
Prioritising Your Safety and Comfort
Ensuring every visitor's safety and comfort is paramount in Tanjung Benoa. With constant security patrols and an immediate medical response team, tourists can indulge in many activities without trepidation.
Tanjung Benoa's Green Initiative: Protecting the Environment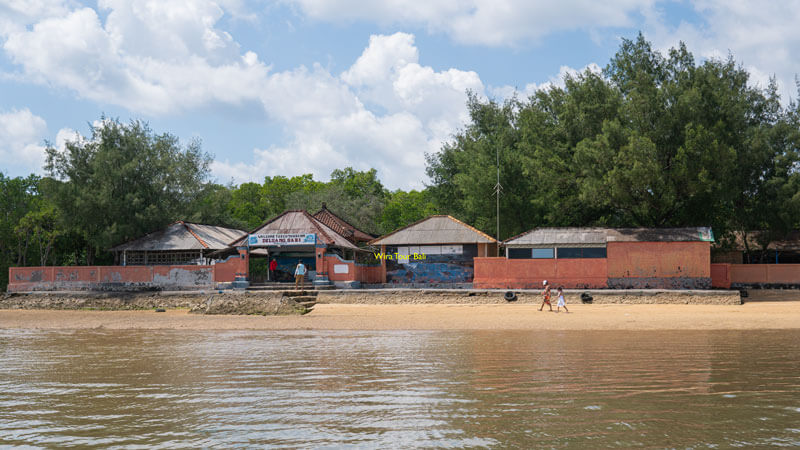 The beauty of Tanjung Benoa isn't just in its vibrant watersports or golden beaches. The region takes pride in its environmental responsibility.
Delving deeper into its commitment, you'll find active conservation programs like green turtle breeding and coral reef planting. As visitors enjoy their vacation, they can also contribute to preserving nature, making their stay in Tanjung Benoa even more memorable.
The Evolution of Tanjung Benoa: A Blend of Past and Present
Tanjung Benoa hasn't always been bustling with water sports activities and luxury hotels. Once upon a time, it was a quaint fishing village. However, the rise of tourism in Bali ushered in a significant transformation. The locals transitioned from being fishermen to water sports entrepreneurs and tourism specialists.
As you relish the thrill of jet skiing or engage in a parasailing adventure, you're not just enjoying the activities. You're immersing yourself in an evolved culture, adding depth and richness to your holiday experience.
Thus, when you visit Tanjung Benoa, you're not merely participating in exhilarating tourist activities. You're also weaving yourself into the tapestry of Tanjung Benoa's history and culture.
Your Essential Travel Guide: Getting to Tanjung Benoa
Located strategically in Bali's southern region, Tanjung Benoa is a beacon for tourists seeking leisure and environmental awareness.
Those venturing from southern Bali tourist zones will find it incredibly convenient. Use a navigation application such as Google Maps to determine the fastest route.
A Practical Guide for Visitors: Reaching Tanjung Benoa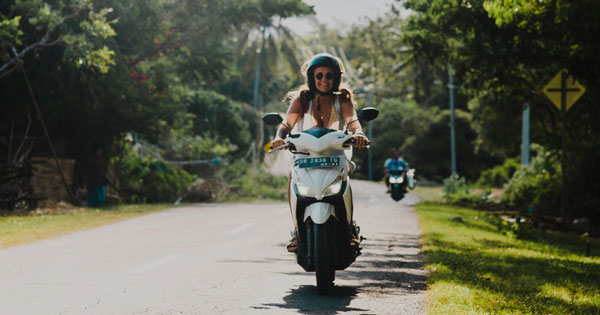 Contemplating a visit to Tanjung Benoa? Making your way there is a breeze:
From Ngurah Rai Airport: It's only a quick 35-minute ride. Taxis charge between Rp 150,000 and Rp 250,000.
From popular spots like Seminyak or Kuta: Just a 40-45 minute drive.
Ubud: Set aside approximately 1.5 hours for the car journey.
Saving Tips:
Budget travellers might want to opt for a motorbike rental, with prices varying from Rp 100,000 to Rp 250,000 per day. Ensure you're clear on the cost upfront!
When you book a package with us, enjoy complimentary shuttle services to sought-after destinations such as Kuta and Nusa Dua.
Your Ultimate Beach Destination: Tanjung Benoa Water Sports Visitors Guide
Welcome to the ultimate guide for every traveller seeking thrilling water experiences in Bali. Tanjung Benoa Beach, often hailed as the crown jewel of Bali's water sports scene, offers a variety of activities that cater to every adventurer.
Tanjung Benoa Beach: Where Adventure Meets Serenity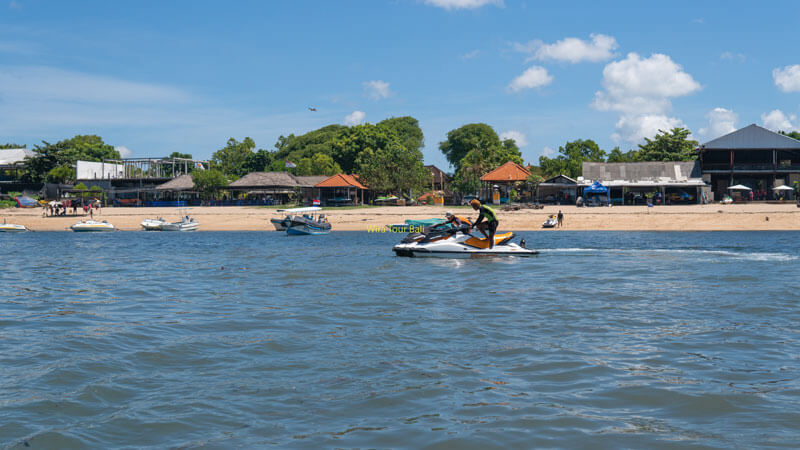 As the most sought-after spot for water sports enthusiasts, Tanjung Benoa Beach showcases calm waves and an inviting depth of 6 metres.
Whether you're a seasoned diver or someone who just wants to enjoy the beach vibes, Tanjung Benoa has got you covered. With multiple vendors lining its pristine shores, it stands out as a bustling hub of activity loved by locals and global travellers alike.
Dive into Fun: Top Water Sports Activities to Try at Tanjung Benoa Beach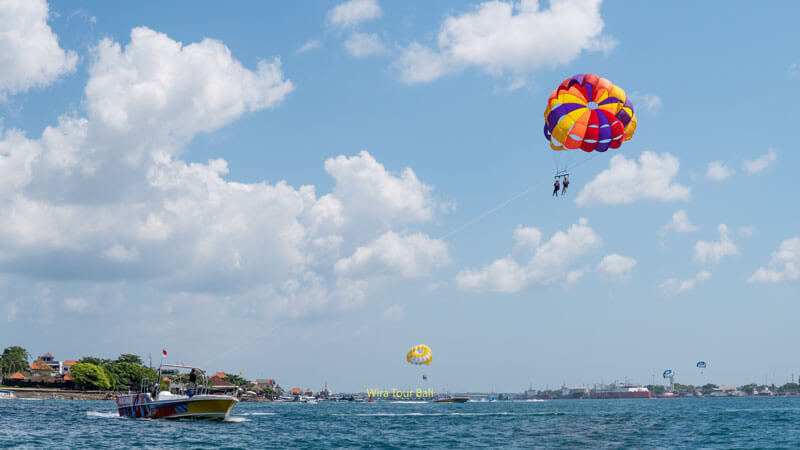 Imagine feeling the ocean breeze as you zip around on a jet ski or the rush of soaring through the skies while parasailing. Tanjung Benoa offers all this and more:
Jet Ski Adventures: Quench your need for speed!
Sky-high Parasailing: Elevate your Bali experience with panoramic views.
Banana Boat Rides: Perfect for group getaways. Strengthen bonds and create memories.
Snorkelling: Dive into Bali's underwater treasures and discover vibrant marine life.
All these experiences ensure that Tanjung Benoa remains a top choice for those creating their Bali travel itinerary.
Family Fun in Tanjung Benoa: Keep the Kids Entertained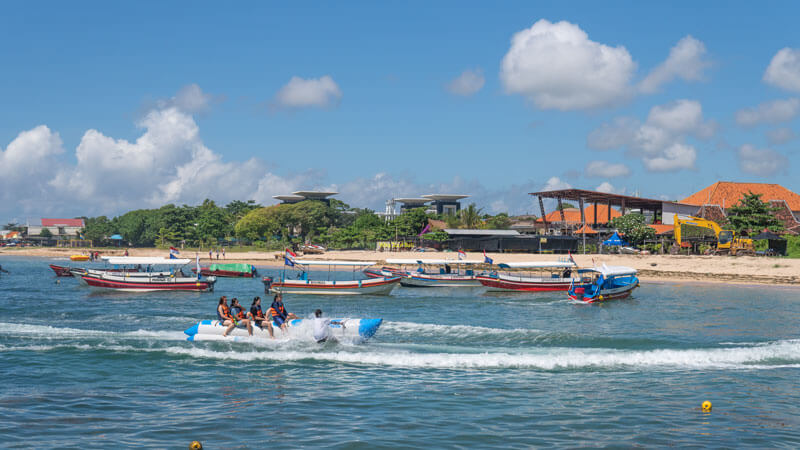 Tanjung Benoa isn't just for thrill-seekers; it's a family-friendly destination too! For a comprehensive guide on how to make the most of your family vacation here, look at our article on Family-Friendly Activities in Tanjung Benoa and Nusa Dua.
Essential Visitors Guide to Navigating Tanjung Benoa Water Sports Pricing
Before diving into the aquatic wonderland of Tanjung Benoa, it's crucial to grasp the pricing. A savvy traveller knows the importance of budgeting, especially when there's so much to explore!
Check out the comprehensive rate table provided by Wira Tour Bali, ensuring you get the most bang for your buck.
Price Fluctuations: Be aware that prices might change without prior notification. Hence, it's always prudent to confirm before booking.
Competitive Pricing Explained: An Insight from Your Tanjung Benoa Travel Handbook
You might wonder what sets Wira Water Sports (Wira Tour) rates apart. The answer is straightforward: Online Booking.
The prices listed above are exclusive for online reservations and are more affordable than direct on-site water sports bookings. This is a significant advantage, especially for those planning to partake in more than one activity.
Maximising Your Adventure Without Breaking the Bank: Tried-and-True Money-saving Tips
Budget-friendly Packages: Why limit yourself to one activity when you can experience them all? Consider opting for watersport activity bundles rather than individual tickets. It proves more cost-efficient and can stretch your pound further. Alternatively, orchestrate an adventure with friends or family, share the costs, and amass priceless memories together.
Online Bookings Only: As mentioned earlier, these rates apply only for online reservations through the Wira Water Sports Bali website. With this information, you can better plan your Tanjung Benoa watersports adventure.
Your Watersport Adventure Awaits: Tanjung Benoa Visitors Guide
Charting Your Watersport Course
Research Providers: Dive into online reviews or tap into friends' experiences to find trusted providers. Ensure they uphold stringent safety and service standards.
Facilities on Offer: Inquire about package inclusions, from equipment to essential insurance. Dive deeper into The Significance of Holiday Insurance to grasp the crucial role of coverage.
Haggle Your Way: If you aim to try multiple maritime games, don't hold back on bargaining for the best deal.
Watersport Providers You Can Trust
Nuggets of Wisdom
Payment Know-How: Be sure about the available payment options. Wira Tour provides PayPal, Wise and Bank Transfers.
Early Bird Gets the Watersport: Book in advance to secure inclusive pick-up packages during peak seasons, ensuring available transport.
More Thrilling Activities in Tanjung Benoa: Basking in the Sun and Cultural Exploration
There's more to Tanjung Benoa than just watersports. Relish breathtaking sunrises and sunsets, or embark on a cultural exploration to enrich your experience.
Nature's Dual Wonders: Sunrises and Sunsets in Tanjung Benoa – A Visitors Guide
Not only a hub for watersports, Tanjung Benoa is a haven for sunrise and sunset enthusiasts. With beaches facing east and west, you have the luxury of savouring both. So, bring along a mat, choose the ideal spot, and behold nature's captivating spectacle.
Cultural and Spiritual Exploration
Beyond its beaches, Tanjung Benoa is home to temples and traditional villages. Visit the Pura Dalem Ning Desa Adat Tanjung Benoa or the Caow Eng Bio temple to delve deeper into Balinese culture.
Tanjung Benoa Visitors Guide: Culinary Expedition
A Gastronomic Journey
Tanjung Benoa Visitors Guide On Accommodation
Luxurious Abodes
Mid-Range Comfort
Pocket-Friendly Lodgings by Tanjung Benoa Beach
Guide On Selecting Your Stay
Location: Keep your activities within arm's reach.
Facilities: Align with your needs.
Clean & Secure: Let online reviews be your guide.
Budget: All-inclusive rates are the way to go.
Budget Savvy: Use booking apps for exclusive promos and discounts, and you can read this guide about How to Choose Budget Accommodation in Bali.
Tailoring Your Tanjung Benoa Beach Escape
Best Times to Visit: Sidestep the rainy season for safer, smoother watersport adventures.
Travel Essentials: Pack sunblock, sunglasses, and swimwear.
Safety & Facilities: Settle only for providers that meet safety benchmarks.
Budget Blueprint: Allocate for extra activities, sips, and bites.
Tour Packages: Consider all-inclusive packages from reputable travel agents for security, surety, and savings.
Arm yourself with these pointers, and craft an exhilarating, efficient escapade in Tanjung Benoa.
Don't hesitate to contact Wira Tour and Experience the Thrill of Watersports in Tanjung Benoa.
Still pondering your choices? Tanjung Benoa in Bali beckons with splendid activities and captivating vistas. From wakeboarding and parasailing adventures to flyboarding and banana boat rides, we've got a comprehensive Tanjung Benoa watersports package awaiting you!
Info & Reservations:
Time's a-wasting! Contact Wira Water Sports (Wira Tour) promptly to explore our enticing watersports packages in Tanjung Benoa. Dive into a safe and relaxed holiday experience with us.
Why Should Wira Tour Be Your Top Pick for Your Tanjung Benoa Beach Vacation?
Integrated Packages: Dive into Tanjung Benoa's watersports packages, including shuttle services and insurance coverage.
Assured Safety: We've joined hands with Aditya Watersport and have a seasoned team on-site. This ensures your safety and comfort are our utmost priority during your activities.
Official Credentials: Wira Tour Bali stands proud as an officially recognised travel agency with operational permits from the government.
Getting in Touch with Wira Tour
Connecting with us is a breeze. Whether it's WhatsApp, email, or a simple phone call, the Wira Tour customer service team stands ready to assist you in crafting a memorable holiday in Tanjung Benoa, Bali.
Wrapping Up & Recommendations: Tanjung Benoa Visitors Guide
Tanjung Benoa, in southern Bali, is a veritable treasure trove of experiences, from thrilling watersports to delectable culinary delights. Its proximity to Seminyak and Kuta makes it a magnet for diverse tourists, from the curious backpacker to the luxury seeker.
Top Tip: Before setting sail, invest some time in researching trustworthy watersport providers to guarantee a safe and enjoyable vacation.
Frequently Asked Questions (FAQs)
Here are some commonly asked questions by travellers when planning a trip and looking to participate in activities at Tanjung Benoa Beach.
Do they offer special packages that cover multiple water activities?
Numerous service providers present special bundles that let you enjoy various activities at a discounted rate.
–
What's the ideal weather condition for water sports?
A clear day with gentle breezes is the most favourable condition.
–
Are instructors or guides available?
Most activities involve an instructor or guide to ensure your safety. However, book one in advance, as some activities might incur additional service charges.
–
Do I need to bring my snorkelling gear?
While the provider provides snorkelling equipment, you can bring your own.
–
Are there discounts for large groups?
Wira Water Sports Bali extends discounts for substantial groups.
–
What are the operational hours for these water sports activities?
Activities generally run from 09:00 in the morning to 4:00 p.m., though timings may vary based on weather conditions.
–
What if I need to cancel or reschedule?
Cancellation policies differ among providers, so reviewing the terms and conditions before booking is imperative.
–
Is there a facility to store my belongings?
Our water sports operator provides storage amenities, including lockers and towels.