When you apprehend the name Tanjung Benoa beach, most of you who vacationed in Bali will know this beach. Especially on this page, I'm gone will focus more on the history of Tanjung Benoa Bali.
Bahasa Indonesia, "Sejarah Tanjung Benoa Bali" >>>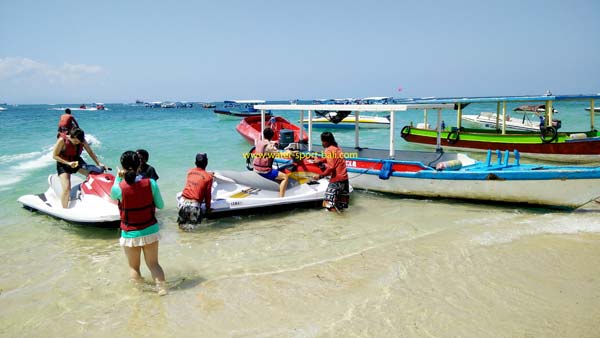 Suppose you have never apprehended or, let alone visited the Tanjung Benoa beach. In that case, it's a good idea to read this article. Of course, if you are currently planning a vacation to the island of the gods. In addition to Tanjung Benoa beach, the Bali island also has many other white sand beach attractions that you may be able to visit. Like Sanur beach, Melasti Beach Ungasan, and Kuta beach.
Find Here, "Things To Do With Children In Nusa Dua & Tanjung Benoa Bali" >>>
Location of Tanjung Benoa Bali
Tanjung Benoa is a large seashore village area, and the location is the south Bali area. The village of Tanjung Benoa is incorporated in the south Kuta district, Badung regency. The size of ??Tanjung Benoa is about 2.4 square kilometers.
Also, the Tanjung Benoa area location is adjacent to Nusa Dua. The travel time from the Nusa Dua beach area to the Tanjung Benoa area is 15 minutes drive.
In addition to its location close to the tourist attractions of Nusa Dua Bali, Tanjung Benoa is also close to Ngurah Rai International Airport. Travel time from the airport to the Tanjung Benoa beach area is about 30 minutes, with 16 kilometers.
See Here, "Tanjung Benoa Location On Google Map" >>>
History of Tanjung Benoa
Historical reports of Tanjung Benoa began to be recorded around 1546. Formerly Tanjung Benoa was a small port utilized by traders from China to dock their boats. The name of the port is Benoa. Once anchored, merchants from China will sell their wares such as ceramics and silk fabrics.
In addition to selling merchandise, Chinese merchants also bought merchandise from the natives of Bali to be exported to China. The inventory exchange at the Benoa port increases, making several Chinese traders choose to settle in the Tanjung Benoa area.
See "Vacation Guide to Nusa Penida Island Bali" >>>.
Vihara Caow Eng Bio
A short history of Vihara Caow Eng Bio Tanjung Benoa. The settlement of the Chinese merchant in the Benoa port area, making the diversity in Tanjung Benoa increase; namely, there is a large temple or monastery building near the port. The name of the monastery in Tanjung Benoa is Vihara Caow Eng Bio.
Besides a monastery, you also will see Balinese Hindu temples such as Pura Dalem Tengkulung Benoa and Segara temple.
Search, "Vacation Guide to Tanah Lot Temple Bali" >>>
Tanjung Benoa Tourism Development History
Ere evolving into a tourist area like today, with many luxury resorts and restaurants, Tanjung Benoa was once a fishing village. The Benoa port is utilized by international ships to dock in Bali.
Also, before developing tourism in this area, most of the Tanjung Benoa native profession as fishers.
Furthermore, since 1980, the closest area to Tanjung Benoa, namely the Nusa Dua, was built a luxury tourist area called BTDC and now changed its name to ITDC. ITDC stands for Indonesia Tourism Development Corporation.
In the ITDC Nusa Dua area, you can quickly discover luxury resorts, most of which are in the five-star classification. The significant development of ITDC Nusa Dua also affected the Tanjung Benoa area and other areas in Bali, such as Jimbaran.
Of course, with the resources of Tanjung Benoa beach, which has white sand beaches, calm seawater, palm trees, and coconuts in the area around the coast. This natural attraction makes the Tanjung Benoa area not left behind from Nusa Dua in developing tourism in Bali island.
The development of the Tanjung Benoa area is very notable. It has become a tourist area for luxury resorts, spas, shopping spots, and international standard restaurants from a fishing village.
See Here, List Of Best Thing To See in Tanjung Benoa Bali.
Tanjung Benoa Beach Attractions
In Tanjung Benoa, there is a white-sand beach with a very long reach of coastline. The beach's name is the same as the village's name, which is Tanjung Benoa beach.
Because the Tanjung Benoa area's contour is a peninsula, makes Tanjung Benoa has two different coastlines. One coastline faces east, and the other faces west.
Tanjung Benoa beach waters are very gentle, and the water depth is approximately 6 meters. Therefore, it makes Tanjung Benoa beach very suitable for marine tourism activities, especially for novice participants.
In addition, the seawater on the Tanjung Benoa beach is very much affected by the tides. Also, as a tourist spot, Tanjung Benoa beach is always kept clean. The beach cleanliness maintains by the waters sports company and the resort.
The Tanjung Benoa beach area is open to the public, and there are no opening hours. For the best time to visit Tanjung Benoa beach, it depends on your goal.
If you want to see the sunrise, the best time to visit is at 05:30 in the morning. As for water sports activities, the best time to visit Tanjung Bena beach is around 09:00. Furthermore, the water sports company in Tanjung Benoa is open from 09:00 – 16:00.
See, "Pandawa Beach Bali Entrance Ticket Prices" >>>
Marine Tourism Center In Bali
The Bali government has determined the Tanjung Benoa area to be the center of marine tourism in Bali. The provincial government of Bali has also made a green turtle breeding site on one of the coasts in Tanjung Benoa. For your information, green turtles in Indonesia cover the classification of threatened and preserved animals.
Furthermore, the green turtle conservation is popular as Turtle Island. Honestly, I don't understand why the green turtle conservation in Tanjung Benoa calls Turtle Island, maybe for marketing purposes.
Read More, Tanjung Benoa Turtle island Green Turtle Conservation.
The Tanjung Benoa area is suitable for water tourism activities because it has calm seawater and an underwater panorama that is not inferior to other beaches in Bali. Most of the enthusiasts of water tourism activities in Tanjung Benoa are travelers who vacation in Bali with family and kids.
Read More, Water Sports Tour Packages in Tanjung Benoa.
Tanjung Benoa Beach Bali, with a coastline facing the east side, is famous for water recreation activities or marine tourism. For your information, water tourism activities in Tanjung Benoa are popular by the name Tanjung Benoa watersport.
Along the Tanjung Benoa coastline, you will find many companies providing marine tourism activities.
What are water sports games available on Tanjung Benoa beach?
There are many choices of marine tourism games in Tanjung Benoa beach, such as parasailing adventure, jet ski, banana boat, seawalker, snorkeling, rolling donuts, and intro scuba diving.
Then, for the types of marine tourism available on Tanjung Benoa beach and the prices, you can see Tanjung Benoa watersport prices here.