Want to have Bali day cruises to Nusa Lembongan Island, you can try Bali Hai Cruises. Enjoy the beauty of clear seawater, coral reefs, and ornamental fish.
Bali Hai Cruises can be considered as one of the best Bali day cruises, that provide tour packages. With Bali day cruises you will be able to enjoy the beautiful journey to Lembongan Island by boat cruise. Travelers who would like to have Bali cruise tour package will be picked up on locations where the traveler's stay and the pick up time around 8 am.
Bali Hai Cruises – Bali Island To Nusa Lembongan Island
Bali Hai Cruises Lembongan, is the only Bali cruise that provide beach club for their guest with guest facilities such as beach volleyball playground, swimming pool, water slide and the beach club location directly overlooking view of the Lembongan island beach.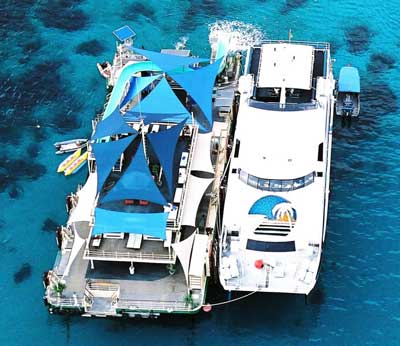 On this beach club, you can swim on their swimming pool or swim on the sea, sunbathe, play volleyball and skating with your friends or family.
Lembongan island beach, offer beautiful clear seawater and very suitable for snorkeling activities. On the Lembongan beach, you can also try water sport activities such as the Banana boat rides.
A boat banana ride is one enjoyable activity with boats shaped like banana and this boat able to ride by 6 people and will be pulled by a speedboat. The speedboat will take you for a ride about 15 minutes durations, more than enough to get you excited.
Beside banana boat rides, snorkeling activities is also one of the best thing you can do on this beach. Simply by using goggles and a snorkel mouthpiece to help breathing while floating on the sea surface.
Playground for children is also available at the Beach Club. Your children also can view the beauty beneath the seawater such as coral reefs, ornamental fish without having to swim or dive, through the clear glass boat, normally called glass bottom boat.
Want to have Bali day cruises to Nusa Lembongan, than you can try Bali Hai Cruises. Enjoy the beauty of clear seawater, coral reefs, and ornamental fish.
Beside activities on the seawater or on beach club, you can have your activities by visiting the cave and to see the daily activities of local people, who earn their living by cultivate seaweed. Nusa Lembongan Island, well known for the seaweed benefits the seawater.
This seaweed can be processed as cosmetics, food also medicines. There are also local people who earn their living as songket fabric weavers. If you would like to know about Songket fabric, please click the link.
After long travel at Nusa Lembongan, it's lunchtime at the beach club with grilled meats and fresh fish as your menu. If you are vegetarian, don't worry, they provide vegetarian menu. All the food obviously prepared by professional cooks. The quality of all food materials is well preferred to maintain the taste and appearance.
Bali Hai Cruises has plenty of booking request by tourist especially on high seasons. Most of them were honeymooners and families who bring their children during vacations in Bali. Beside Bali Hai Cruise, the island of Bali also provide other cruises company for your Bali vacation such as Quicksilver Cruise or Bali Bounty Cruises.
If you need to find out their review from previous customers, you can find it here, Bali Hai Cruises Tripadvisor.
Type Of Cruise In Bali By Bali Hai Cruises
Please visit their website for more information here, Bali Hai Cruises Day Tours.