Ubud is one of the most famous tourist destinations in Bali. Ubud Bali offers many excellent attractions, fun activities, accommodations, and cuisine. However, one tourist destination in Ubud is so popular among travellers. The name of the site is Ubud sacred monkey forest sanctuary. Now, are you planning to visit the monkey forest in Ubud Bali? I am pretty confident you will say yes! Therefore, I will inform you on this page regarding the latest price of the sacred monkey forest Ubud entrance fee.
Bahasa Indonesia: "Harga Tiket Masuk Monkey Forest Ubud Bali" >>>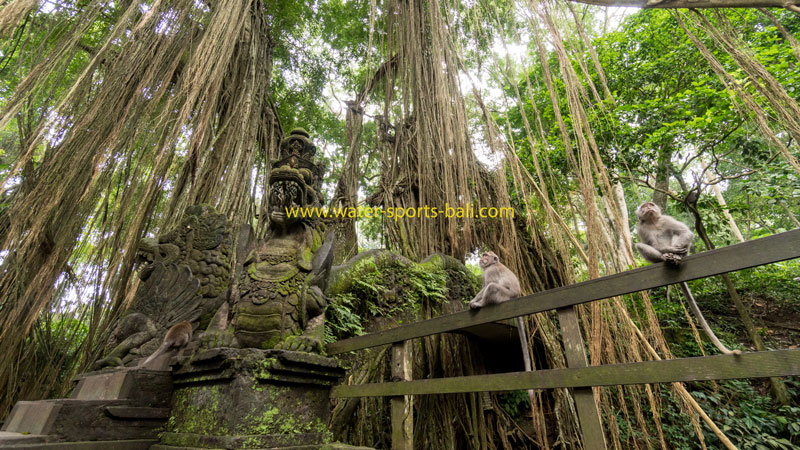 Frequently Ask Questions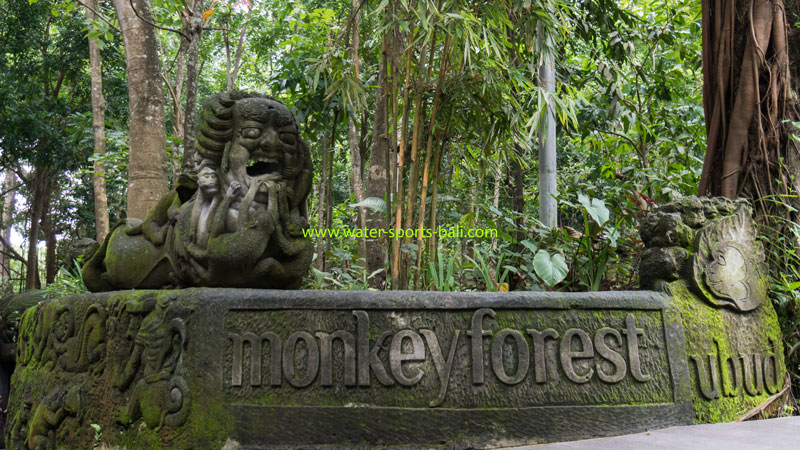 Besides information about the sacred Monkey Forest Ubud entrance fee. On this page, you also will get information regarding frequently asked questions by travellers who want to have a holiday in Bali Ubud monkey forest, such as:
What is Ubud Monkey Forest's point of interest that makes the visitor curious and want to visit?
What kind of monkeys are in the Monkey Forest in Ubud?
Where is the location of Ubud Monkey Forest?
How to get there, and what is the best way to get to the site?
What are the opening hours?
Are there any tips and guidance for visiting the Ubud monkey forest?
What to wear to monkey forest Ubud?
Read More On, "The Best Time To Visit Bali An Overview Of The Best Month To Have Holidays" >>>
The Point Of Interest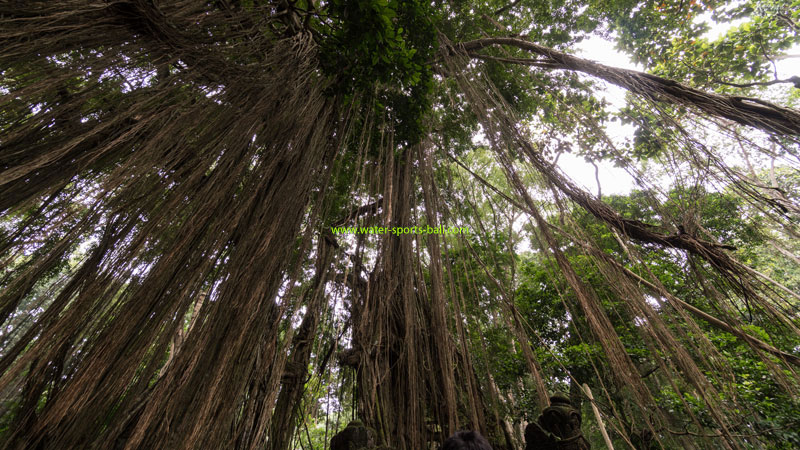 Ubud monkey forest has an official name called, Mandala Wisata Wenara Wana. However, among tourists, better known as Ubud Monkey Forest or the sacred monkey forest sanctuary in Ubud. Also, Monkey Forest in Ubud is a government-protected area with about 12.5 hectares.
Also, inside the park's inner area, three Hindu temples are holy places for local people around Ubud. One famous Balinese Hindu temple at Monkey Forest in Ubud call pura Dalem Agung Padang Tegal Temple. Besides the temple and forest sanctuary, the main attraction is the monkeys. Besides seeing the monkey in their original habitats, you can also see 186 species of plants and trees.
Read Here, "List Of Bali Attractions As Things To Do And Place To See" >>>
What Are Kind Of Monkeys In The Monkey Forest In Ubud?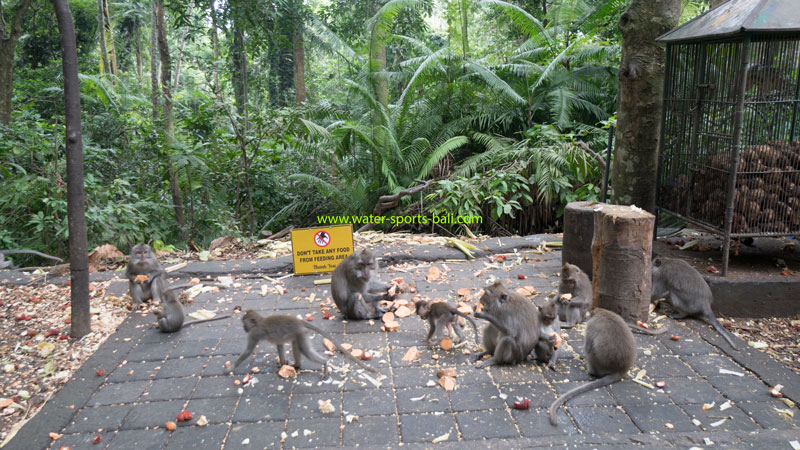 You must wonder what kind of monkeys are in the Monkey Forest in Ubud. Monkey Forest Ubud's main point of interest as a vacation spot lies in a protected forest inhabited by hundreds of long-tailed grey monkeys. In Latin words, the monkey species is Macaca fascicularis, or you know as macaque.
Read More: "Taman Ayun Temple Entrance Fee" >>>
Location with Map
Where is the location of Ubud Monkey Forest? Mandala Wisata Wenara Wana is located at Jalan Monkey Forest, Desa Padang Tegal, Ubud, Gianyar.
If your hotel is near Geger Beach in Nusa Dua Bali, heading to Sacred Monkey Forest Sanctuary in Ubud will take 1 hour and 30 minutes. However, suppose your hotel is nearby Sanur Beach, Bali. In that case, it will take about 1 hour, with a travel distance of approximately 20 kilometres.
Please use Google Maps to make finding the location of the Ubud monkey forest easier.
How To Get There & The Best Way To Get The Location?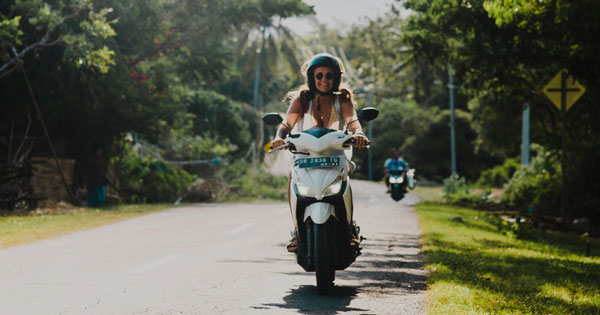 The best way to get to the location of the Ubud monkey forest in terms of transportation depends on your hotel area. If you get a hotel in the Ubud tourism area, using a taximeter or riding a motorbike is the best transportation choice. Due to the short distance makes, the taxi meter costs cheaper. Also, you will not bother to find a car park which is quite challenging to get to the Ubud area.
Suppose your hotel is in the southern part of Bali. Private transportation is best for visiting the Ubud monkey forest near Kuta Beach Bali, Tanjung Benoa Beach, Nusa Dua, or Jimbaran. Private transportation in Bali, such as a motorbike or a car. There are many bike rental and car rental services in Bali, and it is effortless to get at an affordable price.
Suppose you use a car on your Bali holiday without an international driving license. My recommendation is to get car rental services with a driver in Bali. By using the services of a car rental + driver, your driver will look for a parking space. At the same time, you can immediately get off the car at the entrance gates of Ubud monkey forest.
Find Here, "Bali Transportation Guide – All Things That You Need To Know" >>>
What Is The Opening Hours?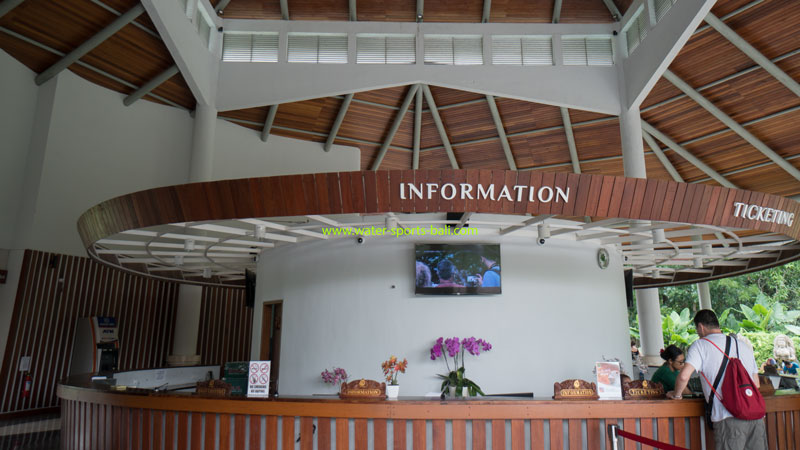 Monkey Forest in Ubud is open daily from 09:00 to 18:00, but the ticket counter is accessible from 09:00 to 17:00. You can buy the entrance ticket on-site without reservation.
Tips & Guidance For Visiting The Ubud Monkey Forest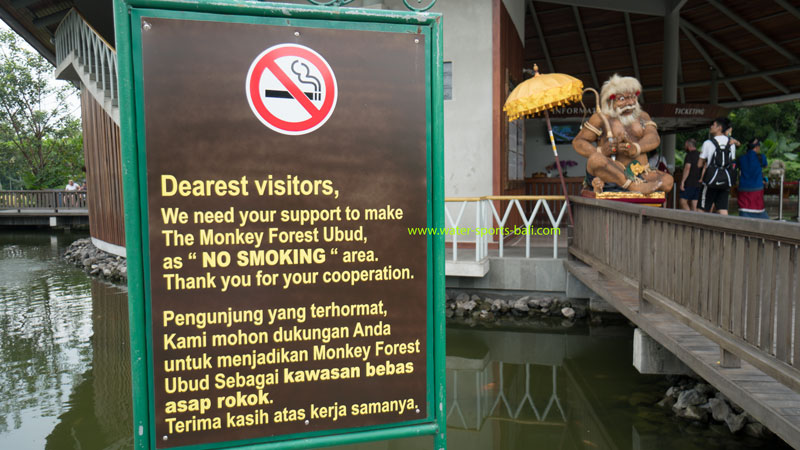 Because in protected forest areas inhabited by monkeys, then there are some etiquette and rules that you should follow for your convenience. Such as, don't Smoke is a restricted non-smoking area to avoid fire in the forest. If you come with children, please keep your eyes on your children.
The monkeys in protected forest areas were accustomed to interacting with humans. Below are the guidelines each visitor should know when visiting the monkey forest Ubud.
Read More On, "Best 10 On What To Do In Kuta Bali For Family With Kids" >>>
Visitors Guidelines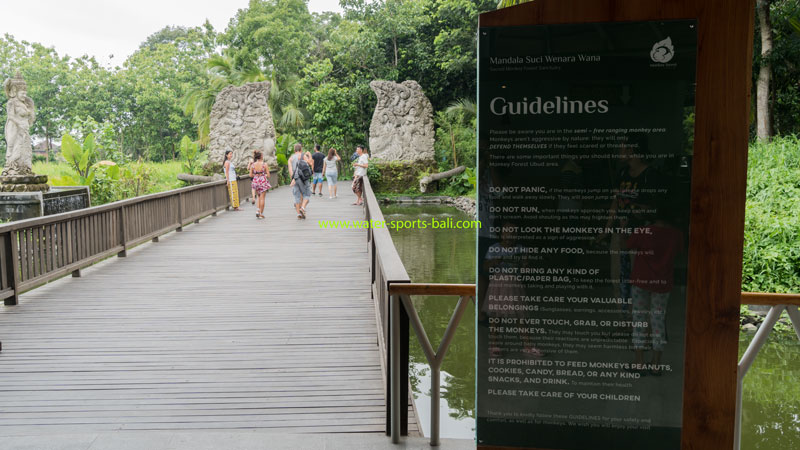 Don't hide any food if you happen to carry it. The monkeys know you bring food, even though it is hidden. Also, please don't feed the monkeys because an office staff has gone feed the monkeys.
When you bring food, the monkey will jump on your shoulder. If this happens, don't panic and do not run. All you must do is leave the food you carry and stroll away.
Sometimes the monkeys will come at you cause of something you wear or carry. It would be best if you were calm and aware.
Do not scream or shout at the monkeys; it will make them scared and instinctively try to defend themselves.
Do not treat the monkey as a pet, a wild animal. Don't touch the monkey, especially the baby monkey. The baby monkey seems harmless; however, their mother will be mad at you.
Staring a monkey in the eyes is a thing you should avoid, especially with the giant male monkey. Starring a male monkey eye means you challenge them to fight.
Additionally, walk on the provided path. Do not enter the clay-based forest area because the monkeys would be bothered.
Keep glasses and jewellery in your bag, and avoid wearing sunglasses or valuable jewels because the monkeys may take your sunglasses and jewellery.
What To Wear To Monkey Forest Ubud?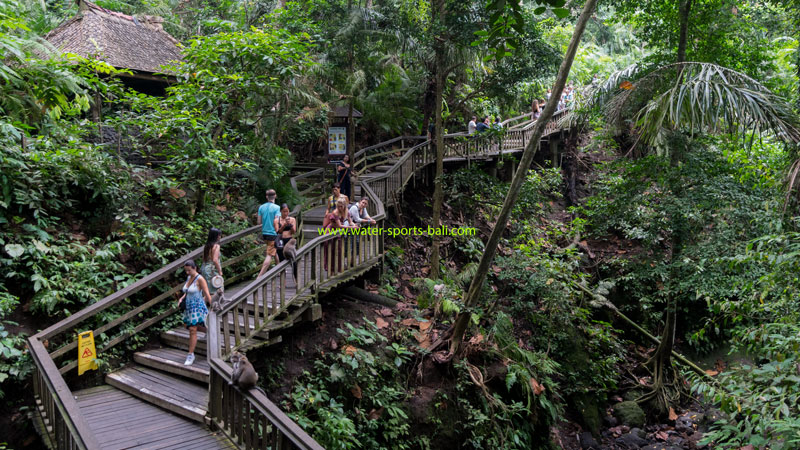 So the following questions, what to wear to monkey forest Ubud? Is there any dress code? There is no dress code to enter the Ubud monkey forest area, and you can wear a casual dress that makes you comfortable. However, don't go inside the temple area inside the forest with a simple dress code.
Find Here, What To Wear To Monkey Forest Ubud?
Monkey Forest Ubud Entrance Fee Price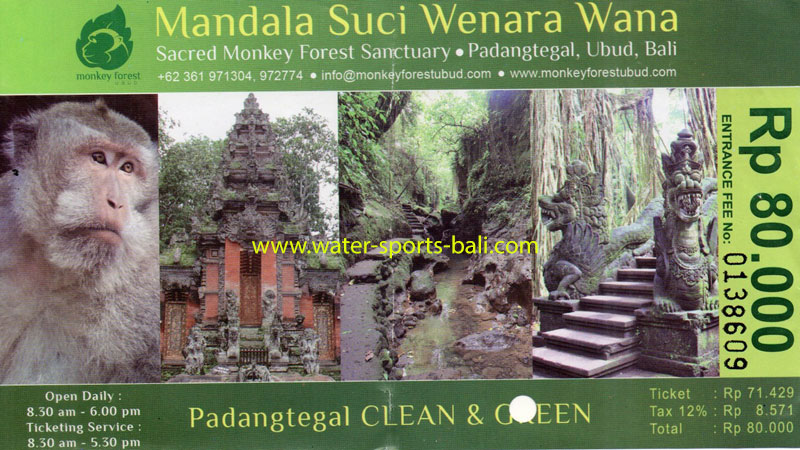 Consequently, most of the tourist attractions in Bali are subject to paying an admission fee, with no exception for monkey forest Ubud. So how much is the monkeys forest Ubud entrance fee price?
| Categories | Tiket Price Monday - Friday | Tiket Price Saturday & Sunday |
| --- | --- | --- |
| Adult | IDR 80.000 | IDR 100.000 |
| Kid (3 - 12 years old) | IDR 60.000 | IDR 80.000 |
Note:
IDR 80,000 = USD 5.65.
IDR 60,000 = USD 4.23.
Find Out: "Tanah Lot Temple Entrance Fee Prices" >>>
Vehicle Parking Fee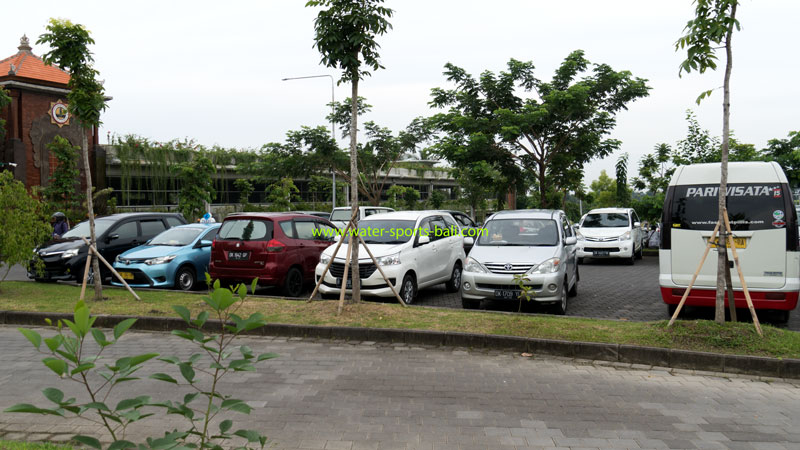 Also, suppose you drive your private vehicle, self-drive, or with a driver. In that case, you must pay a vehicle parking fee to enter the Ubud monkey forest area. So how much does it cost for vehicle parking in Ubud monkey forest?
| Type Of Vehicle | First Hour Parking Cost | Next Hour Parking Price |
| --- | --- | --- |
| Motorbike | IDR 2,000 | IDR 1,000 |
| Car > 6 Seater | IDR 5,000 | IDR 2,000 |
| Minibus < 20 seats | IDR 10,000 | IDR 5,000 |
| Large Bus | IDR 15,000 | IDR 7,000 |
Other Bali Monkey Forest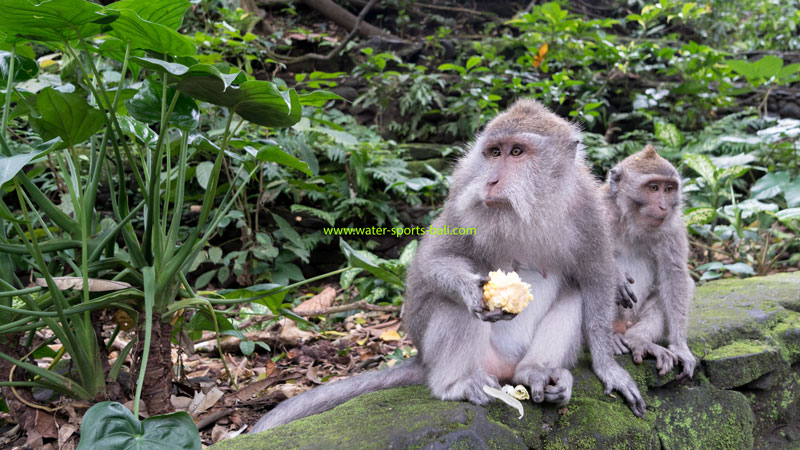 Besides Ubud, Monkey Forest is also available in other areas of Bali, such as:
This Might You Are Looking For
Find Out On "Jatiluwih Rice Terrace Entrance Fee – Travel Guide To Green Land Bali" >>>
Must Read: "Ulun Danu Bratan Temple Entrance Fee – Bali Temple By The Lake" >>>
See Here, "Ubud Palace Entrance Fee & All Things You Need To Know Before Visiting" >>>
Get Here, "Tegalalang Rice Terrace Entrance Fee – Best Things To See In Ubud" >>>