The Island of Gili Trawangan Lombok, one of a favorite tourist destination. Normally when traveler-visiting Bali Island, a traveler will spare some of their holiday time to visit Gili Trawangan Island. One of the best, safest and fast ways to Gili Trawangan Island from Bali is by using Gili fast boat from Padang Bai harbor.
Wahana Gili Ocean is one fast boat company provides fast transfer from Bali to Gili Trawangan Island. Wahana Gili Ocean also well known as Wahana Gili Trawangan.
Wahana Gili Ocean provides 2 type of fast boat, one of them is Wahana Gili Ocean I Fast Boat with 32 passengers capacity and 5 fast boat crews. On this page we will inform you about Wahana Gili Ocean I Fast Boat.
Travel To Gili Trawangan With Wahana Gili Ocean I Fast Boat
Travel to Gili Trawangan will be fast and easy if you use a fast boat. With Wahana Gili Ocean I Fast Boat, you only need 1 hour 20 minutes on the sea.
Wahana Gili Ocean I often use during high seasons in Bali, when the other fast boat which is Wahana Gili Ocean II Fast Boat fully booked. So when you travel to Gili Trawangan during the low season, you will use Wahana Gili Ocean II Fast Boat.
Wahana Gili Ocean I Fast Boat Specification
Safety certification with a passenger capacity of 32 passengers with5 people of fast boat crews.
Comfortable seating.
Using 4 pieces YAMAHA engine, which each engine have a 200 horsepower, so a total of 800 horsepower engine.
Confortable cruise speed ??of 30 knots = 55.6 kilometers per hour.
Luggage spaces for passengers are available.
GPS Navigation system.
Furuno Depth Sounder (measuring the depth of the sea).
2-way radios communications with VHK ICOM Radio.
Life Jacket 40 pcs for adults, 10 pcs for children's life jacket.
2 Life Rigs.
Capsule Lift Crafts for 50 people.
3 pieces of dry powder fire extinguishers.
Medical kits equipment.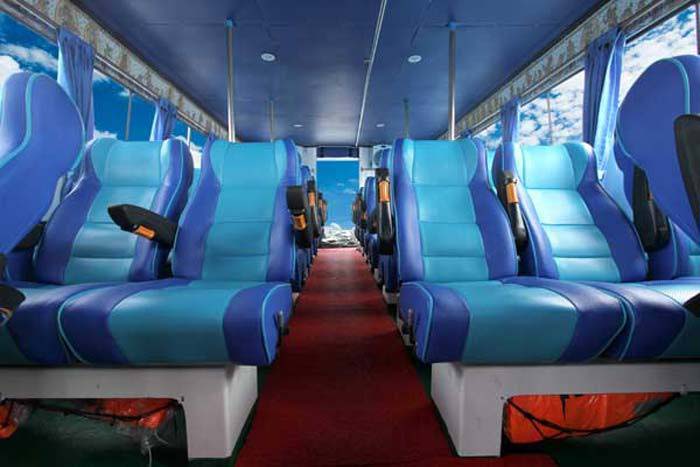 Gili Fast Boats Safety Feature
The sundeck is available for a maximum of 10 passengers.
Toilets were comfortable and clean.
Audio music on board.
TV with DVD player.
Snack and Mineral water provided.
Translated from, Fast Boat Wahana Gili Ocean I.