On this page, I will inform you regarding eight surprising facts about Gili Trawangan Island that create traveler love and make tourists keep coming back for a holiday.
Gili Trawangan Island is a small island in Indonesia, and one of the largest among the three small islands located in the northwest of Lombok Island. Gili Trawangan Island location not in Bali, but in Lombok – West Nusa Tenggara located close to Bali.
The Other Two Small Islands
The other two small islands located close to Gili Trawangan is the island of Gili Meno and Gili Air Island. Gili Trawangan has a very significant height above sea level. The island length approximately 3 kilometers, 2 kilometers wide, allowing you to circle the island in 2 hours.
The eastern part of the island has the densest population. Compared to Gili Meno Island and Gili Air Island. Gili Trawangan has complete facilities for the traveler. Ranging from hotels, dining, and attractions, especially marine tourism or better known as water sports.
The most dominant marine tourism conducted by tourists is scuba diving and snorkeling above sea level. Some travelers also can perform activities like kayaking, surfing and horse riding. If you liked or want to try snorkeling and diving activities while in Bali, you could find it at Tanjung Benoa beach. For the selection of water sport in Tanjung Benoa, please click the link.
No Motor Vehicle
When you are on the island of Gili Trawangan, you will not see a motor vehicle on the road. Due to local laws that prohibit the use of automobiles in the aisle. If you want to get around in the corridor, you can use the bike cycle, which is available for rental by the local community. You also can hire Cidomo (a type of traditional Lombok horse carriage).
Traveler, especially foreign tourists who have a holiday in Bali, always give an additional day for visiting Gili Trawangan Island. If most of the foreign tourists like this island, then this island certainly has unique things to attend. Below we will write, the reason why you need to have a vacation to the Isle of Gili Trawangan.
Gili Trawangan Island – 8 Things That Love By Traveller
1. Underwater Natural Scenery
If you like to see underwater scenery by doing scuba diving or snorkeling, Gili Trawangan Lombok the Island that you should visit. Because the Gili island is far from urban life, making the seawater is not polluted. Bright blue ocean scenery is the thing you will see when you arrive on Gili island.
Gili Island offers clear seawater, allow you to see the underwater view such as fish and coral reefs from the boat. With amazing underwater beauty, make the traveler does not feel enough only to see from a ship. They will dive, and diving is the best choice, to be able to see the beauty of the underwater world live.
If you are planning on swimming on this island, you will be able to see Nemo fish or clownfish. There are other things that make people love to dive on Gili Island besides underwater scenery, small underwater currents, causing the scuba divers like Gili islands for snorkeling or diving activities also as the best things to do in Gili Trawangan.
Read More: "6 Things You Should Know Before Diving In Bali For Beginners" >>>
2. No Motor Vehicles
When you visit the island of Gili Trawangan, do not be surprised if you do not see any cars on the roads. The local legislation prohibits motor vehicles. So for transportation, the choice is bicycles and horse-drawn carriage typically more familiar with the name of Cidomo. The absence of motorized vehicles on the island, create a unique environment for tourists who have a vacation on Gili island.
3. Cleanliness Of The Beach
Residents on the island, maintaining the cleanliness of their beaches and islands. It makes you feel comfortable to sit on the white sand.
4. Sunrise & Sunset Views
The geographic location of Gili island, make you able to one day, you can see the sunrise and sunset scenery. East coast and west coast are 2 hours walking distance, make you able to see the sunrise and sunset on the same day.
5. Friendly Local Community & Safe Environment
To become an island that gets a visit very often by the traveler, of course, friendly people and a safe environment, are the main factors that must be available on the tourism site. On the island of Gili Trawangan, the resident's hospitality are good and also a safe place to travel, it is just the same as you are on vacation on the island of Bali.
6. Nightlife
If you love the nightlife, this island also can provide you, even though not like Kuta nightlife or Legian nightlife in Bali. Bars and kiosks, you will be able to find in the place called Central or residents called it with the name art market. The best time to travel to Central is at 21:00, as all the bars and kiosks have opened.
7. Where to Stay
A tourist spot should provide a place to spend the night that has a lot of options, ranging from budget hotels to luxury hotels. The island now has many places to stay, which means that you can choose and customize your budget.
Currently, Gili Trawangan gets most visits by foreign travelers. Most of the travelers who love to doing recreational water activities such as, scuba diving and snorkeling. Domestic tourists are still rarely visited the island.
8. Close to Bali
Because the island is the main purpose of foreign tourists on vacation, and the island of Gili Trawangan can be reached by sea within 1.5 hours using Fast Boat. Make foreign tourists who have a holiday in Bali, always taking the time to enjoy the natural beauty of the island.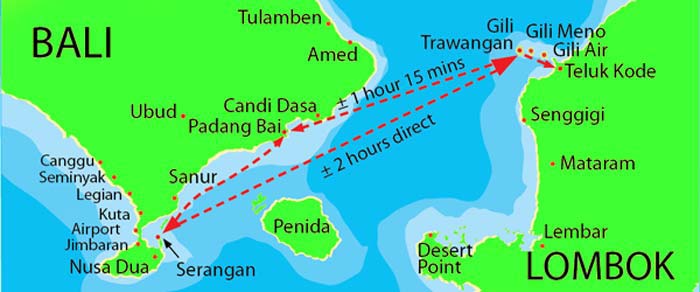 Fast Boat To Gili Trawangan Lombok Indonesia
Using a fast boat from Padang Bai harbor is the best way to Gili islands because it is safe, comfortable and affordable. One of the companies which provide fast boats to Gili Trawangan that we recommend is BlueWater Express Fast Boat.
BlueWater Express Fast Boat provides a shuttle bus from your hotel location to the port of Serangan and Padang Bai port. Cars that used for the shuttle, very convenient because it uses the microbus Toyota Hiace. Fast boat ticket prices Gili Trawangan by BlueWater Express also cheap compared to other Gili fast boat companies.
Source: Our Indonesian Language Website.