Uncover the wonders of Bali at the Bali Dolphin Marine Park in 2023. Go beyond iconic beaches and temples and immerse yourself in an enriching marine experience. Scroll down for comprehensive ticketing, itinerary, and must-know details.
Baca artikel ini dalam Bahasa Indonesia.
Why Bali Dolphin Marine Park is a Top Destination in 2023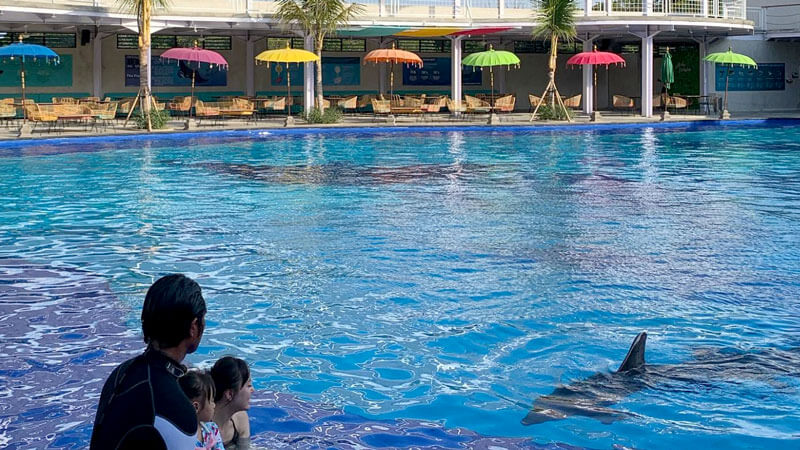 The park is filled with features that set it apart.
Unmatched Amenities & Facilities: State-of-the-art facilities ensure optimal well-being for dolphins, elevating your close encounter with marine intelligence.
A Commitment to Marine Conservation: Engage in a hands-on learning experience as a 'Marine Conservationist for a Day' and contribute to research and rescue missions.
Eco-Tourism Impact: Contributions go toward research and rescue initiatives.
Activities and Family Fun: A spacious lagoon and 'Play & Learn' activities make this an ideal family destination in Bali.
Planning Your Trip to Bali Dolphin Marine Park? Here's Why It Should Be On Your Itinerary
Prepare for a holistic journey at Bali Dolphin Marine Park. It's not just a visit but an eco-conscious outing you won't want to miss. While planning your vacation, consider these other top activities and attractions in Bali. Check out our 20 Unmissable Bali Tourist Spots – Highlights and Attractions for more travel inspiration.
A Family-Friendly Activities at Bali Dolphin Marine Park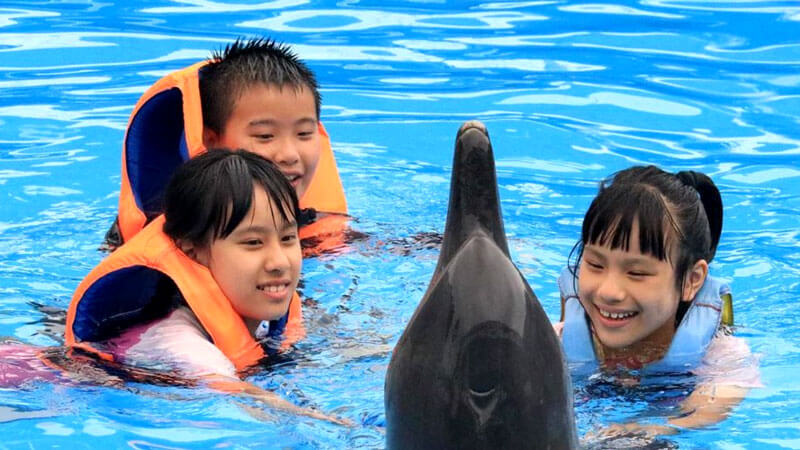 The Discovery+ Program promises an up-close and personal adventure.
A Must for Wildlife Aficionados and Thrill-Seekers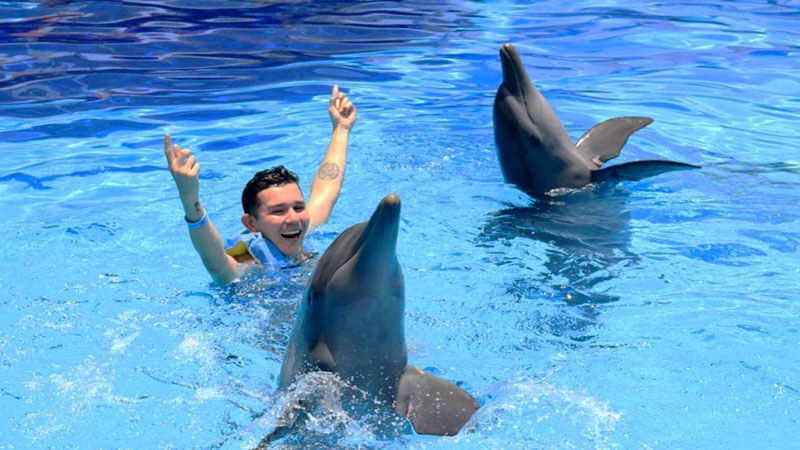 This is far from your average tourist haunt. Experience marine life on a whole new level as dolphins propel you across the water.
Why Eco-Adventurers Need to Experience Bali Dolphin Marine Park
Distant from a typical traveller trap, this is a sanctuary for thrill-seekers and nature enthusiasts.
Bali Dolphin Marine Park: A Photographer's Paradise
Capture the serenity and beauty of secluded locales in Bali away from the mass tourism circuits.
Learning Marine Stewardship at Bali Dolphin Marine Park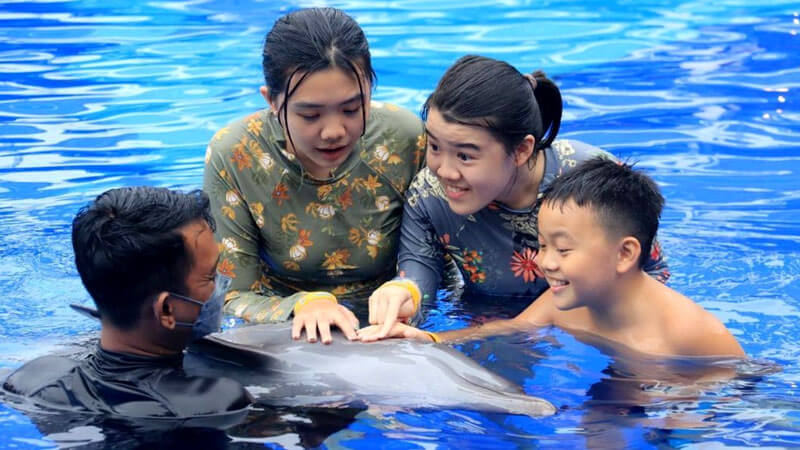 Acquire a priceless understanding of marine preservation from expert guides during your visit.
Planning Your Trip to Bali Dolphin Marine Park: Your Ultimate Guide to a Hassle-Free Dolphin Discovery Experience
Considering a trip to Bali Dolphin Marine Park? It's not just about getting in the water; it's about planning your Dolphin Discovery experience for an unforgettable eco-friendly marine adventure.
What to Pack: Do your best swim gear, but leave the goggles at home if possible. We've got towels sorted for you, so there's no need to pack one.
Dress Code: From wetsuits to bikinis, we're pretty chill, but leave the jeans and jackets behind.
Time in Water: You get 30-35 minutes of pure dolphin joy. Trust us, the dolphins need their beauty sleep too.
Flotation Gear: No worries if you can't swim. We've got life jackets in all sizes, and our team's got your back.
Sunscreen: Do you love the ocean as much as we do? Skip the sunscreen for this one. It's better for our aquatic friends.
Group Dynamics: Expect one dolphin and a pair of trainers to make your experience personal. Max group size? Six. So, it's almost like a private party.
Who Can Join: Age and height matter, and sorry, pregnant ladies, it's a no-go for you. Make sure to review BEMP policies beforehand.
Accessibility: Got functional needs? Just let us know. We're more than happy to assist.
Facilities: Need a quick rinse? Showers? BEMP has got you covered.
Photography: Bring your phone, but your DSLR must sit this out. BEMP pro photographer has got you covered for those Instagram-worthy shots.
Practical Tip: Arrive at least 45 minutes early to complete the necessary paperwork and enjoy all the amenities. Aim for weekdays and non-holiday periods for a less crowded experience.
Remember, the policies are here to ensure everyone has a safe and enjoyable time.
Location & Getting There
Located in South Denpasar, Bali Dolphin Marine Park is a convenient destination, easily reachable by car, scooter, or public transport. Plan your journey to make the most of your time. For more about what South Bali offers, don't miss our guide on Must-See Destinations in South Bali: Your Perfect Itinerary.
Opening Hours: Monday to Sunday: 10:30 AM–6 PM. Plan your activities accordingly so you can make the most of your visit.
By Car or Scooter
Reaching Bali Dolphin Marine Park from central Denpasar is incredibly straightforward. A 20-minute drive will get you there, and parking is available on-site for your convenience.
By Public Transport
You can take a taxi meter or online taxi from central Denpasar, such as Grab or Gojek, heading towards Bali Dolphin Marine Park.
Summary Table: Choose Your Ideal Program
From intimate Discovery+ Programs to quick Explorer encounters, there's something for every budget and group size. Get the full scoop on prices and what each program includes.
Dolphin Program Price and Options: Bali Dolphin Marine Park
Planning a dolphin tour in Bali? We've got options:
| Program | Price (Adult) | Price (Child) | Duration | Max Group Size | Key Features |
| --- | --- | --- | --- | --- | --- |
| Discovery+ | IDR 8,500,000 (group) | N/A | ~40 mins | 6 | Personalized, Snacks & Drinks, Photos, Insurance, Towels, Various Amenities |
| Discovery | IDR 1,450,000 | IDR 1,300,000 | ~40 mins | 6 | Interactive, Photos, Insurance, Towels |
| Encounter | IDR 645,000 | IDR 575,000 | ~15 mins | 6 | Educational, Fast-paced, Suitable for all ages, One Digital Photo |
| Explorer | IDR 345,000 | N/A | ~2 mins | 20 | Budget-friendly, Dolphin Facts & Q&A, Afternoon Tea, Entry Pass |
A straightforward comparison of the different dolphin programs, helping you choose the right experience based on your interests and budgets.
Looking for an all-inclusive dolphin experience in Bali? Wira Tour Bali highly recommends BEMP Discovery and Encounter Programs.
General Guidelines For Bali Dolphin Marine Park:
There are no cameras or jewellery in the pool area.
Programs typically accommodate up to 6 people and include professional instruction.
The same program must be chosen for all mixed groups of Indonesian and international guests.
Any accompanying guests must participate in at least one Seeker Program, available upon arrival.
Daily Schedule for All Programs
The program runs every day at multiple times to suit your schedule. The available time slots are:
11:00 AM
12:40 PM
2:40 PM
4:20 PM
We recommend arriving at least 30 minutes before your scheduled program time to maximise your experience.
Discovery+ Program: The Comprehensive Experience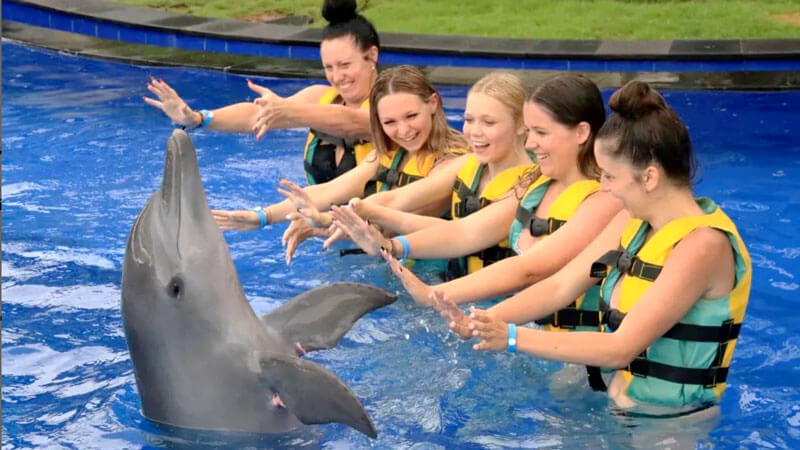 Discovery+ Program Price
Program
Price (IDR)
Duration (mins)
Max Participants
Discovery+
IDR 8,500,000 (group)
Total Time ~ 40 Minutes
In Pool Time ~ 35 Minutes
Up to 6 people
Detailed Breakdown of Discovery+ Program Pricing and Features.
Why Choose Discovery+ Program?
Privacy and Personal Touch: Limited to just six people for a personalised experience. Plus, get a specific area with snacks and drinks.
Real Moments: Interactive sessions with dolphins. Plunge into the aquatic depths to form a deeper connection with these jovial yet refined sea dwellers. Sway alongside these poised marine inhabitants and feel the thrill as they glide you across the lagoon.
It's Safe and Fun: An expert guides you throughout, ensuring safety and capturing memorable photos.
What's in the Package?
Reserved seating and a welcome drink
A basket of snacks and beverage
Swim and play with dolphins.
Feeding the dolphins
Complimentary amenities like towels and shower essentials
Keepsakes like a free photo in a USB and paper frame
Souvenir and insurance.
Note: When the guest group comprises Indonesian locals and international visitors, each individual must select a single Discovery Program.
If you're yearning for an up-close and personal experience with dolphins, the Discovery+ Program at Bali Dolphin Marine Park is just what you've been searching for. Suited for those who prefer intimate, meaningful, and safe animal interactions, this is an experience you don't want to miss. Secure your spot today for a genuinely transformative marine adventure!
Discovery Program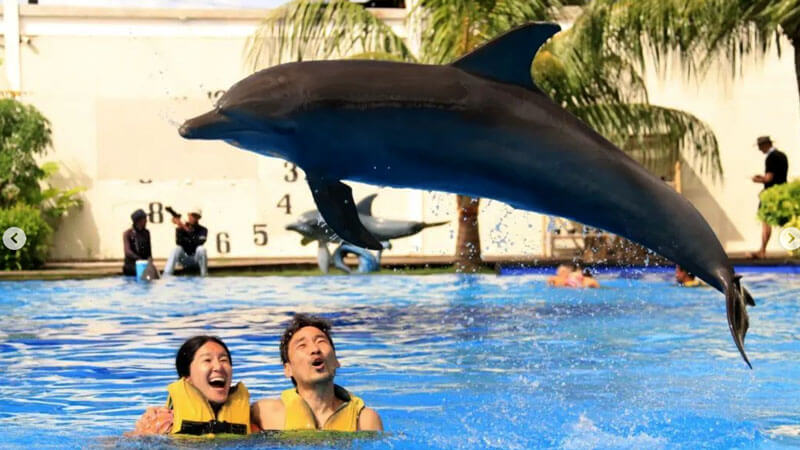 Discovery Program Price
Program
Price (IDR)
Duration (mins)
Max Participants
Discovery
Adult: IDR 1,450,000/person
Child: IDR 1,300,000/person
Total Time ~ 40 Minutes
In Pool Time ~ 35 Minutes
Up to 6 people
Discovery Program: Everything You Need to Know About Costs and Duration.
Why Opt for the Discovery Program?
Small groups of six for a personal touch
Interactive sessions with dolphins: Immerse yourself in deeper aquatic realms as you forge a meaningful connection with these jovial yet refined sea dwellers. Glide alongside these majestic marine beings, feeling the thrilling surge within you as they escort you across the expanse.
Safety ensured by experts, complete with memorable photos.
Package Inclusions
Welcome drink
Dolphins swim and feed.
Towels, shower essentials, souvenirs, insurance and a free digital photo keepsake.
Encounter Program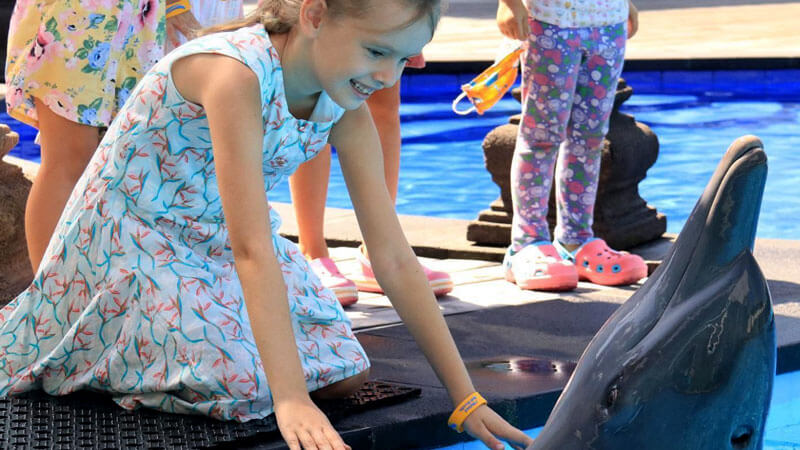 Quick, fun, and educational—Encounter Program is a crowd-pleaser for all ages. Discover these delightful creatures without the need for a dive. This offering is tailored explicitly for families that have young kids. Participants will gain insights into dolphin physiology and engage with them right from the pool's edge.
Encounter Program Price
Program
Price (IDR)
Duration (mins)
Max Participants
Encounter
Adult: IDR 645,000/person
Child: IDR 575,000/person
Total Time: ~15 Minutes
In Pool Side Time: ~ 5 Minutes
Up to 6 people
Encounter Program: In-depth Pricing and Participant Information.
Why Choose Encounter?
It is ideal for all age groups, especially families
More than sightseeing—learn about dolphins and feed them
Great for group events or special occasions
Program Highlights
Suitable for kids to older people.
Fast-paced and hassle-free
Excellent photo opportunities
15-minute sessions daily
Group-friendly: accommodates up to 6 people.
Perks Included
Welcome drink
Souvenir
One digital photo
Explorer Program
Explorer Program Price
| Program | Price (IDR) | Duration (mins) | Max Participants |
| --- | --- | --- | --- |
| Explorer | IDR 345,000/person | Total time: ~ 2 minutes | 20 |
What to Expect with the Explorer Program: Pricing, Duration, and Maximum Participants.
Why Choose the Explorer Program?
Capture a unique "Dolphin Kiss" photo.
Combine education and fun: Learn about dolphins while you play.
Ideal for large groups and budget-conscious travelers
Program Highlights
Budget-friendly dolphin experience
Best for large groups
Unique photo opportunities
What You Get
Entry pass
Afternoon tea.
Feeding Dolphins
Dolphin Facts and Q&A
Complimentary Digital Photo Redeemable at Departure (File Format)
Must-Know Info Before Your Visit To Bali Dolphin Marine Park
Prepare for your trip with essential age guidelines, insurance details, and timing recommendations.
Age Categories: 1-11 years (Child), 12+ years (Adult), Under 1 (Free but can't join activities)
Height Rules: Kids under 1m need adult supervision. Over 1m and ages 1-3 also require adult supervision.
Insurance: Coverage for ages 4-70. Under 4 and over 70 must acknowledge no coverage.
No professional photography.
Arrive 30 minutes early for activities.
Special rates for Indonesian citizens.
Companion Programs: Seeker Program required for companions
Booking Rules: How to Secure Your Spot When Planning Your Trip to Bali Dolphin Marine Park
Looking for an unforgettable dolphin experience in Bali? Booking your spots early is crucial, with many things to see and do. To help you decide, check our guide on Bali 2023: Your Comprehensive Guide to 38 Prime Activities and make sure you know the rules for a smooth visit.
How to Book and Pay for Your Experience
Browse the various programs and select the one that most appeals to you.
Advance Booking: At least one day ahead.
Contact our reservation officer by Phone, Email, or WhatsApp.
Inform our reservation staff about your details and proceed with the payment. For your comfort, we accept diverse payment methods: Bank transfers, PayPal, and Wise.
Payment: Full amount due before activities.
Upon successful payment, you'll receive an email confirmation with your voucher.
Present your voucher upon arrival at the park, and you're good to go!
Securing Your Visit to the Bali Dolphin Marine Park
Contact our booking team to arrange your Bali Dolphin Marine Park visit. Multiple channels are available to contact us:
Dial or WhatsApp Call: +62813 3956 3400.
WhatsApp Texts: +62822 4714 8222.
Landline Office Number: +6236 6558 1096.
Email: info@water-sports-bali.com.
Alternatively, you can directly tap on the WhatsApp button to initiate a chat with our booking personnel.
Frequently Asked Questions about Dolphin Interaction in Bali Exotic Marine Park (BEMP)
How Do I Purchase Dolphin Interaction Tickets?
To book your dolphin interaction tickets, you have various options: online via our official website, WhatsApp, or Instagram. Alternatively, you can grab your tickets at the ticket booth at the location when you arrive, although availability and listed prices may vary.
Is Same-Day Ticket Purchase Possible?
Yes, you can purchase tickets on the day of your intended interaction with the dolphins. However, remember that slots may be limited, so you should ring us to confirm availability.
Is Ticket Pricing Dynamic?
The cost of your ticket remains constant all year round, ensuring no unexpected changes to your budget. These prices are valid until March 1, 2024.
Is it possible for me to transfer my ticket to another person?
You can transfer your ticket to another individual, provided you notify us a minimum of 24 hours in advance.
What's the Refund Policy for Tickets?
Tickets are non-refundable after purchase.
How Does Severe Weather Impact the Program?
Your Dolphin Interaction may be delayed or rescheduled if the weather turns unfavourable. If rescheduling isn't feasible, ticket transfer to another individual is permitted.
Can I Reschedule My BEMP Visit?
Rescheduling is allowed if you inform us at least 24 hours before your session and is subject to availability.
What Are the Penalties for No-Shows?
Failure to attend without prior notification will result in a full charge of the reservation amount with no option for a refund.
When Should I Arrive for My Session?
Please arrive at least 30 minutes before your session and be in your swimming attire at least 10 minutes before the session commences. Late arrivals will face a reduction in interaction time.
Summary of Bali Dolphin Marine Park
Whether you're a visitor looking to touch the hearts of dolphins or a local wanting to understand these magnificent creatures, Bali Dolphin Marine Park is the perfect blend of entertainment and education. Don't miss this chance to make memories while contributing to ocean conservation. Book your magical experience today!