Vacation in Bali has not felt intact without joining Tanjung Benoa Nusa Dua water sports! How about you? Are you interested in trying Tanjung Benoa Beach Nusa Dua water sports with activities choices like the Seawalker tour, banana boat ride, and flying utilizing parasailing? If you say yes, on this page, we offer you Bali water sports tour packages Nusa Dua number 7, with Seawalker activity, banana boat ride, and parasailing adventure ride (tandem parasailing).
Bahasa Indonesia, "Harga Paket Permainan Wisata Bahari Di Tanjung Benoa Bali Nomer 7" >>>
Tanjung Benoa Bali Attractions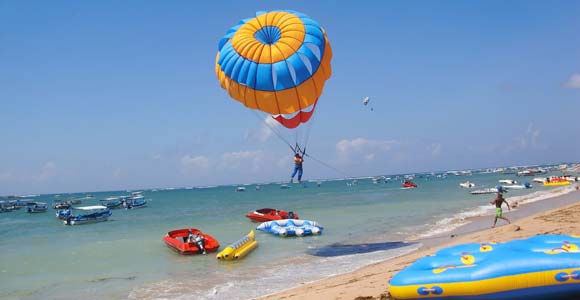 Bali Island, a popular tourist destination in Indonesia, offers many exciting attractions and fun holiday activities. One of them is the Tanjung Benoa tourism area.
The main appeal of Tanjung Benoa Bali lies in white-sand beaches. In addition to white-sand beaches, Tanjung Benoa offers marine tourism activities, better known as the watersport Tanjung Benoa. Due to the Tanjung Benoa area adjacent to Nusa Dua, people often call Tanjung Benoa watersports Nusa Dua water sports.
Read Here Top 5 Astonishing Attraction Tanjung Benoa – Place To See & Things To Do.
Watersport Tanjung Benoa Nusa Dua
Although there are many places for marine tourism activities on the island of Bali, Tanjung Benoa is the center of watersports rides in Bali. Due to natural factors that support marine tourism rides for beginners, making at Tanjung Benoa Beach is the best place to do water sports in Bali.
Also, at Tanjung Benoa Beach in Bali, there are many choices of water sports activities. Natural elements, I mean like:
The calm ocean waves make it safe for beginner water sports participants.
The depth of the sea is approximately 6 meters, so very shallow.
Sand beaches are white with beautiful sand grains.
Wind direction during the day leads to land.
Tanjung Benoa is adjacent to the famous tourist objects in southern Bali, such as Pandawa Beach, Nusa Dua Beach, Melasti Beach, and Jimbaran Beach.
Adjacent to Ngurah Rai Airport.
Must Read Tanjung Benoa Beach Bali – How To Get There & Best Things To Do.
Choice Of Water Sports In Tanjung Benoa Beach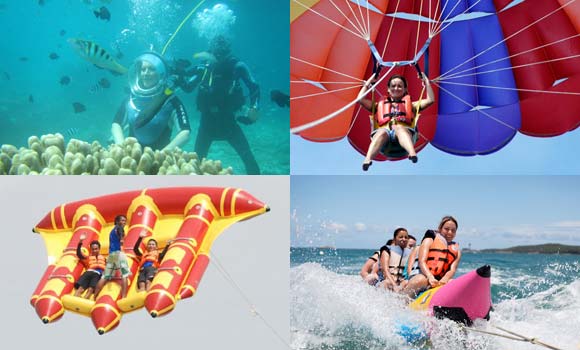 If you are vacationing at Tanjung Benoa Beach, you will see many marine water sports companies along the Tanjung Benoa Beach Nusa Dua coastline when you arrive at the beach.
Each Tanjung Benoa water sports company offers a wide selection of aquatic rides. If you want to know about the marine tourism rides available in Tanjung Benoa Nusa Dua, please click the link below!
Show me Tanjung Benoa Nusa Dua Marine Sports Activities & Price List.
Watersport Package Is Cheaper Compared To Single Activity
The best way to book the water sports tour in Tanjung Benoa Nusa Dua for a lower price without diminishing the quality of the game is to book a Bali water sports tour package.
Most of the watersport packages in Tanjung Benoa Nusa Dua are offered online. Also, every watersports package will have at least three types of game rides.
To make it easier to understand, buying Bali water sports packages is much cheaper than buying a single marine sports activity. I will include an example!
Please note all single activity prices below are online rates from Wira Bali Watersports. Also, our Bali water sports Nusa Dua online rates do not apply if customers book a walk-in at the water sports activity location.
Parasailing Adventure Bali price, IDR 250.000/person.
Tanjung Benoa marine walks ticket price IDR 325.000/person.
Banana boat ticket price IDR 80.000/person.
Therefore, the total price of the three Nusa Dua water sports above is IDR 655,000/person.
However, if you order the water sports tour package Nusa Dua number 7, which covers the three games above, the price is only IDR 635,000/person.
Besides getting lower Tanjung Benoa watersports prices, you also will get a free hotel shuttle. With the hotel's free shuttle service, you can save on vacation transportation costs. The free shuttle service is only valid in the below area.
Kuta, Legian.
Nusa Dua, Tanjung Benoa.
Jimbaran, Tuban.
Ungasan.
Read Here 3 Proven Ideas To Get Affordable Bali Water Sports Price During Your Vacation.
Activity Details In the Water Sports Tour Packages Nusa Dua No. 7
If you book the water sports tour package Nusa Dua number 7, you will join Seawalker, tandem parasailing, and the banana boat ride on Tanjung Benoa Beach Nusa Dua. Most of you have understood the games in water sports tour packages Nusa Dua number 7.
For that, please directly scroll down to see the price of Tanjung Benoa Watersports package number 7. However, if you are unfamiliar with the tandem parasailing, banana boat ride, and Tanjung Benoa Seawalker tour activities, please continue reading this page!
1. Tandem Parasailing Bali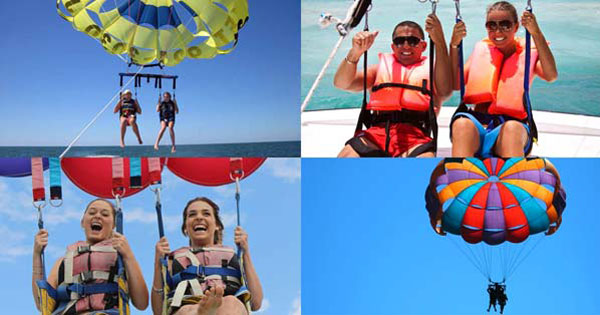 Furthermore, tandem parasailing is flying with a parachute. To make the chute fly, a motorized speedboat pulled the chute. For your information, there are two types of parasailing game rides in Tanjung Benoa, namely:
Single parasailing.
So, what are the differences between single parasailing in Bali and parasailing adventures in Tanjung Benoa? If you want to know the answer, please click the link below!
Find Out Here The Difference Of Single Parasailing With Parasailing Adventure In Bali.
Single parasailing is only able to accommodate one participant. Before flying, single parasailing participants will use a life jacket, and on the life jacket, there is a hook. Also, the instructor will brief all participants on parasailing rides before flying.
The hooks on the life jacket will be attached to the parachute, and the speedboat will pull the chute so the parasailing participants can fly. Participants in single parasailing in Tanjung Benoa will start operating from the beach and land on the sandy beach of Tanjung Benoa.
For Tandem parasailing, participants will start flying from the boat and land on the ship. Also, tandem parasailing can accommodate up to 3 participants flying on the same parachute.
Read Here 5 Things You Need To Know About Parasailing Bali Marine Recreation.
2. Seawalker Tour Tanjung Benoa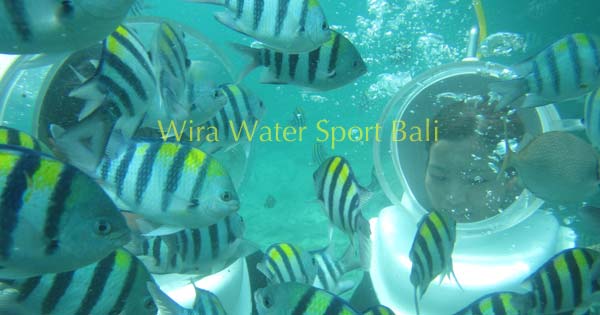 Seawalker is a marine activity allowing the participants to walk on the seabed. To be able to walk on the seafloor, seawalker participants will wear a waterproof helmet and diving suit. In contrast to the scuba dive activity, Seawalker participants can breathe on the ground through the nose, and participants are also able to wear glasses. During the Seawalker tour in Tanjung Benoa, participants will dive approximately 5-6 meters deep.
For your information, the Tanjung Benoa seawalker activity is called by many names in Bali, such as ocean walkers and marine walks. So if anyone says the ocean walker or marine walk, they mean seawalker activity.
In addition to Tanjung Benoa, you also can find seawalker tour activities at Sanur Bali. If you want to know the price of a seawalker tour in Sanur Bali, please click this link! Bali Marine Walk Price In Sanur Beach.
Find Out Here Price Of Bali Seawalker Tour At Tanjung Benoa Nusa Dua.
3. Banana Boat Ride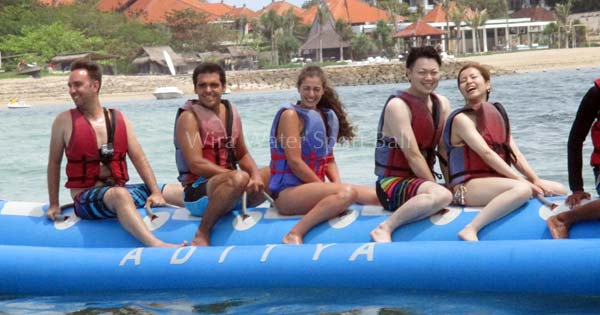 Ride on a banana boat is one of Tanjung Benoa's best-selling water sports games because the banana boat ride price is low and also can be followed by children. Most banana boat ride followers in Tanjung Benoa are tourists who have a vacation with family or a couple on their honeymoon.
A banana boat is a glimpse of a rubber boat resembling a banana. One banana boat can accommodate up to five participants. A speedboat will pull the banana boat to move it. Also, for participants' safety, each participant must wear a life jacket.
Find Out Further Detail Banana Boat Ride At Tanjung Benoa Nusa Dua Bali.
Price Of Water Sports Tour Packages Nusa Dua Number 7
Want to know the cost of water sports tour packages in Nusa Dua number 7? Please find it in the below table!
ACTIVITIES
DURATION
PRICE IN IDR
Seawalker
Banana Boat
Parasailing Adventure
30 Minutes
15 Minutes
5 Minutes
635.000 / person
Water Sports Tour Packages Nusa Dua Description
The watersports company in Bali that provides all marine tourism rides included in the water sports package is Aditya Watersport Tanjung Benoa Bali.
Two persons minimum order for the Tanjung Benoa watersport package.
Participants are required to wear a life jacket.
The life jacket during the game is included in the price of the Bali watersport and tour package.
The ticket fee shown in the table above is the price of the Tanjung Benoa watersport package for one person.
The price of the Bali watersport tour package includes the instructor.
Bali watersport tour packages include insurance for participants. The participant insurance provider is Aditya Watersport Tanjung Benoa Bali.
Watersports package price number 7 is valid until December-31, 2023.
The online price of the Tanjung Benoa watersports package on this page is valid if you book through the Wira Bali Water Sports website.
Tanjung Benoa Watersport publishes prices that immediately apply if you book and buy the activities location without having a voucher from Wira Water Sports Bali.
The minimum age of Watersport Bali participants is 12 years old.
The maximum age of Watersport Bali participants is 65 years old.
Free pick up and return transfer on this area, Legian, Kuta, Tuban, Jimbaran, Ungasan, Nusa Dua, and Tanjung Benoa.
Activity Description On Water Sports Tour Packages Nusa Dua
The parasailing ride on the package is tandem parasailing.
The parasailing rides are highly dependent on the wind direction, although in sunny weather. The Tanjung Benoa watersports operator will cancel the parasailing rides if the wind is too strong.
Changes in weather and wind direction may occur at any time without prior notice, which may cancel the Tanjung Benoa parasailing activity.
For the safety of seawalker participants, all participants are always accompanied by professional dive guides during seawalker activity.
The Tanjung Benoa Seawalker tour included an instructor, boat transfer, and bothie (shoes to walk by the seafloor).
During severe weather, which makes watersports activity dangerous, the Tanjung Benoa watersports will be canceled by the provider/operator to ensure the participant's safety.
Cancellation of watersports by the operator due to weather factors, the customer's payment will be refunded.
Finally, weather constraints are beyond the control of watersports tour providers.
Booking Water Sports Tour Packages Nusa Dua No.7
For complete details and booking of water sports tour packages Nusa Dua number 7, please get in touch with us by:
Email: info@water-sports-bali.com.
WhatsApp Call & Chat: +62 813 3956 3400.
WhatsApp Chat Only: +62 822 4714 8222.
Office Telephone: +62 366 5581096.
You also can fill out the booking form below.
Booking Form
Other Option Of Water Sports Tour Packages Nusa Dua Bali
> > > Nusa Dua Watersports Package Number 5.