During a vacation to Bali with family, children, and friends, feel half-done if you have not tried the Tanjung Benoa Nusa Dua watersport activity. Then how about you? Are you interested in trying the watersport activity of Tanjung Benoa Nusa Dua? If so, on this page Wira Bali Water Sports offers affordable Nusa Dua watersports package number 5.
Bahasa Indonesia, "Paket Promo Watersport Di Bali Nomor 5 Harga Murah Gratis Antar Jemput" >>>
Tanjung Benoa Nusa Dua Bali Attractions
Tanjung Benoa is a tourist spot on the island of Bali, synonymous with marine tourism activities. Also, it correlated with white sand beach attractions. Like other coastal tourist destinations on the island of Bali, Tanjung Benoa is formerly a village where most of the local people make a living as fishermen.
However, now with the rapid tourism development, changing the area of Tanjung Benoa has become one of the best travelers stops in the south of Bali.
Also, Tanjung Benoa Nusa Dua's tourist attractions are adjacent to the Bali Ngurah Rai International. Also adjacent to a famous tourist attraction in southern Bali.
From Ngurah Rai International Airport to Tanjung Benoa Nusa Dua area only takes about 30 minutes. However, it would help if you got through the Bali Mandara toll road.
Find Out Here the Top 5 Astonishing Attraction Tanjung Benoa – What To Recognize & Things To Do.
Tanjung Benoa Nusa Dua Watersport
There are many hotels and resorts in the coastal area of Tanjung Benoa Nusa Dua Bali today. Besides hotels & resorts, on the coastline of Tanjung Benoa, there are restaurants and operators of marine tourism activities.
Tanjung Benoa Nusa Dua Bali is famous as the center of all Bali Water Sports games. Therefore, most vacationists who have a vacation to Tanjung Benoa Nusa Dua primarily aim to participate in one of the watersport games.
Although Bali has many beautiful white sand beaches, not all Bali beaches are suitable for marine tourism activities. Tanjung Benoa Beach Nusa Dua is ideal for aquatic tourism activities because the waves are very calm.
Also, Tanjung Benoa marine waters have shallow depths, and wind direction often leads to the land instead of into the sea.
Read More about the Best Site For Water Sports In Bali Base On Your Specifications & Budget.
When you arrive at Tanjung Benoa Beach Nusa Dua, you will see many operators/companies providing water sports activities in the coastline area. Each watersports operator/company offers many choices of fun marine games at various prices of Tanjung Benoa Nusa Dua watersports.
You will get a published price if you buy a ride directly at the game location. You should order online at least one day before to get a low ticket price for Tanjung Benoa Nusa Dua marine sports games. Want to know the online price of Tanjung Benoa Nusa Dua Watersports tickets for each ride? Please click the link below!
See Here the Ticket Price List of Watersports Tanjung Benoa Nusa Dua Bali On Each Game.
Experience the Best Value with Nusa Dua Watersports Packages at Tanjung Benoa Beach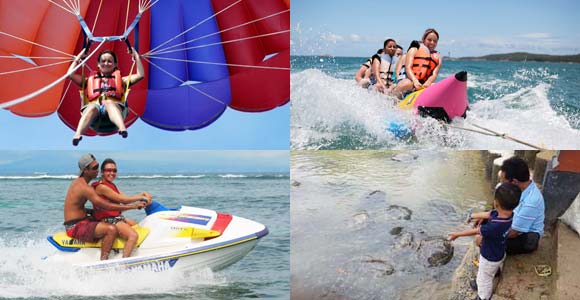 To get a low price for Nusa Dua water sports, besides buying online for each game, you can also buy a water sports package in Bali. In general, there will be at least three types of games in one kind of Bali marine tourism package.
Most travelers who never try marine water sports in Tanjung Benoa Nusa Dua will have this question. Why should I choose three types of rides? One ride alone is enough!
For most travelers who try water sports activities on Tanjung Benoa beach, attempting only one game feel is not enough. Also, the price of Bali watersports packages in Tanjung Benoa Beach becomes much cheaper than the cost of the three games, although you buy online.
Here's an example:
The online price of a parasailing adventure in Bali is IDR 250.000 / person.
The jet ski ride in Bali online price IDR 185.000 / person.
Ocean Walker Tanjung Benoa online price is IDR 325.000 / person.
If you total the price of three Bali water sports Nusa Dua activities above, the amount becomes IDR 760,000 / person. Therefore, to get a lower price for the three types of marine tourism games above, you should reserve the Nusa Dua watersports package number 5.
Read Here 3 Proven Methods To Get Affordable Bali Water Sports Price During Your Vacation.
Thrilling Nusa Dua Watersports Packages at Tanjung Benoa Beach
On the Bali marine sports package, there are three choice Tanjung Benoa Nusa Dua watersport activities, which are as follows:
Parasailing Adventure rides (fly by parachute and can accommodate up to 3 participants).
Seawalker voyage or marine walk activity on the seafloor. Tanjung Benoa sea walker game is also often referred to as Bali Ocean Walker. The ocean walker Tanjung Benoa Bali is highly favored by tourists who want to have a diving experience but do not have scuba diving experience and can not swim.
Drive a jet ski in the middle of the Tanjung Benoa Sea. Participants ride a jet ski accompanied by an instructor for the safety of the participants.
Still interested in trying Nusa Dua Watersports package number 5? If yes, please continue reading this page so that you know further details about Nusa Dua Watersports package number 5.
However, if you want to see other options and prices of other watersport packages, Tanjung Benoa Nusa Dua Bali, please click the link below!
See Here the Choice & Price of the Package Tanjung Benoa Nusa Dua Water Sports Bali.
Free Shuttle Service
Also, booking a Nusa Dua watersports package number 5 will get a free shuttle service. Pickup area and return transfer only in a specific region in Bali. Such as Kuta, Legian, Jimbaran, Ungasan, Nusa Dua, and Tanjung Benoa. So you can save transportation costs from hotels to the Tanjung Benoa tourism area.
Then how much is the Nusa Dua watersports package number 5 price?
Nusa Dua Watersports Package Number 5 Price
Activities
Duration
PRICE IN IDR
Parasailing Adventure
Jet Ski
Seawalker

5 Minutes
15 Minutes
30 Minutes
710.000 / person
Description of Water Sports Package Price
The operator of the watersports games in Tanjung Benoa Beach Nusa Dua is Aditya Watersport Bali.
The minimum booking of water sports Nusa Dua package is two persons.
Includes a life jacket for participants.
Watersports package rates in the above table are the price for one person.
The price of the watersports package included an instructor.
All activities include insurance, participant's insurance provided by Aditya Watersport Tanjung Benoa Bali.
The price of the Tanjung Benoa marine sports package is valid until December-31, 2023.
The online rates of watersports ride on this page are valid only if you book through the Wira Bali Water Sports website.
Publish game prices immediately apply if you visit the activity location and purchase the activities on-site. Without bringing a voucher from Wira Bali Water Sports, our internet price does not implement.
The minimum age of participants is 12 years.
The maximum age of participants is 65 years old.
Read Here, 8 Kids-Friendly Water Sports Activities In Bali With Age Above 7 Years Old.
Nusa Dua Watersports Package Activity Description
The type of parasailing ride in the watersports package is a parasailing adventure (tandem parasailing).
When riding a jet ski, participants are accompanied by an instructor. The jet ski instructor sits behind the participants while riding the jet ski.
Seawalker participants do not require diving skills or the ability to swim. For the safety of Nusa Dua ocean walker participants, the participants while diving will always accompany by professional guides.
Activities Bali ocean walkers/sea walkers do not use complicated equipment; ocean walker participants only use a waterproof helmet. When using a waterproof helmet, Bali ocean walker participants can still breathe freely like breathing on land. Also, you can use glasses during the dive.
If the weather is not possible to do the watersports rides/games, Tanjung Benoa marine sports activity operator will cancel all activities. This is for the safety of the participants.
The cancellation of Tanjung Benoa Watersports activity by the operator due to unfavorable weather, the payment will be refunded in full.
Weather factors are beyond the control of the marine sports activity provider.
Must Read, Three Days Holiday Itinerary In Nusa Dua Bali With Travel Tips.
Booking Nusa Dua Watersports Package Number 5
For complete details and booking of Nusa Dua Watersports Package Number 5, please get in touch with us by:
Email: info@water-sports-bali.com.
WhatsApp Call & Chat: +62 813 3956 3400.
WhatsApp Chat Only: +62 822 4714 8222.
Office Telephone: +62 366 5581096.
You also can fill out the booking form below.
Booking Form