Are you looking for the best white sand beach in Bali, with a hidden location, less crowded and clear seawater? You should visit Amuk Bay Bali.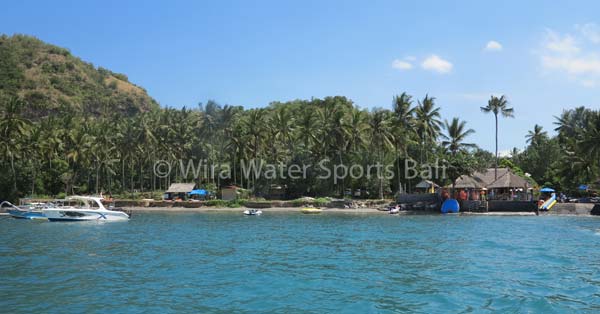 Consequently, the island of Bali has plenty of best beach worth to visit. From white sand beach to black sand beach. Most travelers when they have a holiday in Bali, doing beach activities is a must thing to do in Bali. Most beach activities love by travelers such as surfing, aquatic sports, and scuba diving.
For you who have been to Bali, knows that Kuta beach is the most famous white sand beach in Bali. Due to Kuta Beach Bali so popular among tourist, this makes Kuta beach become crowded. If you do not like a crowded beach, undoubtedly you have gone look for an alternative beach that worth to visit in Bali. The question is, where and what is the name of the beach that has a hidden location in Bali.
Read More On: "Virgin Beach Karangasem Bali" >>>
Hidden Beauty Beach In East Bali
One of the beautiful hidden beach on east Bali that most people do not know it exists is Amuk Bay Bali. One of the reasons Amuk Bay less well-known amount tourists, due to lack of promotion. By this reason, I will try to promote Amuk Bay, Bali among travelers, that beautiful beach in Bali not only located in south part of Bali.
The Location Of Amuk Bay Bali
The area of Amuk Bay Bali is among well know tourist site in east Bali and there are:
Candidasa beach Karangasem.
Padang Bai Beach Karangasem.
Amuk Bay beach located at Antiga village, districts of Manggis, Karangasem regency. To make it easier to find the location of Amuk Bay Karangasem, please use below Google Map.
Road Access to Amuk Bay beach area have use asphalt, and a car can access it. Road traffic congestion in this area is very rare. Many tourists are reluctant to visit Amuk Bay Bali due to its location is far away from major tourist attractions in Bali such as Kuta beach. With 55 kilometers distance from Kuta area to get the area of Amuk Bay Karangasem, seem quite far away. However, without the road traffic congestion and the path of the road has a more straight line, 1 hour 30 minutes drive will not seem far away enough.
Points Of Interest
At this moment Amuk Bay Bali still gets fewer visitors. This mean, the beach will be less crowded and worth to visit for those who are looking for a quiet beach in Bali. When you arrive at Amuk Bay beach, you will see stretches of mix white sand and black sand. When your face to the ocean, on your right side you see rows of colorful Balinese traditional local fishing boats. While on your left hand, you gone see oil transit terminal.
When you visit the Amuk Bay beach, you do not have to be worried about finding a place to eat. In Amuk Bay beach area, widely available food stalls and a place to buy fresh coconut water with a relatively lower price, compared with the rate on the southern part of Bali, such as Kuta beach Bali.
The primary purpose of most travelers visiting Amuk Bay Karangasem, Bali. Is to enjoy the beauty, picturesque underwater scenery. There are many ways that travelers choose to see the natural beauty of Amuk Bay marine life. Such as scuba diving, snorkeling and Bali submarine tour. For those of you who do not want to do activities like snorkeling or scuba diving. Swimming on the beach is also quite convenient. Because the location Amuk Bay beach is in the bay area, this creates small sea waves and very calm seawater.
Location Of Bali Submarine Tour
Due to the beauty of the underwater scenery that Amuk Bay offer, an international scale company called Odyssey Submarine Bali who provide the only one submarine tours in Bali, choose Amuk Bay as their submarine dive location.
To convince you of the scenic beauty of underwater life that Amuk Bay offer, then logically like this! If an international company which provides the only submarine tours in Bali, invests huge money and many travelers do not hesitate to try the Bali submarine activity in Amuk Bay, although the price is quite high. That you can predict, on the beauty of underwater life Amuk Bays has to offer.
Find Out On: "Amuk Bay Submarine Tour" >>>
Transportation & Accommodation
For those who want to visit an Amuk Bay beach without doing water sports activities, you will need to rent a bike or use Bali car rental services due to public transportation is not currently available in Amuk Bay Bali.
If you are looking for the closest accommodation to Amuk beach location, you need to get it at Candidasa. Candidasa within 20 minutes from Amuk Bay beach. Also cheap accommodation widely available at Padang Bai.
Indonesian Language Translation: "Pantai Labuhan Amuk Karangasem" >>>