Most tourists who are vacationing in Bali either with their family or on honeymoon will prioritize following the marine watersport activity in Tanjung Benoa Bali. At Tanjung Benoa Nusa Dua, there are many choices of aquatic sports games at low prices. Then what about you? Do you want to join the Tanjung Benoa Nusa Dua water game activity? If yes, we provide information about the watersports package price in Tanjung Benoa number 6. The Bali watersports package price, includes three types of water sports rides, such as introductory scuba dive, ride a jet ski, and a banana boat ride.
Bahasa Indonesia Harga Paket Wahana Water Sports Di Tanjung Benoa Nomer 6.
Once you know the selection of activities included in the price of the Tanjung Benoa watersport package number 6, are you still interested in trying it?
If you answered yes, please continue reading! Therefore you get precise information about watersports package prices in Tanjung Benoa number 6.
Tanjung Benoa Nusa Dua Point Of Interest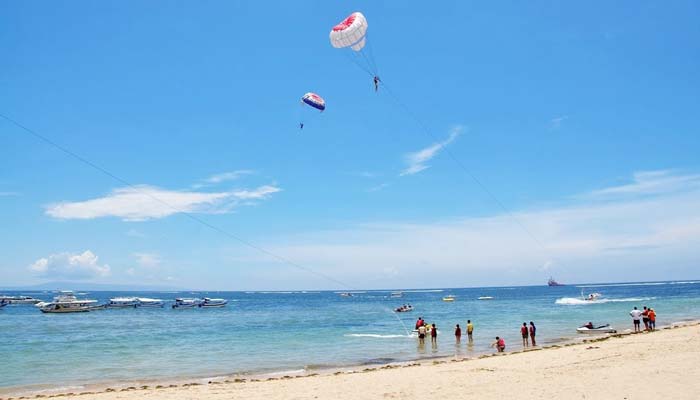 If you are visiting Bali island for the first time for a holiday, you will surely wonder about Tanjung Benoa Nusa Dua tourist attraction. Tanjung Benoa Nusa Dua area is located in southern Bali. Also, Tanjung Benoa is well-known as Bali's center of marine water sports.
Moreover, quite easy to find a hotel in Tanjung Benoa Nusa Dua. Accommodation is available from budget hotels to five-star resorts. Also, finding a place to eat in Tanjung Benoa Bali is effortless, from Western culinary to Asian cuisine.
In addition to being the center of marine tourism activities, the location of the Tanjung Benoa area is also adjacent to the famous tourist attractions in southern Bali. Such as Nusa Dua, Pandawa Beach, Garuda Wisnu Kencana (GWK Bali), Balangan beach, and Jimbaran. As well as being close to Ngurah Rai Bali International Airport.
Read Here 10 Things That Make Nusa Dua Bali Suitable For Family Vacation Spots.
Tanjung Benoa Nusa Dua Watersports
The main attraction of the Tanjung Benoa tourist area is not the beauty of the white sand beach. However, the charm lies in the marine tourism activities on the shore of Tanjung Benoa Bali.
Tanjung Benoa Beach is suitable for maritime tourism activities because Tanjung Benoa Beach's sea waves are very calm, and the wind direction leads to the land.
Also, the depth of the sea at Tanjung Benoa is very shallow. Therefore, it's suitable for beginner watersports participants. So if you are wondering about the best place for watersports in Bali for a beginner, the answer is Tanjung Benoa Nusa Dua.
Tanjung Benoa is next to each other with Nusa Dua tourism area. Therefore, sometimes people call watersports in Tanjung Benoa Nusa Dua water sports.
Plenty of Choices Marine Sports Companies
When you arrive at Tanjung Benoa beach shoreline, you will find many marine tourism providers. The providers offer different Tanjung Benoa water sports prices.
If you take a walk-in booking for aquatic sports activities when arriving at the Tanjung Benoa, you will get the published (printed) price. Of course, the printed rate is much higher if you compare it to watersports Tanjung Benoa online prices.
To make you able to get the lower price of Tanjung Benoa water sports with the same type of rides, it would be nice if you buy online one day in advance.
If you want to know the choice of watersports Tanjung Benoa rides and the game's price, please click the link below! Then you will be redirected to the cost of water sports on the Tanjung Benoa Beach Bali page.
Show It To Me Tanjung Benoa Nusa Dua Water Sports Prices & Activities Choices
Watersports Nusa Dua is Popular Among Tourists
In addition to the three marine sports games above, there are other watersports Nusa Dua tour rides that are popular among tourists, such as:
If you are interested in other choices and prices of marine watersport activities at Tanjung Benoa Nusa Dua Bali, please click on the link below!
Search Here for Choice & Rates of Watersports Activity Packages In Tanjung Benoa Nusa Dua Bali.
Water Sports Package Price In Bali
To get a Tanjung Benoa watersports special offer by buying online, you should book a package of Tanjung Benoa rides. In one Tanjung Benoa watersports package, there are at least three types of marine sports games.
Most of our customers ask, based on our expertise in catering Bali water sports Nusa Dua activities! Why order three aquatic activities? One ride is enough!
Visitors who try Watersports Tanjung Benoa will not feel enough if they only try one type of watersports game. Also, the price of the Watersports Tanjung Benoa package is more efficient when compared with the total cost of three single activities, even though you book online. As an example:
Tanjung Benoa jet ski ride online price, IDR 185.000/person.
Introductory scuba dive online price, IDR 325.000/person.
Tanjung Benoa banana boat rides online prices, IDR 80.000/person.
If you total the cost of the three watersports Tanjung Benoa ride above, the total price is IDR 590.000/person. However, if you order Tanjung Benoa watersports package number 6, the price is lower, with the same game type.
Read Here 3 Proven Ways To Get Cheap Bali Water Sports Price.
Free Shuttle Service, Pick up & Return Transfer
Also, if you book a Tanjung Benoa marine watersports package number 6, you entitle to get a free shuttle service, pick up, and return transfer.
Free hotel shuttle only for specific areas in Bali. Such as Kuta, Legian, Tuban, Jimbaran, Ungasan, Nusa Dua and Tanjung Benoa. Because the watersports package price in Tanjung Benoa number 6 includes a free hotel shuttle, you can save the holiday transportation budget.
Then how much is the watersports package price in Tanjung Benoa number 6?
Watersports Package Price In Tanjung Benoa Number 6
ACTIVITIES
DURATION
PRICE IN IDR
Jet Ski
Banana Boat
Intro Scuba Dive
15 Minutes
15 Minutes
30 Minutes
570.000 / person
Watersports Package Price In Tanjung Benoa Description
The Tanjung Benoa watersports company that provides all of the activities on the package is Aditya Watersport Tanjung Benoa Bali.
To be able to book the marine watersports package, we required a minimum of 2 participants.
A life jacket is included in the price of the Bali watersport and tour package.
The price of the Bali watersport and tour package on the table above is for one person.
The package price of the watersports tour includes an instructor.
Bali watersports and tour packages include insurance for participants. The watersports participant insurance provider is Aditya Watersport Bali.
Watersports package price In Tanjung Benoa number 6 is valid until December-31, 2023.
On this page, watersports package prices in Tanjung Benoa are valid if you book the package through the Wira Bali Water Sports website.
Publish prices apply if you buy the water sports activity on-site without bringing the voucher from Wira Bali Water Sports. When customers get a published price to make a walk-in booking at the watersports location and insist on getting our online internet price, we have the full right to refuse the customer's booking.
The minimum age of participants is 17 years.
The maximum age of participants is 65 years old.
Activities Description In Watersport Packages
Riding a jet ski, accompanied by a jet ski instructor that sits behind the participants.
The introductory scuba dive requires participants to have swimming skills.
For the safety of intro scuba dive participants, participants will always be accompanied by professional scuba dive guides while diving. See Here, 6 Things You Should Know Before Diving In Bali For Beginners.
If severe weather occurs and makes watersports activity unsafe, the watersports Tanjung Benoa activity provider/operator will cancel the event. This is for the safety of the participants.
Cancellation of Tanjung Benoa watersports game by the operator, due to weather factor, customer payment will be refunded.
Weather constraints are beyond the control of watersports tour providers.
Booking Watersports Package Tanjung Benoa 6
For complete details and booking of Watersports Package Tanjung Benoa number 6, please get in touch with us by:
Email: info@water-sports-bali.com
WhatsApp Call & Chat: +62 813 3956 3400.
WhatsApp Chat Only: +62 822 4714 8222.
Office Telephone: +62 366 5581096.
You also can fill out the booking form below.
Booking Form
Show Me Nusa Dua Watersports Package Number 5, With Single Parasailing, Jet Ski & Seawalker.
Must Read 10 Bali Water Sports Games Favorites By Indian Travelers While On Vacation.