I am sure you are planning a holiday to Bali and interested in following Bali marine water sports activities. On this page, Wira Bali Watersports offer watersport Bali promo package no.9. The maritime water sports activities location is at Tanjung Benoa Beach Nusa Dua Bali. In Watersport Bali promo package no.9, activities include banana boat rides, jet skis, and tours to turtle island Tanjung Benoa Bali. The price we offer to Tanjung Benoa marine water sports no.9 customers is IDR 495.000/person. In addition to the low promo price, you will get free shuttle service by purchasing the Tanjung Benoa watersport package.
Bahasa Indonesia, Paket Promo Watersport Bali No.9, Gratis Antar Jemput.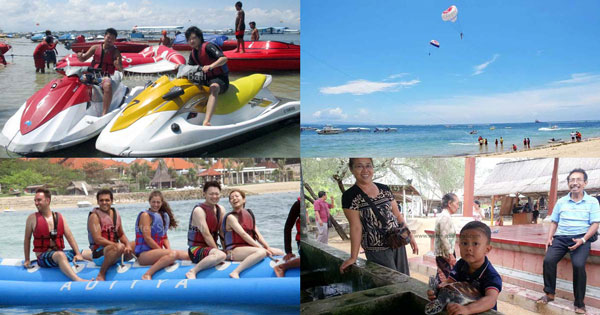 Are you still interested in trying Bali marine water sports package No.9? If yes, please continue reading this page for further detailed information about Tanjung Benoa Bali's watersport package. The information you will get such as:
Show To Me Complete Choices Of Bali Marine WaterSports Package In Tanjung Benoa Accompanied Latest Price.
Bali Watersports Activities Location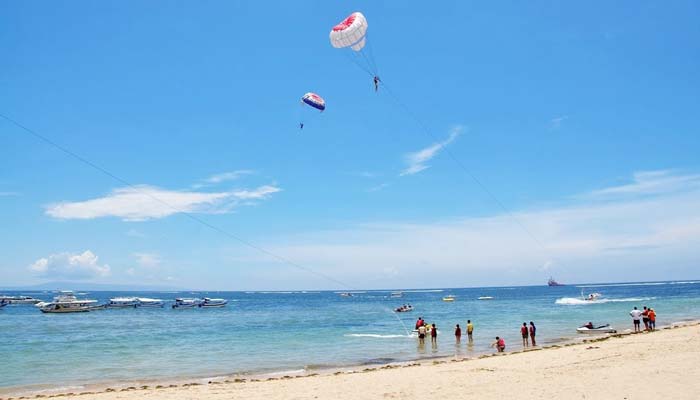 There are many locations to have marine water activities in Bali. Such as Nusa Lembongan, Nusa Penida, Sanur Beach, and Tanjung Benoa beach.
Even though there are many areas for marine tourism in Bali, the favourite maritime sports location is Tanjung Benoa Beach. Aquatic sports activities in Tanjung Benoa beach are known as watersport Tanjung Benoa Bali.
Several things make Tanjung Benoa Beach the best beach for watersports in Bali. There are:
Tanjung Benoa Beach is located in the southern area of Bali. Therefore after the watersports activity on Tanjung Benoa beach, travellers can have a holiday to other south Bali attractions in one day.
There are many famous sights in southern Bali, such as Pandawa Beach, Uluwatu temple, Garuda Wisnu Kencana (GWK Bali), and Jimbaran Beach.
The distance from Ngurah Rai Airport to the Tanjung Benoa tourism area only covers a range of 16 kilometres. However, using the Bali Mandara toll road would be best.
Most marine tourism rides on Tanjung Benoa Beach are intended for beginner participants. So if you are an expert in marine watersports, this is not an appropriate place.
The price of Tanjung Benoa Watersports is lower compared to other locations in Bali.
See Here the Activities & Price List of Marine Watersport In Tanjung Benoa Bali.
Game Details On Watersport Bali Promo Package No.9
As you can see above, in the watersport Bali promo package No.9, there are marine sports activities such as banana boat ride, jet ski, and tour to Tanjung Benoa turtle island. I am convinced you to know about the banana boat ride, jet ski ride, and trip to Tanjung Benoa turtle island. If so, please scroll down to see everything included if you book the Bali watersports package no.9.
However, if you are unfamiliar with the banana boat, jet ski, and tour of Tanjung Benoa turtle island, please read the information below. The below info is about game details on Watersport Bali promo package No.9.
1. Ride the Banana Boat
A Banana boat is a type of inflatable watercraft. At a glimpse, the inflatable craft looks like a banana, so it is called a banana boat. One banana boat can accommodate up to six passengers, and to move a banana boat on the sea surface, the banana boat is pulled by a speedboat.
The banana boat ride activity is the second most famous marine sport in Tanjung Benoa, Bali. Due to children, participants can attend banana boat rides. The number one most popular water activity in Tanjung Benoa is parasailing Bali. Some of you will ask: I can not swim; is it safe to ride a banana boat?
To follow the banana boat activity, participants are not required to have swimming ability because every participant who boarded the banana boat must wear a life jacket. In case the passengers fell into the water from the watercraft, participants only needed to relax and do do-nothings; it would float on its own due to the life jacket that participants wore.
But not everyone can avoid panic when falling from a boat. Therefore, participants will be accompanied by an instructor who sits on the banana boat in every banana watercraft.
See Here Banana Boat Activity Ride Price At Tanjung Benoa Beach Bali.
2. Jet Skiing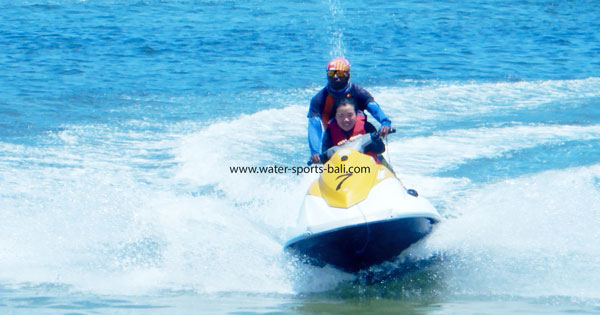 Driving a jet ski is almost like riding a motorcycle. You can only jump on the water's surface while riding a jet ski. Vacationists who like to boost adrenaline will favour jet skiing in Tanjung Benoa. Also, participants must have at least some controlling skills.
Like a banana boat ride, every jet ki participant must wear a life jacket. For safety, every jet ski ride participant is accompanied by a jet ski instructor who sits behind the participants. Therefore, this marine sports package is unsuitable if you want a jet ski ride without an instructor in Tanjung Benoa.
Read Here Jet Skiing Price In Tanjung Benoa Beach Bali With & Without An Instructor.
3. Tour To Tanjung Benoa Turtle Island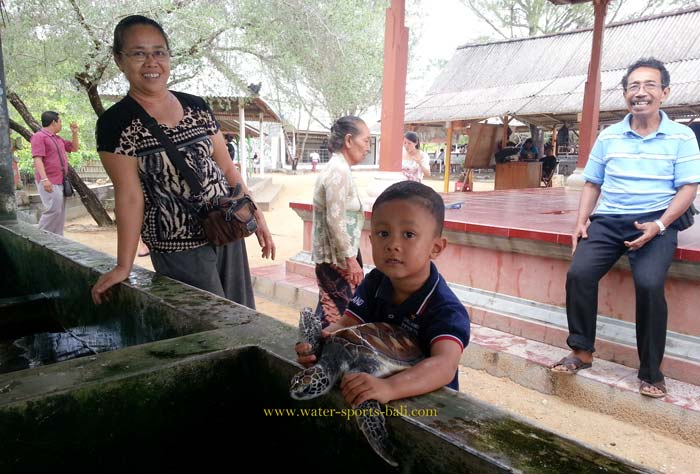 Turtle Island islands in Tanjung Benoa and visited by many tourists who vacation with family and children. Also, the turtle island in Tanjung Benoa is loved by tourists on honeymoon. Then what is on the Turtle Island Tanjung Benoa?
Turtle Island Tanjung Benoa is a green turtle conservation site. As you might know, green turtle existence is now rare. Therefore, when you visit turtle island in Tanjung Benoa, you will see plenty of green turtles, from small to large.
Most of the children who vacation on Bali turtle island are always interested in being able to hold green turtles. Your children are allowed to carry the green turtle but are not allowed to take it home.
In addition to green turtles, there are other animals in this conservation site, such as pythons, hawks, and other animals.
Most tourists interested in having a holiday at the green turtle conservation in Tanjung Benoa will take the sea route. The sea route uses a glass-bottom boat. Glass bottom boat will depart from Tanjung Benoa Beach and travel 15 minutes to reach the green turtle conservation area.
The ship was named a glass-bottom boat because there was glass at the bottom. The glass on the bottom of the boat allows passengers to see the ocean floor.
See Here The Cost Price To Join the Glass Bottom Boat To Turtle Island Tanjung Benoa.
Price Of Watersport Bali Promo Package No.9
ACTIVITIES
DURATION
PRICE IN IDR
Banana Boat
Jet Ski
Turtle Island Tour

15 Minutes
15 Minutes
1 hour
495.000 / person
Tanjung Benoa Watersport Promo Packages Description
Aditya Water Sports Bali provides marine tourism games in Tanjung Benoa Nusa Dua.
Minimum of two people to be able to book the Bali watersports package.
Life jacket included in the price of the Tanjung Benoa watersports package.
The price quoted in the above table is the price of the Bali Watersports package for one person.
The Bali water sports package price includes the instructor.
The Watersports tour package price includes insurance for participants. Aditya Tanjung Benoa Watersport provides watersports rides insurance.
The price of the Bali watersports tour package at Tanjung Benoa is valid until

December-31, 2023

.
The online rates for watersports packages on this page are valid if customers make a booking via Wira Bali Water Sports.
The published price of Tanjung Benoa Watersports will be directly applicable if customers come to the location of the activity. Then make reservations on the site without having a Wira Bali Water Sports voucher.
The age of participants who can participate in the Tanjung Benoa Watersports package is at least seven years old.
The maximum age of Tanjung Benoa water sports participants is 65 years old.
Participants will get a FREE shuttle. Free shuttle includes the area of Kuta, Legian, Tuban, Jimbaran, Kedonganan, Ungasan, Mumbul, Sawangan, Nusa Dua, Kampial, Kutuh, and Tanjung Benoa.
Read More, "10 Best Hang Out Places In Tanjung Benoa Bali Worth To Try – Hipster Guide To Bali" >>>
Watersport Bali Promo Package Activity Description
When riding a jet ski, each participant is accompanied by a jet ski instructor who sits behind the participants.
There is no extra charge for the jet ski instructor.
One glass-bottom boat has a maximum capacity of 9 people.
The Tanjung Benoa water sports package prices only include the cost of using a glass-bottom boat. The water sports package does not cover the cost of admission to enter the green turtle breeding in Tanjung Benoa.
Entrance tickets to Tanjung Benoa turtle island can be purchased directly.
If the weather is not supported, then the provider/operator will cancel the marine water sports activities in Tanjung Benoa will be cancelled by the provider/operator. It aims to maintain the safety and security of participants.
Cancellation of the Watersport Bali promo package by the provider is due to weather factors, then all Bali activities payments from customers will be fully refunded.
Weather constraints are beyond our control.
If the type of water sports game contained in the cheap watersports package Bali no.9 is not following your wishes, don't hesitate to contact us to make activity changes in the Bali Watersport promo package!
You can reach us at +6281 339 563 400 or +62 822 4714 8222. Changes in Bali activities included in the water sports tour package affect the price of the Tanjung Benoa water sports packages.
Booking Watersport Bali Promo Package No.9
For complete details and booking of Watersport Bali promo package number 9, please get in touch with us by:
Email: info@water-sports-bali.com
WhatsApp Call & Chat: +6281 339 563 400.
WhatsApp Chat Only: +62 822 4714 8222.
Office Telephone: +62 366 5581096.
You also can fill out the booking form below.
Booking Form
Below Marine Water Activities Packages Might Suit You