Most of the time, the weather is sunny, and there are many beautiful beaches in Bali with warm tropical waters. Therefore, making Bali a paradise for marine tourism activities. Aquatic tourism activities are famous among tourists, like scuba diving, snorkelling, jet skiing, and many other ventures. Suppose you are on vacation in Bali and want to try marine tourism activities. Such as a banana boat, jet ski, rolling donut ride, and tour to Turtle Island; please continue reading this page! Because this page contains information about the game choice and the price of the marine activities package Nusa Dua number 11. The details of the information that you will find, such as:
Tanjung Benoa Nusa Dua points of interest.
Favourite holiday activities in Tanjung Benoa Nusa Dua.
Guide on how to get the low price of Tanjung Benoa Nusa Dua watersports activities.
Price of marine activities package Nusa Dua number 11.
Bahasa Indonesia, "Paket Wisata Bahari Tanjung Benoa No.11 Free Antar Jemput" >>>
Tanjung Benoa Nusa Dua Point Of Interest
If vacationists want to see and follow marine leisure activities, the Tanjung Benoa Nusa Dua tourism area is Bali's most popular holiday destination. Along Jalan Pratama Tanjung Benoa, particularly on the Tanjung Benoa beach coastline, visitors will find many Tanjung Benoa watersport rides providers/companies.
In addition to many water sports activities providers, every company in Tanjung Benoa Nusa Dua provides various marine games. All activities are performed on the beach or in Tanjung Benoa Nusa Dua waters.
Most marine activities in Tanjung Benoa use certified equipment and professionally trained instructor. Also, the watersport company in Tanjung Benoa Bali includes insurance for participants. The insurance for participants is covered in the price of Nusa Dua watersport activities.
Travellers who come directly to the activity location usually bargain the price of the Nusa Dua watersport activities.
Moreover, vacationists will get a published price for a walk-in booking. Therefore, you get a low cost for Bali watersports activities. So, make sure to reserve Bali marine activities online before heading to Tanjung Benoa Nusa Dua.
Find Out, "Tanjung Benoa Beach Bali – How To Get There & Best Things To Do" >>>
Favourite Vacation Activities In Tanjung Benoa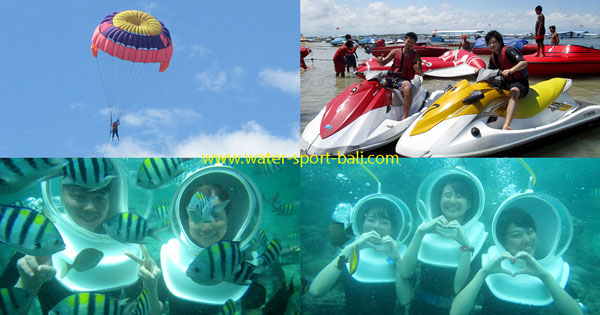 Even though there are many marine activities in Tanjung Benoa, not all aquatic activities are popular among travellers. Therefore, the questions now are, what are the maritime activities in Tanjung Benoa that are popular among vacationists? Here are the most popular marine games in Tanjung Benoa Nusa Dua!
List of Popular Things To Do In Nusa Dua
Banana Boat Ride
Jet Ski Ride
Snorkelling.
Turtle Island tour.
If you want to know the complete list of activities and the Tanjung Benoa watersport price list, please click the link below! However, the Tanjung Benoa watersport price list shown is the promotional watersports price in Bali. Promo watersports price only customers get if they make marine activities booking at Wira Bali Water Sports.
Show To Me, "Game Choices & Tanjung Benoa Watersport Price List" >>>
How To Get Cheap Nusa Dua Water Sports Prices?
As mentioned above, make a walk-in booking at the marine activities location. Customers will get a published price of Nusa Dua Watersports, which is much higher than an online price. Therefore, avoid making a direct reservation at Tanjung Benoa Nusa Dua marine activities location.
The best way to get a low-cost Tanjung Benoa watersport is to book online! However, you should know the recommended website for buying marine activities in Tanjung Benoa Nusa Dua.
When you are going to buy Bali marine activities through the internet, there is one thing that you need to be aware of!
This is a refund policy if your vacation plan in Bali changes and necessitates cancelling marine tourism activities. Book on a website that provides a full refund policy if the booking cancellation is made one day before the activity date.
Make a Bali water sports package booking for a discount, which is much cheaper than the single activities online price. The total activities price becomes more affordable by ordering a watersport package for events in Tanjung Benoa.
Your transportation budget from your hotel to Tanjung Benoa and return from Tanjung Benoa to your hotel. Also, booking a Bali watersport package will give you a free shuttle. So you can save money on transportation.
Read Here, "Three Days Holiday Itinerary In Nusa Dua Bali With Tips & Guide" >>>
Nusa Dua Water Sports Package Prices
There are many types of Nusa Dua watersports packages and various kinds of aquatic activities on the package.
Also, the price is varied for each Nusa Dua watersports package. For example, Wira Bali water sport offers 15 types of Bali watersports packages.
All of our watersports packages with different activity choices as well as varying prices. Also, every purchase of the Bali water sports package we offer will get a free shuttle in specific areas in Bali.
Show To Me, "List of 15 Types of Choice & Price of Watersport Package in Tanjung Benoa Nusa Dua Bali" >>>
Suppose you are interested in joining marine activities in Bali, for example, banana boat ride, jet ski ride, rolling donut watersport, and turtle island conservation tour. Then you should book an aquatic activities package in Nusa Dua no. 11. What is the price of marine activities package in Nusa Dua number 11?
Marine Activities Package Nusa Dua No.11 Price
ACTIVITIES
DURATION
PRICE IN IDR
Banana Boat
Jet Ski
Donut Ride
Turtle Island Tour
15 Minutes
15 Minutes
15 Minutes
1 Hour
570.000 / person
Marine Activities Package Nusa Dua Description
The minimum booking for the marine activities package Nusa Dua is two people.
The rates on the table are the price of the Tanjung Benoa watersports package for one person.
The watersports company is Aditya Water Sports Tanjung Benoa Bali.
The package price of the watersports tour is valid until December-31, 2023.
On this page, the ticket price for watersport packages at Tanjung Benoa Bali is an online price. Online rates apply if customers book through the Wira Water Sports Bali website.
The published price of the Tanjung Benoa watersport package applies if customers come to the activities location and make a direct booking at the activities location without bringing a voucher from Wira Water Sports Bali.
Suppose customers previously do not make an online booking with Wira Water Sports Bali, and at the location of watersports, contact us to create an online reservation to avoid the published price. In that case, we have the right to refuse customers' bookings.
The minimum age of participants for watersport activities is eight years.
The maximum participant age for Tanjung Benoa water sport is 65 years old.
Bali Watersport Package Price Included
All types of equipment are used for each marine activity in Tanjung Benoa.
The use of a life jacket is included in the price of the Bali Watersports promo package.
The price of the Tanjung Benoa watersports package includes the instructor.
Nusa Dua beach water sports prices include locker facilities, towels, changing rooms & showers.
The Nusa Dua water sports prices include insurance for participants. Protection for participants is provided by the marine activities provider, which is Aditya Water Sports Bali.
Book a Tanjung Benoa watersports package; at least two participants with the same box get a FREE shuttle.
Free shuttle only on Jimbaran, Tuban, Ungasan, Nusa Dua, Tanjung Benoa, Legian, and Kuta.
If the pickup area is outside the abovementioned area, there will be an additional charge for the shuttle.
Read More, "Watersports Package No 12 Price In Bali Nusa Dua" >>>
Watersports Packages Activities Changes Policy
Customers can change the type of water rides contained in the Nusa Dua watersport package, customized to the customer's wishes.
Terms of activities change; in 1 type of watersports package, there are three games, and a minimum of two people are booked. Alternatively, in a marine tourism package, two maritime activities are secured by a minimum of 3 participants.
Bali Watersports customized package price will be informed once we know the variety of games contained in the Tanjung Benoa watersports package that customers want.
Bali Watersports Promo Packages Game Description
The duration of each game is on the price table of Watersport Bali.
All activities take place in Tanjung Benoa Beach Nusa Dua Bali.
Participants ride a jet ski accompanied by one instructor who sits behind the participants. The presence of instructors while riding a jet ski because of heavy marine traffic in Tanjung Benoa Bali.
Turtle Island Tour Bali is a holiday activity to the location of green turtle conservation. Bali green turtle conservation, located on Tanjung Benoa, was reached using a glass-bottom boat. The entry fee for Tanjung Benoa turtle island is excluded from the Nusa Dua watersports package price.
The entrance fee to Tanjung Benoa turtle island is IDR 10,000 / per adult and IDR 5,000 / per child.
Cancellation Policy of Tanjung Benoa Marine Tour Packages
Severe weather can cancel activities on Tanjung Benoa Beach. Also, severe weather can happen anytime without prior notice to customers.
If there is severe weather, for the safety of the participants, the Tanjung Benoa water sports company will cancel all activities.
The customer's payments are refunded if the provider/company cancels watersport activity due to bad weather.
Weather factors are beyond the control of the water sports company in Tanjung Benoa.
If the customer wishes to change the activity date in Tanjung Benoa, it can be done one day before the confirmed appointment and before 18:00 (Bali time).
Cancellation of marine activities package Nusa Dua one day before the booking date and done before 18:00, and the payment refunded 100%.
Cancellation of marine activities package Nusa Dua done on the date of confirming reservation charged 100% cancellation of the price of Bali Watersport promo package booked.
Also, No show for water activities. Nusa Dua Bali charged a 100% cancellation fee.
Booking Marine Activities Package Nusa Dua No.11
For complete details and booking of Bali water sports package number 11, please get in touch with us by:
Email: info@water-sports-bali.com
Phone Calls or WhatsApp Chat: +62813-3956-3400.
WhatsApp Chat Only: +62822-4714-8222.
Office Telephone: +62 366 5581096.
You also can fill out the booking form below.
Booking Form
Maybe This Marine Activities Package Nusa Dua That You Like
> Watersports Package Nusa Dua No.10, Banana Boat, Parasailing, Turtle Island Tour.
> Bali Marine Water Sports Package No.8, Parasailing, Banana Boat, Jet Ski, Flying Fish.