Hello, are you planning a vacation to Bali, or are you on holiday in Bali and choose to stay in the tourist area of Seminyak Bali? If so, I am sure you will be looking for an excellent place to eat in the Seminyak area. One of the best places to dine in Seminyak that provides Indonesian specialties at affordable prices, is Made's Warung in Seminyak.
Bahasa Indonesia, "Warung Made Seminyak" >>>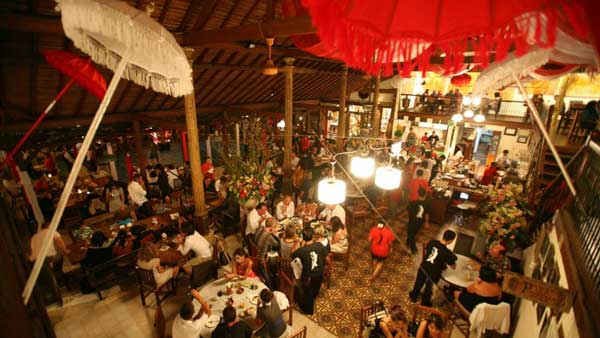 Suppose you are staying in the Seminyak area and looking for an excellent and halal place to eat in Bali. So the Made Warung is one of the halal places to eat in Seminyak Bali that I recommend you to try.
Are you interested in trying to eat at Made's Warung in Seminyak? If so, continue reading this page! Because on this page I will write more detailed information about Made's Warung in Seminyak. Information that you will get such as:
Made's Warung location in Seminyak.
Indonesian Food Menu Choices.
Food Prices & Opening Hours.
Read More, "Bali Halal Spicy Rice – Bu Andika Food Stall Kuta" >>>
Location of Made's Warung Seminyak
In providing car rental with drivers in Bali, most of our customers are Indonesian tourists. We often get information from our drivers; many Indonesian and Malaysian tourists want to try Made's Warung's special menu.
There are five locations of Made's Warung in Bali, namely:
Made's Warung in Seminyak.
At Kuta Bali tourist area.
Made's Warung at Benoa harbor.
Berawa Canggu.
The newest one is Ngurah Rai airport.
But precisely for this page, I only write about Made's Warung, which is in Seminyak, Bali.
Made's Warung restaurant already famous, the location very strategically, and has become one of the hangout spots in Seminyak. Made Warung in Seminyak, the address is Jalan Raya Seminyak, Banjar Seminyak, Kuta.
To create more accessible for you to find the location of Made Warung in Seminyak, please use the Google Map by clicking the link below!
See, "Location On Google Map" >>>
Best Way To Get Around In Seminyak
If you never visited Bali island before and planned to visit the Seminyak area, you must be wondering! What is the best way to get around the Seminyak Bali area?
The main road in the Seminyak area is narrow with two-way traffic. During peak hours, traffic jam always occurs. There is two main transportation to get around the Seminyak area: public transport and private transport.
Find Here, "The Best Things To Do In Canggu Bali" >>>
Public Transport
Public transport in Seminyak such as meter taxi, online taxis. For online taxis, there is car online taxi such as Grab and Gojek for motorcycle taxi.
Ride a Scooter
If you are familiar with Bali road traffic and used to ride a scooter, getting a scooter rental is the best way to get around the Seminyak area. Please remember to wear a helmet when riding a scooter in Bali. Also, you need a Worldwide driving license to ride a scooter in Bali.
Finding a scooter rental in Bali is effortless, especially in the Seminyak area. All you require to perform is to use the Google search engine to find a scooter hire in Seminyak. The average scooter rental price in Seminyak around IDR 80,000/24 hours usage. Please note, there is less fuel on the tank, so fill your tank with fuel before traveling far.
Find Here, "Top Things To Do In Seminyak Bali" >>>
Get Car Hire With Driver
Suppose you are not familiar with riding a scooter and don't want to drive. Getting a car hire with a driver in Seminyak Bali is the best way to get around.
Suppose you are finding a car rental with a driver in Seminyak also very easy. Use Google, and you will find lots of car hire with driver in Seminyak. The cost for car hire with driver in Seminyak depends on the type of car you want to use. For example, Toyota Avanza 6 seater cost IDR 600,000/10 hours with driver services and fuel.
Find Here, "Guide On How To Get Around In Bali" >>>
Made's Warung Seminyak Indonesian Food Menu Choices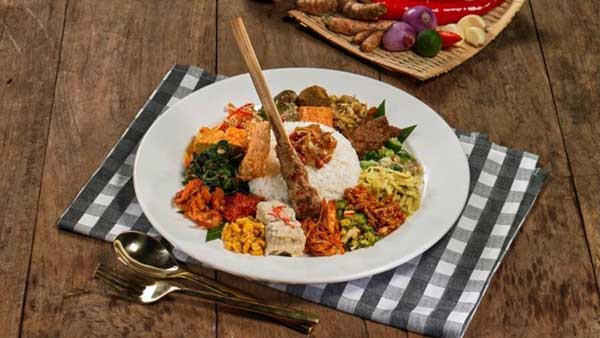 Almost every day, this place to eat with typical Indonesian culinary always busy with visitors, especially during the school holidays, Eid, Christmas, and New Year. Domestic and international tourists mingle to try Balinese cuisine flavors at this restaurant, which has existed since 1969.
The place is quite large and comfortable, very suitable for families on vacation in Bali. The restaurant building design with Balinese characteristics, such as decorations, uses many black and white fabrics and other Balinese handicrafts.
As one of the favorite places to eat in Bali, the menu offered by Made Warung is quite varied. Starting from Indonesian food, vegetarian menus, Japanese dishes, Thai menus to western food are also available. Of all the menus at Made's Warung, Indonesian tourists' most famous and favorite are the mixed rice menu.
There are also various vegetables such as eggplant, long beans, and sweet corn, cooked in Balinese style. The tofu is processed using yellow spices, the salted fish is crunchy and tasty, and the red chili sauce is excellent for lunch.
Another menu that is also a favorite of Indonesian and Malaysian tourists is satay lilit (mint satay), made from beef, and satay lilit made from chicken. The sate lilit is made with Balinese spices that have been mashed. Unlike the usual satay, Warung Made's sate lilit has a sweet and savory taste.
Apart from mixed rice, there is also a fried rice menu, Gado-Gado, fish pepes, and steak. Many international tourists also try these Indonesian specialties because the taste is not too spicy and suits their palate.
Read More, "Halal Breakfast Spot In Bali With Local Cuisine At Affordable Cost" >>>
Food Prices & Opening Hours Made's Warung Seminyak
Made's Warung in Seminyak food prices start from IDR 10,000 – IDR 360,000 depending on the menu the customer ordered. There are two types of mixed rice at Made's Warung, regular and special mixed rice. The price of regular mixed rice is IDR 43,000, which contains stem rice, various Balinese cooked vegetables, tofu, and fried tempeh. At the same time, the special mixed rice menu costs IDR 68,000 per portion.
The restaurant opening hours are pretty long, from 10:00 – 24:00. The most crowded customer visit time to this restaurant is from 20:00 – 22:00.
Read More, "Pearl Bali French Restaurant Legian" >>>
Bali Fun Activities
Besides having a vacation to tourist attractions in Bali and enjoying culinary tours. It's a good idea to try marine tourism activities on the white sand beach of Tanjung Benoa, known as the Tanjung Benoa watersport.
We offer a variety of watersport packages in Bali, of course, at competitive prices without neglecting service quality.
Besides marine water sports, we also provide Bali river rafting at affordable prices. For your information, there are three rivers suitable for river rafting in Bali. There are;