One of the most favorite holiday activities while on vacation in Bali is marine tourism activity. Maritime tourism activity in Bali, better known as Bali water sports. How about you? Are you also interested in trying water tourism activities in Bali during your holiday? I am sure you answered yes because you are looking for information about the price of the Bali water sports packages. We, Wira Water Sports Bali, offer the watersports package Nusa Dua Bali number 10 at affordable prices. In the watersports package Nusa Dua Bali number 10, there are marine activities such as; Parasailing adventures, Banana Boat rides, and tours to Turtle Island Bali. Also, the price of the Nusa Dua watersports package that we offer includes a free shuttle.
Bahasa Indonesia, Harga Paket Promo Wahana Watersport Bali No.10 – Gratis Antar Jemput.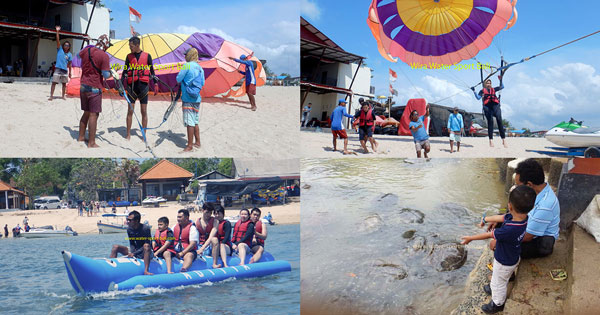 Are you still interested in following our water game promo package in Bali? If so, please continue reading this page, as there is information about:
Show To Me The Choice of the Bali Water Sports Package At Tanjung Benoa Beach Nusa Dua Latest Price.
Bali Watersport Activities Location
There are many places for water tourism activities on the island of Bali, but they are divided into three general categories.
Water tourism rides take place in the lake; one of them is in Lake Beratan Bedugul.
Recreational tours take place on the river, and most of the activities are white water rafting, such as the Ayung River rafting Ubud and Telaga Waja River.
Water tourism activities with game locations on the beach or at sea are better known as marine tourism.
Especially on this page, we will inform you about marine tourism activities at the beach or on the sea of Tanjung Benoa Nusa Dua Bali.
Read Here 10 Bali Water Sports Games Favorites By Indian Travelers While On Vacation.
Tanjung Benoa Nusa Dua Best Place For Watersports In Bali
Bali Island has many locations for marine tourism activities, such as Nusa Lembongan, Nusa Penida Island, Nusa Ceningan, Sanur Beach, and Tanjung Benoa Nusa Dua.
Although there are many choices of places for marine tourism activities, Tanjung Benoa Nusa Dua is the favorite location when trying maritime tourism activities in Bali.
Several reasons make Tanjung Benoa Nusa Dua the best place for marine tourism activities in Bali.
Tanjung Benoa Nusa Dua's location is strategic because it is adjacent to Ngurah Rai International Airport. Also, Tanjung Benoa beaches and Nusa Dua are adjacent to the famous tourist attractions in south Bali. Makes many tourists in one day can enjoy Nusa Dua water sports, then continue their holiday to the tourist attraction in southern Bali.
There are many companies providing water sports games. Many companies are providing marine tourism activities along the coastline of Tanjung Benoa Nusa Dua. Most Nusa Dua watersports companies offer the same type of water sports game. Therefore, it makes the competition in the provision of watersports activities in Tanjung Benoa Nusa Dua very heavy. So it makes Tanjung Benoa Nusa Dua beach water sports prices cheap.
There are many types of marine tourism games on the Tanjung Benoa beach in Nusa Dua.
The type of game for Tanjung Benoa watersports is intended for beginners or tourists with no experience in marine tourism activities.
See Here for Game Options & Nusa Dua Beach Water Sports Prices.
Game Details In Watersports Package Nusa Dua No.10
As we write at the beginning of the paragraph, in the watersports package Nusa Dua number 10, there is a Parasailing adventure, a Banana Boat ride, and a tour of the turtle island Bali.
Most of you are familiar with the games, including the Tanjung Benoa watersports package number 10. Therefore, please scroll to the bottom of the page to see the prices of Nusa Dua Beach water sports package No.10.
Suppose you are unfamiliar with the game rides contained in the Nusa Dua watersport package ten below. In that case, detailed information about the game is included in the watersport package Tanjung Benoa Nusa Dua No. 10.
1. Parasailing Adventures
The type of parasailing rides added in the Tanjung Benoa Watersport promo package number 10 is tandem parasailing or known as parasailing adventures.
Parasailing adventures can accommodate 3 participants flying at once parachute. Every parasailing participant is required to wear a life jacket and a strap. The strap that participants wear is attached to the parasailing. Then the speedboat will attract parasailing, which allows participants to fly. The duration of the tandem parasailing ride is 5 minutes.
If you want your kids to join Bali water sports Nusa Dua package number 10, you will undoubtedly ask! Are kids allowed to participate in tandem parasailing activities? Is there an age limit for kids who want to participate in tandem parasailing in Bali?
The three types of game rides in the Tanjung Benoa watersport, package number 10, are intended for tourists who have a vacation with children.
Kids can participate in tandem parasailing activities because their parents will fly with the children. The minimum age limit for children joining the parasailing adventures in Bali is 10 years.
See Here, Single Parasailing Price At Tanjung Benoa Nusa Dua Bali.
Single Parasailing VS Parasailing Adventure
For your information, there are two varieties of parasailing rides in Tanjung Benoa Nusa Dua Bali.
There is one person parasailing, and there is a tandem parasailing. Tandem parasailing activity is familiar by the name Bali parasailing adventures.
Then what is the difference between single parasailing and a parasailing adventure? Show me The Difference Between Single Parasailing And Parasailing Adventure In Tanjung Benoa Bali.
2. Banana Boat Ride
A banana boat ride in Tanjung Benoa is one of the marine tourism activities in Bali. Also, most tourists consider Banana Boat Tanjung Benoa as one of the fun things to do in Bali with family and children.
The inflatable boat resembles a banana; therefore, it is called a banana boat.
For your information, the banana boat ride in Tanjung Benoa beaches Nusa Dua is the most popular Tanjung Benoa watersport game. Especially popular among Indian and Singaporean tourists who are vacationing with kids in Bali. Due to the banana boat ride, Tanjung Benoa allows children to join at a minimum age of 7.
Find Out Here The Latest Price Of a Banana Boat Activity Ride In Tanjung Benoa Nusa Dua Bali.
Is It The Banana Boat Tanjung Benoa Safe For Children
The next question is, Is the banana boat Tanjung Benoa safe for children and participants who cannot swim?
This question is often from customers who book a marine watersports package in Tanjung Benoa. The banana boat ride is very safe for children and people who cannot swim because each participant is required to wear a life jacket. The life jacket provides at the activity site without additional cost.
If participants fall into the water, they only need to calm down and float on their own. However, most banana boat ride participants panic when falling into the water. Therefore, during the boat banana boat ride, there will be an instructor who sits on the banana boat vessel joining the participants.
If any participant fell into the water, the instructor would jump in and help the participants get back onto the boat.
People Also Want To Know, 'Snorkeling Price At Tanjung Benoa Beach Nusa Dua Bali.
2. Vacation To Turtle Conservation Bali
Bali Turtle conservation is well known as Bali turtle island, mainly conserving green turtles. Turtle Conservation Bali is located on the west coast of the Tanjung Benoa peninsula. Bali turtle island in Tanjung Benoa is a list of places to visit in Bali if you have a vacation with family and kids.
In the turtle conservation at Tanjung Benoa Bali, you and your family can see a rare green turtle. From an enormous green turtle, and some are still small. Children are allowed to touch and hold the green turtles. In addition to the green turtle, you can also see other animals at turtle conservation at Tanjung Benoa Bali, such as hawks, pythons, and lizards.
Most travelers that desire to have a vacation to the green turtle conservation center in Tanjung Benoa prefer to use a glass-bottom boat. Instead of through the main road.
A glass bottom boat is a type of boat. At the bottom of the vessel, there is a glass floor. Due to using glass on the vessel floor, passengers can see the views of the seafloor through the vessel floor.
Search Here, Glass Bottom Boat Ticket Price At Tanjung Benoa Bali To Turtle Island.
Price Watersports Package Nusa Dua Bali No.10
ACTIVITIES
DURATION
PRICE IN IDR
Banana Boat
Parasailing Adventure
Turtle Island Tour
15 Minutes
5 Minutes
1 Hour
560.000 / person
Bali Activity Packages Booking Requirement
Watersports package Nusa Dua required two people minimum booking.
The rates on the table are the price of the Bali watersport promo package for one person.
The price of the Nusa Dua water sports tour package is valid until

December-31, 2023

.
Tanjung Benoa Nusa Dua watersport package price on this page is Wira Water Sports Bali online, only valid if booked through Wira Bali Water Sports.
The published price of Tanjung Benoa Nusa Dua watersport is immediately valid if customers come to the activity location and book marine activities on-site without displaying vouchers from Wira Bali Water Sports.
Participants who do not place an online reservation at Wira Bali Water Sports, then at the activity location, contact us to make a booking with us to avoid the published price. We have the right to decline the customer's booking.
The participant's minimum age to join Bali activity packages is 10 years.
The maximum age of participants is 65 years old.
Watersports Package Nusa Dua Price Include
The marine Bali activity package price includes using a life jacket and all equipment required for the game.
Tanjung Benoa Nusa Dua water package tour price includes instructors.
Bali marine tour packages include insurance for participants. Coverage for participants is provided by the company's activity provider, Aditya Water Sports Tanjung Benoa Bali.
Book the Nusa Dua watersports tour package, at least two people with the same type of Bali watersport package, then customers will get a FREE shuttle.
The area for a free shuttle is only in the following sites! Kuta, Legian, Jimbaran, Tuban, Kedonganan, Mumbul, Sawangan, Kampial, Kutuh, Ungasan, Nusa Dua and Tanjung Benoa.
Game Description On The Tanjung Benoa Water Sports Package
The company that provides Tanjung Benoa Nusa Dua watersport activities is Aditya Water Sports Bali.
The type of parasailing activity included in the Tanjung Benoa Watersports tour package is tandem parasailing.
A tour to Turtle Island does not include an entrance ticket to turtle island in Tanjung Benoa. You can buy an entrance ticket to the turtle island conservation in Tanjung Benoa directly at the turtle conservation Bali main entrance.
Severe weather and wind direction may occur anytime without prior notice, which may cancel the parasailing adventures and other marine activities in the watersports package, Nusa Dua.
If there is bad weather for the participant's safety, then the Tanjung Benoa watersports activity will be canceled.
If the operator cancels the Tanjung Benoa watersport game due to bad weather, then the customer's payment for the watersports package Nusa Dua will be refunded in the total amount.
Weather factors are beyond the control of Tanjung Benoa water sports provider.
Show Me Water Sports Package No.8 Price, With Single Parasailing, Banana Boat, Jet Ski, Flying Fish.
Contact Us
If you are not clear and need more information about Watersports Package Nusa Dua, please kindly contact us! You can reach us via email: at info@water-sports-bali.com.
Suppose the Tanjung Benoa watersport activity contained in watersports Package Nusa Dua no 10. is not suitable for your wishes. Also, your family wants to change the marine activity! Please get in touch with us to change the game in the Bali activity package!
You can contact us through the email above. Note that game changes in the Nusa Dua watersports tour package will affect the price of the Tanjung Benoa watersports package.
Booking Watersports Package Nusa Dua No.10
For complete details and booking of Watersports Package Nusa Dua number 10, please get in touch with us by:
Email: info@water-sports-bali.com.
WhatsApp Call & Chat: +62 813 3956 3400.
WhatsApp Chat Only: +62 822 4714 8222.
Office Telephone: +62 366 5581096.
You also can fill out the booking form below.
Booking Form
Find Out, Watersport Bali Promo Package No.9 Price, With Banana Boat, Jet Ski, Turtle Island Tour.