Suppose you plan to vacation in Bali with your family and children. In that case, you will look for information about things to do in Bali for children & families. Bali Island offers many tourist attractions for children and is excellent for families. One of them is Bird Park Bali in Singapadu Gianyar.
Bahasa Indonesia, "Peta Lokasi & Harga Tiket Masuk Taman Burung Bali" >>>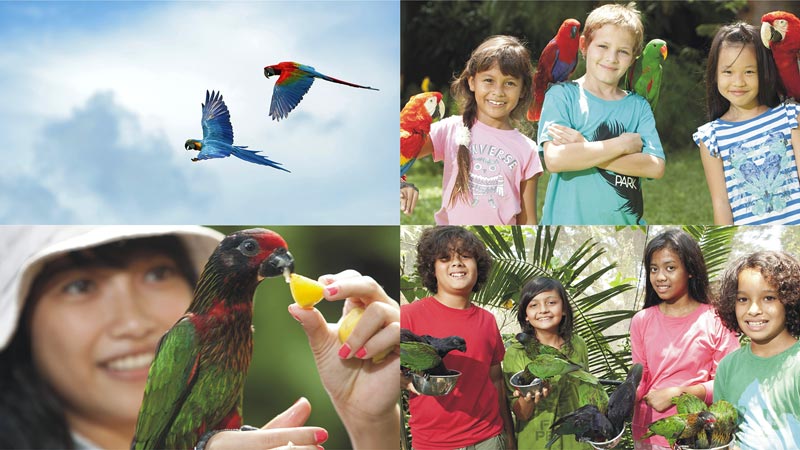 If you plan a trip to Bali Bird Park, you're lucky! Our comprehensive guide has covered everything you need to know before you go. Learn about the entrance fees, the park's top attractions, the best times, and the show schedules. Plus, we'll provide helpful tips on getting to Bali Bird Park, including transportation options and directions. Don't miss out on this incredible avian adventure – read our guide now!
The visitors guide that you will find on this page such as;
Find Here, "Best Things To Do In Sanur Bali During A Family Vacation With Children" >>>
How Many Birds Are There In Bali Bird Park?
You have recognized this place is a bird park from the site's name. So, how many birds are there in Bird Park?
The Bali bird park site is vast, which is around 2 hectares. Therefore, it can accommodate plenty of birds from 250 different species. When visiting Bird Park, you will see various birds from Indonesia, South America, and Africa. Besides birds, in Bird Park, you can also see different tropical plants.
Bali Bird Park is near Ubud and is one of the attractions in the Gianyar regency. Bird Park in Gianyar is famous for having rare bird species and is an icon of Bali island. The name of the bird is the Bali Starling Bird.
Is Bali Bird Park Famous Among Tourists?
On weekdays, the number of tourists visiting the bird park Gianyar ranges from 200 – 250 people/per day. During the holiday or high season in Bali, there will be a surge in visitors ranging from 400 – 450 people/per day.
International tourists love to visit Bali's bird park attractions. Especially tourists from Russia, China, and India have 30% of the total visits.
Then what about Indonesian tourists? There has been an increase in domestic tourist visits, although not significant. Local tourist visits are getting high, especially during the school holidays, Idul Fitri holidays, and New Year holidays.
Read More, "Bajra Sandhi Monument In Puputan Park Denpasar Bali" >>>
Interesting Things To See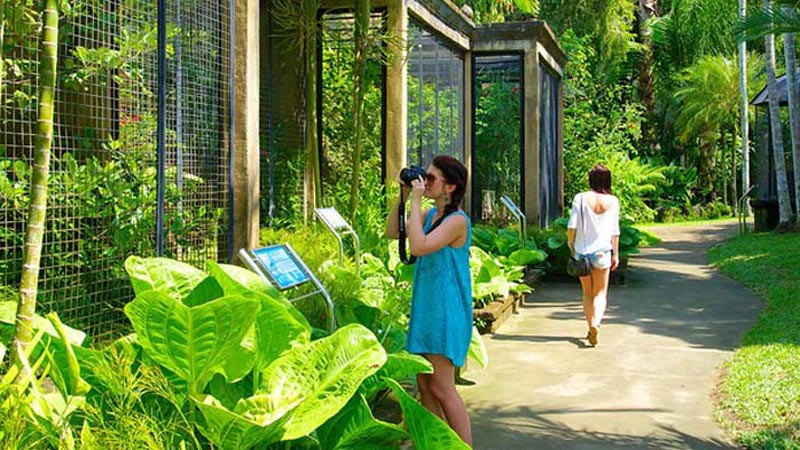 The question now is, what are the main things you can see in Bali Bird Park? If you visit the bird park Gianyar, you will be able to see a variety of bird species, birds from Papua, Javanese Hawk-eagles, Bido-eagles, and many other birds.
If your kids feel hungry while traveling in Bali's bird park, you don't need to worry because there is a restaurant in Gianyar. The most popular activity children love when they visit the bird park Gianyar is a photo with the birds.
Of course, by inviting your children to attend the bird park, in addition to holidays, your children can learn about bird species.
Read More, "Top 10 Things To Do In Uluwatu Bali For First Timer" >>>
Types of Birds in Bali Bird Park
The following list of some examples of bird species in Bird Park Bali.
| ORIGIN OF BIRD | BIRD NAME |
| --- | --- |
| South America | Glossy Ibis, Scarlet Ibis, Blue-and-yellow Macaw, Hyacinth Macaw, Red-shouldered Macaw, Green Winged Macaw, Great green macaw, Lovebird, Chestnut-mandible toucan, Red-fronted Macaw. |
| South Africa | Amethyst Starling, Violet Turaco, Senegal Parrot, Southern ground hornbill, Grey-crowned Crane, Grey Parrot, Von der Decken's hornbill, Laughing Kookaburra, Purple Starling. |
| Sumatra | Lesser Coucal, White-crested Hornbill, Wreathed hornbill, Red-winged parrot, Senegal Parrot, and Changeable hawk-eagle. |
| Borneo | Javan Great Rhinoceros Hornbill, Crested Serpent Eagle, Great Argus, Bulwer's pheasant, Nicobar Pigeon. |
| Papua | Javan Green Peafowl, Red Bird of Paradise, Moluccan king parrot, Greater racket-tailed drongo, Common emerald dove, Bird of Paradise, Black-capped lory, Southern-pied Hornbill. |
| Java | Java Sparrow, Javan Pied Starling, Red-breasted parakeet, Southern-pied Hornbill, Sunda Scops Owl, Javan Hawk Eagle, Asian Fairy-Bluebird, Violet-backed starling. |
| Bali | Bali Starling, Night pond Heron, Black-naped Oriole, Glossy Ibis, Bronze-tailed Peacock Pheasant, Yellow-vented Bulbul, Cattle Egret, Pied Imperial Pigeon. |
Furthermore, the activity most favored by the kids when traveling to the Singapadu Gianyar bird park was taking photographs with the birds.
Of course, by bringing your kids on a journey to the bird park, apart from holidays, your children can comprehend birds in the wild. If your kid feels hungry during a visit to the bird park, you don't need to worry because there is a restaurant at the Bali bird park.
Read: "Latest Bali Safari and Marine Park Entrance Ticket Prices" >>>
Bali Bird Park Show Schedule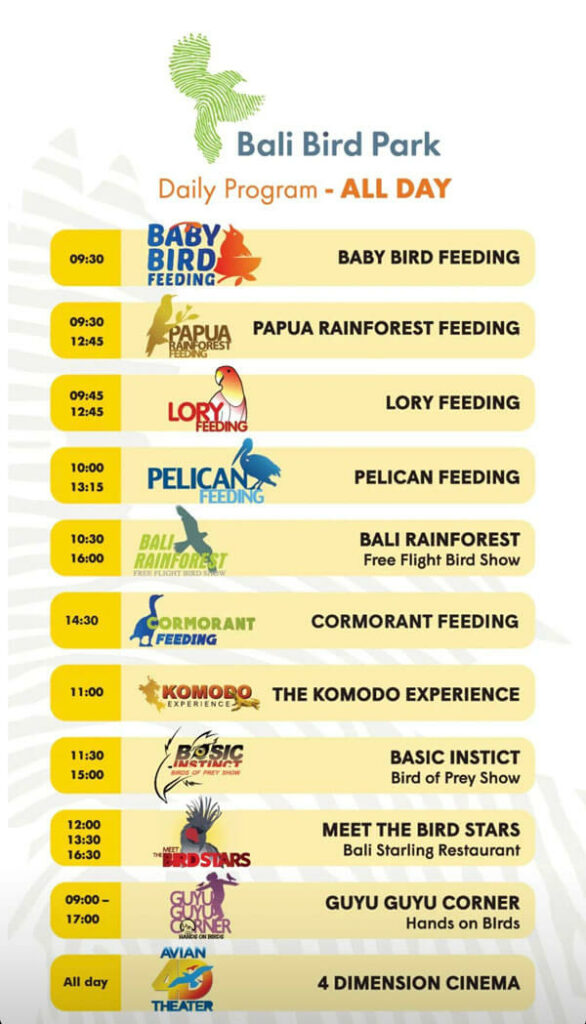 Bird Park Show & Feeding
Besides seeing birds in Bali's bird park, you also know about breeding birds, from eggs to the feeding process. Here is more detailed information about the show in Bird Park Gianyar. Every performance in Gianyar Bird Park has a predetermined schedule. Please look at the photo above to find the plan for each show in Bali Bird Park.
1. Bali Rainforest – Flying Bird Show
One of the best attractions in Bird Park is watching the flying bird show. Types of birds that perform flying attractions include macaws, storks, parrots, and other birds.
2. Basic Instinct – Birds Show When Capture Their Prey
You and your children will see eagles and high-flying owls watching and flying down when they catch their prey at this show.
3. 4D Theatre
You can watch films about birds in this theater with a 4-dimensional display screen and a full AC cinema room.
4. Komodo Experience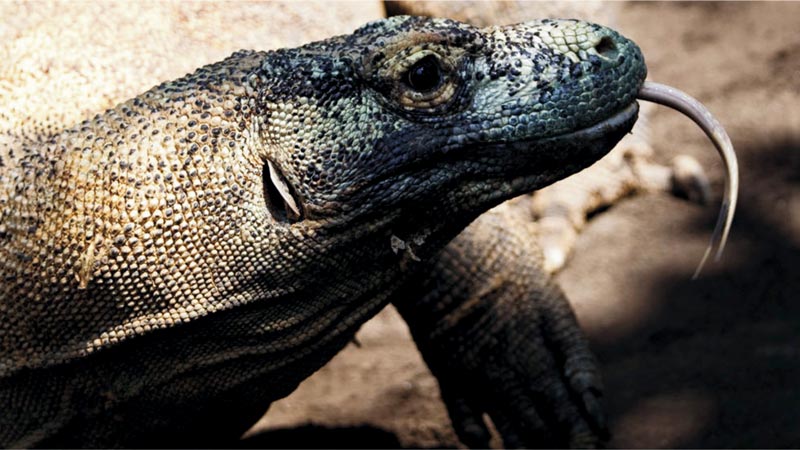 At the Komodo Experience attraction, you can watch the Bali Bird Park officers feeding the Komodo dragon and observe the Komodo dragon live. Seeing the Komodo dragon live gives a different feeling compared to when you see it on TV.
5. Guyu Guyu Corner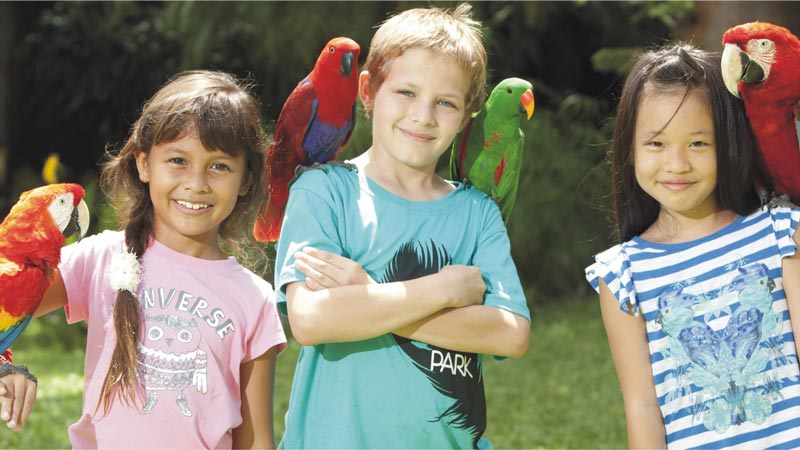 The most popular attraction in Bird Park Gianyar is a photo with birds perched on visitors' shoulders. Types of birds photographed with visitors, such as macaws and parrots with colorful feathers.
6. Papua Rainforest Feed
At the Papua Rainforest Feed attraction, you will see officers feeding peculiar birds from Papua. One of Papua's most famous fascinating bird collections is the bird of paradise.
7. Lory Feeding
This attraction will give you and your children the opportunity and experience to feed parrots / Lory.
8. Meet the Bird Stars
At the Meet the Bird Stars attraction, you will find entertaining birds at the Bali bird park. The types of birds are the Black King Cockatoo and Hornbill. Both birds are accustomed to interacting with humans.
9. Pelican Feeding
Attractions to feed pelicans are done by throwing fish toward pelicans. Pelicans, also known as Undan birds, have the most extended beak globally.
Bird Park Location
Bird Park Bali's address is at Jalan Serma Cok Ngurah Gambir Singapadu, Batubulan – Gianyar Regency- Bali. Bird Park Gianyar's telephone number at +62 361 299352. To create a more comfortable location in Bird Park, please use Google Maps by clicking the link below.
See Here, "Bali Bird Park Google Maps" >>>
Distance & Travel Time
If you stay at one of the hotels near Kuta beach heading to Bird Park in Gianyar, it will take a 1 hour and 10 minutes drive.
Suppose you stay overnight in the tourist area of Ubud Bali and close to the Ubud Monkey Forest location. Then heading to the site of Bird Park Gianyar takes about 35 minutes, with a distance of 14 kilometers.
If you depart from Pandawa beach, going to the bird park will take 1 hour and 15 minutes, with 38 kilometers.
From Melasti beach Ungasan, going to the bird park will take 1 hour and 15 minutes with an estimated distance of 40 kilometers.
How To Get There
The best way to get to the Bird Park Singapadu Gianyar location is to hire a car with a driver. No public transportation heading to the bird park unless you use a meter taxi.
Also, if you are staying around the Nusa Dua Beach area, head to the location of Gianyar Bird Park. Then the cost of a meter taxi will be more expensive than the price of rental cars with drivers in Bali.
For example, the price of a Toyota Avanza car rental in Bali + driver ranges from IDR 600,000/12 hours, including fuel. With a usage time of 12 hours in 1 day, you can visit more than one tourist attraction while on vacation in Bali.
Besides using a car, if you are comfortable and experienced riding a scooter, you can look for scooter rental services in Bali. Bali's average scooter rental price is IDR 100.000 – 300.000 /24 hours without fuel. Finding scooter rental services in Bali is also very easy; you only need to look for them on Google.
Suppose you want convenience without the hassle of arranging transportation or entrance tickets to Bird Park, Gianyar. In that case, you can look for cheap tour packages that include the Bird Park Gianyar on their tour itinerary.
Find Here "Guide On How To Get Around Bali Comfortably" >>>
Opening Hours & Best Time To Visit Bali Bird Park
The bird park Gianyar is open daily from 09:00 – 17:00. The average visitor spends at Bird Park Gianyar is approximately 2.5 hours.
Bird Park Gianyar began getting tourist visits in the morning around 09:00. The peak of tourist visits occurs at noon from 10:00 – 13:00. Therefore, if you want a more secluded atmosphere while on the Bali bird park vacation. The best time to visit is in the afternoon, around 15:00.
Bird Park Bali Entrance Fee
| Category | Publish Entry Price | Online Entrance Fee |
| --- | --- | --- |
| Adult | IDR 385.500 | IDR 305.000 |
| Child | IDR 192.500 | IDR 150.000 |
| Infant | Free | Free |
Description of Bali Bird Park Entrance Ticket
Category of children (age 2-12 years).
While children under two years are free of charge.
The Bird Park entrance ticket price listed in the table is the price for one person.
In addition, the promo price for the Bird Park entrance ticket is valid every day, including public or national holidays.
The promo price for the Bird Park entrance ticket on this page is valid until March 31, 2024.
In addition, the Bird Park entrance fee includes taxes and services.
The Park Bali entrance ticket listed in the table is only valid for International travelers.
The published price applies if a visitor purchases an entrance ticket at Bird Park Bali.
The Bird Park online ticket price is only valid if you book with Wira Tour Bali.
The bird park tour guide will be available for free if the booking is more than 20 people.
Find Here, "Bali Taman Nusa Cultural Park Entrance Fee" >>>
Entry Ticket Prices Include
Admission.
Includes all scheduled activities and shows.
Bird feeding activity.
4D cinema.
Guyu-Guyu Photo Corner.
How to Book Bird Park Bali Entry Tickets
To make an online booking of Bird Park Bali admission, please reach the Wira Tour Bali customer service at;
+62 813 3956 3400 (EN)
+62 822 4714 8222 (ID) (WhatsApp Ready).
Email info(at)water-sports-bali.com.
You can fill out the booking form below.
Booking Form
Voucher Exchange Process
After we acquire payment for the Bali Bird Park admission ticket, our reservation staff will send you a voucher through email or WhatsApp.
Then, the voucher you acquire does not need to be printed; you only require to save it on your cellphone.
When you arrive at the voucher exchange counter at Bali Bird Park, you will be asked to scan the barcode using the Peduli Lindungi application. Apart from utilizing the application, you can also show a photo of the Covid-19 vaccine certificate.
Next, display your voucher on your smartphone to the ticket clerk at the Bali bird park.
Information For Visitors
A valid ID card must be shown when exchanging vouchers at the Bali Bird Park entrance ticket counter.
Suppose visitors cannot show a valid identity card. In that case, Bali Bird Park has the right to refuse visitors to the Bird Park area.
Visitors can go in and out of the Bali Bird Park area on the same day so that visitors can show the stamp in the visitor's hands.
Every visitor to the bird park is allowed to feed the birds. However, visitors can only provide the birds with food from Bali Bird Park.
Every visitor is always expected to maintain cleanliness.
If there is any loss or damage to the visitor's belongings, it will be entirely the visitor's responsibility.
Entrance Access Rules During the Covid 19 Pandemic
Every guest who wants to visit Bird Park is expected to be healthy.
Every visitor must have received the Covid-19 vaccine at least once.
To validate visitors obtaining the Covid-19 vaccine, every visitor will be asked to check by scanning a QR code using the Peduli Lindungi app.
Besides utilizing the Peduli Lindungi app, visitors can also show a Covid-19 vaccine certificate.
Visitors must always wear face masks while in the Bird Park area.
Things that are prohibited
Flying a drone over the Bird Park area is not allowed.
Travelers are not permitted to carry meals and beverages from outside.
Pets such as dogs or cats are prohibited in the Bird Park area.
Provisions for Rescheduling Visits
To be able to reschedule a visit to the Bali bird park, it can only be done on the visit date stated on the voucher, at least 2 hours before the Bali bird park closes.
Furthermore, visit rescheduling applies to all parties included in 1 booking voucher.
Maximum two times Bali Bird Park visit date rescheduled.
The date for rescheduling the visit must be on the same Bali Bird park entrance ticket price.
Next, you can choose a date to reschedule your visit to Bali Bird park for up to 14 days from the date stated on the voucher.
Bali Bird Park entrance tickets that have been rescheduled, the payment cannot be refunded if the customer decides to cancel the visit.
Terms of Booking Cancellation
The customer requests the Bali bird park entrance ticket order cancelation one day before the visit date, before 16:00 Bali time. Then we will refund the customer's payment. The refund amount excludes bank transfer fees, PayPal fees, service fees, and administration fees.
Cancellation of ticket bookings one day before the visit date, made after 16:00 Bali time. Then we will refund customer payments of 50% of the total price.
Furthermore, a cancellation request is made on the same day as the confirmed visit date. Then the customer is charged a cancellation fee of 100% of the total payment.
Frequently Ask Questions (FAQ)
In providing vacation information about the Bird Park in Gianyar, we often get questions from tourists planning a vacation to the Gianyar Bird Park, especially Indian tourists. Frequently asked questions such as;
Can visitors do a photo session with birds?
Of course, you can take pictures with birds using your camera and ask bird park employees to help you take your photos for free. If you ask employees to take pictures with a DSLR camera, there will be a fee when you make your printed photos — the price of one photo print is IDR 150,000.
Are all the Bird Park in Bali shows included in the admission price?
Entrance fees paid by visitors include all show performances in Bali Bird Park. However, you should schedule your trip to Bird Park properly if you want to see all the shows at Bali Bird Park; otherwise, you will miss some of the shows.
Does a Bali bird park tour take one full day or half a day?
My experience of vacationing with children takes 4 hours in the Bali bird park. They offer many bird attractions, and affordable eating places are available.
What activities and tourist attractions in Bali can you visit in 1 day that offers an inline route with the location of the Bali bird park?
You can visit Bali Zoo Park, watch Balinese Barong dance, and shop for souvenirs at the Sukawati art market.
Tourist Attractions in Bali for Children
Aside from Bali bird park, Bali island also has interesting and exciting things to do and see for children. Surely your children will love a vacation to children's attractions on the island of Bali. Also, you can provide a pleasant experience for your children. Things to do for children in Bali, such:
Read More, "Bali Travel Tips & Advice For Family" >>>