During your holidays in Ulun Danu Beratan Temple Bedugul, do you want to try halal food in Bali with Balinese style culinary? If you say yes, then the Warung Nyoman Chicken Betutu Restaurant, one of the halal eating places in Bedugul Bali that you must try. However, before you try the Chicken Betutu culinary at Warung Nyoman in Bedugul, it's a good idea to read this page! Because you will find detailed information such as;
The Bedugul Bali attractions.
The best way to have a vacation to Bedugul Bali.
Dining options in Bedugul Bali.
Balinese culinary tourism.
Food price in Warung Nyoman Chicken Betutu Restaurant.
A map of the location accompanies opening hours and addresses.
Bahasa Indonesia, "Warung Nyoman Bedugul – Tempat Makan Murah Di Bedugul Bali" >>>
Bedugul Bali Attraction
The area of Bedugul as a tourist attraction in Bali always attracts many tourist visits, both domestic and international tourists. In the Bedugul Bali tourist area, there is more than one tourist attraction. Also, Bedugul Bali provides many choices for Bali activities for a family holiday. Such as Bali Treetop Bedugul activities. However, there are two famous tourist attractions in Bedugul, namely;
Bedugul Botanical Garden, Bali.
Ulun Danu Temple At Beratan Lake Bedugul.
Tourists who have a vacation in Bali, either for the first time or have been on holiday to Bali many times, will visit the Ulun Danu Beratan Temple in Bedugul. The main attraction of Ulun Danu Temple at Beratan Lake Bedugul is the temple location, which seems to float above the Beratan Lake water surface. Because the Bedugul area is mountainous, tourists will always feel the fresh air even during the day.
See Here, "Popular 8 Tourist Attractions in Bedugul Tabanan – You Must Know When Planning a Vacation Itenary ">>>
The Best Way Transportation To Bedugul
There are many ways in terms of transportation to have a vacation to Bedugul Bali. Which is the best transportation, is depend on yourself. Also, each traveler vacationing in Bali has different criteria for the best holiday transportation in Bali.
For now, public transportation for getting around Bali island is more widely available in the southern part of Bali island. Meanwhile, in other Bali tourism areas, transportation for sightseeing is not adequate. Therefore, most tourists who vacation to the island of Bali choose to use private transport, either motorbikes or cars.
Scooter Hire
When looking for scooter rental services in Bali, the best and most convenient way is to use a search engine like Google. If you stay in the southern part of Bali, you will find plenty of scooter rental service providers near your hotel.
The price for scooter rental in Bali varies and depends on the scooter you want to ride. Most of the scooter rental rates in the southern Bali area are around IDR 80,000/24 ??hours without fuel.
If you require to conserve on transport expenses, want to reduce vehicle parking costs. Then using a motorcycle is the best transportation choice. Due to motorbikes use less fuel, and the motorcycle rental price in Bali is cheap compared to car rental price. Also, the motorcycle parking costs in Bali an average of IDR 2,000.
Bali Tour Packages
Some tourists don't want to bother creating a holiday itinerary to Bali, don't want to take care of transportation arrangements, and enjoy comfort. Then the tourists will order a tour package to Bedugul Bali. Almost all tour package service providers in Bali will provide Bedugul tour package services.
Car Rental In Bali
Apart from buying a Bali tour package, there is another option you can choose to travel to Bedugul Tabanan. Which using a Bali rent a car with a driver. By using Bali car rental with a driver, then your Bali holiday itinerary routes determine yourself.
In addition, by using a rental car service with a driver in Bali, the driver always maintains the car's cleanliness.
Like motorbike rentals, the best and most recommended way to find car rental services in Bali is to utilize Google. For rental car rates in Bali, it depends on the type of car you want to use.
For example, the price for a Toyota Avanza rental car with a driver in Bali is around IDR 450,000 / 12 hours without fuel. On the other hand, if you require to be more comfortable, you can use a Toyota Innova Reborn car. The rental price for Toyota Innova Reborn in Bali with a driver is IDR 600,000 / 12 hours without fuel.
If you are on a family vacation and the number of participants exceeds seven people, it's a good idea to use a microbus-type car, such as a Toyota Hiace or Isuzu ELF.
Read More, "Bali Strawberry Panoramic Terrace Bedugul" >>>
Places to Eat in Bedugul Bali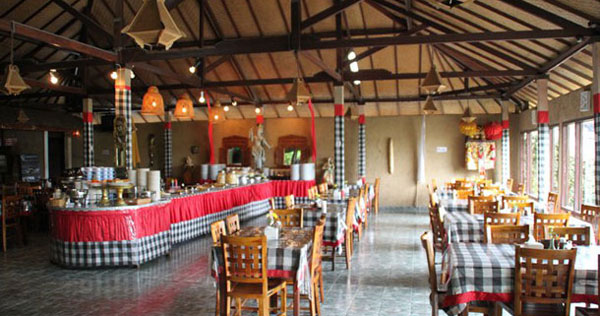 The Bedugul tourist area has cold air during the day. The air temperature in Bedugul during the day averages 24 degrees Celsius. It's pretty cool, but it won't make you have to wear a thick jacket. Of course, chilling temperatures will increase appetite. At times like this, you will undoubtedly ask! Where is the place to eat in Bedugul?
There are plenty of places to eat in the tourist area of Bedugul. On average, the restaurant in Bedugul providing halal food, and there is also a restaurant that offers Balinese food.
One of the most famous halal dining places in Bedugul Tabanan is the Mentari restaurant Bedugul. At the Mentari restaurant Bedugul, the food provided is primarily Indonesian food and western food served with the buffet style. Also, customers, who eat at the Mentari restaurant Bedugul can eat as much as they want.
Read Here, "Top 5 Affordable Bali Kids Restaurant & Good For Family" >>>
Chicken Betutu Balinese Cuisine
Based on our experience in Bali rent car services with drivers, many tourists want to try Balinese halal food on vacation in Bali. The island of Bali has plenty of unique cuisines. Of course, it is exciting to examine culinary tourism. You might know Balinese specialties, such as satay lilit, lawar, serombotan, laklak, cassava rice, and many other Balinese particular cuisines. However, there is one menu of Balinese halal food love by tourists, its call Chicken Betutu (Ayam Betutu).
Therefore, when you are on vacation at Bedugul tourist attractions, and you want to try the Chicken Betutu menu. Then you can try it in the Warung Nyoman Bedugul Tabanan Bali.
Find Here, "5 Favorite Restaurants In Denpasar Bali To Try Balinese Cuisine" >>>
Warung Nyoman Chicken Betutu Restaurant
In Bali, there are many restaurants called warung Nyoman, and the most famous is Warung Nyoman in Seminyak. Many restaurants in Bali are called Warung Nyoman because of the owner of the stall named Nyoman. Nyoman is the name of a Balinese for the third child.
Read Here, "Affordable Halal Dining Sites In Tanjung Benoa Bali Offer Indonesian Culinary" >>>
Betutu Chicken Menu – Halal Food In Bali
Warung Nyoman Bedugul is one of the halal eating places in Bedugul Bali. This place provides typical Balinese food with the main menu, is chicken betutu and duck betutu. For your information, I'm not too fond of the duck betutu, wherever I try—usually, visitors visiting Warung Nyoman after finishing their vacation at Beratan Lake in Bedugul.
Chicken Betutu dishes server at Warung Nyoman Bedugul, the meat is very soft, mixed with various herbs, which will make your appetite intrigued. Also, the menu of chicken betutu in warung Nyoman is served with vegetables, fried peanuts, and sambal matah (raw sambal). If you don't like Chicken meat, you can try the duck betutu menu. You can order whole chicken betutu or half chicken betutu.
When I tried the chicken betutu menu at the Warung Nyoman Bedugul, the taste was delicious but not exceptional. Usually, I don't feel like eating more than the usual portion; the possibility of cold weather makes my appetite increase, and I order another half portion.
Find Here, "Muslim Friendly Halal Food In Kuta Bali With Affordable Prices" >>>
Other Menu & Opening Hours Of Warung Nyoman Chicken Betutu Restaurant
Besides the Chicken Betutu or Duck Betutu, you can also order other menus at Warung Nyoman Bedugul. Like mixed rice, Chicken Betutu, fried rice, spaghetti, fried chicken, and many different cuisines. Warung Nyoman in Bedugul is open every day from 08:00 – 19:00.
Find Here, "10 Halal Breakfast Spots In Bali With Local Culiner and Affordable Rates" >>>
Food Prices Warung Nyoman Chicken Betutu Restaurant
Warung Nyoman in Bedugul is quite clean. The food price is not too high and relatively cheap for food prices in the tourist area of Bali. When I ate at the Warung Nyoman Bedugul Tabanan, I paid IDR 150,000 / 2 people. The food price, including two portions of chicken betutu, rice, lawar, and drinks.
So Warung Nyoman Bedugul Tabanan is suitable for cheap culinary in Bali. For your information, the cost of chicken betutu for the Warung Nyoman Bedugul Bali may change at any time.
See here, "Entrance Tickets for Ulun Danu Temple on Lake Beratan Bedugul Tabanan Bali" >>>
Address of Warung Nyoman Chicken Betutu Restaurant
Warung Nyoman in Bedugul Bali location is on Jalan Raya Pacung, Baturiti, Tabanan Regency. The distance of the Nyoman warung with tourist attractions of Ulun Danu Bratan Temple Bedugul is about 11 kilometers. With an estimated travel time of around 20 minutes. To make it easier for you to find the location of the Warung Nyoman in Bedugul Bali, please click the below link!
See Here, "Warung Nyoman Bedugul Google Map" >>>