Travel to Gili Trawangan Lombok, now days become one of the most favorite tourist destinations for a traveler when they are in Bali. This is because the island of Gili Trawangan Lombok, offers very clean beach pollution-free, with the beautiful underwater scenery. Besides the natural beauty offered by the island of Gili Trawangan Lombok, travel time from Bali to Gili Trawangan, only take 1 hour 30 minutes from Padang Bai harbor by using Gili fast boat.
Because there are high demand and interest for travelers who travel to Bali and would to visit Gili Trawangan island. Many travel agents in Bali offer Gili Trawangan tour packages. Also, there are so many cheap speedboat services from Bali to Lombok Gili islands available at Padang Bai harbor, then traveling to Gili Trawangan island become easy, cheap and fast.
On the previous page, we have written on the best way traveling from island of Bali to Lombok Gili Trawangan island, is by using the fast boat from Padang Bai harbor. By using a fast boat from Bali to Gili Trawangan, will cost more money than using cheap speedboat service. With extra money that you pay for a fast boat, the travel time will become shorter which is 1 hour 30 minutes; also you will get comfort and safety offered by fast boat in Bali.
One of fast boat company to Gili Trawangan Lombok is Wahana fast boat. Wahana fast boat better known as Wahana Gili Ocean, who has two types of fast boat, which has different maximum passenger capacity.
Wahana Gili Ocean I Fast Boat (32 passengers + 5 crew).
Wahana Gili Ocean II Fast Boat (60 passengers + 6 crew).
Features and Specifications – Wahana Gili Ocean II Fast Boat
On this page, we will inform you about Wahana Gili Ocean II fast boat features and specification, so you will know what type of fast boat you will ride if use Wahana Gili Ocean II fast boat to Gili Trawangan island.
Find out more, Wahana Gili Ocean II fast boat features and specification on their company website.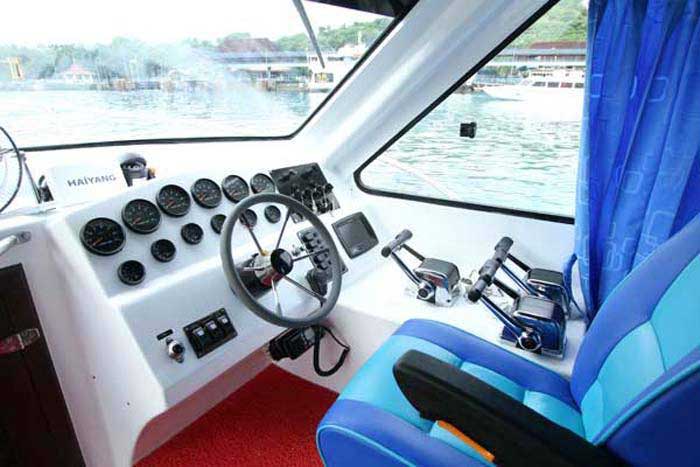 Wahana Gili Ocean II Fast Boat Specifications
Fast boat Wahana Gili Ocean II has passed passengers safety certification test (with maximum fast boat capacity 60 passengers plus 6 sailors crew).
Soft material passengers seat, very comfortable for the sea voyage.
Equipped with 6 YAMAHA engine, each engine produces 200 HP (horsepower) maximum, so the total horsepower generated 1,200 HP.
30 knots = 55.6 kilometers comfortable cruising speed.
Passenger baggage storage provided.
GPS navigation system.
Ocean water depth meter with Furuno Depth Sounder.
2 ways radio communication to land use VHK ICOM Radio.
70 life jackets available for adults, 10 life jackets available for children, located under the passenger seat.
Capsule Life Crafts for 70 people.
Available for emergency inflatable boat accommodate 70 people.
3 pieces of dry powder fire extinguisher, weighing 2 kg each.
First aid kit.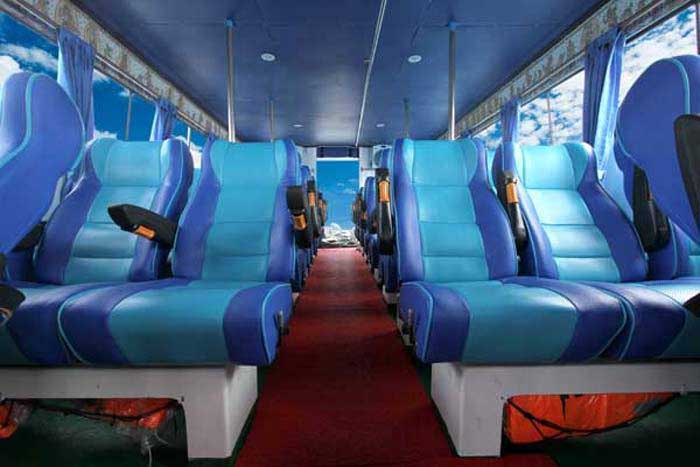 Features For Passenger Comfort
Maximum 20 passengers can use the sundeck.
Toilet hygiene maintained.
Audio music on board.
TV with DVD player.
Snacks and mineral water is available for passengers.
Indonesian language website, click here! Wahana Gili Ocean II Fast Boat.