As a favorite tourist destination in Indonesia, the island of Bali has many luxury hotels and villas. But have you ever thought about seeing the original Balinese house while on vacation on Bali island? Some may answer that they have thought of it or maybe not. So, specifically on this page, I will write about tourist objects for authentic Balinese houses or traditional Balinese houses.
Bahasa Indonesia, "Aktivitas Wisata Mengunjungi Rumah Asli Bali Di Desa Batuan" >>>
Things To Do In Bali
There are so many exciting things that tourists can do while on vacation on the island of Bali, such as:
Search Here, "10 Unique Things On the Island of Bali You Should Know Before Holidays" >>>
The Original Traditional Balinese House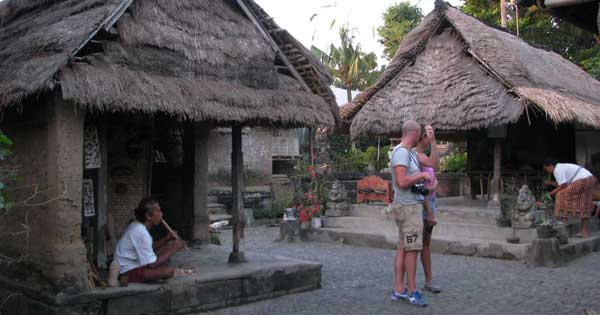 Then are you interested in having a vacation to Bali by visiting the original traditional houses of Bali's islanders? I am sure you answered yes! Because you are reading this page which is about authentic Balinese home tourist attractions.
The question is, where are the locations of traditional Balinese houses that tourists can visit? Here are some spots for traditional Balinese dwellings that visitors can see.
Look Here, "Penglipuran Village Entrance Ticket Prices" >>>
Particularly on this page, I will write about one of the tourist activities to visit an authentic Balinese house in Batuan Village, Gianyar, Bali.
Batuan Village, Gianyar Bali
Bali's villages that care for and preserve original Balinese houses design the location are in the Batuan village, Sukawati, Gianyar regency. Furthermore, Batuan Village is a top-rated destination, primarily among European travelers, for its Batuan village painting crafts.
Batuan village's location is close to a famous traditional art market called the Sukawati art market. Sukawati art market is a place for tourists to buy Balinese souvenirs at low prices. It is a central spot for Bali merchandise.
Batuan village's location is about 19 kilometers from Sanur beach Bali, with an estimated travel time of about 45 minutes. Suppose you stay in the tourist area of ??Ubud Bali around the monkey forest area. In that case, the location of Batuan village will be closed. From Ubud's monkey forest to Batuan Village, it will take approximately 25 minutes drive.
How To Get There
The best travel transportation on Bali's island is to use private vehicles, either motorbikes or cars. The reason is that public transit has not covered many tourist areas on the island of Bali. Finding a motorbike rental service provider and Bali car rental with a driver is very easy on Bali's island.
Scooter Rental
For those who want cheap transportation to travel on Bali's island, the best option is to ride a scooter. Finding scooter rental services on Bali's island is very easy, especially if you stay nearby the Kuta beach Bali. You have to use a search engine like Google, using the keyword nearest motorbike rental.
The average motorbike rental price in Bali is around IDR 75,000 / 24 hours, without fuel. Also, several motorbike rental service providers provide services to escort the motorbikes to where customers stay.
Car Rental
If you want comfort, the best transportation choice for traveling in Bali is to use a car. Finding car rental services in Bali that provide self-drive car rental is quite tricky. So, it's a good idea to look for Bali car rental services with drivers to make it easier to find.
For example, the rental price for a Toyota Avanza in Bali with a driver is around IDR 500,000 / 10 hours, including fuel. Suppose you want to use a Toyota Innova Reborn. In that case, the Innova reborn rental price with Bali drivers is more expensive, around IDR 700,000/10 hours with fuel.
Batuan Village Traditional Balinese Houses
One of the original traditional Balinese houses in Batuan village is the Gung Aji House, known among international tourists as the Bali Traditional House Gung Aji. the Gung Aji Traditional Balinese Houses location is on Jl. Raya Negara No.100, Batuan Village – Sukawati subdistric, Gianyar regency. To create a more straightforward for you to find Gung Aji's house in Batuan village, please use the map below!
See Here, "Bali Traditional House Gung Aji Google Map" >>>
Characteristics of Balinese Traditional Houses
Firstly, an original Balinese house's hallmark is the entrance gate. The entrance gate size is small, and it fits only one person can pass through. The house's gates were made of stone or clay, and thatch grass was used as the house's roof. If you enter ??an authentic Balinese traditional home area, you will feel a unique and beautiful atmosphere. The walls of the house are still covered with soil and are still tightly attached. The floors of the house are also still tight and neat.
Furthermore, Balinese houses are often used on the Bali island for the prospective bride and groom's photoshoots to take pre-wedding photos. The bride and groom will wear traditional Balinese clothes to match the background of the house.
Suppose you are on vacation on the Bali island and are interested in seeing authentic Traditional Balinese houses. In that case, I recommend visiting Gung Aji House in Batuan because it will provide a unique experience for visitors.
Suppose you don't mind traveling a little bit far from southern Bali's and want to see an authentic Balinese house that is still very traditional. In that case, I suggest visiting Pengelipuran village in Bangli Regency.