Firstly, if you have this question, where is the most hits hangout in Bali right now? Then the answer is OMNIA Dayclub Bali. Furthermore, OMNIA Bali is one of the newest and most popular Dayclub in Uluwatu Bali. Also, the location from Seminyak with a distance of about 1.5 hours driving. The address of OMNIA Dayclub Bali is on Jl. Belimbing Sari, Banjar Tambiyak, Pecatu Village, Uluwatu, Bali. Above all, Omnia Dayclub Uluwatu Bali is one of Omnia Nightclub branches in Las Vegas, USA.
Bahasa Indonesia, "OMNIA Dayclub Bali – Tempat Nongkrong Hits Di Atas Tebing Uluwatu" >>>
How about your interest in visiting Omnia Beach Club Uluwatu? I'm sure you answered, yes! But before visiting, it's good you know important things before visiting the Omnia club Uluwatu. Therefore, read this page thoroughly, because, on this page, you will find information such as:
OMNIA Dayclub Bali Terms & Conditions.
Not a hangout spot for children.
Remember to bring an Identity Card.
Restricted Items.
Omnia Bali regular entrance fee.
The beauty of architecture design combines with the Indian Ocean as background.
OMNIA Dayclub Bali food & beverage menu.
Location of Bali Omnia Club.
Opening hours Omnia Dayclub Bali.
Best time to visit Omnia Uluwatu.
Transportation to the location.
The best transportation to Omnia Uluwatu.
Omnia Uluwatu dress code.
VIP area prices & what you will get.
VIP area weekdays price table.
1. OMNIA Dayclub Bali Terms & Conditions
Firstly, In the beginning, I was hesitant to hang out at OMNIA Dayclub Bali. The reason was only one; money constraints were always mediocre. However, my curiosity makes me decided to give a try to visit the Omnia Dayclub Uluwatu, of course, with the fund's preparation.
However, before deciding to attend the Omnia Dayclub Uluwatu Bali, I inquired sufficient information about Omnia Dayclub Bali. Information, especially regarding the terms and conditions that apply in the Bali Omnia Dayclub. If you want to know the terms and conditions that apply in Omnia Dayclub Uluwatu, please click on this link! OMNIA Dayclub FAQ.
2. Not For Underage
To clarify, at the beginning of the planning, I wanted to hang out with my children. But there is a visitor's age requirement, which is above 21 years old. Indeed, the age requirement for visitors makes me unable to visit Omnia Bali with my children.
In the end, to make children are not disappointed. I take my children to have a vacation to Uluwatu temple to watch Kecak dance Uluwatu and Suluban beach Uluwatu.
3. Remember To Bring An Identity Card
In short, I decided to come with a friend, and we arrived very early at around 11:20 a.m. At that time, there was no long queue, maybe because it just opened. It turns out that the rules for the age limit of 21 years and above that are allowed to enter are indeed accurate. This rule is applied strictly by security because I saw some visitors show their ID (Identity Card).
4. Restricted Items
There are several types of items that you should not bring when visiting Omnia Dayclub Uluwatu.
For example, You are not allowed to bring food and drinks from outside. You can't bring a selfie stick, which is I don't have, and you can't take a drone. So the only choice is to take a photo is to use a cellphone camera or a GoPro camera if you have one. Also, tripods, buoys, sweets, and suitcases, you may not even bring them in.
Above all, security Omnia Dayclub Uluwatu checks visitors like at airport security. On the other hand, if you bring a suitcase, you can store the bag at reception, with a storage fee of IDR 100,000 / 1 suitcase.
Find Out On, "Woobar Seminyak – One Of The Best Beach Club In Bali For Hangout Spot" >>>
5. Omnia Bali Entrance Fee
Is there an entrance fee for Omnia Uluwatu Bali? The answer there is. Then how much is the entrance ticket for Omnia Bali?
| Category | Entrance Fee |
| --- | --- |
| Weekdays | IDR 200,000/person |
| Weekend | IDR 250,000/person |
Firstly, every visitor of Omnia Bali must pay an entrance ticket of IDR 200,000 / person (weekdays).
Meanwhile, on weekends, the admission price to the Omnia Club Uluwatu becomes IDR 250,000 / person.
If there is a special event, then the Omnia Club Uluwatu entrance will be different.
Also, ticket prices for Omnia Club Uluwatu can change at any time. For the amount of admission certainty, please kindly contact Omnia Bali directly at telephone number + 62-361-848 2 150.
In short, by spending your money on an entrance ticket at Bali Omnia Club, you can enter the Omnia Uluwatu Bali area. However, you cannot use a sofa, daybed, cabana, or VIP bungalow. Also, the fees you incur for the entrance ticket cannot exchange for food or drinks.
However, suppose you reserve a VIP table area. In that case, you no longer need to pay the entrance fee for Omnia Club Uluwatu. Regarding the VIP table area, I will explain below.
Search Here, "Bali Dewata Starbucks The Largest In Southeast Asia" >>>
6. The Architectural Design Beauty With Background of the Indian Ocean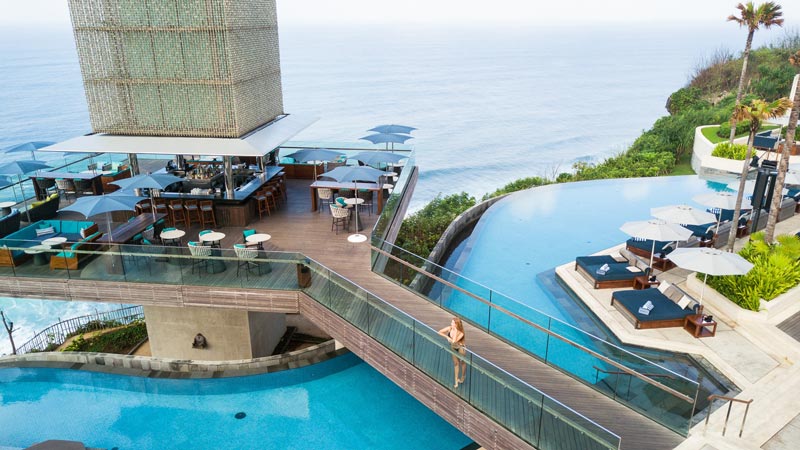 When you enter the Omnia Dayclub Uluwatu area, you will see the central spot, called the Cube. Then what is the Cube? The Cube is a box-shaped crystal with enormous size. Also, the Cube location is above the Bar, and the unique position of the Bar is above the infinity pool. What's a fantastic view for me. Also, from the Bar's area, you will be able to see the Indian Ocean with bluish watercolors without any obstacles such as buildings or cliffs.
For me, the bar's spectacular location, with its unique architectural form with a beautiful view of the Indian Ocean, is the icon of Omnia Uluwatu Bali. Besides the Bar design and architectural design, the music also played gorgeously — again, every corner of Bali's Omnia Dayclub suitable as a photo background.
Read On, "List Of 5 Unique Cafe In Bali, Instagram Worthy & Hipster Guide To Bali" >>>
7. OMNIA Dayclub Bali Food & Beverage Menu
To sum up, for the food menu, I ordered a small size Chicken Quesadilla for IDR 150,000 ++ / portion. Also, there were six pieces of Quesadilla, accompanied by three types of condiments.
While for drinks, I order a Bintang beer, for IDR 65,000 ++. Most of the food and beverage menu prices for me are a bit expensive, but maybe not expensive for you.
All food and beverage prices at Omnia Bali Beach Club will be subject to services charges and a 21% tax. Therefore, before you order, see the cost of food and drinks first, then add 21% of the price. So the amounts of food/beverage prices, plus 21%, is the total payment you have to pay.
For payment, Omnia Bali accepts cash payments in Rupiah and credit cards. For more detailed information on food and beverage menu choices at the Bali Omnia Club, please click the link!
Find Out On, "6 Cool Hang Out Places In Seminyak Bali Is Compulsory To Try For Coffee Culinary Experience" >>>
8. Location of Bali Omnia Club
The location of Bali Omnia is in the southern Bali region, precisely in the Uluwatu area near the Uluwatu Temple Bali. The address is on Jalan Belimbing Sari, Banjar Tambiyak, Pecatu Village, Uluwatu Bali. Also, the Omnia Club Uluwatu location, adjacent to Karma Kandara Beach Bali, Green Bowl beach, and Nyang-Nyang beach Uluwatu.
Suppose you depart from the Bali International airport to Omnia Uluwatu Bali. In that case, you will travel about 18 kilometers with an estimated travel time of 50 minutes. If you are staying around the Kuta beach area, heading to Omnia Beachclub will cover a distance of 20 kilometers, with an estimated travel time of 1 hour.
To make it easier for you to find the Omnia Dayclub Uluwatu location in the Uluwatu area, please click this link! Google Map Omnia Dayclub Uluwatu.
9. Opening Hours Omnia Dayclub Bali
Omnia Day Club Uluwatu is open every day, except on Nyepi days, while opening hours weekdays with weekends are different.
Weekdays, Monday-Thursday: 11:00 – 22:00 (the main deck will close at 20:00).
Weekend, Friday, Saturday, Sunday: 11:00 – closing time adjusts to the event.
For the Sake, No Hana restaurants, open daily from 12:00 – 22:00.
10. The Best Time to Visit Omnia Uluwatu
Based on a friend's suggestion, I get suggested avoiding visiting Omnia Club during the weekend because OMNIA Dayclub Uluwatu Bali weekends are very crowded with visitors.
From my experience, I see many visitors start coming to Bali Omnia Club before sunset time in Bali, which is around 16:30. The sunset time in Bali is from 17:40 – 18:25.
Find Here, Where can I watch the sunset in Bali?
Then when is the best time to visit Bali Omnia Beach Club? The exact answer about the best time to go to the Omnia Day Club in Bali will depend on your preference.
Suppose you want to see the sunset at Omnia Bali, like to have many photos for you to upload on Instagram, you love to sit back and enjoy a drink. In that case, the best time to come to Omnia Beach Club is around 16:30 and avoid weekends.
Furthermore, if you like parties, you don't want to get skin sunburned and like crowds. Then the best time to visit Omnia Beach Club Uluwatu is on weekends, around 18:00.
Find Here, "The Best Time To Visit Bali Island" >>>
11. Transportation To Omnia Bali
I want to use an online taxi to get to Omnia Club Bali. Is this possible? Of course, you can use an online taxi leaving from your hotel then heading to Omnia Bali. The problem is when you return to your hotel from Omnia.
Online taxis are not allowed to pick up passengers around the outside area of the Omnia Club Uluwatu. Then how do I get home if there are no taxis online? Transportation options that you can use are;
Use local transportation from Omnia Dayclub Uluwatu to your hotel. However, the tariff is quite expensive.
The second way is to use the free shuttle bus provided by Omnia Club Uluwatu. However, a free shuttle bus from Omnia Bali is not available every day. The shuttle bus only available on Friday, Saturday & Sunday. Also, free shuttle buses have a onetime for departures, which is at 20:00. So if you like parties, chances you don't want to go back to your hotel at 20:00.
12. The Best Transportation to Omnia Uluwatu
The best way to get to the location of Omnia Dayclub Bali is to use a private vehicle. So prepare your car. Based on my experience in providing Bali tour package services, or Bali water sports packages. Most visitors will use a vehicle with a driver for private transportation to Omnia Dayclub Uluwatu.
On Bali's island, there are many car rental service providers, both car rental in Bali with drivers and fuel or self-driving car rental. Car parking is available at Omnia Uluwatu, and the location is close to the Omnia Club entrance.
Find Here; Is it easy to get around Bali?
13. Dress Code Omnia Uluwatu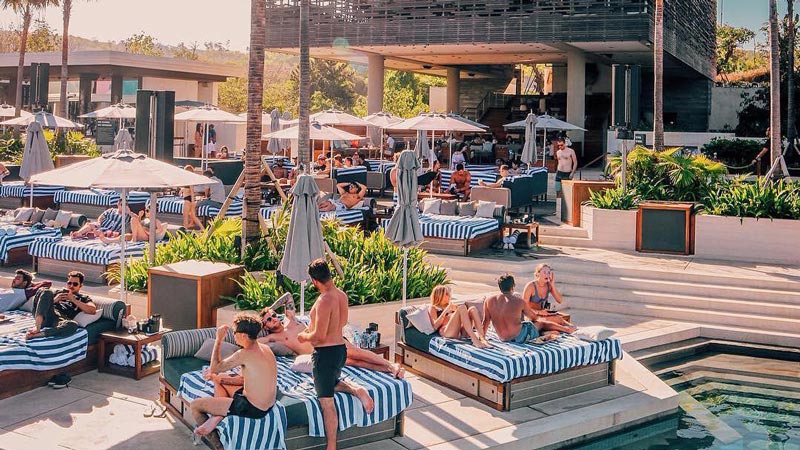 Every visitor advised obeying the dress code when visiting Omnia Club Uluwatu. Like wearing a swimsuit when swimming in the main pool. The main swimming pool looks together with the background of the Indian Ocean.
When you eat, it expects to wear smart casual clothing and wear jeans, t-shirts, and shoes. For towels, you don't need to bring them, because towels provided for Omnia Club visitors.
Find Here, "10 Best Things To Do In Uluwatu Bali" >>>
14. OMNIA Dayclub Bali VIP Area Prices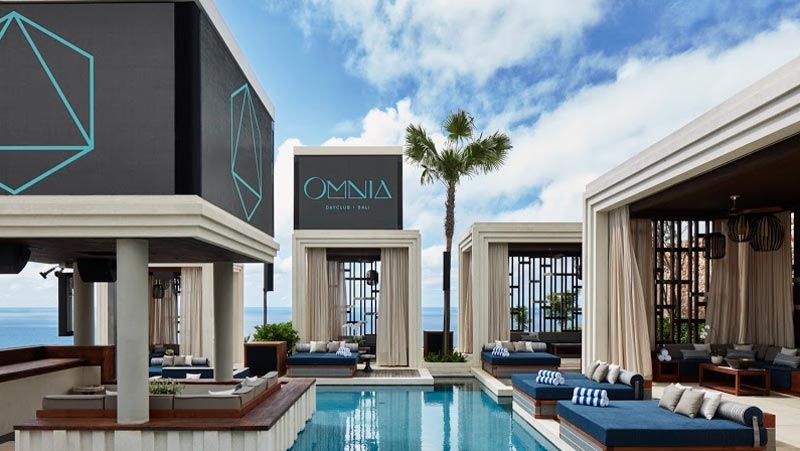 During my visit, I saw Bungalows, Cabanas, Daybeds, and Sofas around Omnia Club Uluwatu. Then I ask the reception staff how much does it cost to use a daybed?
To use a daybed, especially the front row daybeds, reservation is required. Also, to use the daybed, there is a minimum spend of IDR 3,000,000 ++ (exclude 11% tax and 10% service charge). This daybed price is for weekdays; therefore, daybeds prices during events, it might be different. The maximum capacity on a single daybed is four people.
I immediately dropped my intention to use the daybed. One because I haven't reserved it, and the second, I don't have enough money. So if you want to get a daybed, especially the front row daybeds, it is advisable to make a reservation in advance, at least four days in advance.
15. VIP Area Weekdays Price Table
| Category | Maximum Capacity | Minimum Spend |
| --- | --- | --- |
| Small Bungalow | 15 people | IDR 8,000,000 ++ |
| Large Bungalow | 20 people | IDR 10,000,000 ++ |
| Small Cabanas | 15 people | IDR 8,000,000 ++ |
| Large Cabanas | 20 people | IDR 10,000,000 ++ |
| Daybeds | 4 people | IDR 3,000,000 ++ |
| Dance Floor Sofas | 8 people | IDR 6,000,000 ++ |
| Main Deck Sofas | 6 people | IDR 4,000,000 ++ |
| DJ Sofa | 8 people | IDR 5,000,000 ++ |
| The Cube Sofas | 8 people | IDR 4,000,000 ++ |
| The Cube Daybeds | 2 people | IDR 1,500,000 ++ |
Note On OMNIA Dayclub Uluwatu VIP Area:
The Omnia Uluwatu entrance fee included in the VIP area minimum spend. Therefore, if you reserve one of the VIP seating areas, there is no need to pay Omnia Bali's entrance fee.
All of the VIP area minima spend listed above can order food and drinks at Omnia Bali. It means that these minimum costs for food & beverage spending.
What if the food & beverage bill exceeds the minimum spending on the VIP area? You have to pay the excess fee of food and beverage bills.
Additional costs IDR 500,000 / person, if the capacity of people exceeds the maximum capacity. For example, you order The Cube Daybeds, with a maximum capacity of 2 people, and you come with a total of 3 people. Then an additional one person needs to pay IDR 500,000.
Regarding VIP Area prices during weekends, please contact Omnia Dayclub Uluwatu.
Above all, prices and information above can change at any time. So for certainty, please contact Omnia Dayclub Uluwatu.
OMNIA Dayclub Bali FAQ
What types of identity cards shown at the Omnia Club Uluwatu entrance?
You can show one of these options, the ID card, Driving license, or Passport.
I am on vacation to Bali with my children, so I can't take my children to the Omnia Dayclub area?
While on vacation in Bali and your child goes on vacation to Bali with you, you and your child can still visit certain Omnia Dayclub Uluwatu areas. You can bring your kids to eat at Sake no Hana Bali restaurant. The dining table area of the Sake, no Hana Bali restaurant, has a direct view of the Omnia day club Uluwatu.

Before you decide to dine at Sake no Hana Bali restaurant, it's a good idea to place a reservation here, sakenohana.com/bali/reservations.
Is it necessary to make a booking before visiting Omnia Day Club Uluwatu?
Suppose you want to sit in the VIP area or visit Bali Omnia when there are certain events. In that case, you recommended making early bookings for at least one month before. But if you come on weekdays, and you are a regular guest. Omnia Bali applies a seating system, first come, first serve.
Is there a locker at Omnia? Because when I swim, I want to store my valuables.
For regular guests, a locker available for rent, with a locker rental price of IDR 150,000 / cabinet. Suppose you are a guest who booked an exclusive VIP area for Bungalows, Cabana, and Daybeds. In that case, there is a storage room on Bungalows, Cabana, and Daybeds.
Must Read, "10 Famous Hangout Places In Ubud Bali Suitable If You Are On A Budget" >>>
Summary On Omnia Dayclub Bali
That is to say, OMNIA Dayclub Uluwatu, one of the best cliff clubs I have ever visited. Currently, Omnia Uluwatu has become the most famous ocean cliff club in Bali. You will indeed find a combination of luxury atmosphere, beat music strains, and natural beauty into one. When compared to other beach clubs on the island, the Omnia offers a different atmosphere. However, the entrance fee, food, and drink price make my credit card limit seem small, but it's worth trying if you are curious like me or have more budget to spend.
All Photos Listed, CopyRight Of Omnia Club.