Wherever you go on vacation, no exception when on holiday to Ubud Bali, finding a place to eat that suits your taste and budget is vital. Therefore, on this page, I write to you one of the places to eat in Ubud, Bali, a favorite of tourists, namely Fair Warung Bale Restaurant Ubud. The Fair Warung Bale Restaurant serves Indonesian, Asian, Fusion, Vegetarian cuisine with a price range of IDR 20,000 – IDR 110,000.
Bahasa Indonesia, "Restoran Fair Warung Bale Di Ubud Bali" >>>
Above all, if you like Indonesian, Asian, Fusion, or Vegetarian cuisine and now you are in Ubud Bali, this restaurant might be for you. Before you visit the Fair Warung Bale Restaurant, it will be great for you to find out more detail about the restaurant by reading this page.
Detailed information about the Fair Warung Bale in Ubud that you will get on this page, such as:
General Information Regarding Ubud Tourist Attractions.
Fair Warung Bale location.
Restaurant Opening Hours.
The Best Way to Locate The Restaurants.
Examples of Food Menus & Prices.
We don't have affiliation with Fair Warung Bale restaurant. The content created to help our customers who book Bali water sports with us, and they are looking for a guide on a restaurant in Ubud.
Find Here, "10 Popular Hangout Spots In Ubud Bali Suitable If You Are On A Budget" >>>
Attractions in Gianyar Regency
Firstly, if you are on holiday in Bali, take your time to visit Gianyar Regency. Gianyar Regency has many choices of attractive places to visit while on holiday in Bali. Here are some famous tourist attractions in the district of Gianyar that you might already know;
Ubud Tourism Area
Most people, when hearing the name Ubud Bali, for sure they already familiar. Because ??Ubud, Bali, is very well known worldwide. However, many travelers visit Ubud for vacation do not realize that the Ubud area incorporated in the Gianyar regency.
The main attraction of Ubud lies in the natural attractiveness, such as;
In addition to Nature tourism, Ubud also famous for its unique arts and culture. Such as painting, sculpture, dance. Therefore, every afternoon, there will be dance performances in several areas in Ubud.
Culinary Tourism & Accommodation in Ubud
In short, the high interest of tourists for a vacation to Ubud Bali, making accommodation and restaurants multiply in ??Ubud. Therefore, visitors are straightforward to find cheap accommodations to luxury accommodations in Ubud.
Places to eat are also widely available in Ubud, both in restaurants or food stalls. Therefore Ubud presenting a large selection of culinary to meet the diverse culinary tastes of visitors. For example, one of the restaurants in Ubud Bali that offers Indonesian culinary menus is the Fair Warung Bale.
See Here, "All Thing Need To Know Before Visiting Bebek Tepi Sawah Restaurant Ubud" >>>
Fair Warung Bale Restaurant Ubud
In Ubud, there is a foundation engaged in social and humanitarian. To get funds to manage the foundation, the foundation set up a restaurant called Fair Warung Bale Restaurant Ubud.
To clarify, Fair Warung Bale Restaurant Ubud is a restaurant managed by the Fair Future Foundation. They are aiming to improve the welfare of children and adolescents, both in the area of ??skills and also for the health of underprivileged communities. As a result, profits from this restaurant will be entirely donated to manage the foundation.
The chef who works at Fair Warung Bale Ubud become professionals in their fields because the Swiss Fair Future Foundation organizers train them. Also, waiters and waitress staff have given table manner knowledge and hospitality.
You don't need to bother about the quality of food and drinks provided at the Fair Warung Bale Ubud restaurant. Insured, you will desire to come back again to try different menus. Meanwhile, Fair Warung Bale, listed on number 59 on Tripadvisor on the restaurant category in Ubud.
Fair Warung Bale Restaurant Ubud Location
Fair Warung Bale restaurant located Jalan Sriwedari No 6, Taman Kaja, Ubud Bali. Taman Kaja is the heart of Ubud tourism and adjacent to Ubud palace and Saraswati Temple Ubud.
If your hotel nearby Kuta beach, heading to Fair Warung Bale restaurant, required 1 hour 10 minutes drive, with a 36-kilometer travel distance. However, if you leave from Echo Beach Bali in Canggu, you need a 1-hour drive, with a 29-kilometer travel distance.
To make it easier to find the restaurant, you can use Google maps by clicking the link below!
See Here, "Map Location of Fair Warung Bale on Google Map" >>>
Restaurant Opening Hours
The opening hours of the Fair Warung Bale restaurant Ubud are from 09:30 – 22:30, and the restaurant is open daily. The dining place is open for lunch and dinner. The Fair Warung Bale restaurant gets many visits with visitors from 18:00 – 20:00.
Read More About, "Omnia Bali Popular Dayclub in Uluwatu" >>>
The Best Way To Get The Restaurant
You need to know the road limitations in Ubud before you decide on the choice of transportation. Most of the roads in the Ubud area are narrow. Also, several ways can only pass by one car or only a scooter.
In addition to road limitations, finding a car park in Ubud is quite tricky. On Jalan Sriwedari Ubud, two cars can pass by, but there are many cars parked alongside the road.
To clarify, if you stay in Ubud, you will not find an online taxi in Ubud. So for transportation from your hotel to the location of the restaurant, you can use transport in the form of a meter taxi or rent a motorcycle.
You can rent a motorbike or use a car rental service with a driver in Bali if your hotel not in Ubud.
If you want comfort, then getting a rental car with a driver in Bali is the best transportation choice for a vacation to Ubud. By using a car rental service with drivers in Ubud Bali, you don't need to look for a car park, and your driver always maintains car cleanliness.
Car rental in Bali with a driver offers duration for 10 hours in 1 day. If you vacation in a day visiting more than one attraction spot in Bali, then getting a car rental with driver will make the cost of vacation transportation much cheaper.
See Here, "A Comprehensive Guide On Best Time To Visit Bali" >>>
Dining Menu Fair Warung Bale Restaurant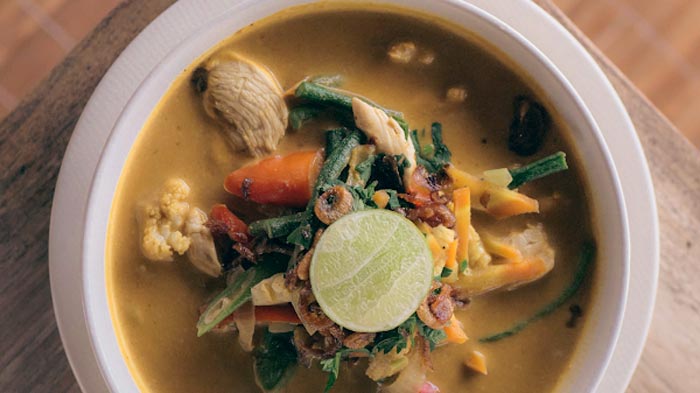 The menu provided is Asian, an Indonesian menu, healthy food, and a vegetarian menu. For example, here are some examples of food menus offered at the Fair Warung Bale Restaurant.
| MENU | PRICE |
| --- | --- |
| Fried Rice | IDR 50,000 |
| Mahi-Mahi Fillet, With Garlic Butter Include Rice | IDR 95,000 |
| Tuna Sandwich | IDR 110,000 |
| Chicken Sandwich With Mozzarella Cheese | IDR 60,000 |
| Crepe with palm sugar | IDR 20,000 |
All food prices exclude a 10% restaurant tax.
You need to know that all foods do not use MSG because the restaurant concept is healthy food. For drink, the restaurant offers lime ginger and mint leaves juice, turmeric lime juice, young coconut water, and other healthy beverages.
Cheap Places To Eat In Ubud Town
In terms of food prices, it is very inexpensive, ranging from IDR 20,000 – 110,000 / one portion. Guaranteed with such a price, you will be able to enjoy healthy food and, of course, while enjoying the atmosphere of Ubud.
Fair Warung Bale Restaurant is a perfect place for families and children for a culinary tour in Bali. Besides getting excellent services, visitors also enjoy free wifi and live music for specific days.
Finally, the restaurant wants to emphasize that all profits used for social purposes. So if you dine at this restaurant, you have done charity to help children who drop out of school and provide free health services to those in need.
Read More, "Locavore Restaurant Ubud – Winner of the 2019 Asia's Sustainable Restaurant Award" >>>