Regardless of where you vacation, including when holidaying in Ubud, Bali, finding a place to eat that suits your palate and budget is crucial. Therefore, on this page, I introduce you to one of the favoured eateries in Ubud, Bali – the Fair Warung Bale Restaurant. Known for its Indonesian, Asian, Fusion, and Vegetarian cuisine, this restaurant offers meals ranging from IDR 20,000 to IDR 75,000. If you are fond of Indonesian, Asian, Fusion, or Vegetarian cuisines and find yourself in Ubud, Bali, this restaurant may be just what you're looking for. Before visiting the Fair Warung Bale Restaurant, it's a good idea to learn more about it by reading this page. You will find detailed information about the Fair Warung Bale in Ubud here.
Bahasa Indonesia, "Restoran Fair Warung Bale Di Ubud Bali" >>>
Please note that we do not have any affiliation with the Fair Warung Bale restaurant. This content is created to assist our customers who book Bali water sports with us and seek information on a restaurant in Ubud.
Find Here "10 Popular Hangout Spots In Ubud, Bali Suitable If You Are On A Budget" >>>
Attractions in Gianyar Regency
Firstly, if you're on holiday in Bali, spare some time to visit Gianyar Regency. This area boasts many appealing places to visit during your stay in Bali. Below are some renowned tourist attractions in the district of Gianyar:
Ubud Tourism Area
Ubud, Bali, is a name known worldwide. However, many tourists visiting Ubud don't realise that the area falls within Gianyar Regency. Ubud's main attractions are its stunning natural vistas. For instance:
In addition to its natural beauty, Ubud is celebrated for its unique arts and culture, including painting, sculpture, and dance. Therefore, you can expect to witness captivating dance performances in several areas of Ubud every afternoon, such as Kecak and Legong dances Peliatan.
Culinary Tourism & Accommodation in Ubud
The high interest of tourists in holidaying in Ubud, Bali, has led to increased accommodations and restaurants in the area. Consequently, visitors can easily find anything from budget-friendly to luxury accommodations in Ubud.
Ubud is also home to many eateries, ranging from restaurants to food stalls, catering to diverse culinary preferences. For instance, one restaurant in Ubud that offers Indonesian cuisine is the Fair Warung Bale.
See Here, "All Things Need To Know Before Visiting Bebek Tepi Sawah Restaurant Ubud" >>>
Fair Warung Bale Restaurant Ubud
You needn't worry about the quality of food and drinks at the Fair Warung Bale Ubud restaurant. Rest assured; you'll likely be drawn back to their menus. Fair Warung Bale TripAdvisor is also listed as number 86 on Tripadvisor in the restaurant category in Ubud.
Fair Warung Bale Restaurant Ubud Location
The Fair Warung Bale restaurant is at Jalan Sriwedari No 6, Taman Kaja, Ubud Bali. Taman Kaja is the heart of Ubud tourism and is near Ubud Palace and Saraswati Temple Ubud.
If your hotel is near Kuta Beach, reaching Fair Warung Bale restaurant would require a 1-hour 10-minute drive, covering a distance of 36 kilometres. However, if you're travelling from Echo Beach Bali in Canggu, it's a 1-hour drive, covering a distance of 29 kilometres.
To simplify finding the restaurant, you can use Google Maps by clicking the link below! See Here, "Location of Fair Warung Bale on Google Maps" >>>.
Restaurant Opening Hours
Fair Warung Bale Restaurant in Ubud operates daily from 10:30 to 22:00, serving lunch and dinner. It tends to see the most visitors from 18:00 to 20:00.
The Best Way To Reach The Restaurant
Before deciding on transportation to the restaurant, it's essential to know the road conditions in Ubud. Many of the roads in the Ubud area are narrow, and some can only accommodate one car or scooter. Additionally, parking in Ubud can be a challenge. On Jalan Sriwedari Ubud, although two cars can pass, several cars are often parked along the roadside.
If you stay in Ubud, you won't find online taxi services. You can use a meter taxi or rent a motorcycle for transportation from your hotel to the restaurant. If your hotel isn't in Ubud, you can still rent a motorbike or use a car rental service with a driver in Bali.
Hiring a rental car with a driver is the best way to travel in Ubud for comfort. You won't need to worry about parking; your driver will ensure the car remains clean. Car rentals in Bali offer 10 hours of service per day. If you plan to visit more than one attraction daily, a rental car with a driver can be a cost-effective transport solution.
See Here, "A Comprehensive Guide On Best Time To Visit Bali" >>>
Dining Menu Fair Warung Bale Restaurant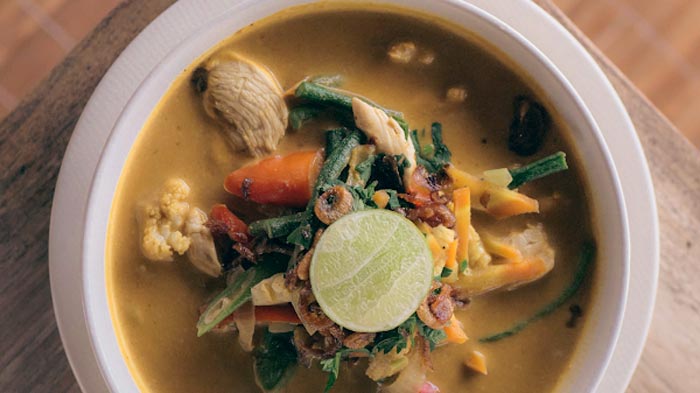 The menu is Asian, Indonesian, healthy, and vegetarian. For example, some food menus are offered at the Fair Warung Bale Restaurant.
| MENU | PRICE |
| --- | --- |
| Fried Rice | IDR 35,000 |
| Mahi-Mahi Fillet, With Garlic Butter, Includes Rice | IDR 65,000 |
| Tuna Sandwich | IDR 75,000 |
| Chicken Sandwich With Mozzarella Cheese | IDR 45,000 |
All food prices exclude a 10% restaurant tax.
All food costs are subject to a 10% restaurant tax. Also, not all dishes contain MSG, in line with the restaurant's health-conscious ethos. For beverages, the restaurant offers drinks like lime ginger mint leaves juice, turmeric lime juice, and young coconut water, among other healthy options.
Affordable Dining in Ubud Town
With food prices ranging from IDR 20,000 to 75,000 per portion, you can enjoy healthy, affordable meals while soaking in Ubud's atmosphere. Fair Warung Bale Restaurant is an excellent place for families and children to enjoy a culinary tour of Bali. Besides excellent service, visitors can enjoy free wifi and live music on specific days.
Notably, the restaurant donates all profits to social causes. Thus, dining here allows you to enjoy a fantastic meal and contributes to charity, helping children who drop out of school and providing free health services to those in need.
Read More, "Locavore Restaurant Ubud – Winner of the 2019 Asia's Sustainable Restaurant Award" >>>