Ubud tourism area is one of the best places to find places to eat in Bali. Therefore, if you are on vacation to Ubud Bali, it's not a complete holiday if you don't try the culinary tours of Ubud Bali. One authentic Balinese culinary, Ubud crispy duck that you can find in Ubud is in the Bebek Tepi Sawah Ubud restaurant.
Bahasa Indonesia, "Bebek Tepi Sawah Restoran Di Ubud – Peta Lokasi & Harga Makanan" >>>
The Most Famous Ubud Culinary Menu
Since 1990, Ubud Village is famous for its crispy fried duck dishes. Ubud's renowned restaurants that offer Ubud style crispy fried duck dishes are the Bebek Bengil restaurant Ubud. Due to the popularity of Bebek Bengil restaurant Ubud with their cooked duck menu. Therefore, make the Bebek Bengil restaurant Ubud get a lot of visitors. The restaurant visitors are also willing to stand in line to enjoy the crispy fried duck dishes offer by Bebek Bengil restaurant Ubud.
However, now, you don't need to queue anymore. Due to Jalan Goa Gajah, Peliatan Ubud Bali has opened an Ubud style fried duck cuisine restaurant. The restaurant call Bebek Tepi Sawah Ubud restaurant.
Read Here, "10 Renowned Hangout Spots In Ubud Bali Suitable If You Are On A Budget" >>>
Ubud Bebek Tepi Sawah Restaurant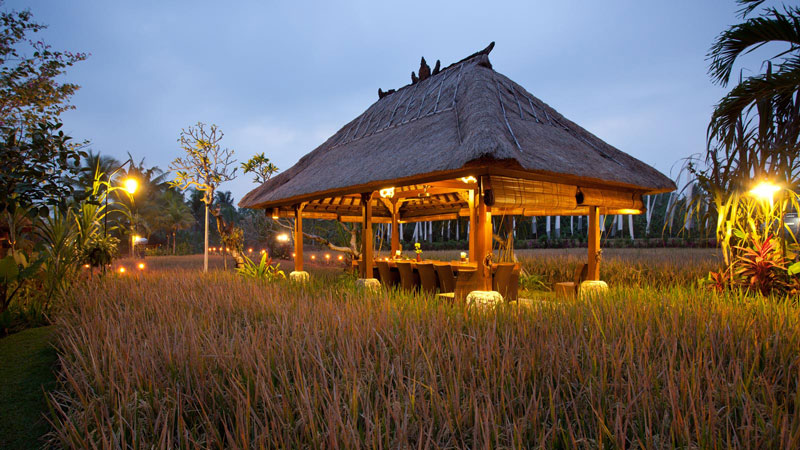 Bebek Tepi Sawah restaurant Ubud, one of the best eating places in Ubud's area, if you want to enjoy the culinary specialties of Ubud Bali. Besides providing a local menu typical of Ubud Bali, the restaurant also offers Indonesian cuisine and western cuisine.
Find Here, "10 Places To See In Ubud – Your Ubud Bali Travel Guide" >>>
Restaurant Attraction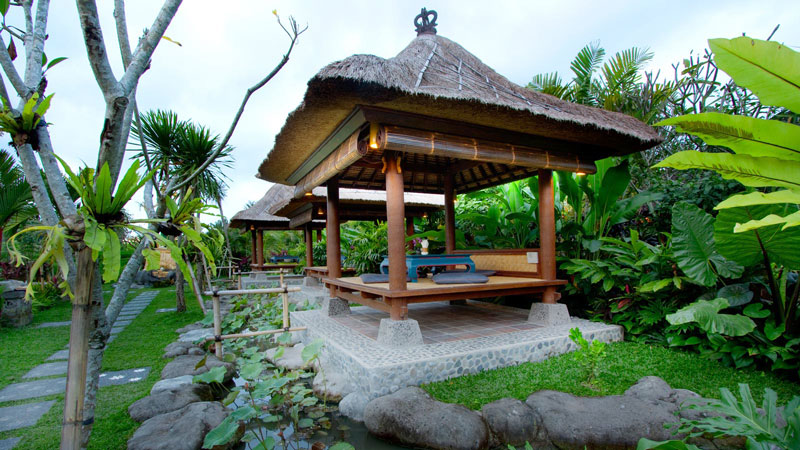 The attraction offered by Bebek Tepi Sawah Ubud Restaurant, not only on local Ubud cuisine; visitors also get the experience of outdoor dining with a rice field nuanced area.
The outdoor dining areas use a Gazebo made from wood, bamboo, and thatched roofs and surrounded by rice fields. The gazebo sizes for a dining area also vary. Available in large shapes and small sizes.
The best time to visit Bebek Tepi Sawah Ubud Restaurant is during dinner because the restaurant ambient is astonishing. As in the rice fields, there is lighting using oil torches, and when dining, the visitor will hear Balinese music.
Read Here, "Top 5 Displays In Ubud Bali Acquiring Hype On Instagram & YouTube Vlog" >>>
Bebek Tepi Sawah Ubud Restaurant Location
The Bebek Tepi Sawah Ubud restaurant location is on the main road of Jalan Raya Goa Gajah, Banjar Teges, Peliatan Village, Ubud. Also, the restaurants offer a reasonably large parking area. The location of Bebek Tepi Sawah restaurant in Ubud is close to the Goa Gajah Bali tourist attractions. The distance is about 1.8 kilometers from Goa Gajah Bali tourist attractions, with an estimated travel time of about 10 minutes.
Besides being close to the attractions of Goa Gajah, this restaurant is also adjacent to one of the famous tourist attractions in Ubud, which is the Ubud Monkey Forest. If you want to visit the Ubud Monkey Forest attraction after dinning at Bebek Tepi Sawah Ubud restaurant, find out in advance the Monkey Forest Ubud entrance fee.
To make it easier for you to find the Bebek Tepi Sawah Ubud Restaurant location, please click the below link!
See Here, "Bebek Tepi Sawah Restaurants On Google Map" >>>
Crispy Fried Duck Menu Price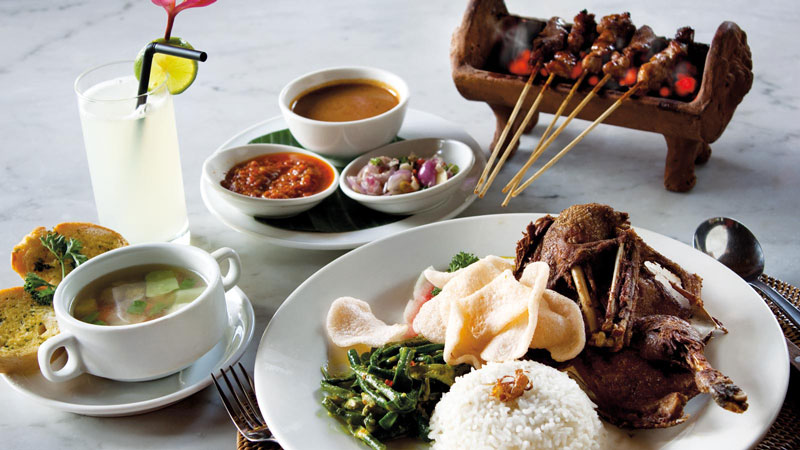 The famous and best-selling Bebek Tepi Sawah restaurant menu is the crispy fried duck. The Crispy Fried Duck menu is the mainstay of the Bebek Tepi Sawah restaurant. Serve with steam rice, long bean with coconut milk spices, sliced orange, and cucumber as garnish.
Crispy fried duck dishes are more delicious while still hot because the duck skin feels crispy; the meat's inside is so soft. Three typical sambals, namely, will accompany the crisp fried duck menu:
'Sambal Matah' is a regular Balinese sauce made from sliced raw onions, raw chili, salt, and coconut oil.
Next is 'Sambal Goreng Embe' is a chili sauce made mostly from fried onions.
'Sambal Ulek' a mixture of sizeable red chili, tomatoes, shrimp paste, and salt.
The three typical Balinese sambals are very suitable if you combine with the crispy fried duck menu. The price for the crisply cooked duck menu is IDR 135,000 / portion. However, you need to pay an additional 21% for taxes and service fees. Please note, food prices may change at any time.
Origin Of Duck Meat
According to Mr. Nyoman Sumerta, the owner of Bebek Tepi Sawah Ubud Restaurant. The duck meat on his restaurant using local duck around the Ubud area. In addition to supporting the local duck breeders, the duck meat is undoubtedly fresh. Mr. Nyoman Sumerta mentioned, if we use duck meat from outside the Ubud area, the duck meat came at a frozen state. Therefore will reduce the freshness of the duck's meat that affects the taste.
The difference between local ducks and ducks outside Bali seen from the food consumed by ducks. The Balinese usually traditionally herd ducks known as 'Ngangon.' Ducks in groups escort to empty rice fields around the area looking for food. Regularly, ducks were inviting to the rice fields that have finished harvesting rice. In the paddy area, the duck feeds on natural resources. These have caused the quality of local duck meat to be soft, comfortable to bite, and not too fishy.
Find Here, "How To Fill A Day Vacation In Ubud Bali With 1-Day Ubud Itinerary" >>>
Restaurant Opening Hours
The Bebek Tepi Sawah Ubud restaurant opening hours from 10:00 – till 22:00, Bali time. You can also choose a seat or chair in the gazebo on the edge of the rice fields. Furthermore, delicious food and beautiful rice field views will add a memorable lunch atmosphere for your Bali's culinary tour.
Furthermore, after enjoying the food, the restaurant visitors usually take the time to take photos around the rice fields' location. The restaurant visitors are very diverse, both domestic and foreign tourists. President Jokowi also once visited Bebek Tepi Sawah Restaurant in Ubud. These are seen from the banner displayed in the front restaurant area.
Bebek Tepi Sawah Restaurant Branch
In addition to Ubud's tourist area, Bebek Tepi Sawah restaurant branch outlets are also available in other areas. Specifically, on the island of Bali, there are four restaurant branch outlets, such as;
Beachwalk Mall Kuta, the address is at Beachwalk Shopping Center – 3rd Floor, Jalan Pantai Kuta, Kuta, Bali.
Bebek Tepi Sawah on Jalan Kartika Plaza Kuta.
The Nusa Dua Bali branch the exact location inside the ITDC Nusa Dua area.
The Tuban; the address is in Krisna Culinary Tourism, Level 2, Jalan Raya Tuban, Kuta.
Read More, On What Can You Do In Ubud Bali For Free?