Firstly, Bebek Bengil Ubud Restaurant Bali is one of the famous Ubud restaurants. Every day, the Crispy Duck Restaurant in Ubud crowded with visitors, both domestic and international travelers. Also, international travelers call the Bebek Bengil Restaurant in Ubud by the name "Dirty Duck Diner." Suppose you are looking for information on recommendations for places to eat in Bali, with authentic Balinese cuisines. So, it's an excellent approach to try dining at Bebek Bengil Ubud Restaurant.
Bahasa Indonesia, "Panduan Mengunjungi Restoran Bebek Bengil Ubud" >>>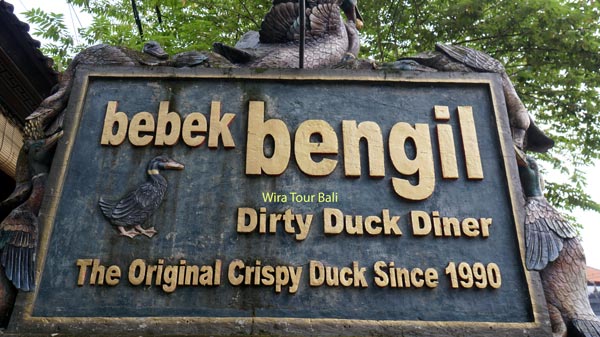 Information on the island's culinary tours, specifically for the Bebek Bengil restaurant that you will find on this page, such as;
Restaurant Branch In Bali.
Crispy Duck The Main Menu of Bebek Bengil Ubud.
Other Favorite Authentic Balinese Menu.
Food Menu Prices.
Bebek Bengil Ubud Restaurant Location.
Mileage From Other Bali Areas.
How To Get There.
Other Crispy Duck Restaurant In Ubud.
Also, the author is not affiliated with the Bebek Bengil restaurant. To clarify, the author aims to write about the Bebek Bengil restaurant to provide recommendations for places to eat in Bali that serve Balinese specialties cuisine.
Bebek Bengil Bali Restaurant Branch
The Bebek Bengil restaurant has several branch in Bali, such as:
Bebek Bengil Restaurant in Ubud.
Nusa Dua Bebek Bengil Restaurant.
Jimbaran Bebek Bengil Restaurant.
But particularly on this page, I only write about the Bebek Bengil restaurant in Ubud.
See Here, "10 Great Budget Hangout Spots In Ubud" >>>
Crispy Duck The Main Menu of Bebek Bengil Ubud
Besides the dining table, a wooden gazebo is also available. In the pavilion, there are also small pillows. The atmosphere during dining feels attractive because of this restaurant surrounded by rice fields plus a gentle breeze during the day.
Bebek Bengil Restaurant Ubud is suitable for family meals with children, large group meals, and business events.
Above all, Bebek Bengil Ubud restaurant's main dish is the crispy fried duck, which is served differently from crispy fried duck at other restaurants. The crispy fried duck at Bebek Bengil Ubud restaurant serves with stem rice, sambal matah, and lawar. However, if you want the crispy fried duck with sauteed potatoes and salad, that's fine too.
Making Proses Of Crispy Duck Ubud
The duck meat comes from local ducks farm around Bali, then duck meat simmered in spices for 12 hours. Moreover, after steaming, the duck meat boils for 3-4 hours. After cooking, the duck meat gets drained, then fried until yellowish-brown with skin that looks dry and crispy. So this method of cooking makes the duck meat tasty to the inside.
The Crispy Duck menu is a special menu that has been around since the restaurant founded in 1990. Above all, according to the restaurant owner, Mr. Anak Agung Raka Dalem, the Crispy Duck cuisine originated from a family recipe.
Find Here, "Best Things To Do In Ubud Bali" >>>
Other Favorite Authentic Balinese Menu
In short, with the development of its business, the Bebek Bengil restaurant continues to experience improvements and changes. Favorite menus beside crispy duck are:
Balinese mixed rice menu.
Crispy Duck Mixed Rice.
Grilled Duck with Green Sambal.
Most of the food menu is in English because guests who visit this restaurant come from various countries. One of the top celebrities like Mick Jagger and Sting has eaten at this place, so this restaurant is getting famous worldwide.
Choice of Beverages
A wide selection of beverages is available at this restaurant, starting from soft drinks, juices, cocktails, and other alcoholic drinks. Beverage price range from IDR 18,000 – IDR 46,000.
Popular Menu Prices for Bebek Bengil Restaurant Ubud
| POPULAR MENU | FOOD PRICES |
| --- | --- |
| Original Crispy Duck | IDR 132.500 / Portion |
| Traditional Balinese Mix Rice | IDR 75.000 / Portion |
| Balinese Nasi Campur with Crispy Duck | IDR 105.000 / Portion |
| Grilled Duck With Balinese Sauce | IDR 130.000 / Portion |
Note On Menu Price
All food and beverage prices are in Indonesian Rupiah.
Prices exclude 11% tax and 10% service charge.
Locations & Opening Hours
The opening hours of the restaurant are from 11:00 – 20:00 and open every day. Bebek Bengil Restaurant Ubud, the address is located on Jalan Hanoman, Padang Tegal area, Ubud – Gianyar Regency. The location of the Restaurant in Ubud is very close to one of the famous tourist attractions of Ubud Bali, namely the Monkey Forest Ubud.
To make it easier for you to find the restaurant's location, please use the Google Map!
Click this link, "Bebek Bengil Ubud on Google Map" >>>
Mileage From Other Bali Areas
If you stay in an area near Kuta beach, heading to the Dirty Duck Ubud restaurant will cover 35 kilometers distance with 1 hour travel time.
Suppose your hotel is located near the Echo Beach Bali area. In that case, heading to the Bebek Bengil Restaurant Ubud will cover 29 kilometers with a travel time of 1 hour.
If you stay in the Balangan Beach Bali area, heading to the Dirty Duck Ubud restaurant will take 1 hour 30 minutes with a distance of 49 kilometers.
Transportation Choices
Wherever you go in Bali, the best transportation for a vacation to Bali is to use a private vehicle. There are two types of personal transportation options that you can choose, namely motorbikes or cars.
Bali Scooter Rental
Finding Bali scooter rental services is very easy if you stay in the southern part of Bali. All you should do is seek through Google; then, you will find many motorbike rental service providers near your hotel.
Consequently, Bali scooter rental prices depend on the type of scooter you want to ride. Further, the average motorbike rental price in Bali is IDR 75,000 / 24 hours without fuel.
Bali Rent Car
There are two Bali rental car options, namely self-driving car rental and car rental with a driver. To clarify, if you want to book self drive car rental is very difficult. Currently, there few Bali rental car services providing self drive car rental.
Meanwhile, looking for Bali car rental services with a driver is more effortless. The trick is to use Google. Also, the Bali rental car's price with a driver depends on the type of car you want to use. For example, Toyota Avanza's rental price with driver + fuel, IDR 500,000 / 12 hours.
Read More, "How To Employ 1-Day Holiday Itinerary In Ubud" >>>
Other Crispy Duck Restaurant In Ubud
Since the Bebek Bengil Restaurant in Ubud opened in 1990, the Ubud culinary delights are synonymous with Crispy Duck. Also, visitors are willing to queue to try Ubud Crispy Duck cuisine.
Besides Bebek Bengil Restaurant, other restaurants in Ubud also serve Crispy Duck cuisine. The restaurant call Bebek Tepi Sawah Ubud restaurant.
Bebek Tepi Sawah Restaurant location is on Jalan Goa Gajah Ubud Bali. So after getting exhausted from visiting the Bali tourist attraction, you can stop for lunch at the Bebek Tepi Sawah restaurant to try Ubud Crispy Duck.
Apart from restaurants, Ubud tourist attractions also offer Bali river rafting. Furthermore, the name of the river for rafting in Ubud is the Ayung river.
Read More, "Bali's Top 10 Restaurants Serve Local Cuisine Love By Indonesian Traveler" >>>