First of all, are you having thought to join the Bali rafting trip on a whitewater river? By participating in white water rafting in Bali, not only you get rapids thrill hit. However, you also enjoy the extraordinary sight along the route of white rafting Bali. Therefore, by joining one of well know Bali water sports activities, which is river rafting. It probably has a chance for you to relieve the pressure of city life and get some physical exercise.
One of the water sports activities that most of the adventurers love is river rafting tours. For about ten years, river rafting in Bali was able to give the excitement, joy, and thrill of the unforgettable memory and experience of white water river rafting.
The reason that makes the higher interest of travelers to do white water river rafting in Bali because:
The safety factor has met international standards.
Valuable services of the rafting provider
Also, the river character in Bali very suitable for beginners who want to try rafting tours.
Besides that whitewater river adventure in Bali, joining rafting trips is one of the best ways to explore the beauty of Bali nature, which is hard to reach by foot.
Read More, What Are The Difficulty Classes of White Water Rafting in Bali?
Choices Of White Water River For Rafting In Bali
In Bali, there are three white rivers suitable for water rafting activities, and there are:
Melangit River at Bakas Village Klungkung.
1. Ayung River Ubud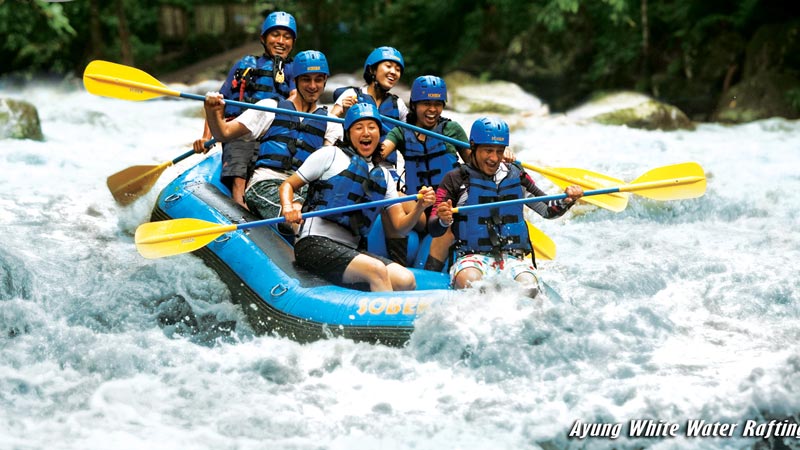 Furthermore, the Ayung River location is in Payangan village, Ubud-Bali. As most travelers know, Ubud is one of the best places to visit in Bali. To get the rafting location at Ayung River Ubud, you need at least 1-hour drive from Ngurah Rai International airport. Along the way to Ayung River in Ubud, you will pass plenty of tourism sites. Such as Kuta Beach, Sanur beach, and Denpasar.
Most travelers call Ayung rafting tours in Ubud as Ubud Bali white water rafting adventure. For your knowledge, Ayung River Ubud has a 13-kilometer length rafting track. It will take 2,5 hours to reach the finish point from the starting point. During the rafting trip on the Ayung River, you were escorted by rafting guide this to let you enjoy the Ayung river rapids.
Also, you will be able to take pictures while on the river with Balinese art and creativity carvings as your picture's background, this available along hundreds of meters at Ayung river. The sculptures of Balinese art and creativity are the hallmark of rafting on the Ayung River.
Sobek Bali Ayung River Rafting
For your knowledge, In Ayung river Ubud there are many river rafting companies. The most well-known river rafting company in Ubud is Sobek Rafting. Sobek Rafting is the pioneer of white water rafting in Bali, also has great service and their safety are maintained. If you want to know the price of Bali Sobek rafting at Ayung river Ubud, please click the link!
Therefore, read more about rafting at Ayung River on this link, "Ayung Rafting Ubud Bali" >>>
2. Telaga Waja River – Bali Rafting Tours
Furthermore, the Telaga Waja River Karangasem will offer you a significant difference rafting trip experience compare to the Ayung River in Ubud. Telaga Waja River Karangasem provides the longest track for white water rafting tours! The distance from the starting point to the finish line for the Telaga Waja river Karangasem is around 16 kilometers. Therefore, you will need approximately 2.5 hours to 3 hours to complete the 16-kilometer track of Telaga Waja white water rafting trips.
Telaga Waja River Karangasem has clear water and offers a beautiful rice field's view, which located alongside the river. Also, the Telaga Waja River Karangasem offers a 5-meter drop fall. The drop fall during Telaga Waja rafting is the most anticipated part of each participant.
For your knowledge, there is plenty of rafting tours provider in Telaga Waja river Karangasem. Therefore, it is not only one rafting company available. The most popular rafting company at Telaga Waja river is Avatar Rafting Amazing Adventure. Due to Avatar Rafting Telaga Waja river, offer competitive rafting price with excellent services and fantastic safety record.
Therefore, read more about rafting at Telaga Waja River on this link, "Telaga Waja Rafting Trip Bali" >>>
3. Melangit River At Bakas Village
While one of the leading providers at Melangit River for rafting adventures is Bakas Levi Rafting, it offers almost the same as the Telaga Waja river. Because the locations are far away from the city, and the forest still preserved naturally. It makes this river offer fresh air. Melangit River also closes bye to one of the Bali Elephant Park.
Read More, "Melangit Rafting By Bakas Adventures Price" >>>
Most noteworthy, all rafting providers in Bali are very strict about safety. It is the highest priority for all providers who are running the rafting business in Bali. The provider will not hesitate to stop the activities, if they feel the river is in dangerous conditions, like a river flood. Hopefully, this article can be beneficial for you, who want to join a rafting tour.
Find Here, "All Things You Need To Know About White Water Rafting Bali Beginners" >>>