Ayung Rafting Bali, do you want to try it during your vacation on the island of Bali? For those who like an adventure in nature and like to get some adrenalin boost during your holiday in Bali, then Ayung river rafting Bali is one of the Bali water sports that you should try! Also, white water rafting Bali will use a rubber boat, to travel on the river and across the rapid water.
Furthermore, the locations of whitewater rafting tours in Bali can be carried out in three rivers areas. Consequently, one of the best rivers for whitewater rafting in Bali is the Ayung River in Ubud Payangan village.
As many people know, therefore Ubud is one of the best places to visit in Bali for tourist attractions. Also, the distance to Ayung River takes 1-hour driving from Ngurah Rai airport. During the way, you will pass by plenty of tourist sites such as the Kuta and the Sanur area.
White Water Rafting Ayung River Ubud
When you arrive at the rafting starting point, your adventure on Ayung River Rafting Bali will begin. Therefore, the rafting participants were briefed by professional rafting instructors who are trained and experienced with the Ayung river rafting.
Rafting participants were introduced to the equipment that used for white water rafting such as life jackets, paddles, rubber boats, how to sit in a rubber boat, how to take care of yourself if the rubber boat capsized, and other matters relating to the comfort and safety of participants.
Also, each boat can accommodate four people including one instructor. So, for about 2 hours you will enjoy the excitement and thrill Ayung River rapid, the distance of the river is approximately 10 km.
While on the way to the rafting routes, participants can enjoy the Ayung river rapids and take pictures on the edge of a river rock or black stone background with carvings as their photo backdrop.
Furthermore, the sculptures made by Ubud carpenters reflected the creativity of high art, and this stone carving becomes a hallmark of Ayung river rafting in Bali.
For children who want to try Ayung Rafting, no need to be worry because the water current is not hard, but kids must remain with their parents. Bali rafting activities are so exciting and challenging and will become more memorable if you do it with family and friends.
As a result, after wading through the Ayung river for 10 km, the participants will arrive at the finish points. Also In this place, there is a place to rest, a dressing room, a bathroom, and towels. Then you can enjoy buffet lunch menus.
Also, Ayung Rafting Bali has been joined by many tourists from all around the world. While the high seasons are generally around Christmas, New Year, school holidays, and other national holidays.
Three Best Ayung Rafting Ubud Operators
We as water sports travel agents in Bali, provide Bali Ayung river rafting prices that are much cheaper than when you came and bought directly from the rafting site or tours counter. Finally, below are the best three Ayung river rafting operators.
1. Mason Adventure Rafting
Ayung River by Mason Adventure Rafting is also well known as Bali Adventure Tours is a five stars rafting company in Ubud Bali. While below is the best thing if you want to have Ubud white water rafting with Mason Adventure Rafting.
Customers can use a hot shower, and a digital locker to keep their belonging.
Use a piece of high-quality equipment such as a boat, helmet, and life jacket.
Also, offer a train whitewater rafting guide.
Clear and clarified insurance.
Well-Maintained building cleanliness.
Provide International style cuisine and Indonesian food choices.
Show Me The Price Of "Mason Adventure Rafting" >>>
2. Sobek Rafting Ubud
Ayung River Ubud by Sobek Bali is well known as the first company in Bali for outdoor adventure primarily white water rafting. While below is the main selling point of Bali Sobek Rafting.
River guide leader trained with Swift Water Rescue Program, and also pass training with American Affiliation White Water Safety Standards.
Furthermore, the river guide leader has to pass Australian White Water Safety Standards.
Use high-quality equipment such as a boat, helmet, and life jacket.
Find Out On "The Price Of Sobek Rafting Ubud" >>>
3. Payung Rafting Ubud
While Payung rafting considers one of the lowest rafting prices in Ubud, therefore, if the budget is a matter for you, Payung Rafting Ubud is one of your choices to have rafting in Ubud. While below is the critical point of Payung Rafting Ubud.
Affordable rafting price
Unique lobby layout.
Life insurance.
Indonesian style of food.
Read More On: "Payung Rafting Payangan" >>>
Photo Gallery Bali Ayung River Rafting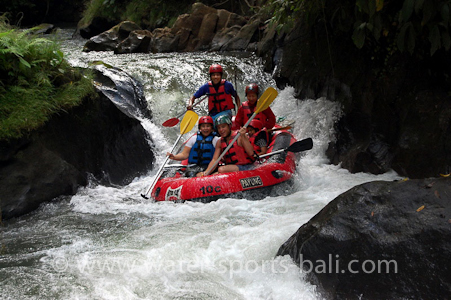 Please read our terms and conditions before you make a booking. Furthermore, if you would like to visit our Indonesian language website, please click this link Bali Rafting Ayung.